Wednesday 15th September 2021
A Brief Reflection
After 72 days in Greece, today is my final full day here. As with most holidays, for the first few days, it felt like I was going to be here forever. Then as you relax into the experience, time seems to speed past and before you know it, you're counting down the days until your flight home! It's been an absolute blast, though, and I'll be writing a full post reflecting on the trip in a few days' time.
Back to Reality
Meanwhile, I had a hire car to return to the rental shop before 9 am. Dad decided to come along for the ride – I think he was worried I might get lost or they might find some mysterious 'damage' on the vehicle and try to charge us for it. Which, I'm glad to say, didn't happen, and we were soon strolling back to Hotel Boulis, enjoying the warm morning air.
Mum was waiting for us at the hotel and together we walked back into the village, first to purchase our ferry tickets for tomorrow's crossing back to Piraeus, then to catch the 10:30 bus to Apollonia for our Covid-19 tests. We'd booked them via email as instructed and had a group appointment at 11:10.
Covid Tests and Taxis
The bus was a little late picking us up from the main stop opposite the car park in Kamares, probably due to the arrival of a ferry shortly before 10:30 which caused a large amount of traffic – both on foot and in vehicles – down the very narrow road that leads to the port. We started to get a little nervous about missing our appointment, but as the journey to Apollonia only takes 10 minutes or so, we still had plenty of time.
With the tests out of the way – all negative results thankfully! – we were keen to get back to Kamares to enjoy our last day at the beach. This proved to be slightly more difficult than we anticipated, however, as the next bus wasn't due until 12:40. We debated the benefits of waiting versus paying for a taxi and ultimately decided we'd rather spend the money than waste time hanging around for the bus.
The taxi station in Apollonia is right next to the bus stop, so we had no trouble locating it. But, there were no taxis to be seen and after waiting 10 minutes for one to arrive without success, began to wonder if we would end up on the bus after all. I found a list of taxi numbers printed on a sign and was about to start calling them when one finally showed up! There seemed to be other people waiting as well, so we quickly made sure we got into the vehicle before anyone else and were soon off on our way back to Kamares.
Lunch and Beach
By the time we got back to the hotel, changed into our sunbathing gear and made our way to our usual spot on the beach, it was lunchtime. We put down some towels to reserve our sunbeds at Kyma, then went straight to a table and ordered some food and, of course, a large beer!
The day was clear and warm, so after we finished our food and drinks, we spent a pleasant afternoon relaxing in the sun and swimming in the calm and shallow waters of Kamares bay. At 4:30, we decided to call it quits on the beach and for the last time walked back across the sand to the hotel entrance.
After showering and cooling off for a bit, I packed most of my gear so that I wouldn't have to do it in the morning although our ferry wasn't departing until 2:30 in the afternoon.
Final Happy Hour Cocktails and Last Meal
Like everyone, we wanted to make sure our last night on holiday was as special and enjoyable as possible, so naturally, it began with a couple of cocktails each at Captain's Bar. We had also booked a table at Passione Italiana, which, I have to admit, just surpassed Camaron as my favourite Italian restaurant in the resort. Once again, we had the trio of mini pizzas to start and I also had to order my previous favourite dish – the mushroom ravioli – which Mum also ordered, while Dad went for a ham and mushroom pizza.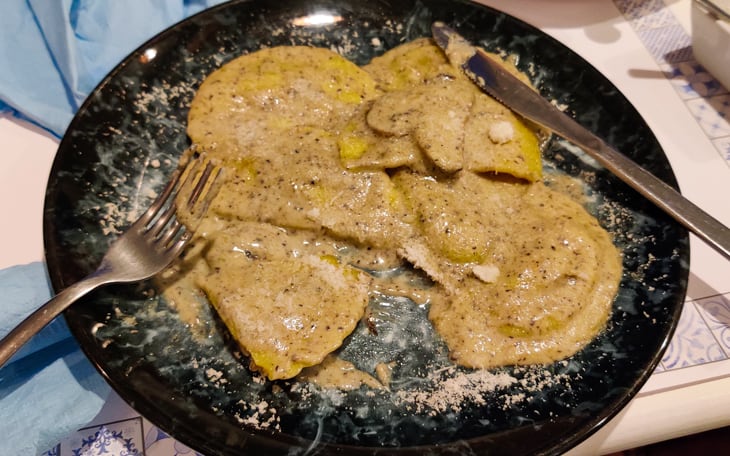 I know it's hard to get excited about a picture of someone else's food, but this dish is just superb! Mum couldn't manage all of hers, so I got to eat even more of it as I couldn't bear to see any go to waste!
Mum was too full for dessert, but despite helping to finish her main, I still found room for the chocolate mousse while Dad had the panna cotta. In addition to a litre of house white wine, we were offered complimentary Limoncello just to make sure we were suitably tipsy (or full-on drunk) for the walk back to the hotel!