Monday 30th August 2021
A day off Sightseeing
With two full days still left on Ios, I decided to have a break from exploring the island and take a more chilled approach. For breakfast, I returned to Cantina del Mar and had another great meal: this time opting for yoghurt and honey without the muesli.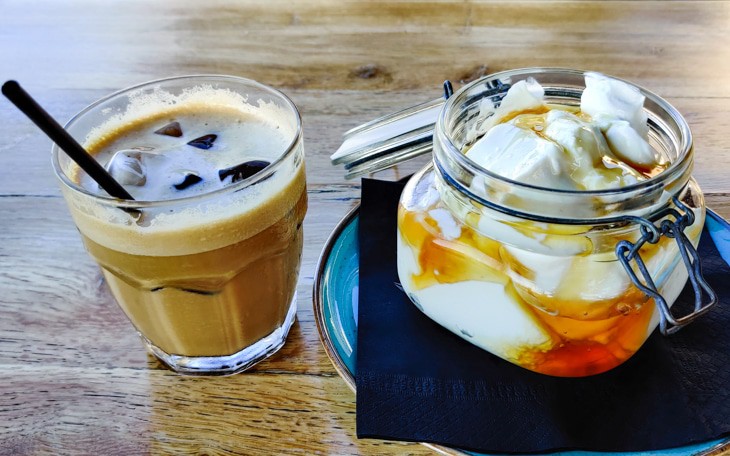 After breakfast, I went back to the hotel and spent a couple of hours trying to finish my Kos YouTube video, which was taking much longer than usual due to the fact I'd spent over 3 weeks on the island and had tons of footage to edit down into something presentable.
Holiday Hair Cut
Having spent nearly two months in Greece, I was desperately in need of a haircut! I had tried to arrange one on Kos and Naxos but never managed to actually get it done. This time, I found a hairdresser on the main road through Chora via Google Maps called Hair Studio Aris (next to Mosaic and the supermarket) and gave them a call. I was able to make an appointment for midday which was fairly soon, so I jumped on the quad bike and rode down.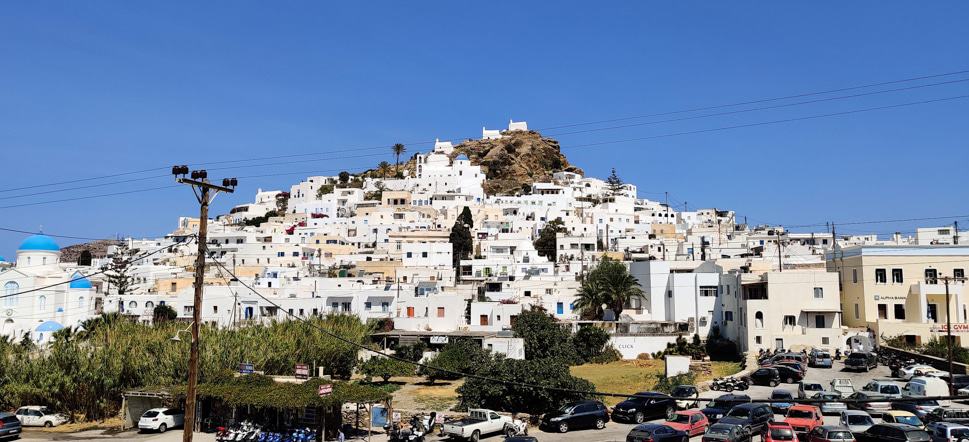 The cut was quick and reasonably good, especially as it only cost €10 which is much less than I pay back in the UK! Before leaving Chora, I used the supermarket to pick up a protein shake for lunch, along with some more suntan lotion, toothpaste and a new toothbrush (gotta take care of the essentials when you're abroad for an extended time).
Spontaneous Beach Trip
After spending more time back at the hotel on my laptop, I decided to get out of the resort again and catch some late afternoon sun on the beach. On my way back from Chora earlier, I'd seen a signpost for Kolitsani beach which is a smaller beach close to Mylopotas, slightly further northwest around the bay.
Packing my shorts, sun lotion and a towel, it was a quick 5-minute ride to the beach. A word of caution though: Google Maps indicates there is a road/track that goes down almost onto the beach. Unfortunately, this is a private (gated) road that leads to a couple of villas built behind the beach. The public parking is at the top of the hill, just as the road splits towards Athina Ios Villa and Cycladic Gem. The walk down to the beach is a bit bumpy, but only takes 5-10 minutes and is definitely worth it if you want a beautiful quiet spot on the beach.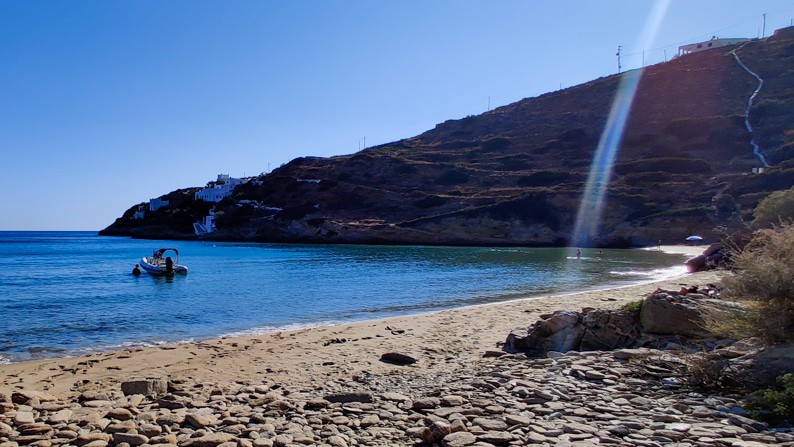 As you walk out onto the beach, the first part is quite stony but the rest of the beach is beautiful soft sand. I walked most of the way along and found a spot towards the western end. This end does get shaded later in the afternoon, but there was still plenty of sunshine to be found.
The best part of Kolitsani beach is the shallow, clear water. Unlike Mylopotas, which gets deep quite quickly, this beach is shallow for a long way out. It's also less wavy as the bay is more sheltered and narrower, so it's ideal for swimming. I spent a wonderful hour or so relaxing on the sand, taking regular dips when I got too hot.
Dinner Fail… ish
Wanting to try another new restaurant for dinner, I spotted Harmony Ios on Google Maps: a Mexican restaurant located at the far northwestern tip of Mylopotas beach. Unfortunately, when I arrived at 7:30 pm, it was deserted aside from a young boy playing on his mobile phone and an elderly Greek lady, neither of whom looked like they were welcoming customers for dinner!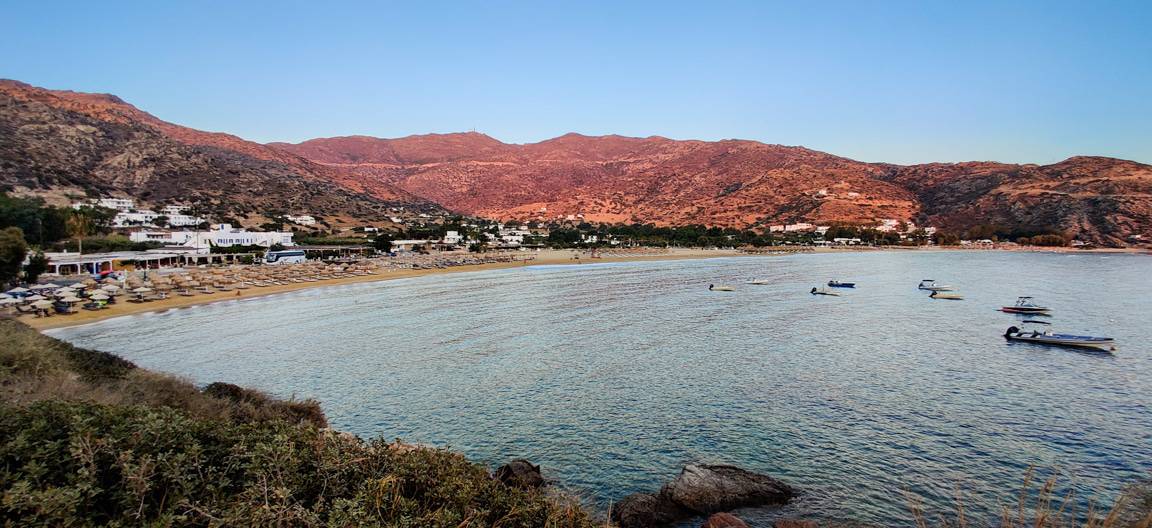 Figuring it must be closed in the evenings, or shut for some other reason, I walked back along the beach road and found myself at Karma again (must be karma, right?!). Once again, they had a "Happy Hour" deal on cocktails, so I indulged myself with two fruit daiquiris and followed them up with a spicy pepperoni pizza. The food was nice, though not the best pizza I've had on this trip and a touch disappointing after their excellent ravioli two nights ago.
Still a little hungry, I treated myself to dessert and had a chocolate souffle with ice cream. Just like the main course, this was good but not fantastic. It did fill me up, though!