Friday 6th August 2021
Forgetting to Hire a Car
After our full-day boat trip yesterday, Ed and I had planned to hire a car today so we could see some more of the island as well as a hike to the summit of Mount Dikeos: the highest point on Kos. However, we'd neglected to actually reserve a vehicle in advance and, given it's now peak season, I wasn't confident we would actually be able to rent one at such short notice.
Maintaining a sense of optimism, however, we left the hotel after an early breakfast and set off in search of any rental companies that might be able to accommodate us. I figured it made sense to start off by returning to ML Rent a Car, where I'd hired a vehicle from last Saturday. It must have been our lucky day, as they had one vehicle left and I even managed to convince them to let me take it at the same price I paid last time – €45 instead of €50.
Back to Kefalos and Beyond
After filling out the paperwork for the vehicle, we jumped straight in and got moving. Although Ed has visited Kos before, he's never seen Kefalos so despite my having seen it a few days ago, I was happy to start there again so that Ed could see it for himself.
From Kefalos, we took a different route and headed North to a small beach called Limnionas – it's not much more than a small strip of sand with a little harbour on the northern end, with an even smaller bay to the west. There is a restaurant and plenty of parking, so I guess it's not a bad spot if you wanted somewhere quiet to lay and sunbathe for the day.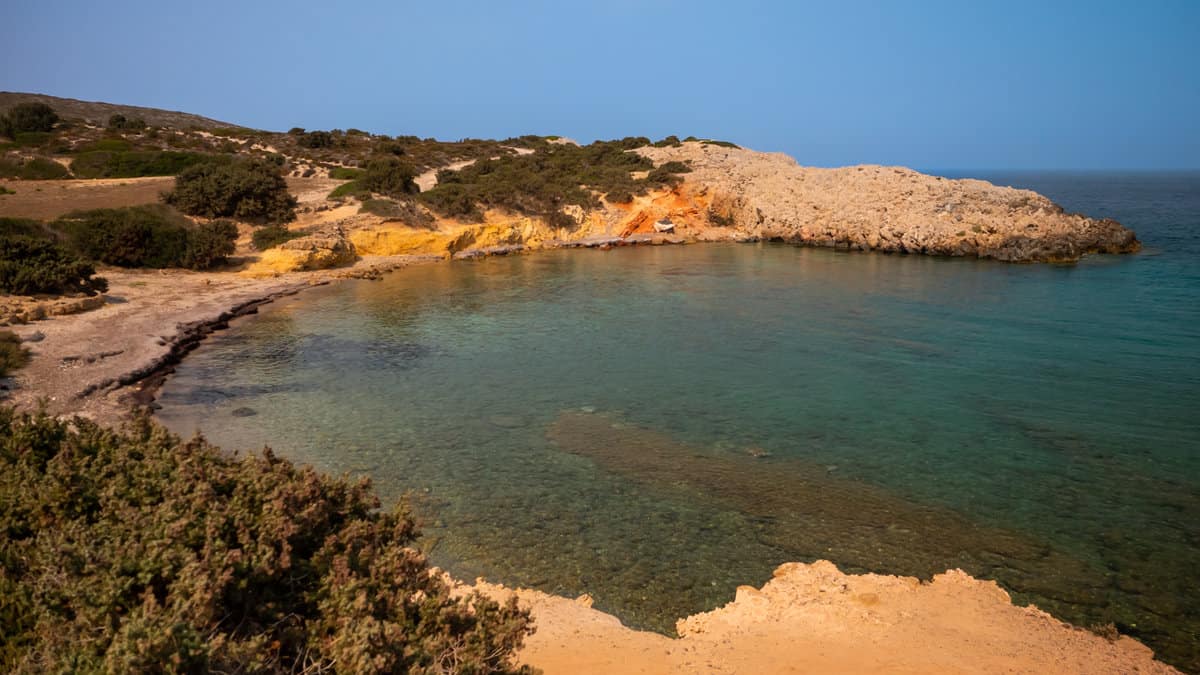 To reach our next destination, Kohilari Beach, we had to retrace our route south and back through Kefalos, before heading north again further along the coastline. On arrival, we both expected it to be pretty busy as it looks like a very large, sandy beach when viewed on Google Maps. However, it was almost deserted, possibly due to the waves and large quantities of seaweed that seem to get washed up on the shoreline. We didn't hang around.
Antimachia Castle
After a brief stop in the village of Antimachia for a snack (and beer), we turned off the main road and headed southeast to Antimachia Castle. The castle is mostly ruins of an outer wall enclosing open ground that is largely overgrown with grass, but there are a couple of buildings and some foundation walls still visible.
It was a hot day again and with little shade available at the castle, we made our visit quite brief and were glad to get back into the car and fire up the air conditioning as soon as possible!
Kardamena
It's not far from Antimachia Castle to the popular tourist resort of Kardamena on the south coast of Kos. We took a small road that leads from the castle and joins the main road into Kardamena from the north, then parked up along the seafront just north of the marina.
Ed had been here a few times before on family holidays, but it was my first time at the resort and I'll admit to being surprised at how relaxed it was. I'd heard that Kardamena was a real party destination, but this was from many years ago and it seems the resort has matured into more of a family-friendly place in recent times.
We considered stopping here for lunch as it was still early afternoon and we didn't have anywhere else on our itinerary until our hike later on but decided to return to Kos Town instead as I wanted to take Ed to the Sunburnt Arms, having spent so much time there over the past week. On arrival, we both had a beer (mine small after my earlier drink and still having to drive the car back to the hotel) and I had a chicken burger. We sat chatting for a while, then opted to return to the hotel for a couple of hours rest in preparation for our hike.
Climbing Mount Dikeos
Ed had climbed the mountain before on a previous trip to Kos, so he was confident we could reach the summit and get back down again within a couple of hours. Trusting his judgment, we set off for the nearby village of Zia and arrived just before 6 pm. Our plan was to get the hike done and be back in the village in time for sunset and, more importantly, get our rental car back to the shop in Kos Town by 8:30 pm.
As we began our journey through the village of Zia, Ed stopped to check we were going in the right direction by asking a lady shopkeeper. She seemed very surprised that we were planning to climb the mountain at such a late hour, which I found slightly disconcerting, but gave us directions anyway. It then transpired that Ed had based his time estimate on Google Maps and when I checked it myself, realised that Google had no idea of the path up to the summit and was merely guessing an approximate duration as-the-crow-flies!
Realising we might have underestimated the task at hand, we set off from the village at a brisk pace and were soon dripping with sweat! After 45 minutes of hard ascent, we were still what looked to be some way off the top and I was convinced we wouldn't make it – even stopping to record a YouTube clip lamenting our likely failure.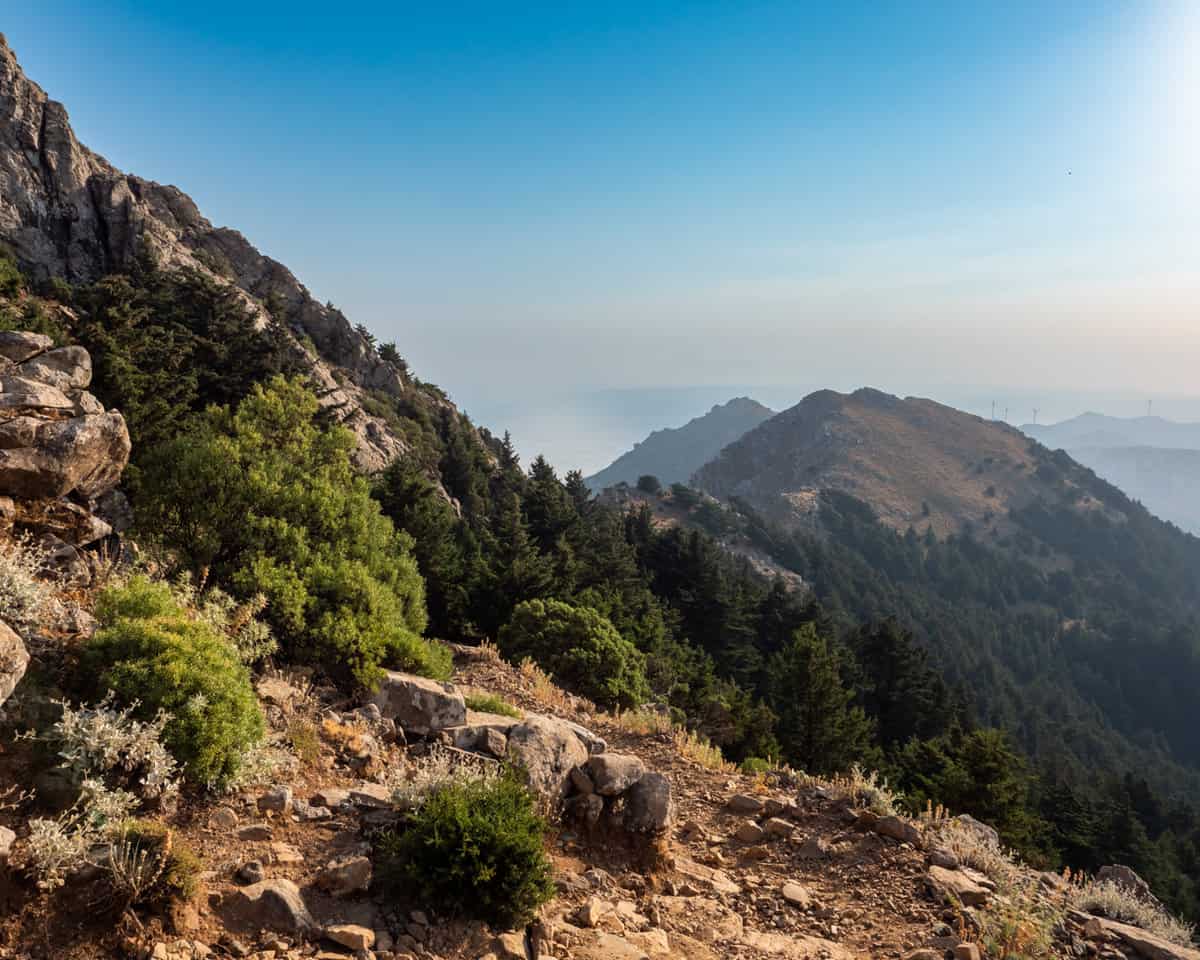 When Ed caught up with me, however, he was adamant that we weren't far from the top and persuaded me to carry on. Sure enough, we reached a plateau and from there the final short climb to the summit, in just over an hour from leaving the car: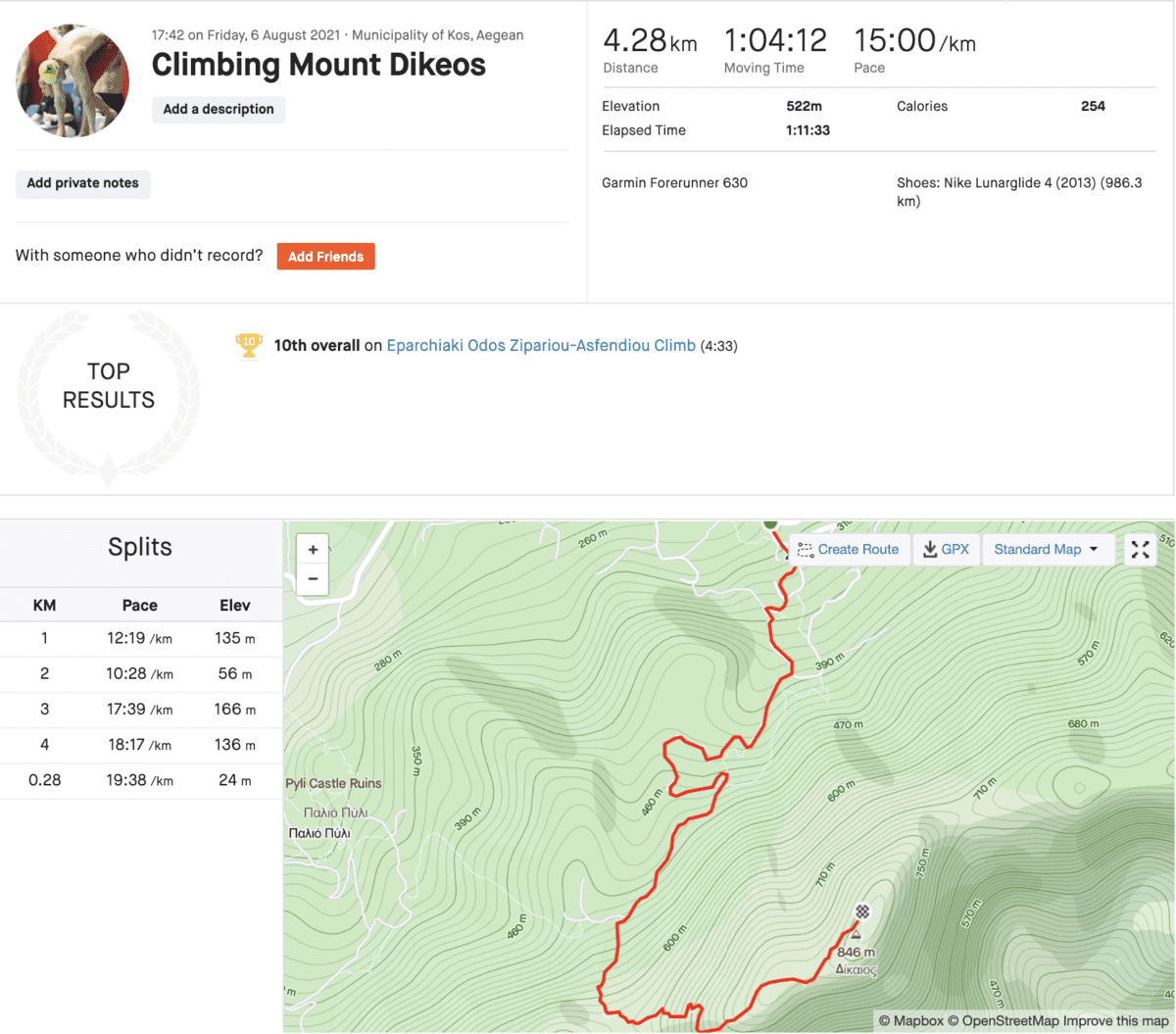 Not bad considering we climbed over 1,700 feet in 4.2 kilometres! After a few minutes to take in the views and recover our breath, we began the journey back down which was much easier and less stressful knowing it should take less time than the climb.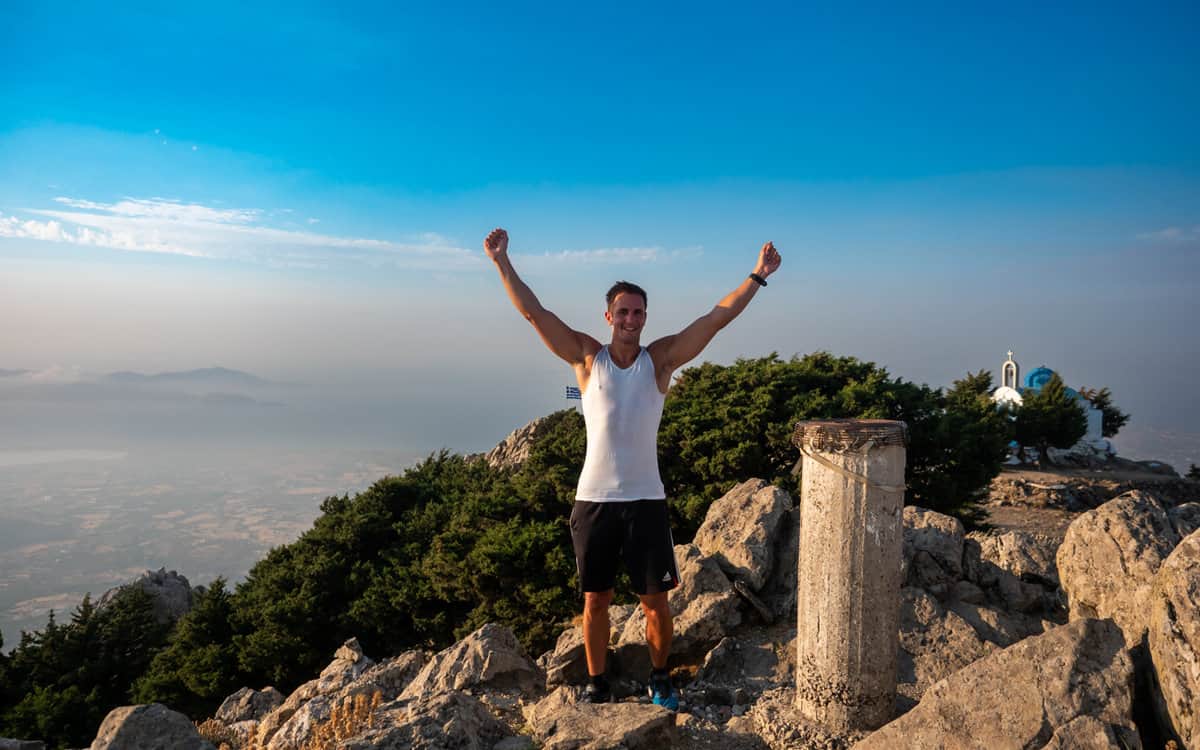 Sure enough, we got back to the car in less than 60 minutes and just ahead of the sunset – thankfully, as it meant the large crowds that gather to see it from Zia were not yet ready to leave, giving us a clear road down from the village.
We returned the car just after 8 pm, though from the look on the face of the lady who runs ML Rent a Car, she would've been happier had we been back sooner! Oh well, we got value for money from our €45!
More Dinner, More Drinks
Despite the fatigue from our unexpectedly intense hike, it was Ed's last night and we were determined to make the most of it! After a quick – but desperately needed – shower and change at the hotel, we walked to a nearby taverna called Casa della Pasta. I had eaten here before on my second night on Kos and wasn't that impressed, but it was conveniently located just around the corner from Hotel Sonia, and the food hadn't been so bad that it wasn't worth a second try.
This time, I had a pizza (as did Ed) and they were both pretty good, though admittedly not a patch on MamaRosa. The carbs were much welcomed after our earlier efforts and would also help soak up the alcohol that we intended to consume throughout the rest of the evening – starting with a litre of house wine with our meal!
After settling our bill, we headed straight back to Sitar as we'd decided it was the best place to sit and drink while enjoying the views of the passing crowds of attractive ladies! I had a few cocktails, while Ed stuck to Ouzo after one cocktail. In spite of our enthusiasm for a 'big night', we still only made it to just past midnight before deciding we'd had enough to drink and it was time to sleep it off!