Thursday 5th August 2021
Early Breakfast
Our boat trip was scheduled to depart at 9:30 am, so I met Ed downstairs for breakfast just after 8. We chatted for a bit while enjoying our morning coffee, bread and yoghurt. Ed was suitably impressed with the hotel and grateful that I'd organised his accommodation so effectively.
Just after 9, we set off towards the marina. It was only a 5-minute walk, but we decided it was best to arrive early so we could get a good spot on the boat. After having our temperatures taken (Covid precautions) and signing the usual safety disclaimers, we chose a nice location on the front of the boat. It wasn't shaded, but we had lotioned up and I was pretty used to the sun by now.
First Stop: Pserimos
As I mentioned yesterday, most of the day trip boats offer the same itinerary, so we set off just after 9:30 in what looked like a procession of ships leaving the marina. Pserimos, our first stop, is just north of Kos and it took roughly an hour to reach the sheltered bay on the southwest of the island.
We were given an hour to disembark and explore or enjoy the nearby beach. As we weren't the first boat to arrive, the beach was pretty busy, but soon quietened down as the early boats departed. The beach itself was lovely, so we both had a swim and then sat out on the sand for a bit, before heading to a place called Sunset Cafe to get a drink and snack.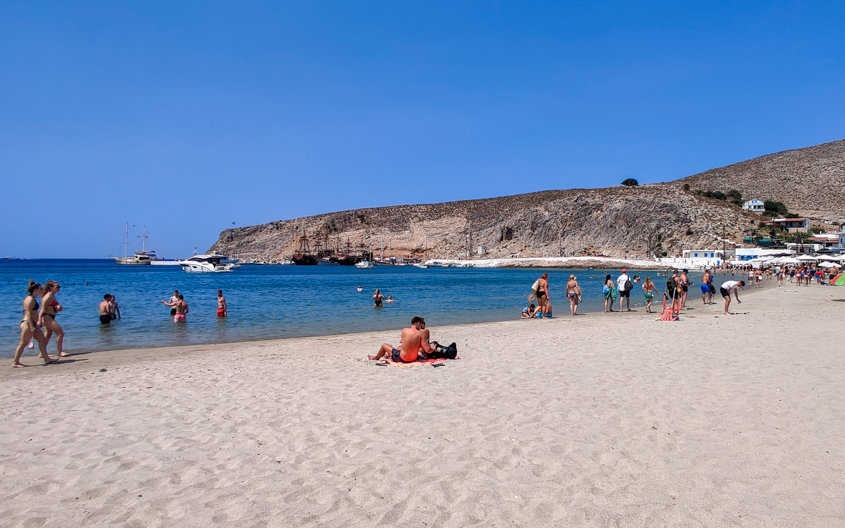 This turned out to be a bit more stressful than expected, as our order took a long time to arrive and by which time left us with only a few minutes to eat and drink before we had to get back to the boat!
Kalymnos
Reaching our second destination, Kalymnos, took about 45 minutes and brought us into the harbour at midday and in time for lunch. We disembarked straight into a taverna that had been set aside for us. When we first boarded the boat, we'd been given a choice of food options and I'd gone for the pork souvlaki. Drinks weren't included in the €20 but they had beers, soft drinks and water available to buy, so Ed and I both had a beer.
The food wasn't anything special, which I suppose is to be expected when the entire trip was so cheap. I ate most of the meat but didn't really touch the rice or vegetables that came with it.
By the time we'd finished eating, we only had about 40 minutes left to explore before getting back on board. Ed, in his usual fashion, had spotted a little church on the hillside north of Kalymnos Town and was adamant that he could reach it on foot and get back again within the allowed time. I wasn't so sure and didn't fancy such an intensive slog in the midday sun, so we parted ways and I headed off into the town without any real plan.
After strolling through some side streets, I ended up at a cafe called Gregory's on the main road into town, where I had a coffee and a bit of cake and sat in the shade for a while. I then made my way back to the harbour, hoping that Ed would be there and we wouldn't have to send out a search party! Fortunately, we both arrived back at the same time, him considerably more sweaty than me!! Apparently, he'd made it about 60% of the way, before being unsure of the correct path and realising he wouldn't have enough time to reach the church and get back to the boat before it left.
Last Stop: Plati
Our final stop at Plati didn't involve getting onto dry land at all. Plati is a small uninhabited island situated between Kalymnos and Pserimos. At the very southern tip, there are several rocky outcrops creating a sheltered bay area with very clear water, ideal for swimming and diving off the boat. Which is exactly what we did!
We stopped for about 30 minutes and it was fun to dive off the boat (though slightly scary, as although I'm a good swimmer, I don't like heights and the drop from the top of the boat to the water was a good 12 feet).
It took a while for the boat to get back to Kos Town and we arrived back at the marina just after 5 pm. It had been a good day though – nice to be out and about instead of lazing on the beach – and pretty decent value for €20.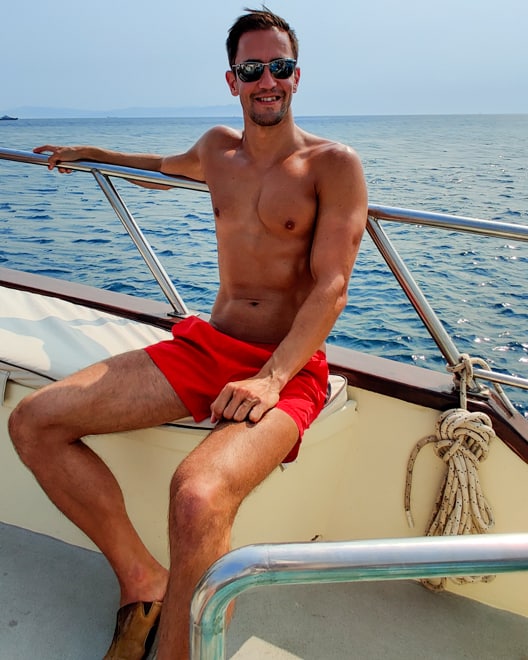 Dinner and More Drinks
Deciding to avoid MamaRosa for a change, we showered and changed back at the hotel and then set off in search of somewhere else to have dinner. I quite fancied moussaka, so we intended to find a nice Greek restaurant, but ended up spotting a Chinese called Twin Dragon towards the south end of the main town beach. They have tables right on the seafront and we enjoyed a really good meal including a litre of house wine!
Feeling a bit merry from all the wine, we took the easy option and returned to Sitar for more cocktails, but once again ended up calling it a night just after 11 pm after what felt like a pretty long day.