Saturday 7th August 2021
Making Decisions
I mentioned in this earlier post that I'm going to be on Kos at least a week longer than I had originally planned, due to difficulty in getting accommodation on the island I wanted to visit next (Amorgos, so I could cross into the Cyclades). Because of this, I needed to make some decisions about where and how I was going to spend the next few nights.
I've been in Kos Town now for 10 days. With Ed departing this morning to Symi (and then back home via Rhodes) and Hotel Sonia fully booked, I decided to move out of the capital and to stay somewhere else on Kos for a while. I still had a budget to stick to and didn't want to be anywhere too crowded so, after much time on Booking.com, I ended up reserving 4 nights at Chrysoula Apartments in… Kefalos!
Choosing Kefalos might come as a bit of a surprise, given that I've seen the resort twice now on my day trips in the car and not been massively impressed, but, well, it was cheap (€43 per night), had pretty good reviews and a massive swimming pool. I figured, worst case, I'll spend these days relaxing at the pool, working on my YouTube videos and just taking it easy (even easier than normal!) and then figure out what to do after that – hopefully including finding my way off Kos.
Seeing Ed Off
Ed's ferry was scheduled to depart at 10:50, so we agreed to have breakfast slightly later than usual (in case of a hangover from the night before, which fortunately never materialised). It's been great having company again and we sat at breakfast chatting away, as usual, reflecting on the past few days and discussing future Greece trips!
At 10:25, we set off towards the port. The ferry arrived on time and I turned back towards the hotel before all the arriving passengers got off the boat, having said goodbye to Ed and left him to queue for boarding.
Back at the hotel, I'd been allowed to keep my room until midday instead of the usual 11 am, so I finished packing my case, had another shower to cool off, and then set off towards the bus station for my journey to Kefalos.
Kefalos
The bus took about an hour to reach the resort. Chrysoula Apartments are right at the northern end of Kefalos as you enter the resort, and I'd asked the bus driver if he could drop me off outside to save me walking back from the bus stop.
The apartment complex is pretty large and also features a hotel block. On arrival, it wasn't obvious where to find reception and I was pretty desperate for the toilet, so I started to get a bit frantic searching for someone who could help me get checked into my room.
Despite signage to the contrary, the 'reception' is actually at the pool bar, so eventually, I found my way there and got shown to a pretty basic, but functional, apartment room. After a much-needed toilet break, I unpacked a few bits and then headed straight to the pool for a refreshing swim and spot of sunbathing. Despite the large apartment and hotel complex, the pool area was very quiet – perfect for me – and I had a nice couple of hours chilling out in the sun.
One slight annoyance with the apartment was that I had to pay an extra €5 per day for air-conditioning, which wasn't made clear when I booked. It probably wouldn't have affected my decision, as it was still under budget even with the surcharge, but the air-conditioning wasn't even very good so it felt like a bit of a con having to pay extra for it.
Exploration and Dinner
Back from the pool, I dropped my stuff in the room and then walked across the road to check out the closest beach to see if it might be worth visiting during my stay. It was pretty windy though, and the sand blowing in my face was a bit of a deterrent! On the way back, I stopped at a supermarket just opposite the apartment to get some bottled water and snacks for the room.
I set off quite early for dinner as there wasn't much else to do. I'd found a nearby taverna on TripAdvisor called Hippocrates that got reasonable reviews. The feta saganaki starter was delicious, but the moussaka was a bit of a disappointment and I suspected it wasn't freshly made, but it was edible and the 1/2 litre of house wine certainly made it seem better than it probably was!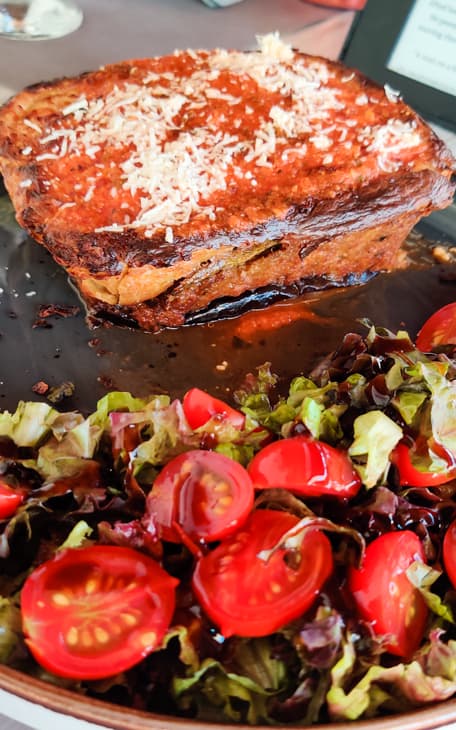 Perhaps it's because I'm staying at the far end of town, but there seemed to be hardly anyone around. I don't mind quieter resorts, but it does tend to cause a lack of atmosphere and it's nice to see busy restaurants to give some idea of the more popular places.
Oh well, I strolled back to my room not feeling entirely sure that 4 nights here was the best decision, but determined to make the most of it.