Thursday 16th September 2021
Bonus Beach Time
Did I say yesterday was our last time on the beach? Whoops!! It turns out I was wrong…
We met for breakfast at 8:15 and discussed our plans for the day as we ate. The ferry back to Piraeus wasn't until 2:30 pm and we'd been told by the owner of the hotel that we could keep our rooms until 1 pm, giving us the entire morning to spend in the resort. I'd packed most of my belongings the night before, so we decided to spend a couple more hours down at the beach rather than sitting around just passing time.
We took our now-usual spot at Kyma cafe – it has the nicer sunbeds, we'd decided – and set about getting the last top-up of our tans before heading back to the UK. Dad and I treated ourselves to a large beer mid-morning because, well, why not!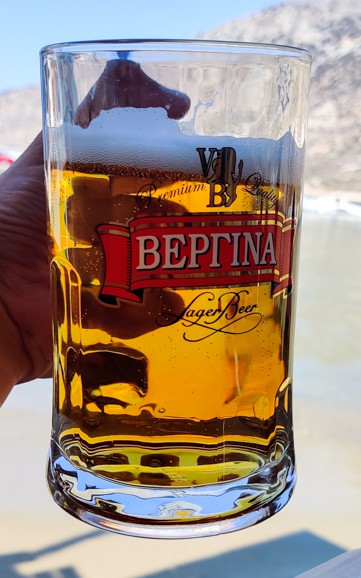 Heading to the Airport
Our flight home was scheduled for 8:50 pm, so in theory, we had a good amount of time to get to the airport. However, it's always a risk travelling from an island to the mainland on the same day as you fly, and we weren't sure how easy it would be to catch a bus from Piraeus back to the airport to ensure we arrived in plenty of time to get checked-in etc.
We found a company online called Welcome Pickups, which offered private transfers to and from the airport. The transfer cost €54 so not exactly cheap, but, in the event of the ferry running late, we wanted some peace of mind that a driver could get us to the airport more quickly and with less hassle than the bus.
Anyway, I'm getting ahead of myself here…
After leaving the beach and returning to our hotel rooms around midday, I showered and finished packing the last few bits of luggage into my suitcase and rucksack. At 1 pm, we dropped our keys back at reception and said goodbye to Lyn (the friendly lady owner of the hotel) then began the 'walk of shame' down towards the harbour with our luggage in tow.
We hadn't eaten lunch yet and still had an hour or so before the ferry, so we sat down at Cafe Stavros for some food and drink. I didn't want to eat anything too heavy before the ferry, so settled for a cheese and onion toastie and my final beer of the trip. Mum and Dad shared a Greek salad and a cheese puff pie.
Slightly nervous that the ferry might run late, I was relieved when I checked MarineTraffic.com and saw that Champion Jet 2 actually stops at Milos for a while before beginning its return voyage to the mainland. This meant it was unlikely to be late as Sifnos is the first island it will visit. Sure enough, at 2 pm, I saw that it had departed from Milos and was making its way towards us.
We made our way over to the port and joined the waiting crowd in the departure area. Just before 2:30, I saw the boat appear around the bay and just a few minutes later we had boarded and were taking our seats in the large cabin area. The crossing was smooth and uneventful, arriving in Piraeus harbour at around 5 pm.
This was my first experience of Piraeus and boy was it busy!! I was glad we'd booked a private transfer, as shortly after disembarking I saw a man holding a board with my name on it. We made our way over to him and he quickly escorted us to his car and helped load our luggage into the boot. Getting out of the parking area took quite a while as it joins onto a busy road and there were loads of taxis, cars, bikes and buses all trying to get out of the port at the same time.
Eventually, though, we were on the main roads and making good progress heading east towards the airport. Our driver was lovely and very chatty. He asked what time our flight was and seemed relieved when we told him it wasn't until 8:50 so there was no mad rush: apparently, it's not unusual for him to pick up people who need to get to the airport in a hurry and expect the driver to work miracles around the traffic.
Flying Home
We pulled up to the terminal building a little after 6:15 pm, much to all our relief at having made it in plenty of time. Mum and Dad were only travelling with hand luggage, but it didn't take me long to drop my suitcase at the Ryanair check-in desk and they had no issues with my Covid test paperwork so I soon rejoined my parents and we went through the security area together.
Once we were in the departure lounge, I felt hungry and decided it would be better (and cheaper) to eat now instead of on the flight, so we found a table near a food outlet and I ordered a cheeseburger and fries. The food was very average, but it filled a hole so I wasn't complaining.
Boarding commenced on time and the plane took off just a few minutes after its scheduled departure time. We made good time and landed 20 minutes ahead of schedule at 10:30 pm UK time.
The Last Leg
Once we'd cleared passport control at London Stansted, which was quite busy and took about 20 minutes, my case was waiting on the carousel and we were soon outside the terminal waiting for a bus back to the car park. A few minutes later the next bus turned up and within 15 minutes we were in Dad's car heading for the M11 motorway.
The final snag happened just as we tried to merge onto the motorway, finding that it was closed overnight for maintenance work – great! The detour via several smaller roads added about 30 minutes to what should have been a 90-minute journey, with us finally arriving home at 1:40 am – it felt much later though as this was 3:40 am Greek time!
That's All Folks!
Well, that's it, another Greece trip was done and dusted. Though this has been a trip like none I've had before, beating my previous longest stay by nearly two months! I'll be posting a full retrospective shortly and, who knows, maybe even planning another trip for next year… watch this space!