Tuesday 3rd August 2021
Superb Sleep and Brilliant Breakfast
It's fair to say I was pleased with my hotel move. I had a fantastic night's sleep on the most comfortable bed I've used since arriving in Greece nearly a full month ago. The day continued on a good track when I headed downstairs for breakfast and was greeted by a tasty looking spread: cereals, tea/coffee, juice, nice bread, proper yoghurt & honey and even a selection of hot items including what the owner told me is a local delicacy – what appeared to be fried slices of baguette bread soaked in honey and cinnamon. It was a far cry from Captain's Hotel and I savoured every mouthful as I sat outside on the small veranda at the rear of Hotel Sonia.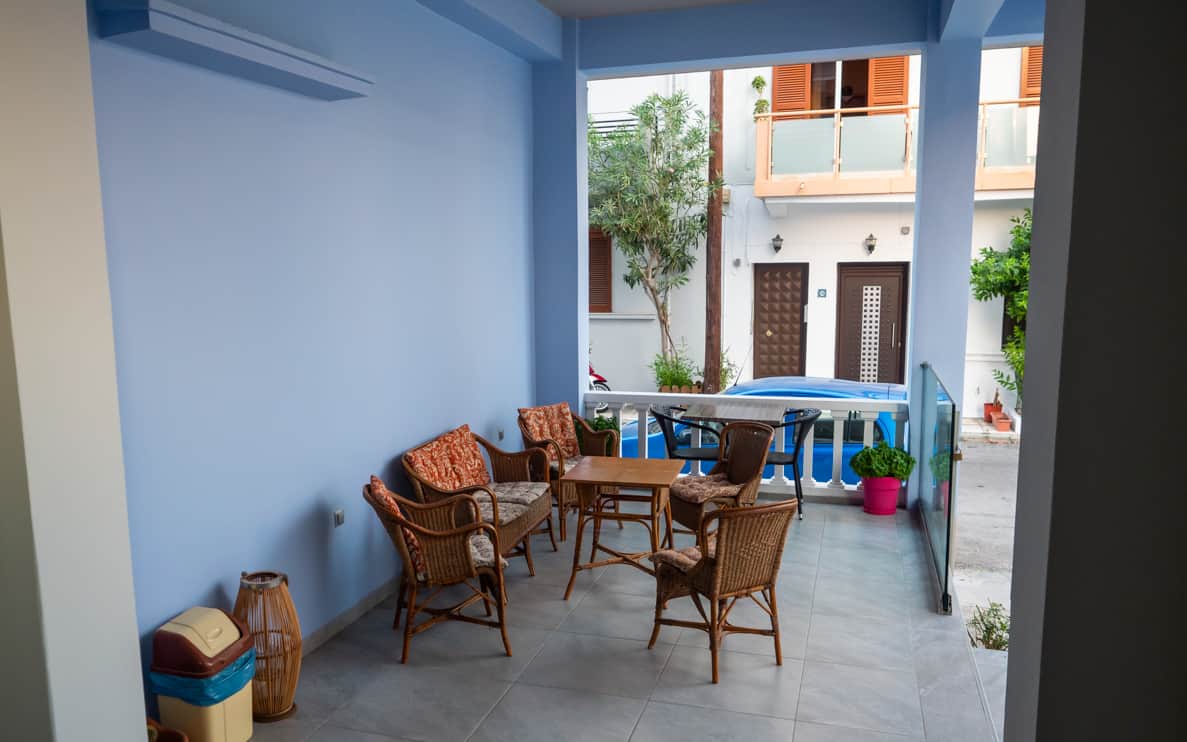 Why I'm Still Here
As my sixth day on Kos begins, you might wonder why I'm still here and when I'm planning to move on. According to my original plan, I was going to spend a few nights on Kos before heading across to the Cyclades and exploring some of the smaller islands, namely Donoussa, Schinousa and Iraklia. Well, as a result of my decision not to book any of my accommodation up-front, so as to give me more flexibility, I found that I was unable to secure anywhere to stay on these islands during the early part of August, on account of it being peak season. In spite of Covid, tourism seemed to be booming and with some hotels choosing not to open (or having gone bust), options were limited.
This left me with something of a dilemma: do I stay on Kos until I can get across to the Cyclades as originally planned; do I continue north through the Dodecanese and possibly into the Northeastern Aegean Islands; or backtrack south perhaps even as far as Crete in order to get a ferry or internal flight to a different part of the country? Ultimately, I ruled out the latter two options and decided I would stay put on Kos for the time being, while checking regularly for an opportunity to get across to the Cyclades – made somewhat easier because there is only one ferry a week (on Saturday) between Kos and Amorgos, so if I couldn't get accommodation on Amorgos for the Saturday night, I would have to stay another 7-nights on Kos and try again the following week.
Ed Coming to Visit
One benefit of this delay on Kos was that my friend and regular Greece travel companion, Ed, is arriving on Rhodes tomorrow and knowing I would be on Kos for at least the next few days, had made plans to join me for 3 nights so we could explore the island together and no doubt enjoy a good few beers while we were at it!
Another Relaxing Day at the Beach
Knowing the next few days might be fairly busy once Ed arrived, I decided to have yet another relaxing day down at the beach. I did consider visiting the gym again but was experiencing quite a lot of muscle soreness from yesterday's workout, so I took the easy option and skipped exercise in favour of sunbathing!
After the delicious hotel breakfast, I walked down to my usual spot at Sunburnt Arms – a slightly longer walk from Hotel Sonia, but not by much – and spent the morning chilling out in the sun, interrupted only by occasional dips in the sea to cool off. At lunch, I had a cheese & onion toastie and a cheeky beer, then back to the sunbed for another hour or two.
Switching Hotel Rooms…or not
Before leaving the room in the morning, I'd packed up all my belongings so that the hotel staff could move them to my new (non-deluxe) room for the remainder of my stay. However, upon returning to the hotel mid-afternoon, it appeared there had been yet more confusion over where I was staying – the result of which being I could keep the deluxe room another night and would switch rooms the following day instead.
Aside from the slight annoyance at having packed my bags, I couldn't be unhappy at the prospect of another night in the luxurious room and especially the supremely comfortable bed! I was given back my room key and went upstairs to shower and relax for a while. I had almost finished my Rhodes YouTube video (which you can find at the bottom of this post) so I spent a couple of hours tidying it up ready to upload and publish.
Dinner at MamaRosa AGAIN
You may have realised by now that I'm somewhat a creature of habit, particularly when it comes to food. If I find somewhere I really like, it's hard not to keep going back at the risk of having an inferior meal elsewhere. There were still a couple of dishes on the menu at MamaRosa that I liked the sound of, so I had taken the precaution of booking a table for tonight during my walk back from the beach earlier.
I tried a different starter this time: bruschetta with caramelised onions and Roquefort cheese. It was nice, but I have a complex relationship with blue cheeses: I love the taste in very small quantities, but easily find it overpowering and sickly at times. Several of the bruschetta slices had rather too much cheese, so I had to start scraping it off otherwise I couldn't eat them.
My main course was shrimp linguini and this was delicious, though I could have eaten a few more shrimp and had a bit less pasta, but that's me being picky. Overall it was another great meal and I strolled back to the hotel yet again feeling very satisfied. Kos Town had grown on me and I was feeling very at home here.