Monday 12th July 2021
More Morning Cardio
Woke up this morning to find the wind had finally died down, hurrah! I had set my alarm early for another morning dose of cardio, eager to improve on my last effort in both time and distance.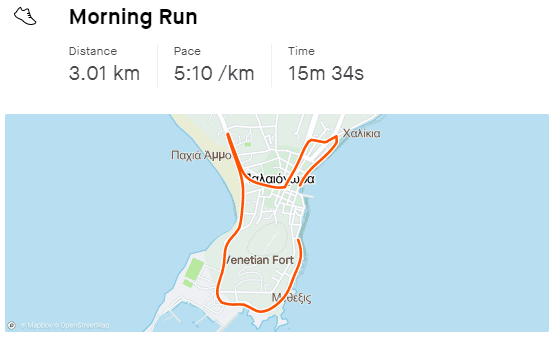 This time, I went south from the hotel, around the bottom of the headland and up the western coastline past the main beach. I then reversed direction, cutting east through the centre of the village – which was pleasantly deserted at that time in the morning – all the way to the eastern beach and partway down towards the hotel, stopping when I hit the 3km milestone.
I was pleased with the time and distance, both improved since the last run. I had started steady (5:30min/km) and worked my final kilometre down to 4:40.
Back to Palaiochora Beach
A much milder breeze allowed us to return to the main beach at Palaiochora for another relaxing day of swimming and sunbathing [the trip does get more exciting, I promise!]. At lunch, we returned to the same snack bar we had eaten at on our first full day.
More Italian Food
For dinner tonight, we returned to Gusto Italiano, where I had the same starter as before, but this time instead of a pizza I tried their tortellini with peppers and cheese in a creamy sauce. It's one of my favourite meals and was indeed delicious, though couldn't quite match the ones I had last year on Sifnos (which I'll hopefully be returning to at the end of this trip!!)