Saturday 4th September 2021
Last Full Day on Sikinos
My time on Sikinos has been short, but I've enjoyed the change of pace very much. Aside from the lack of good food (see previous posts), the island is great and well worth a few days if you're exploring the Cyclades. I don't think I'd want to spend as long as a week here, but 3 nights is a good amount and has worked well for me.
After the usual breakfast in my apartment, I decided that I would visit Episkope today despite skipping it yesterday after discovering it's undergoing renovation. With relatively few sights on the island, there was no reason not to at least see it from the outside and get some photos and YouTube content.
Before setting out in the car, I looked on Google Maps and discovered that there's a little church called Agia Marina on a hilltop south of Episkope. It's only a kilometre away, so I decided to visit both to pass the time and hopefully get some nice views of the island.
Episkope and Agia Marina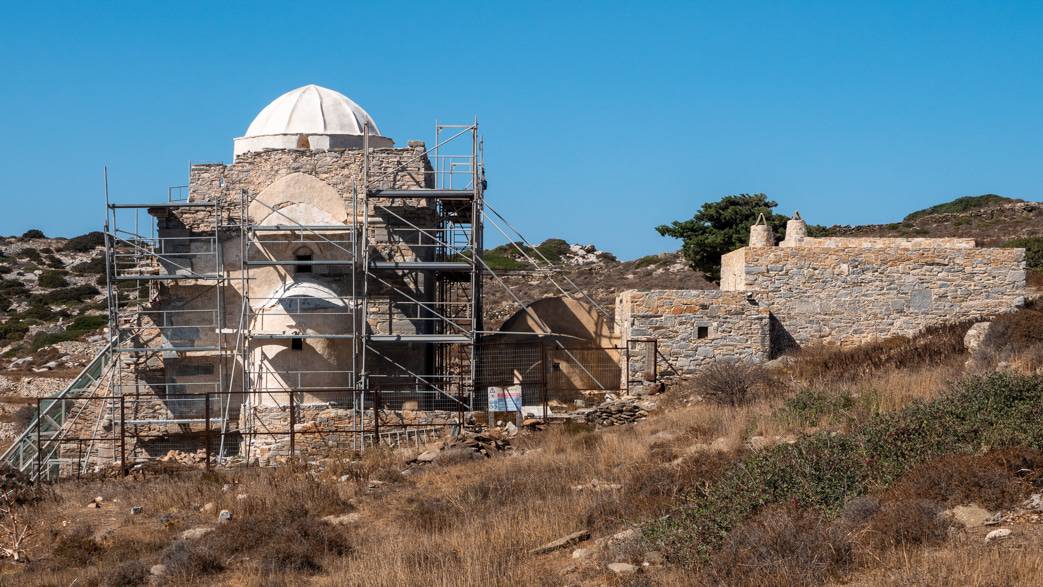 Sure enough, as I approached Episkope from the small parking area just to the north, I could see it was still covered with scaffolding. I decided not to get too close as there wasn't really much to see, nor any opportunity for good photos.
Continuing south past the church, I began the climb towards Agia Marina. It's pretty gentle most of the way and the ground is flat and covered only with low-level plants and yellowed grass.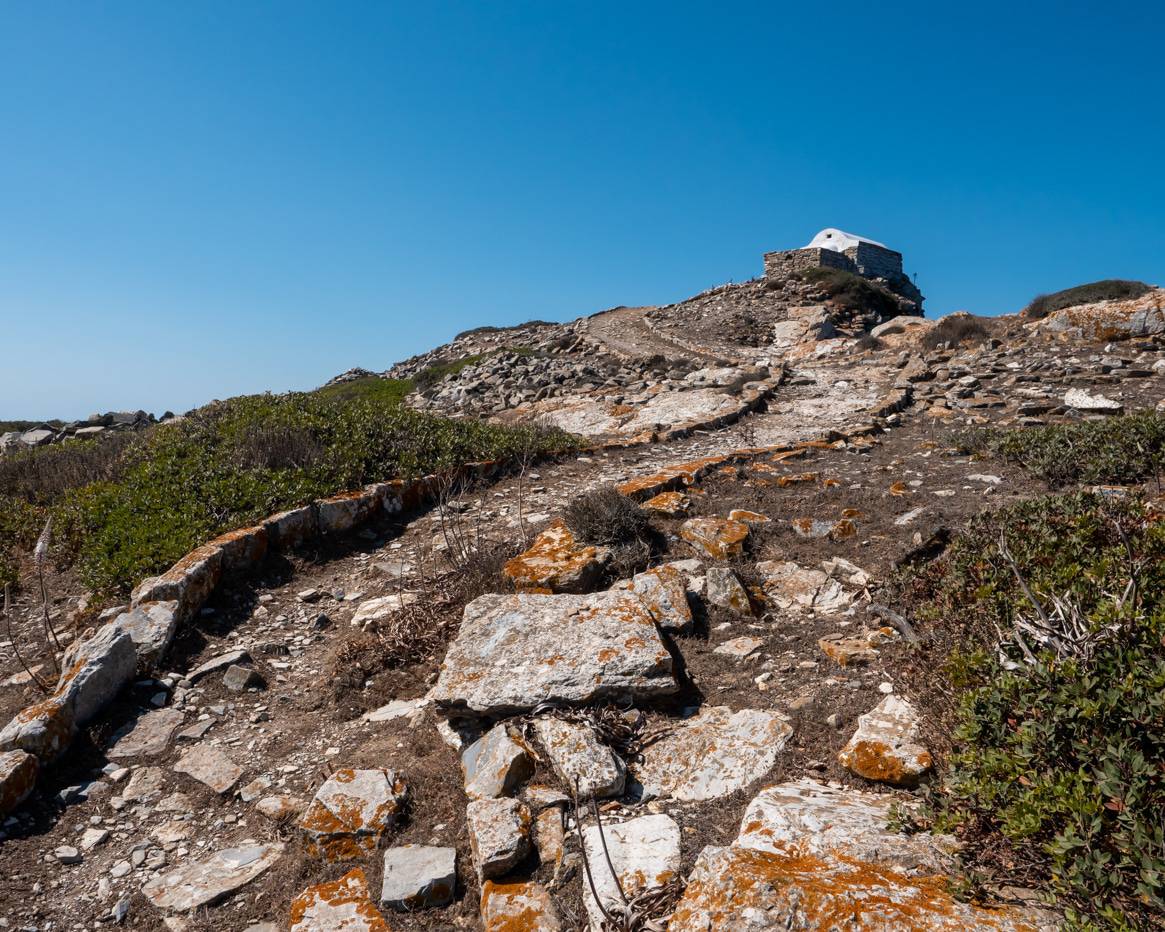 As I neared the church, I looked back and was surprised to see just how high I'd climbed. The views are pretty impressive as you can see below: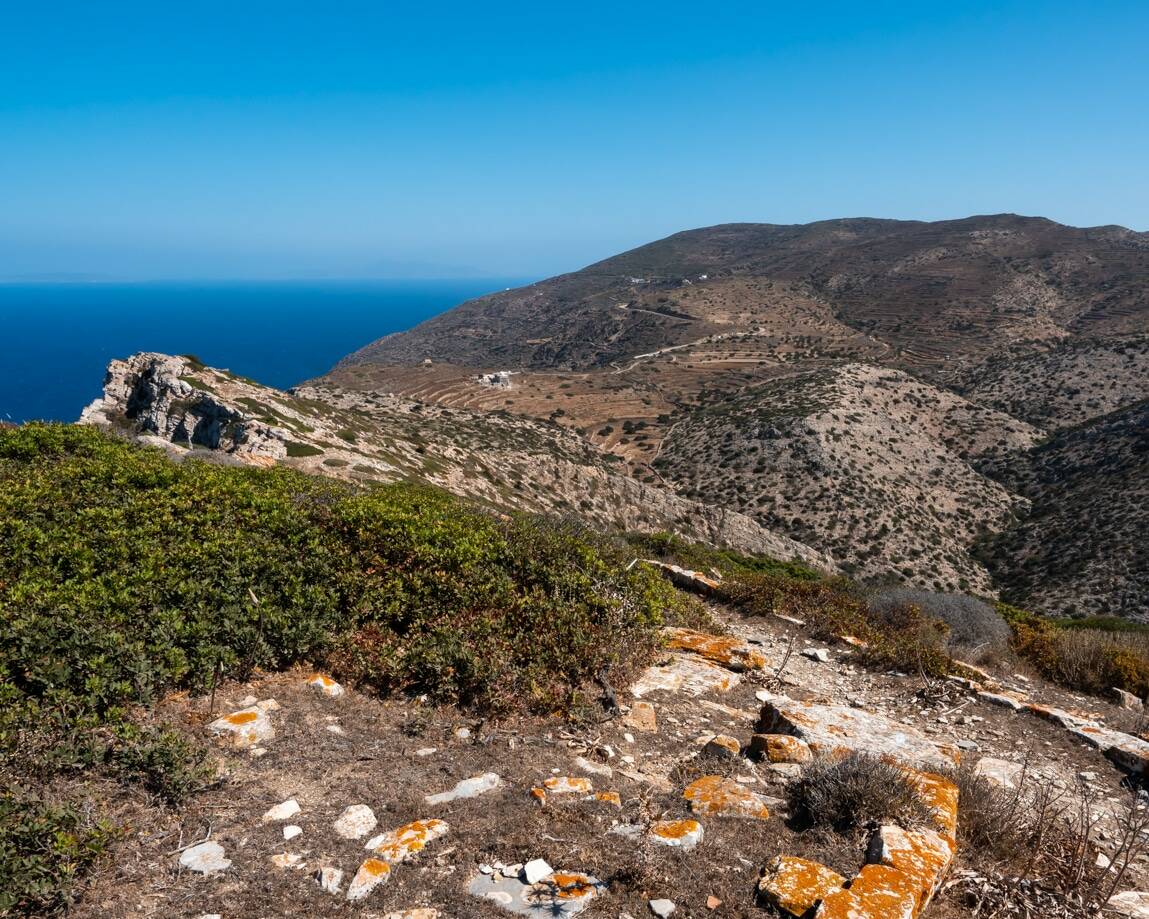 It hadn't taken long and was definitely worth the little effort for such impressive panoramic views, not just of Sikinos itself, but also across to Folegandros to the west and Ios to the east.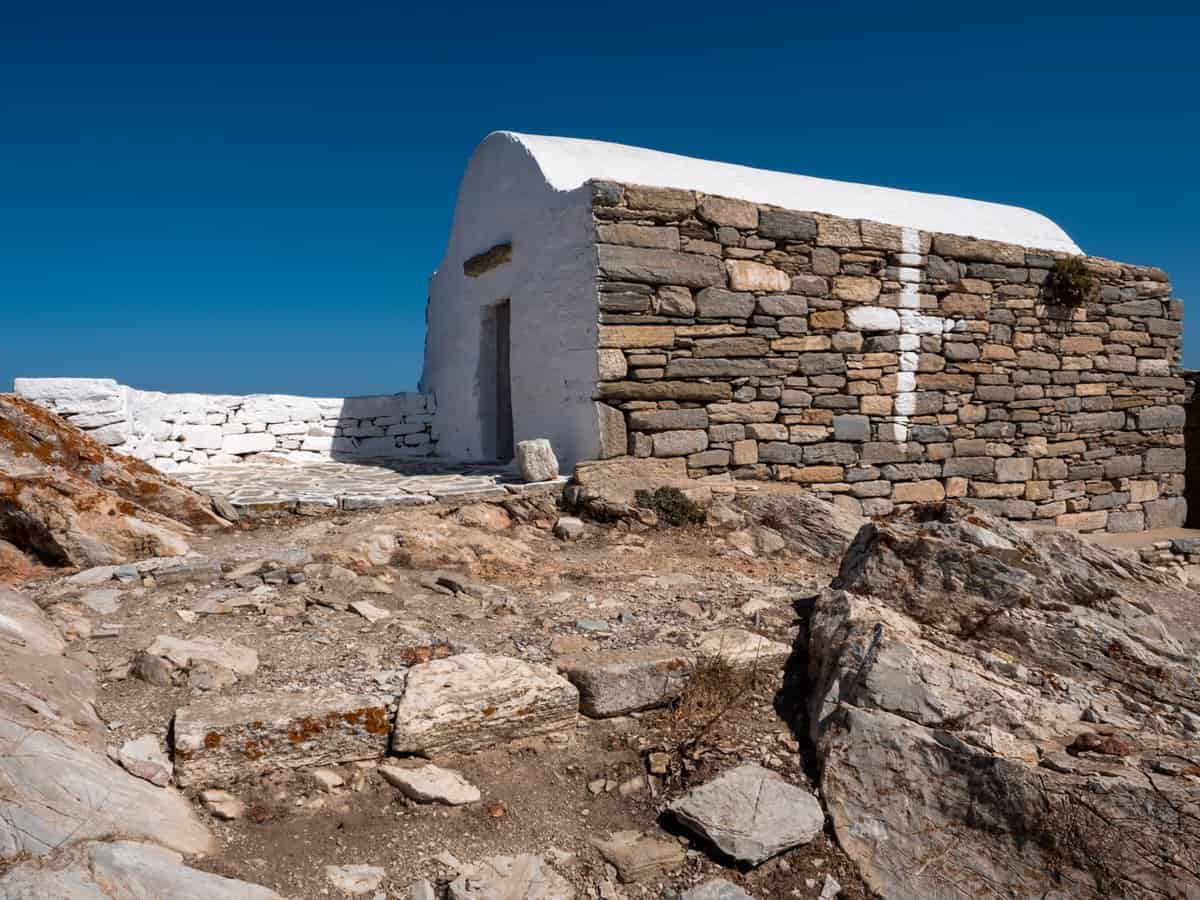 The church itself is small, but you can go inside and see the typical religious icons and decorations you would expect. It was pretty windy, but the building offered some shelter and the views more than made it worthwhile.
Chora and Lunch (Sort Of)
Back in the car, I drove north towards Chora, stopping briefly at a strange old building on the left as you approach the village. It turned out to be an abandoned chapel according to Google Maps, called Ξωκκλήσι Μεταμόρφωση του Σωτήρος ("Chapel of the Transfiguration of the Savior", my trusty Google Translate assures me). It was pretty creepy and looks to have been derelict for some time, but made for interesting footage for my YouTube video!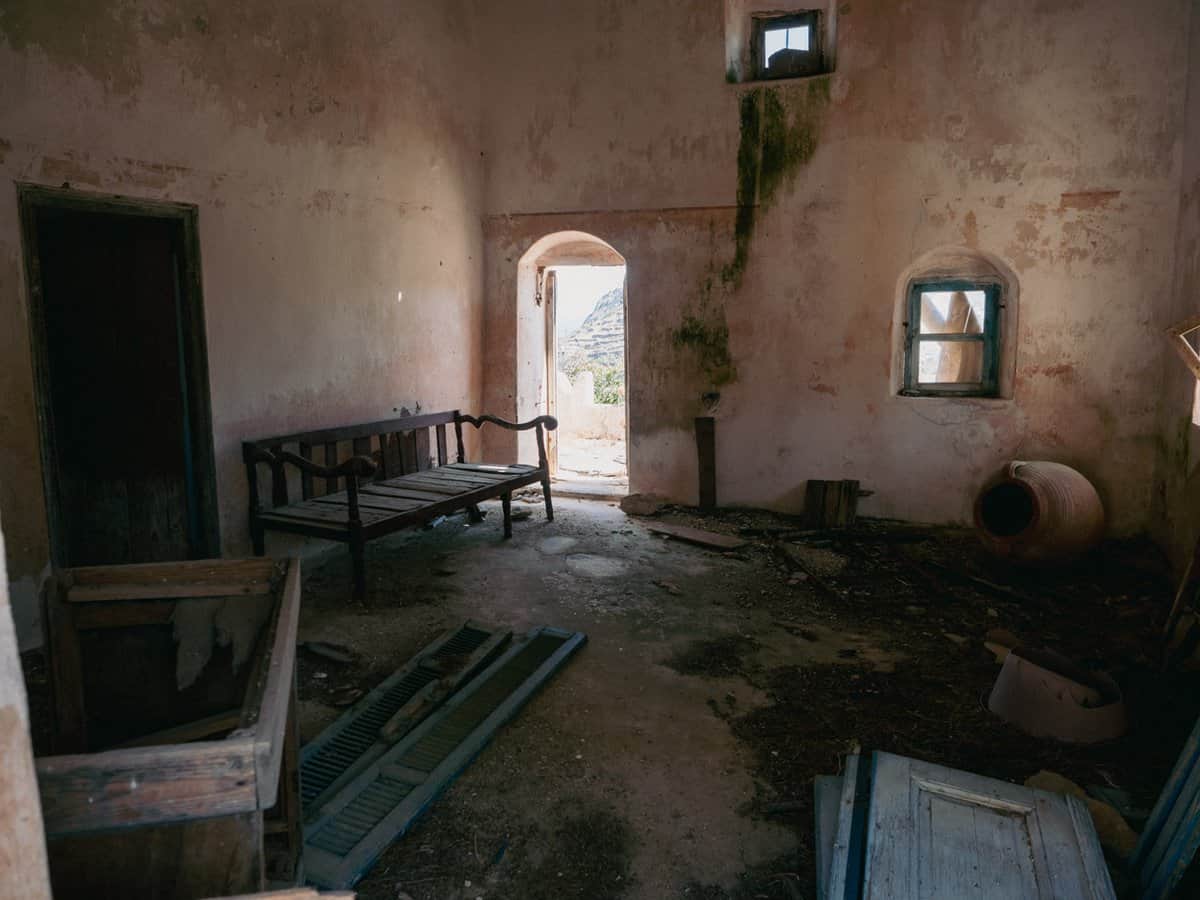 I then continued into Chora, this time parking closer to the bus stop at the southern edge of the village. I stopped here so that I could take a walk around the part of Chora that is split from the main village and lies to the southwest of the main road. I'm not sure if this is true or not, but I think the northern part of the village is called Kastro while the southern part is Horio, but they are also collectively known as Chora – Google Maps doesn't differentiate between the two so make your own mind up on that!
Either way, the southern settlement is extremely quiet and consists only of residential houses and a few churches. It was nice to walk around, but after a few minutes, I crossed back over the road and headed north into Kastro.
Once again, I was in search of food but rather jaded by the limited taverna options, so instead, I found a cafe called Plateia which is right next to the main church (Pantanassa). Abandoning thoughts of a proper meal, I opted for a Mammos beer and some pancakes! Okay, it may not have been a healthy or traditional meal but at least it was tasty and would keep me fueled for the rest of the afternoon.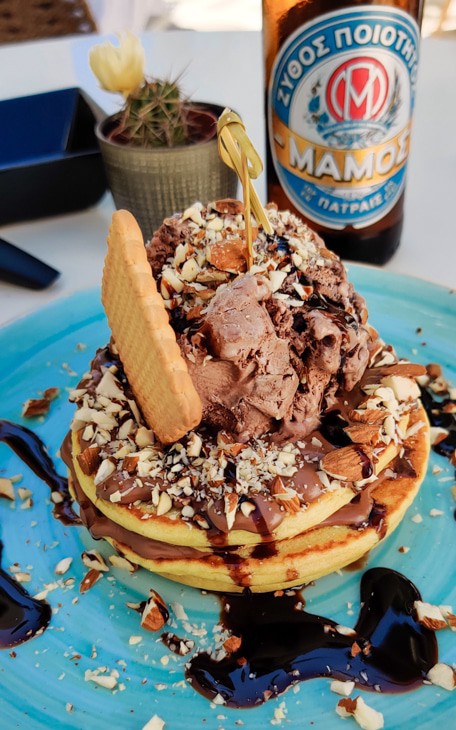 I took my time eating the pancakes, relaxing under the clear blue skies and enjoying the peaceful ambience amid the few other customers. I had nothing left to do for the rest of the day, so once I'd finished my lunch I headed back to the car and drove down to Alopronia to chill out back at the apartment for a little while.
Returning the Car and Skipping Dinner
My rental car was due to be returned around 6 pm, so I decided to hit the main beach in Alopronia for a couple of hours, before handing the keys back at the nearby mini-market.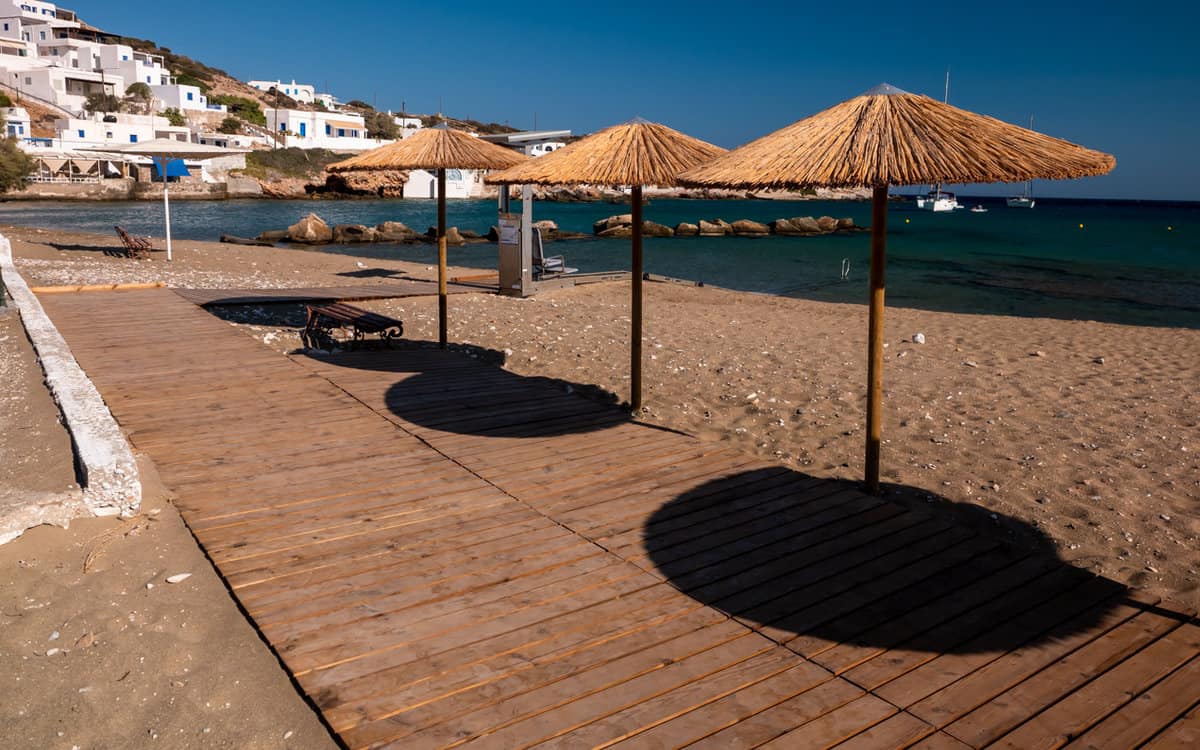 The beach was quiet, as I expected, so I had my pick of spots to throw down a towel and stretch out on the hot sand. After sunbathing for a while, I got my goggles out and had a swim in the sea: the water is lovely and clear and stays shallow for quite a way out, making it ideal for families with young children – though I'm not sure many families would venture to an island as quiet as this. Their loss is my gain!
As I dropped off the car keys, I bought a couple of snack items from the shop and decided I would just eat in my room this evening instead of venturing out. Without transportation, I was limited to the single taverna in Alopronia – Meltemi – but again it had mixed reviews and while I feel guilty now not giving it a try, I couldn't face another disappointing meal and it never hurts to save a few Euro.
I spent the rest of the evening in my room, making good progress on the YouTube videos for Amorgos, Naxos and Ios – it helped to have several to work on and I was able to save time by going through the editing process on multiple videos simultaneously.