Monday 2nd August 2021
Laundry Day
As mentioned in yesterday's post, I managed to negotiate a good deal on a different hotel for the next 5 nights here on Kos. I had to check out of my current hotel by 11 am, but not wanting to waste any of the day, I got up early, had a quick breakfast and then took some of my dirty clothes to dry cleaners just around the corner. I had tried to do this yesterday, only to discover they don't open on Sundays! Believe it or not, it's the first time I've ever had my clothes cleaned in a laundrette so it was actually a rather strange experience doing it for the first time in another country. Incredibly simple though and it only cost €5 for a full bag.
Continuing towards the beach, I had noticed on previous days that there was a gym next door to the Sunburnt Arms and decided to pop in and see what it would cost to use the equipment – I don't usually train on holiday, but since this was an extended trip, I wanted to stay in shape and felt like I needed to start burning a few more calories with all the food and alcohol I'd been consuming! They charged €8 for a day pass, which was a little expensive but not terrible, so I told the guy I would come back later for a workout.
Moving Hotels
With my bags mostly packed the night before, I returned to the hotel and got my belongings together before checking out of Captain's Hotel at 11 with no regrets – the lady at reception was lovely, but the hotel sucks and I was glad to be moving on.
The walk from Captain's to Hotel Sonia wasn't far so it only took about 5 minutes to wheel my suitcase down the road. As expected, my new room wouldn't be ready until the afternoon, but the owner was happy to look after my bags while I went off to the gym and beach.
A Very Sweaty Workout
The gym was very quiet when I returned, with only a couple of other users across both floors. It's a typical what I would call "holiday gym" – fairly dated equipment, plainly decorated walls and (sadly) rubbish air conditioning – but, it had most of what I needed and the guy running it was very friendly.
The lack of air conditioning proved to be the biggest problem, as it was still in the high 30's Celsius so, within minutes of starting my weight routine, I was sweating profusely all over my body. I'd brought a 2-litre bottle of water with me, but had finished it within 45-minutes and had to stop once I ran out. I quickly changed into my beach shorts and headed straight round to Sunburnt Arms, dumped my bags onto a sunbed and ran headlong into the sea! It felt amazing!!
Lunch Time
Wanting to get some protein in after my workout, I ordered a chicken burger and fruit smoothie for lunch and took my time eating them. I then walked back to Hotel Sonia as it was approaching 2 pm and I was hopeful my room would be ready.
Free Upgrade?!
One thing I didn't mention earlier, when I first arrived at Hotel Sonia there was some confusion over my booking. Despite me putting the correct dates in my emails, they weren't expecting me until the following day. Realising it was their mistake, they offered me a deluxe room for tonight as it was all they had available but wouldn't charge me any extra for it. It would mean having to move rooms again tomorrow, but I wasn't too bothered about that.
The room was superb and the complete opposite of Captain's hotel: large, with a king-sized bed, huge shower and amazing air-conditioning that was virtually silent. I took a long shower then chilled out in the room for a couple of hours, continuing to work on my YouTube videos, before heading out late afternoon to do some sightseeing.
Casa Romana
Kos Town has several historic attractions, most of which are south of the harbour. Setting off from Hotel Sonia at 5:30 pm, I walked around the harbour and then south to Casa Romana. Several attractions close at 6 pm, but the Roman villa was still open, so I made my way there and paid the €6 entry fee to look around.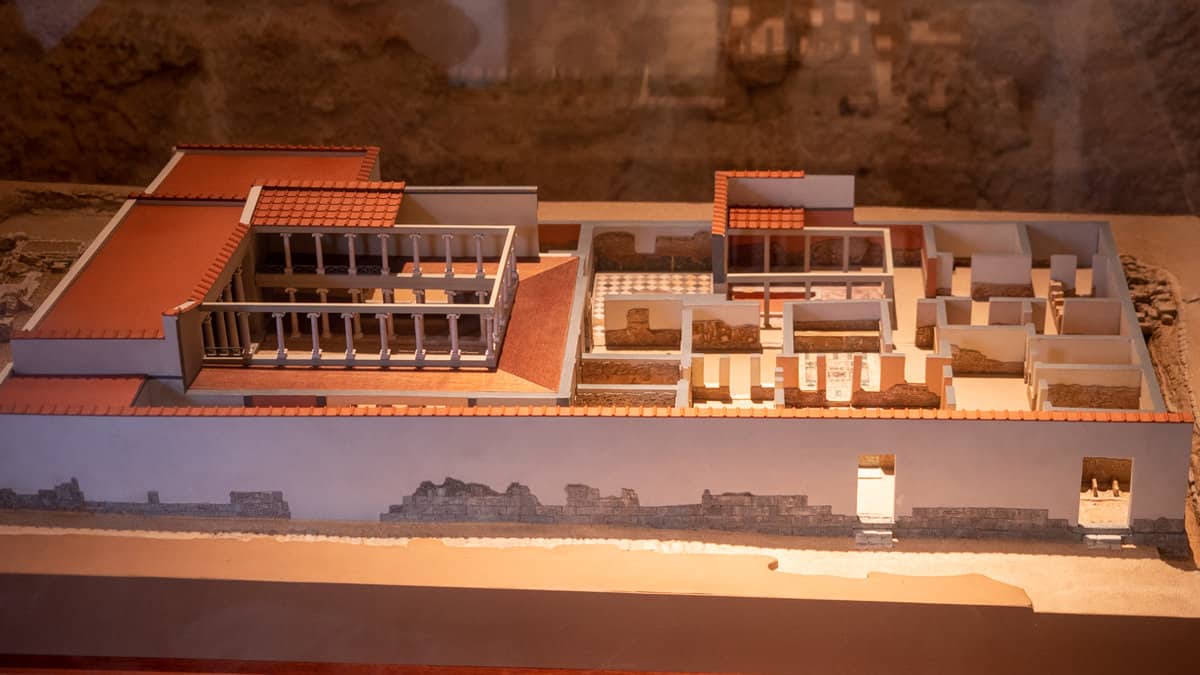 The villa is medium-sized and took me about 30 minutes to walk around. There are various exhibits, ranging from jewellery and small items to larger statues, plus sections of the original villa walls, foundations and plumbing.
On the way back from Casa Romana, heading northeast towards the old town, I passed the Altar of Dionysus which isn't much to look at but isn't out of the way so it's worth capturing on your way: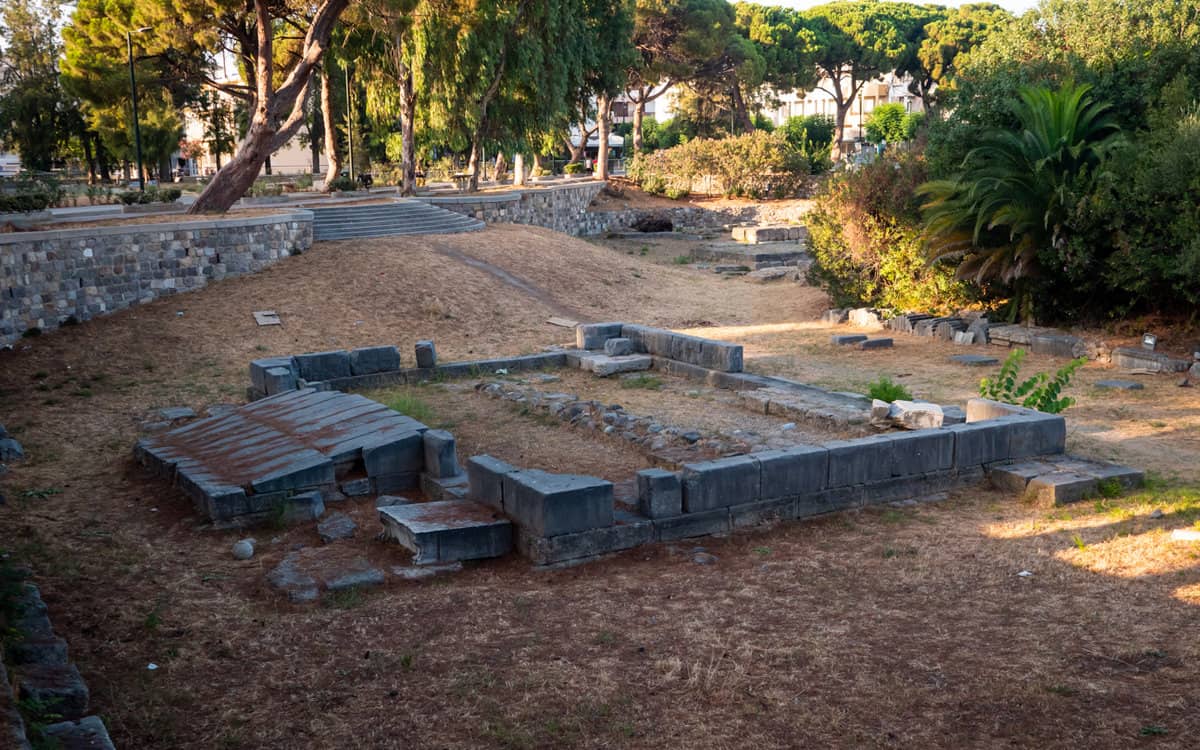 Dinner Time
I stopped back at Hotel Sonia to drop off my camera so I didn't have to carry it with me to dinner. I was so impressed with my pizza at MamaRosa yesterday that I decided to go back there and try one of the pasta dishes I'd seen on the menu.
Unlike yesterday, the restaurant was nearly full and I was lucky to get the last available table: it's clearly very popular and doesn't have nearly enough seating to cater for the demand. I made a mental note to reserve a table next time I wanted to eat there in order to avoid disappointment!
For starters, I ordered arancini balls which were delicious and very filling. As the main course, I chose mushroom tortellini which is one of my favourite dishes. It did not disappoint! I'm not sure it was quite as good as the four-cheese tortellini I fell in love with on Sifnos last year, but it was very close.
The only slight negative about MamaRosa is they don't serve wine by the carafe, only in full bottles which is no good when you're eating alone (and don't want to pay for or consume an entire bottle by yourself!) They do have beer, but I much prefer wine with pasta and it's the one thing that detracted slightly from the overall experience.
Regardless, I left the restaurant feeling suitably stuffed and very contented. I was also looking forward to sleeping in the huge, comfortable bed in my new hotel room.