Sunday 22nd August 2021
Another Island Hop
I didn't mention it in my previous updates, but while I was booking my overnight stay on Amorgos, I also sorted out accommodation for the next few islands as well just to make sure I didn't get stuck again! Today I'm moving from Amorgos to Naxos, where I've booked 5 nights in Agia Anna at a hotel called Birbas. It's a little further from the beach than I'd wanted, but looked nice and was under budget at €54 per night (£46).
To make my ferry connection, I would need to get back across Amorgos to Katapola where the Highspeed 4 vessel was departing at 14:55. But first, breakfast!
Breakfast and Katapola
Despite paying €92 for my room at Filoxenia, breakfast was not included. I got dressed and headed out of the hotel just after 8 am in search of somewhere to eat. There were a few cafes open in the square next to the harbour and I chose one called Giali. Despite having a few set breakfast menus, none of them had the things I wanted so I ended up ordering my coffee, yoghurt with honey, orange juice and water all separately. This made it a rather expensive meal at €12, but it was all pretty good.
I had a choice of buses to get from Aegiali to Katapola. Originally, I planned to take the 12:15 bus but realising I had nothing I wanted to do in the resort I decided to take the 11:15 instead, giving me more time in Katapola. I was also concerned that if the 12:15 bus didn't turn up or there was a big queue and I couldn't get on, there was no subsequent service that would get me to my ferry on time.
I hadn't really unpacked since arriving late yesterday afternoon, so after spending a bit more time on my laptop, I got my bags together and left the hotel just before 11. Again, the walk to the bus stop was very short as the hotel is literally around the corner from the harbour. Soon enough, the bus arrived and I was sat on board as we headed back down the island.
Lazy Lunch and Late Ferry
Arriving in Katapola just before midday, my ability to explore was limited due to having my suitcase with me. I decided to sit and have a beer at Corner Taverna – a favourite dining spot from my trip with Ed in 2019 – followed a while later by a delicious pork gyros. Having spent time at the taverna, they were happy for me to store my suitcase inside the restaurant while I then took a walk around Katapola to get some photos and video.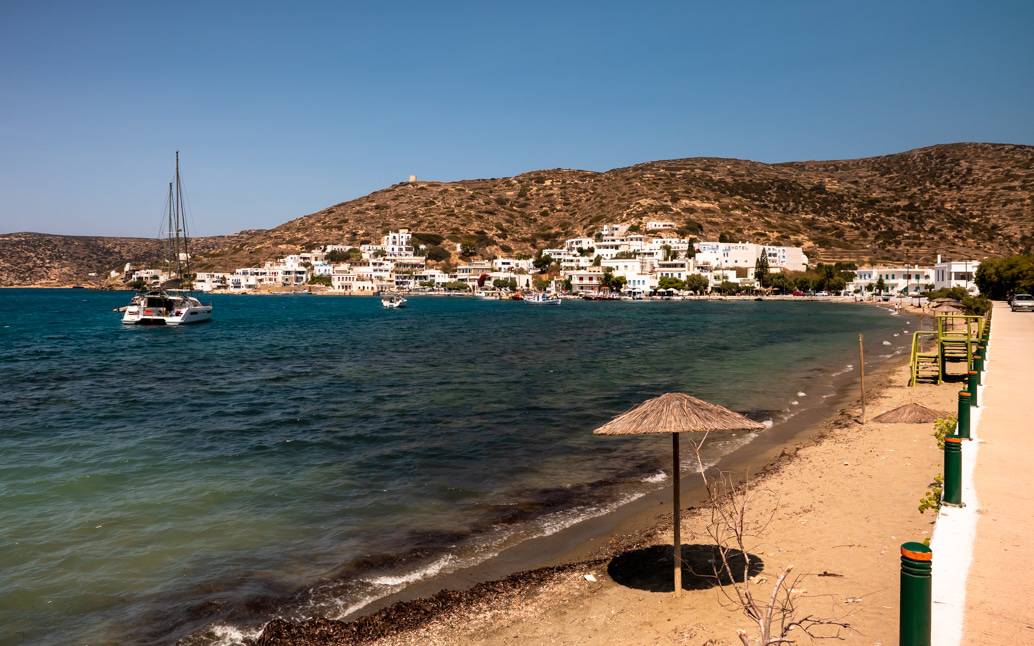 As you can see on the above photo (and on Google Maps), the resort of Katapola is split into two areas: one south of the beach where the port is located, and the other north of the beach. Both sides have their own amenities, though I would say the north has more accommodation and fewer tavernas and shops, while the south side is the reverse.
I returned to Corner Taverna for another beer once I'd done enough walking around. I sat reading my Kindle for a while and once it got to 14:30, checked MarineTraffic.com to see if the ferry was on course to arrive at the advertised time. Unfortunately, I could see that it was only just docking in Koufonissi, a small island just south of Naxos, and was therefore running quite late. I guessed it wouldn't be arriving here until 15:30 at the earliest.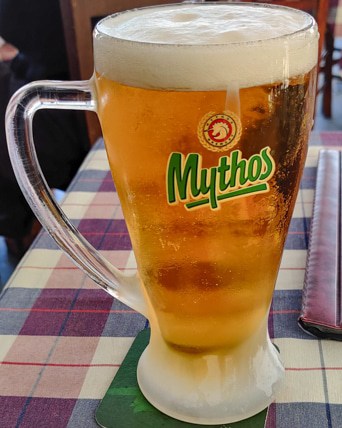 Knowing the ferry was delayed, I kept my shaded table at Corner Taverna and made my beer last as long as possible. I kept checking the tracking website every 10 minutes or so, and when it finally showed Highspeed 4 approaching Amorgos, I paid my bill and walked down to the port.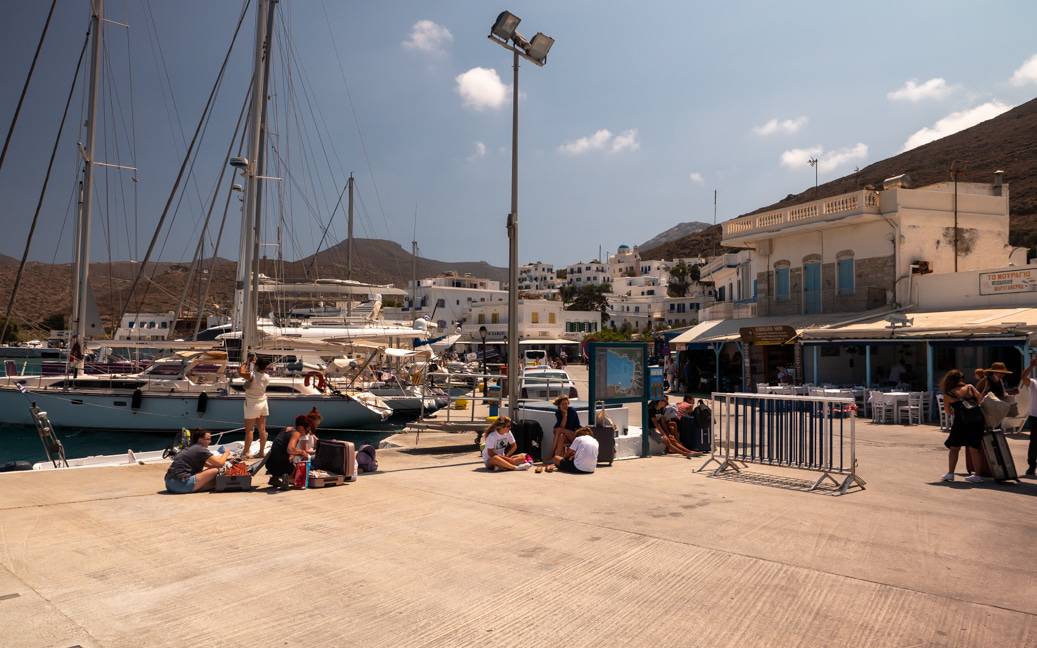 Once the ferry arrived, we got boarded quickly and were soon heading west towards Naxos. The first part of the journey was quite rough, so I sat close to a window as there was no outdoor area on the high-speed craft. It calmed down after 20 minutes, but having already consumed two large beers, I avoided my traditional ferry beer and just kept to my seat instead. It got wavy again as we approached Naxos harbour and I was surprised I managed to disembark without feeling seasick, but once I was back on dry land I felt fine.
Back on Naxos
Naxos is one of my favourite Greek islands – in fact, it was my favourite until I visited Sifnos last year, which I now think just pips Naxos to first place. This will be my fifth time on the island and it felt great to be back on familiar ground as I walked from the port towards the bus station, with the iconic view of Apollo's Gate clearly visible to my left.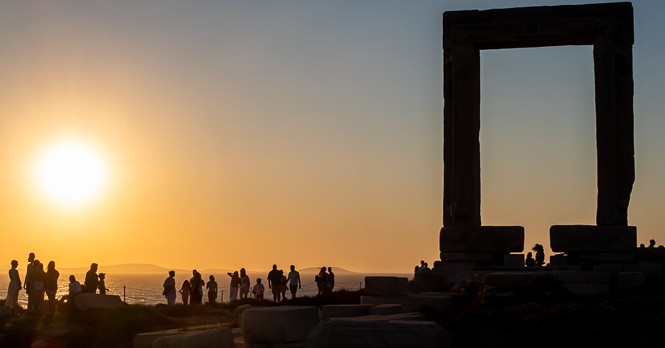 I had considered getting a taxi to my hotel since it isn't walkable from the ferry, but I wanted to save money so I opted for the bus instead. I know there's a bus stop in Agia Anna at the top of the road that leads down to the hotel, so I just had to hope there was one leaving soon. It turned out I was in luck and only just managed to get my ticket (which had to be bought in the ticket office, you can't get them on board) in time to jump on the next bus that was ready to depart.
The bus journey to Agia Anna took about 20 minutes, with a few stops along the way to pick up and drop off other passengers. As I watched from the window, it was nice to see familiar landmarks and reminisce on past visits to the island.
Sweaty Walk to the Hotel
As I mentioned at the start of this post, Hotel Birbas was further from the beach than I really wanted. I knew roughly where it was, having stayed at Naxos Mare in 2018 which is along the same road but slightly closer to the sea. Despite it being late afternoon, the walk from the bus stop was pretty sweaty and not much fun as the road is quite busy and there's no pavement to keep away from traffic. Eventually, I made it and arrived at reception just before 6 pm.
Having told them I would arrive around 5 pm, the reception was deserted and I ended up having to call the hotel's number to get someone to come over and show me to my room. The owner was very friendly though and the room itself was lovely.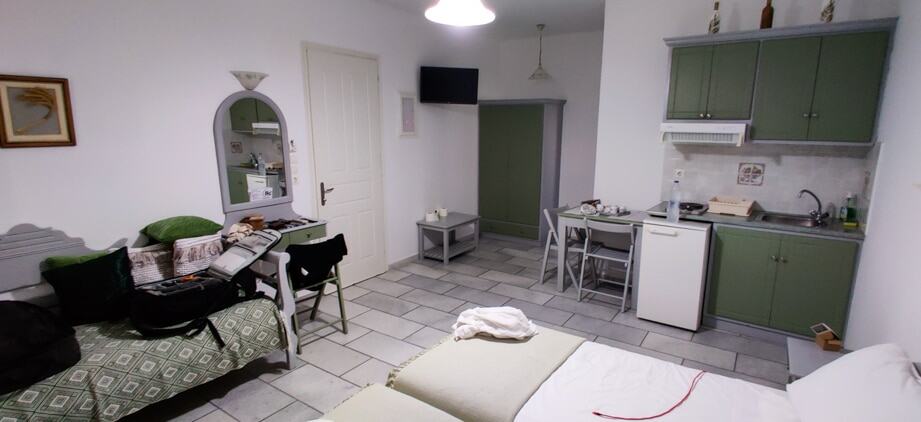 First Evening Meal on Naxos
After settling in my room and unpacking a few bits, I debated whether to go out for dinner or just snack on the biscuits and crisps I had brought with me from the ferry. In the end, I went out as I was keen to see Agia Anna again and I wanted to buy some supplies anyway so that I could prepare my own breakfast in the morning. Also, I was hungry!
The walk back to the village centre was much more pleasant in the evening sun and without my heavy suitcase in tow. Once I reached the bus stop next to the main beach, I turned north to browse the row of cafes, bars and tavernas that line the sand between the harbour and Santana Beach Club. After checking a few menus, I settled on a place called Akrogiali, where I had a tasty moussaka (a bit too much aubergine and it was another tray-baked version) and some good house wine. It was a great spot to catch the sunset too.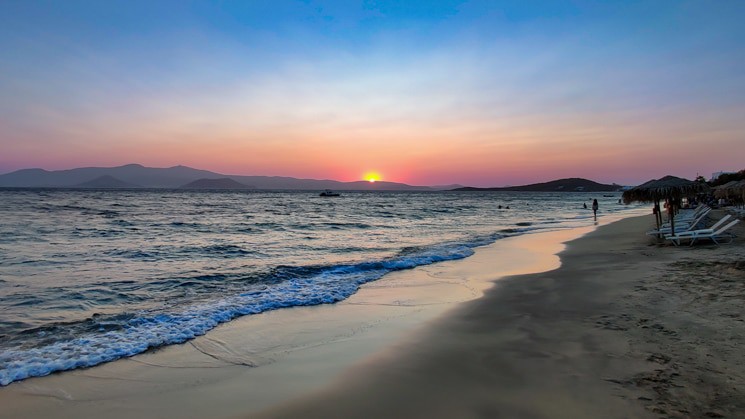 On the way back to the hotel, I stopped at a supermarket and stocked up on milk, yoghurt, honey, coffee and orange juice so that I could enjoy my usual breakfast in the comfort of my room.