Friday 10th September 2021
Sunshine is Back
After a slightly cloudy day yesterday, today saw the return of clear blue skies and a more mild breeze. I met Mum and Dad downstairs at breakfast just after 8, then we decided to go for a stroll around the north side of the bay. For me, it was a retracing of my walk a few days ago to the little church of St Catherine. It was a pleasant stroll: good for Mum and Dad to get a different view of Kamares and for us all to burn off a few breakfast calories!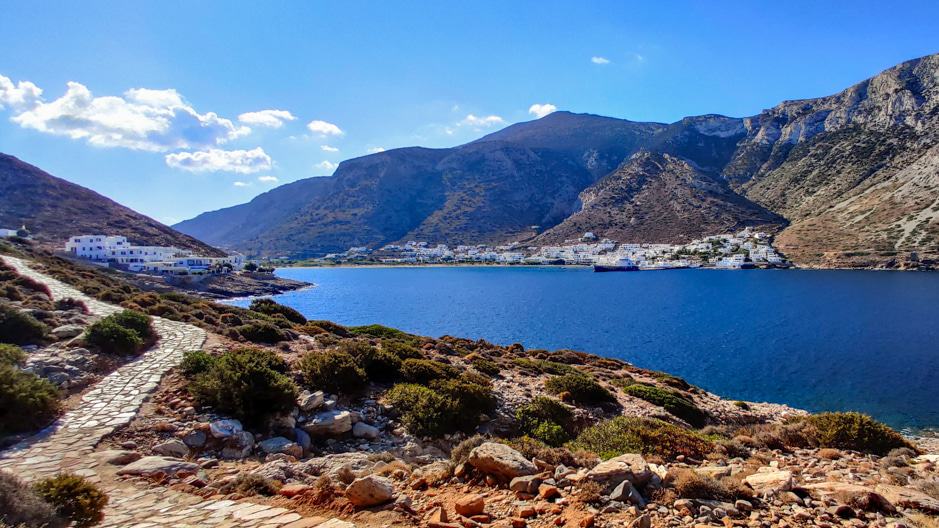 More Beach Relaxing
Okay, I promise we are going to explore Sifnos soon and that the endless 'day at the beach' posts are, well, coming to an end! However, it was my parents' first full day and – much like me – they are keen on relaxing on holiday, so it seemed only fair that we spent today enjoying the wonderful Kamares beach in all its sunny glory.
At lunchtime, we ate at To Kohyli having spent the morning using their sunbeds, then returned to the beach until mid-afternoon. My parents were both very taken with the beach and how calm, shallow and clear the water is. Even my Mum, who isn't a huge fan of water, had several dips and a bit of a swim. To get some exercise, I decided to challenge myself to swim all the way across the bay and back, which according to Google Maps is about 500m each way – not a vast distance for an experienced swimmer like me, but it was the most I'd done since I was last with my parents in Palaiochora on Crete.
Fabulous Food – and Cocktails Again!
After a couple of hours of downtime at the hotel, we met up just after 5:30 and once again headed to Captain's Bar for some Happy Hour cocktails! We did look around for another place to drink, but of a couple of alternatives, neither had a great selection of drinks or were as cheap.
For dinner, we'd booked a table at Passione Italiana and arrived on time at 7:30, hungry and slightly merry! The meal was fabulous and one of the best I'd had on my trip: a trio of mini pizzas to start, followed by ravioli with spinach and ricotta for me and mushroom ravioli for Mum and Dad. Dad and I even managed a dessert: panna cotta for him, chocolate mousse for me! The litre of wine was probably excessive but went down a treat and after our complimentary limoncello aperitif, we barely made it back to the hotel without falling down drunk!
All in all, a fantastic day!