Tuesday 13th July 2021
Early Breakfast
No first visit to western Crete would be complete without a trip to the famous Elafonissi beach. It's about an hour's drive from Palaiochora and we wanted to arrive as early as possible, so we got down to breakfast when it opened at 7:30 am. We arrived just after 9 am and there were already a fair few cars parked up. The beach area is quite large, though, so once we got down to the shoreline it didn't seem that crowded.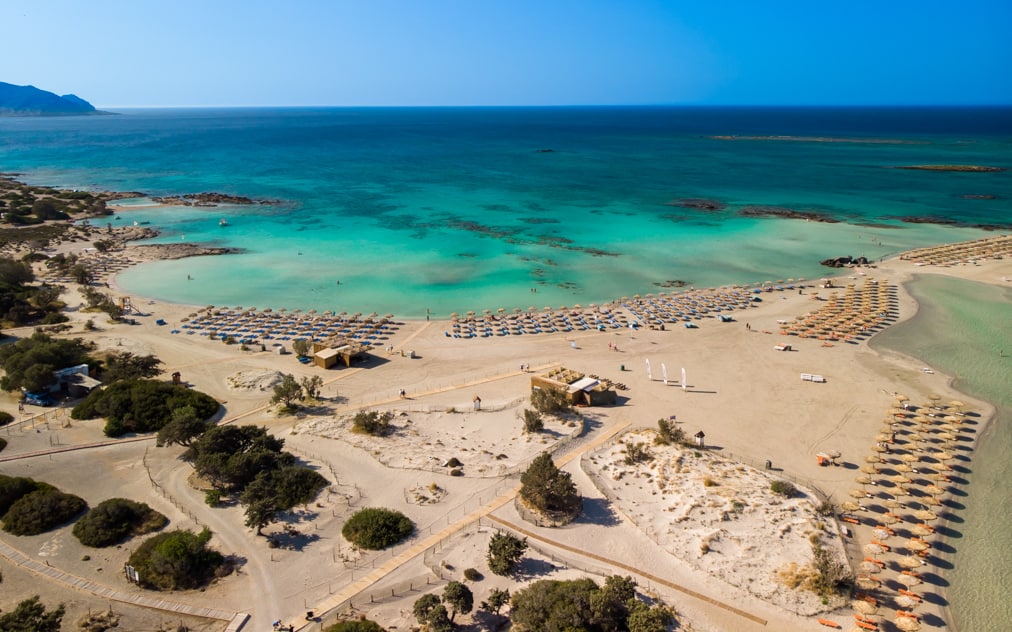 Sadly – though not unexpectedly – the peaceful surroundings didn't last. We managed an hour or two of sunbathing and swimming in the amazingly shallow turquoise waters before the crowding started to get invasive. By 11 am there were no sunbeds left and people were resorting to laying down towels in the gaps between existing beds, making things rather claustrophobic.
Despite paying €20 for our sunbeds, we packed up at midday and made our escape when the volume of tourists became unbearable. This is the side of places like Elafonissi that are rarely talked about: you see tons of pictures of deserted, Caribbean-like beaches, but never the masses of other people trying – just like you – to have their own slice of paradise. The result is you're within spitting distance of a dozen strangers at any given time, especially undesirable in the current circumstances!
Back to Sanity
Having left at midday, we made it back to Palaiochora a bit after 1 o'clock and were in need of something for lunch. We managed to find a snack bar in the village selling Gyros, the perfect cheap snack for a hungry tourist! We then returned to the hotel to relax and I finally finished my first YouTube video (here's another plug if you missed it in my previous post):
Finding Decent WiFi
The downside to making YouTube content abroad…finding WiFi that's fast enough to upload the video so you can publish it! Fortunately, I'd been asking for WiFi details whenever we visited a cafe/bar over the past few days and determined that Livikon had a pretty decent connection. It was no coincidence then that we ended up there just after 6 pm for a pre-dinner cocktail while I hijacked all their bandwidth!
For dinner, we chose a restaurant called Cape Crocodile quite close to our hotel. We had walked past this several times, with Dad and I a bit uncertain about the menu although Mum was quite keen. It turned out to be a fantastic meal (causing much light-hearted grief from Mum for our previous reluctance to try it!).
For starters, I had onion rings which were deliciously light and crispy, followed by pork medallions in a Roquefort sauce that was incredibly tasty. Best of all though was the daily special dessert: lime cheesecake! Although I'm a fan of cheesecake, I was a bit unsure about the lime flavour when I ordered, but it was absolutely sublime and topped off what was probably the best meal of the trip so far.