Sunday 8th to Tuesday 10th August 2021
I Really am Taking it Easy
I've taken the unusual step of combining the past 3 days into a single post because if I didn't then each one would be pretty short, fairly dull and very repetitive. Having already hired a car (twice) and seen a lot of the island, I found myself in Kefalos with nothing in particular that I wanted to do.
On the one hand, it did feel like I was wasting time, but then again, this trip isn't all about sightseeing – I've taken a career break to unwind and recharge my batteries, with the hope of returning to the UK feeling ready for the next chapter in my life. Taking a few days to do, well, pretty much nothing seems fair enough with that goal in mind.
A Summary of my Time
The bed at Chrysoula Apartment was more comfortable than I expected (though not on a par with Hotel Sonia), so I managed to sleep pretty well. Given the cheap nature of the accommodation, I was also pleasantly surprised by the breakfast service: you turn up at the pool bar and have a choice of hot and cold items, but these are individually prepared and were very good. Most days I had a pancake with either chocolate spread or honey; yoghurt with honey; toast; and some fresh fruit. Plus coffee and some juice which, while not freshly squeezed, was far from the worst I've tasted on this trip.
Most of my time was spent sunbathing down at the pool, which never got too busy. I usually tried to do a few laps every day for some attempt at fitness – I couldn't have a 25m pool at my feet and not use it! Sometimes I went to the supermarket across the road to get snacks and cheaper drinks: the pool bar prices aren't terrible, and the cans of beer from their fridge were *ice* cold and fantastic, but I tried to economize where I could. Sadly, the lunch food wasn't great, so I often snacked my way through the day.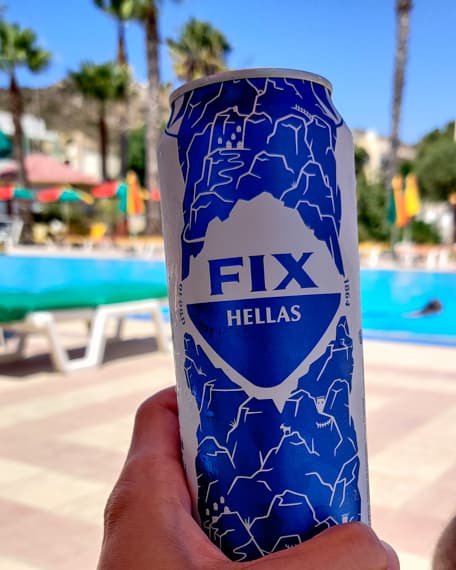 Dinners
Aside from Hippocrates Restaurant and perhaps one or two others, most tavernas in Kefalos were further south and took about 20-25 minutes to walk from the apartment. I tended to walk along the beach in the evenings for a nicer view and to avoid the main road.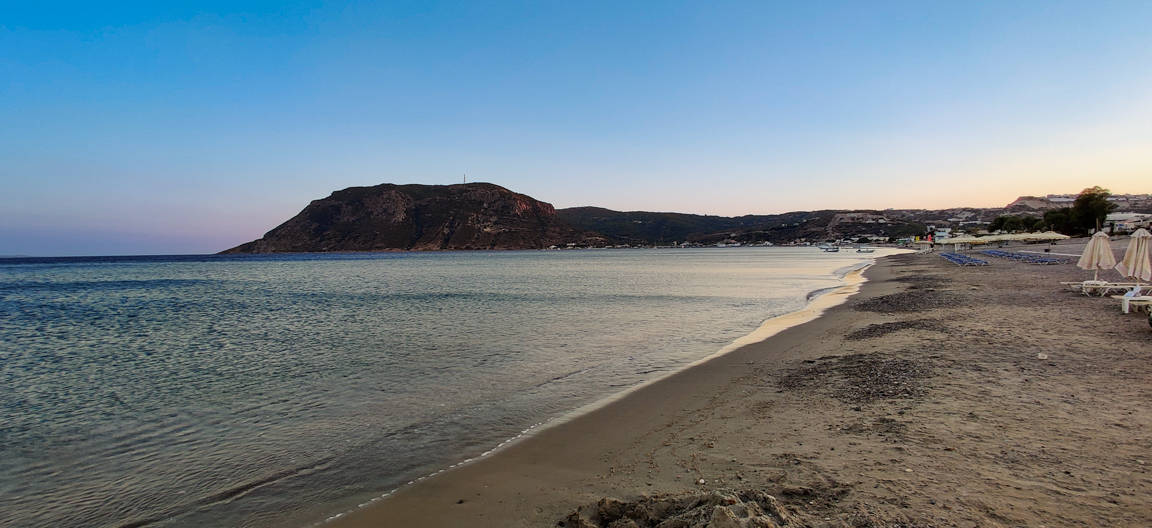 One evening, I tried a place called Scorpio, which had a huge menu. Unfortunately, while the burger I had was good enough, the chips were really undercooked and I didn't feel like it was great value. Another time I returned to Hippocrates, this time avoiding the questionable moussaka in favour of a pizza, which was much nicer. I also had some vegetable spring rolls to start which were delicious, though again I suspected were store-bought and not freshly made. This suspicion was confirmed when the following night I returned to Scorpio's and ordered vegetable spring rolls as a starter, which looked and tasted identical to those from the night before.
I had tried to find a better variety of restaurants, but many of the places recommended on TripAdvisor and/or Google were either closed or had vanished entirely, I assume as a result of the Coronavirus pandemic and its effect on tourism over the past year.
Moving On, Again
With my last night at Chrysoula looming, I had to make another decision on where to stay at least until Saturday, when I would hopefully be able to leave Kos and move onto my next island. Realising that I much preferred the atmosphere in Kos Town, I reached out to the owner of Hotel Sonia via email to see if they could accommodate me for another few days.
Initially, he told me they only had a room for one of the three nights, but a few hours later he responded again to say he could find a way to accommodate me – I was delighted to be able to return and snapped up the room straight away.