Saturday 21st August 2021
Finally on the Move Again!
After three weeks and two days, it was finally time to leave Kos and resume my island-hopping adventure. I've discussed this before, but in case you've missed some of the previous updates, I wanted to get from the Dodecanese islands to the Cyclades as, despite visiting many Cycladic islands already, there are still plenty more to check off my list – plus a few I want to see again. The Blue Star 2 ferry from Kos to Amorgos was the only crossing I could find that enabled me to make this jump, and it only runs once a week, every Saturday, in high season.
The ferry wasn't due to depart until Midday, so I had the morning to relax and pack all my belongings. I'd intended on having a lay-in and a late breakfast, but ended up waking just after 7 am and consequently being the first down to breakfast when it opened at 8! Oh well. I spent the next couple of hours slowly packing, having plenty of time to nip to the supermarket to buy some snacks (and a beer) for the ferry.
At 11:15, after checking MarineTraffic.com to confirm the ferry was roughly on time, I said a fond farewell to the staff at Hotel Sonia and began the slow walk towards the harbour, suitcase in tow.
Smooth Sailing
I arrived at the port in plenty of time. A small crowd was already gathering and, with limited shade in the midday sun, I was lucky to find a partially covered spot where I could sit on the floor and stay cool (well, cooler). The ferry arrived a few minutes behind schedule, but soon enough I was dragging my case up the ramp and depositing it into the storage area. I wasn't asked for any Covid-19 paperwork which was annoying, but not entirely surprising. Then I was out on the deck again, ready to watch our departure and see Kos Town disappearing from view.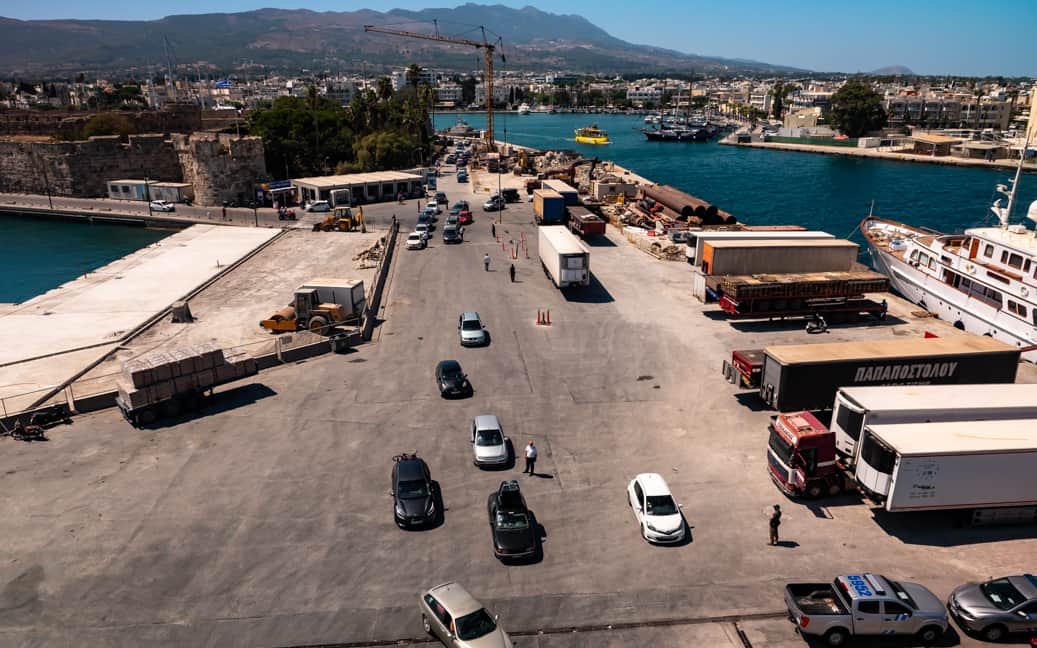 The journey took about 3 hours but the time passed quickly. I spent the first hour sat outside on the lower deck where I'd managed to find a little corner with a chair and some shade, allowing me to watch the world go by while enjoying my beer and crisps that I'd bought prior to boarding. I had my headphones on listening to my favourite music on Spotify and loving life – island-hopping in Greece is definitely an experience not to be missed.
I then had a wander around the inside of the ship, glad the sea was calm enough that I wouldn't suffer any motion sickness moving around indoors. I didn't fancy another beer, so instead I ordered a cup of tea and found a table to sit and drink it while working on my Kos YouTube video – with 3 weeks of footage, it was taking longer than usual to produce and I really wanted to get it finished so I could focus on the next ones as I filmed them.
Amorgos Arrival
It was just after 3 pm as we rounded the headland into the bay to the port of Katapola just behind Hellenic Highspeed 4. As the port is small, we had to wait in the bay while the other ferry docked, unloaded and loaded, which added about a 15-minute delay to our arrival.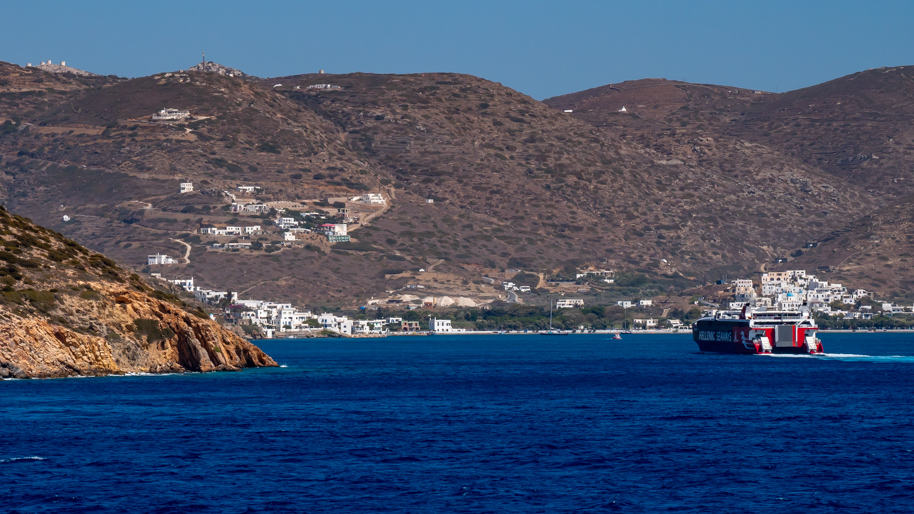 Having visited before back in 2019, I knew the bus station was located behind the main beach, so once we'd docked I quickly disembarked, made my way through the crowds and headed in that direction. According to the timetable printed at the bus station, the next service to Aegiali was due to depart in about 20 minutes, so I sat in the shade along with a few other tourists and waited for the driver to let us on board.
One thing I noticed straight away was how much busier the island was compared to my previous visit. It's not entirely surprising as Ed and I visited in early June which is the very start of the tourist season, whereas mid-August is at its peak. However, there were still more people here than I expected and it felt almost as busy as Kos.
The bus ride to Aegiali took about 30 minutes, including a stop at Chora. My hotel for the night, Filoxenia, was incredibly close to the port which is where the bus dropped off, so I only had a short distance to carry my luggage.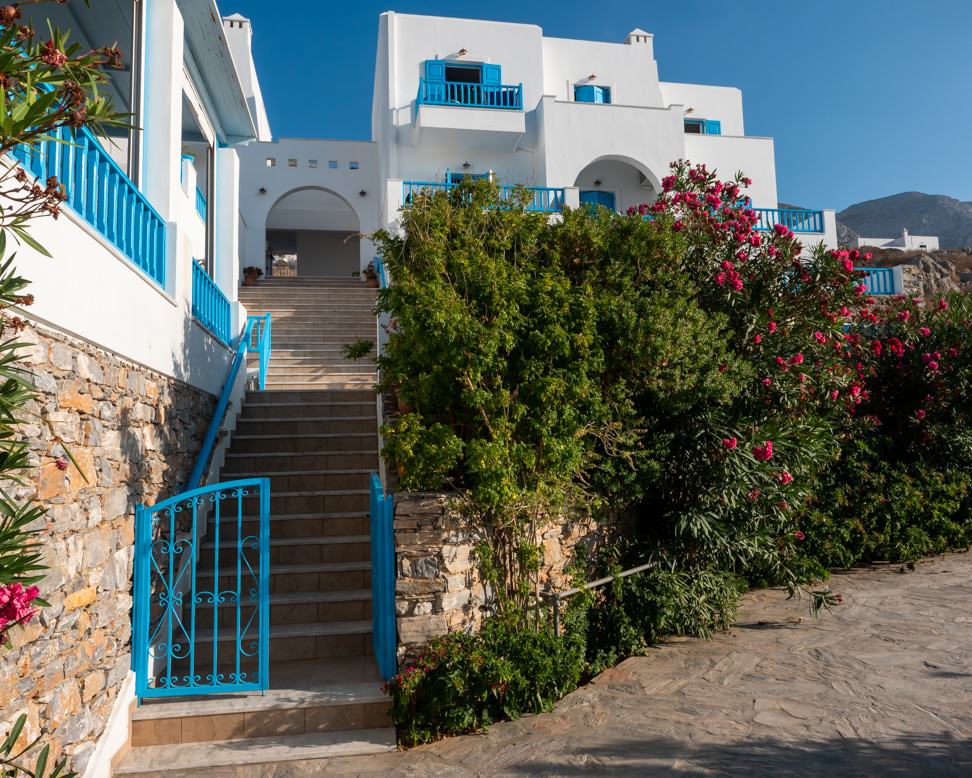 The hotel looks lovely from the outside and has a great spot right next to the sea and overlooking Aegiali bay. Unfortunately, despite my room being very large, it was pretty basic inside and not really worth the €94 I paid, but there had been no other options when I booked. It wasn't a terrible room, just overpriced.
A Quick Hike
With some of the afternoon still remaining, I decided to get out and take a walk around the bay to see some of the beaches opposite the hotel. I set off with my camera gear, heading north around the main beach, then west along a footpath that leads to the beaches of Levrossos and Psili Ammos.
The views from around the bay are impressive, especially in the late afternoon 'golden hour' sun: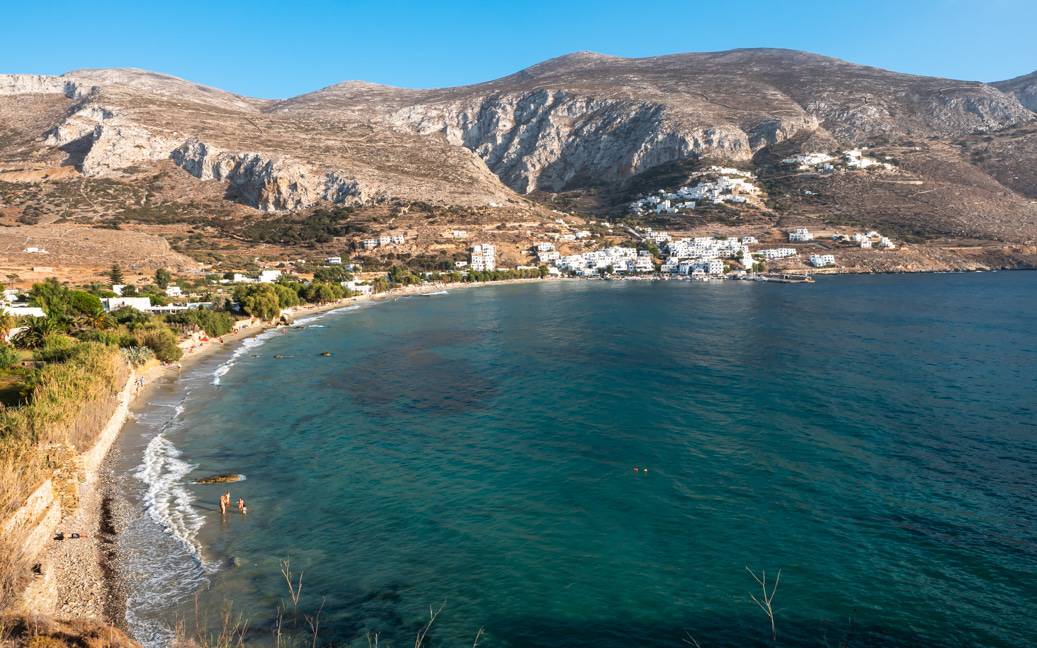 The beach of Levrossos looked popular but loses the sun quite quickly as it begins to set behind the headland: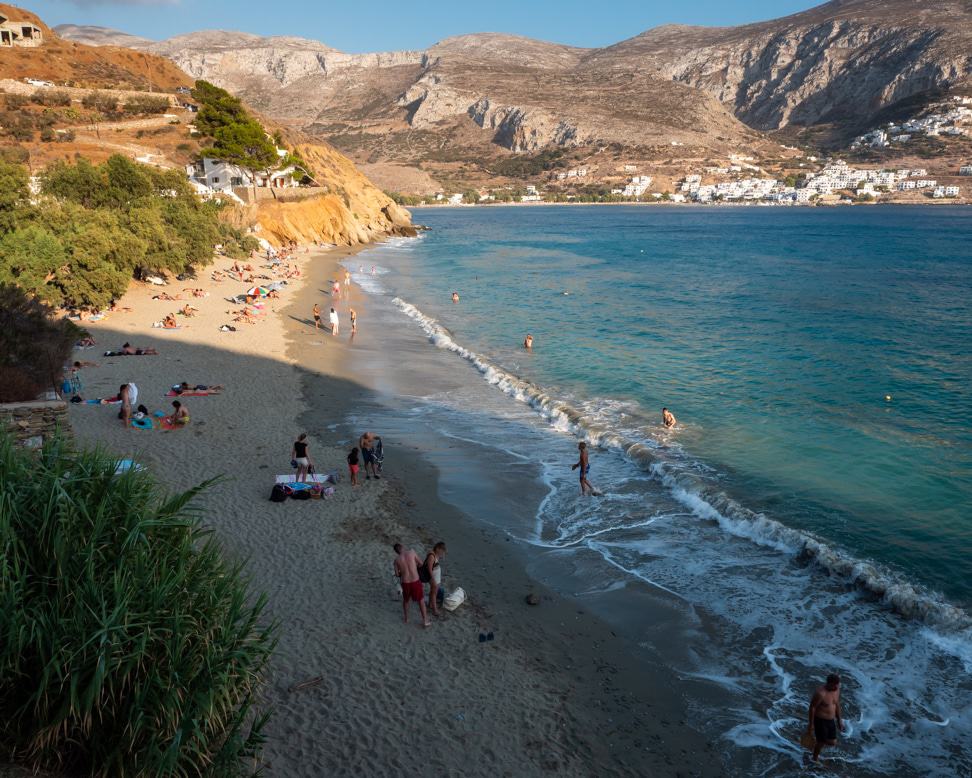 Psili Ammos beach was less popular as it's not as sandy and is a long walk from the village: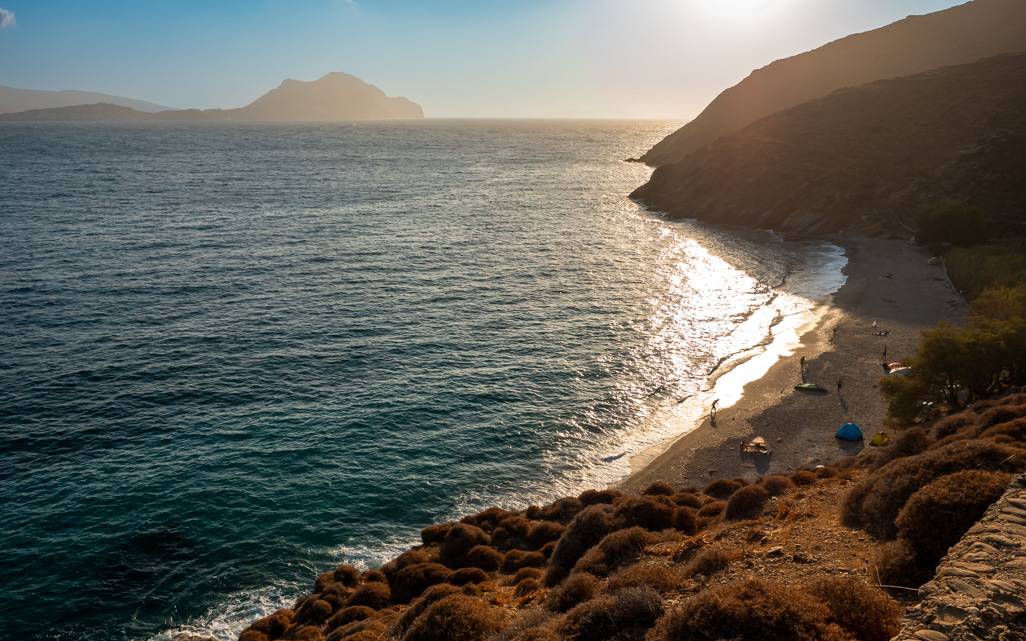 Dinner Time
After a shower at the hotel, I headed out again to find somewhere for dinner. Given the relatively large size of the village, there don't seem to be as many tavernas as you might expect. I strolled around the harbour area in search of inspiration but ended up at a place called To Limani Ths Kyra Katinas where Ed and I had eaten in 2019. I remember the food hadn't been all that great, but in the absence of a more appealing alternative, I decided it was better the devil you know.
As it turned out, the food wasn't bad at all: for the starter, I had sauteed mushrooms topped with local Amorgos cheese, and for the main course it was meatballs in a tomato sauce with feta cheese and chips. Feeling pretty full, I made the short walk back to my hotel for an early night – after taking in the amazing sunset (see top photo).