Sunday 25th July 2021
Packing Again
After a very enjoyable 5 nights on Karpathos, it was time to pack and get ready for another new island. I visited Rhodes once before, but it was way back in 1990 when I was 8 years old so it's fair to say I don't really remember it! I know we stayed in Pefkos and visited Rhodes Town for a day trip, but this time I will be based in Rhodes Town for all 3 nights.
My ferry, Seajets' Paros Jet, was due to depart at 10:20 am so I had time for a relaxed breakfast before returning to my room to finish packing the last few bits of luggage. By 9 am, I was at the reception ready to check out and settle my bill.
The trip back to the port with my suitcase was much nicer than my arrival: all downhill and without the heat of the mid-afternoon sun beating down on me. It was early to start queuing for the ferry, so I sat down in a cafe and enjoyed a latte and read of my Kindle. I checked on MarineTraffic.com (an invaluable resource for ferry travel) and could see that Paros Jet was a bit behind schedule, so I didn't bother leaving the cafe until 10:15.
Ferry Crossing
Before I left my hotel room, I'd taken a Covid-19 self-test in accordance with the travel restrictions currently in effect when unvaccinated and travelling between islands of the same regional unit. The test was negative and I filled out the self-declaration form, but when the ferry arrived and I got on board, nobody bothered to ask for it so it was a bit of a waste of time, though having the negative result was reassuring anyway.
The boat was only about 1/3rd full, so despite having a seat allocation on my ticket, I just picked a window seat on an empty row. I'm prone to getting motion sickness on ferries if the sea is rough and definitely prefer to see out of a window on boats where you can't go outside. The journey was pretty smooth though, aside from a brief period when we left Chalki and it got a bit choppy! My early beer and doughnut didn't help the situation, but I wasn't sick and it calmed down again pretty quickly.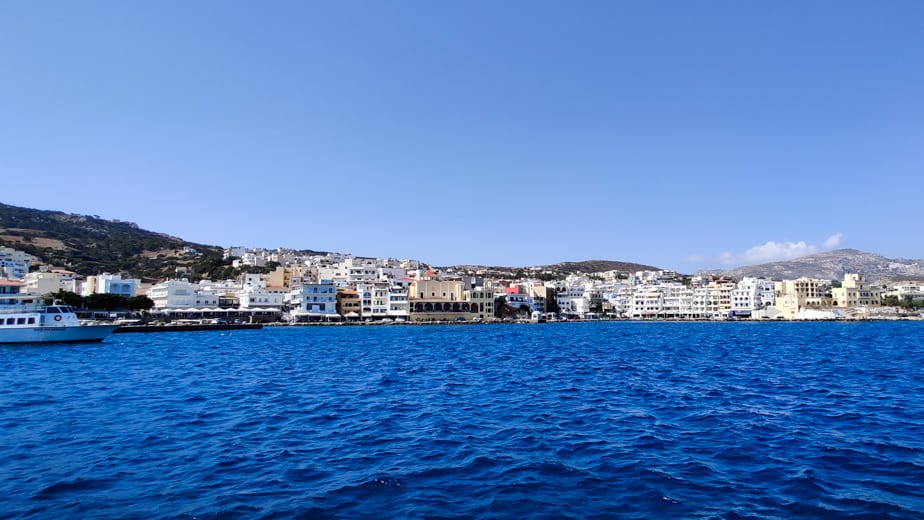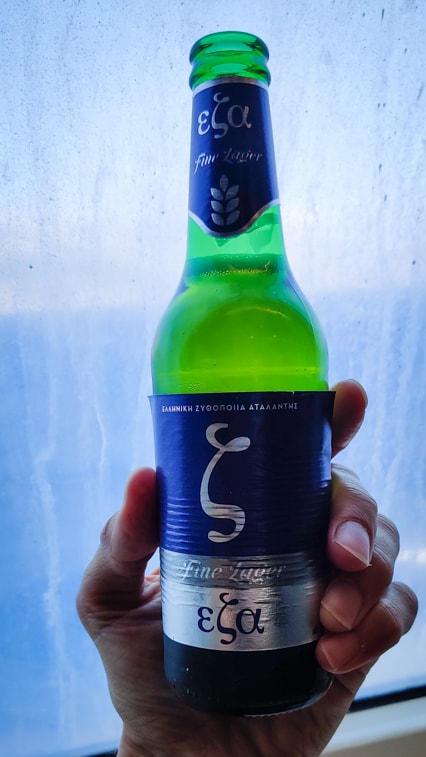 Rhodes Town
The journey to Rhodes took about 3 hours. We docked in Rhodes Town just before 2 pm having left Karpathos about 25 minutes behind schedule. I collected my suitcase, got off the boat and began walking down the harbour towards the town centre to the west. I was slightly annoyed to discover that the ferry had docked further east in the harbour than I'd anticipated, so the 20-minute walk to my next hotel turned out to be more like 30 minutes. I've booked 3 nights at the Hotel Lydia due to its central location in Rhodes Town: close to the old town but still within walking distance of the ancient sites to the west.
Once again, I arrived at the hotel a sweaty mess. Admittedly, I walk too fast as I'm always keen to reach the hotel quickly to get showered and dump my luggage so it's my own fault I get so hot. Fairly nondescript from the outside, Hotel Lydia looked to be a step up from my room on Karpathos. The reception area was quite plush and I was soon given keys to a nice second-floor room with a large, comfortable bed, nice bathroom and decent balcony.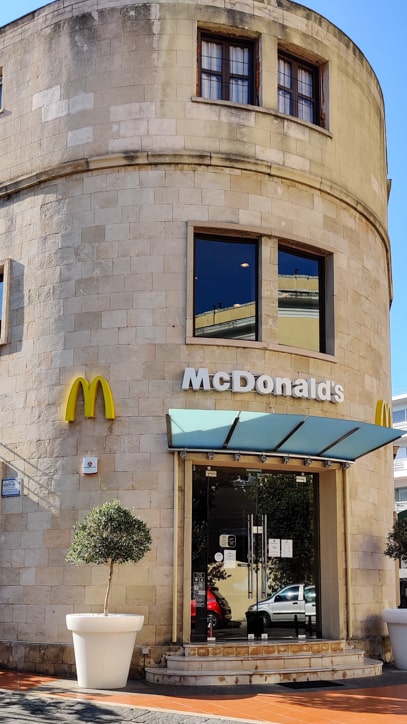 Exploring Can Wait
Although I only have 3 nights here, being a last-minute decision to come to Rhodes meant I don't have a packed itinerary. I had a nice cool shower in my room, then popped out to find a shop where I could buy some water and biscuits, then came back to the hotel to chill out for a few hours. You can probably tell by now that I'm not the kind of person who needs to fill every waking moment with activity – this is Greek exploration at a leisurely pace!!
Dinner Time
Although I hadn't eaten badly on Karpathos, I had high hopes for some nicer meals in Rhodes Town, given its much larger size and popularity with tourists. Using a combination of Google Maps and TripAdvisor recommendations, I ended up at a nearby taverna called Greek Stories which turned out to be excellent, if a slightly expensive choice. For starters, I had mushrooms in a cream sauce with pita bread (tasty, but needed extra salt), followed by moussaka – and yes, it was in a bowl! It wasn't quite as good as my previous one at Pantheon in Agia Galini (Crete), but pretty close.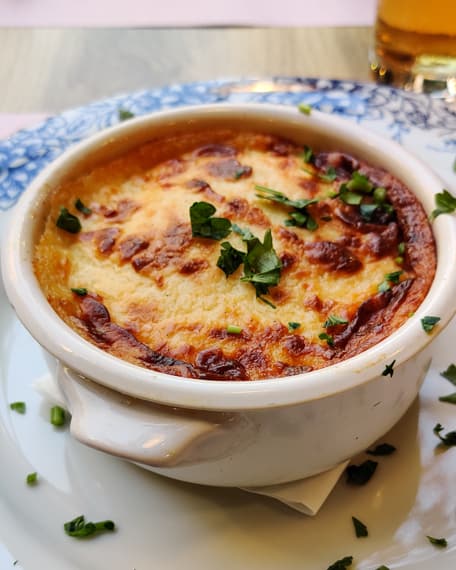 To walk off some of the food (and wine), I had a stroll around the area after dinner before heading back to the hotel to update my blog notes and have an early night.