Tuesday 14th September 2021
Morning Church Hike
I forgot to mention in yesterday's update that, prior to visiting Agios Simeon in the evening, we had driven slightly further northwest with the intention of also walking up to Troulaki Monastery. Unlike Agios Simeon, there is no road that leads directly up to the building, so you have to park on the main road and take a hike along a stony dirt path to reach it. We weren't sure how long this path would take and, as my Dad has slightly limited mobility, in the end, we gave up and turned back to the car so that we could reach Agios Simeon before the sunset.
With last night's failure on my mind, I decided that before we set off to explore more of the island, I would take the car back to the start of the path and have another go at reaching Troulaki.
Arriving just before 9, I began to climb the path once again but this time at my brisk hiking pace! I managed to reach the monastery in a little over 15-minutes, helped by the fact that the bumpy track turns into more of a paved path towards the end, making it even easier to traverse.
The views from the top were similar to those from Agios Simeon, but in the morning light, offered a different yet equally stunning perspective on Kamares: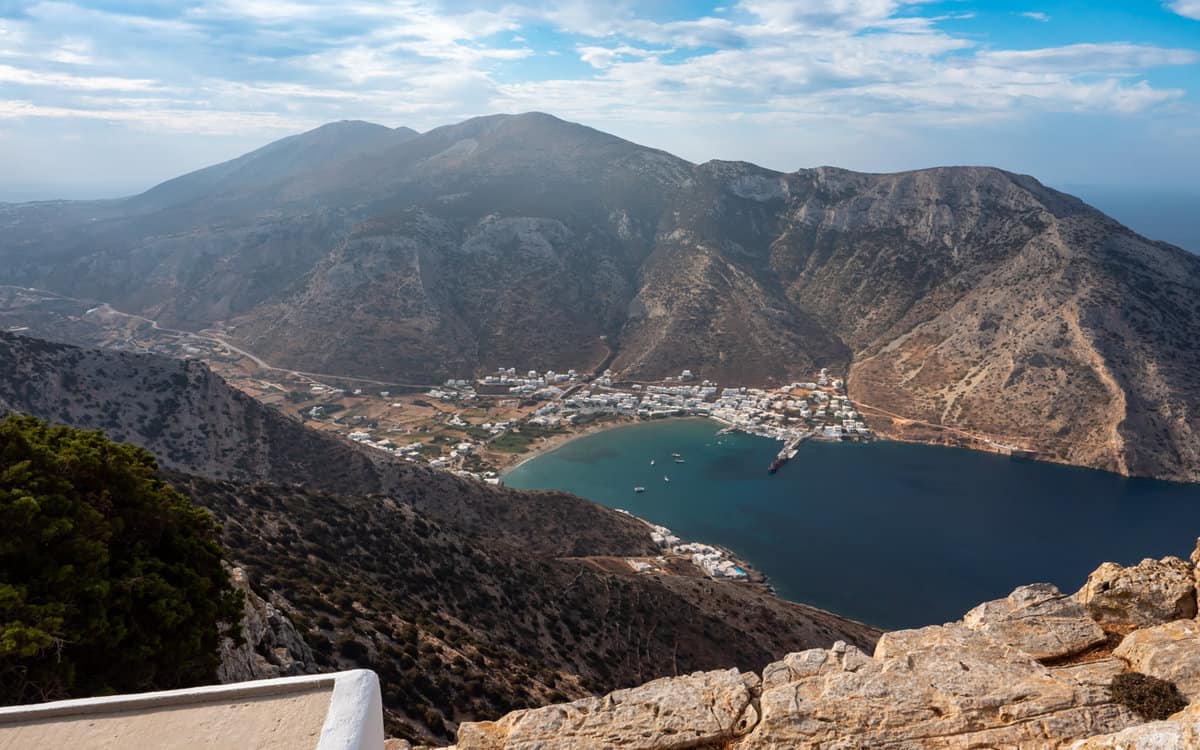 While I had taken the car, Mum and Dad said they would walk around the bay again towards the Church of St Catherine, meaning they were almost directly below me at the foot of the steep hills on which Troulaki is situated. Grabbing my telephoto lens, I contact them on WhatsApp to check their exact location and then, very carefully, peered over the edge to see if I could spot them…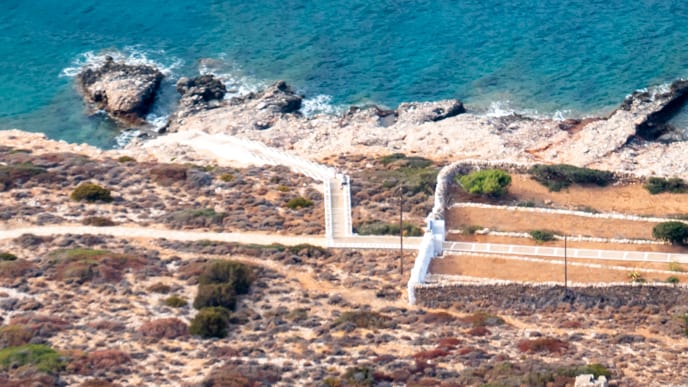 If you look very closely at the photo above, they're just about visible in the centre sitting on the wall of the steps down to the sea! Not bad for a picture taken from over 1200 feet up!
Artemonas and Vathy
By the time I'd taken photos/videos and driven back to the hotel, it was a little after 10:30. I met my parents back in their room and we got our sightseeing gear together ready to head out for a few hours. Our first stop today was Artemonas, one of the two main inland villages on the island. This turned out to be much nicer than I expected – very pretty and with a nicer feel than Apollonia. We walked through the narrow streets for a while, then stopped for a coffee close to the main bus stop before returning to the car to continue our travels.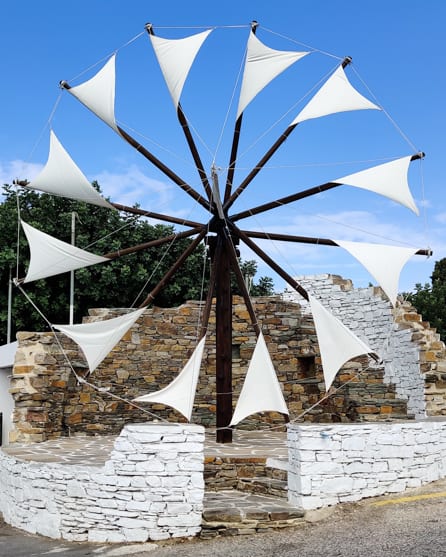 Though we passed through Apollonia, we didn't stop as we planned to return there in the evening for a meal. Instead, we carried on to the southwest coastal resort of Vathy, another popular tourist resort. Though smaller and somewhat quieter than Platis Gialos, it boasts one of the biggest and most luxurious hotels on the island: Elies Resort.
The drive from Artemonas to Vathy took about 20 minutes along mostly decent roads. It was midday as we parked up and we all felt quite hungry, so we decided that we would find somewhere to eat before exploring the resort and hopefully relaxing on the beach.
I did my usual searching on TripAdvisor for the most recommended taverna, which led us to Manolis and what turned out to be a great meal. We shared a wonderful Greek salad with tzatziki and crusty bread, followed by a moussaka for me (tray-baked and slightly burned, but tasty), lamb chops for Mum (which were delicious, apparently!) and Dad had a lamb dish as well which he enjoyed.
Feeling a bit stuffed, we sat for a while digesting our food (and wine, of course!) then made our way down to the beach where we threw down some towels and stretched out on the sand. The beach is pretty nice, though – as you're probably bored of hearing by now – it's not up to Kamares beach standards!! While I stretched out, Mum and Dad decided to stroll along the beach to explore, first heading north towards the small harbour, then all the way south past Elies as far as Nostos Beach Bar.
Once my food had gone down, I grabbed my goggles and went for a swim to cool off. It was a bit wavy compared to Kamares but I had a good time bobbing along in the gentle breeze.
At 3 pm, we decided to pack up and make our way back to Kamares to chill out at the hotel a bit before dinner. We met again just before 5:30 for a pre-dinner stroll into the village with the intention of having a cocktail, however, my stomach felt a bit fragile for some reason so I skipped the alcohol and went for a milkshake instead. We played some cards at Cafe Stavros, I managed to lose all three games of Rummy!
Apollonia Dinner
I'd spent some time trying to find a nice restaurant online where we could enjoy dinner in Apollonia, but none of us could decide where we wanted to eat. We parked up and decided to stroll around in the hope of finding inspiration in the form of an appetizing menu, eventually ending up at a place called The Catch which was one of the places I'd seen online.
The food turned out to be really good: Mum and Dad both had burgers, while I chose the fish tacos which were excellent. They didn't have the usual cheap house wine, so I ordered a glass of rose while Mum and Dad had Chardonnay, which all went down very nicely!
We made it back to Kamares just after 9 and quickly retired to our rooms to sleep off a busy day of sightseeing, sunbathing and lots of food!