Thursday 29th July 2021
More Power Problems
Despite my unsettled arrival on Tilos last night and the lack of a decent meal, I slept pretty well and woke just after 7 am feeling more optimistic. That is until I realised the air-conditioning was no longer running…yep, another power cut! I stayed in bed for a little while before getting dressed and heading out in search of breakfast.
I had a walk around the small port town of Livadia, using Google Maps to try and identify cafes or tavernas that might be open and serving breakfast. Of the four places I found near the town square, two were closed in the morning, one seemed to be for takeaway coffee and sandwiches only. The last one was next to the pharmacy so I sat down there hoping I could get something decent to eat.
Due to the ongoing power issues, the only coffee they were serving was filter coffee from a pot they had heated earlier, but I ordered some anyway figuring it's better than no coffee! I also got some Greek yoghurt with honey and nuts, which was tasty but not the filling breakfast I had hoped for.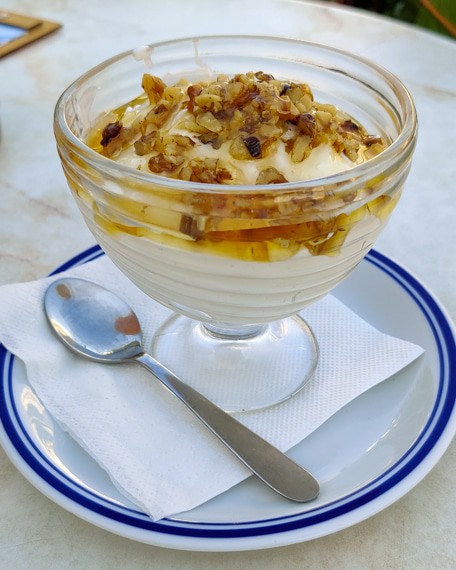 Making Plans or Escaping
At this point, I realised I hadn't made much of an itinerary for the day and when I checked the local bus timetable, I had already missed the early bus that would have taken me inland and across to Eristos beach. For some reason, I was beginning to feel like my time on Tilos was doomed to failure and I started to wonder if I would be better off moving on a day early instead of wasting my time here – if the power cuts persisted I could be without hot food all day and with not much to occupy my time either.
Deciding I would leave it somewhat up to fate, I got out my phone and had a look on FerryHopper.com to see if there is a boat heading to Kos in the next few hours – if so, I would take it and if not I would stick it out on Tilos and try to salvage something from the day. As chance (or fate) would have it, there was a ferry at 10 am heading in that direction, so I threw caution to the wind and decided to go for it!
In a Rush
It was already after 9 am so I had to act fast if I was going to make it onto the ferry. I quickly went down to the harbour and bought a ticket for the Dodekanisos PRIDE leaving at 10:05. I then went to the pharmacy to buy a Covid-19 test kit and get my form stamped so I would have no problems getting onto the ferry. Finally, I returned to the hotel, took my lateral flow test, packed up the few bits I'd removed from my luggage and went to speak to the owner at reception to let them know I would be checking out a day early.
Despite the rush to get sorted, I made it down to the port with my suitcase at 9:45 and found a spot in the shade to wait for the ferry to arrive. In typical fashion, nobody bothered to check my Covid paperwork so I'd wasted €10 on the kit, but better safe than sorry, especially after my close call leaving Rhodes. Before the boat arrived, I realised I would need to sort some accommodation on Kos, so I found the inexpensive Captain's Hotel in Kos Town and reserved 3 nights. I wasn't sure how long I'd be staying on Kos, but 3 nights would give me time to decide if I liked the hotel or wanted to move somewhere else once I'd got my bearings.
Kos Arrival
The ferry arrived on time and we were soon speeding north over the Aegean Sea towards my next destination. After a brief stop at Nisyros, we arrived in Kos harbour just over 90-minutes later, around 11:45 am. The walk to Captain's Hotel took me south around the harbour wall, past the castle ruins and into the centre of Kos Town. It was a big contrast from the quiet emptiness of Tilos as there were lots of tourists around, but in some respects, I was glad to be on a bigger island again.
It took about 20-minutes to reach the hotel, the usual sweaty slog dragging my case along the path trying to stay under the shade where I could. I was a bit early to check into my room, so it was no surprise when the receptionist told me I'd have to leave my bags with her and pop back an hour or so later to get the key. One reason I had chosen the hotel was it had a pool, so I grabbed my swim shorts out of my suitcase and changed using the lobby toilets before heading out to enjoy a refreshing dip. I then spent an hour drying off on a sun lounger before going back inside and getting access to my room.
Beach Time
I planned to spend around a week on Kos and, having arrived a day earlier than expected, was in no rush to get out and explore. With a few hours of the afternoon left, I got my beach gear together and set off in search of a good spot to sunbathe and relax. Captain's Hotel is about a 6-minute walk from the beach – it would be less, but the roads between the hotel and the beach are divided into a grid-like system and you have to zig-zag to get closer to the coastline.
As you would expect at a busy and popular resort, the beachfront is lined with bars and tavernas all with their own sunbeds and staff serving food and drink to your lounger. I avoided some of the more lively options and ended up at a place called the Sunburnt Arms, which seemed to have a more relaxed vibe and a friendly owner. Throwing down my towel and setting myself up on a comfy sunbed, I ordered a large beer and enjoyed a few more hours in the sun, with regular dips in the sea to cool off.
Pool and Dinner Time
I headed back to the hotel around 5 pm, stopping at the pool for a quick dip to get the salt water off and to see what other people were about. There were quite a few youngsters, but mostly foreign-speaking so I didn't make much attempt to speak to anyone and ended up going back to my room shortly afterwards.
The hotel room was very basic, with two single beds, air-conditioning that seemed quite weak and a small bathroom with very basic fixtures. I could see why it was so cheap and wasn't sure I would stay past my initial 3-night booking.
For dinner, I had a stroll around some of Kos Town but mostly the area behind the beach close to where my hotel was. I ended up at a taverna called Kalymnos Fish Restaurant as I quite fancied a slightly healthier meal. I chose salmon penne with a cream sauce which was nice, though nowhere near as tasty as the previous one on Karpathos.
Feeling relieved to be back on an island with working electricity and with lots more things to see and do, I return to the hotel for an early night, excited for the days ahead.