Wednesday 21st July 2021
Topping up the Tan
After a few busy days exploring Crete, I was keen to relax on my first day here on Karpathos. I woke early and was down at breakfast as soon as it started at 7:30 am. Once again, the selection and quality were mediocre but I had lowered my expectations given the cost of the hotel and was happy to make do with bread, butter, coffee and orange juice.
I wasn't sure what the beach would be like in Pigadia, but I got my sunbathing gear ready and set off down the hill towards the coast. To try and find the best spot, I got down onto the beach at the closest point to my hotel, then followed the bay around to the west.
The sea was a little wavy, but the beach itself was nice and sandy. It was still early in the morning so there was hardly anyone around, just the way I like it! After walking for 10-15 minutes, I ended up at some sunbeds outside a taverna called Sardeles. The sea looked decent here and had my pick of beds, so I decided to set up camp here for the day.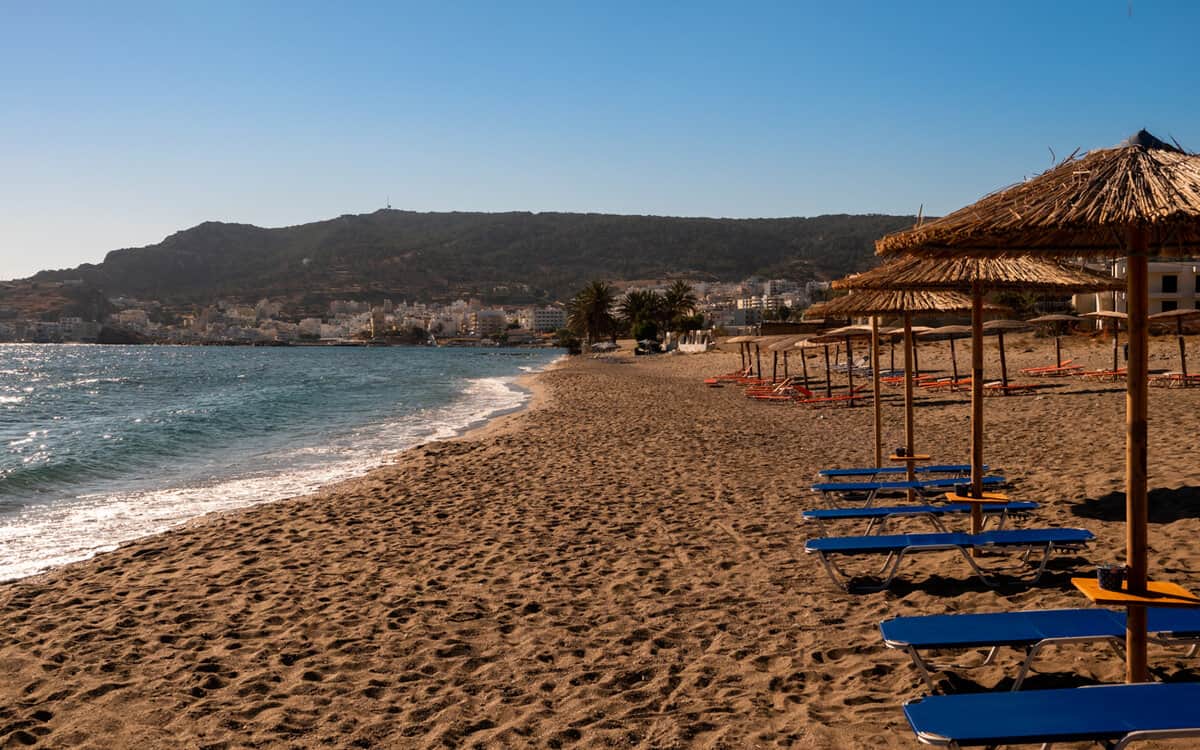 Time to Relax
As it turned out, the sunbeds I had chosen weren't run by the taverna but by a lady who lives in the house next door. They only cost €5 for the day, though, which seemed pretty reasonable so I was happy to stick around. I spent the morning sunbathing while reading my Kindle and listening to Spotify. The temperature was good, not quite as hot as it had been on Crete but plenty warm enough to need regular dips in the ocean to cool off!
At midday, I went over to Sardeles for some lunch. It turned out to be rather more expensive than I expected after I ordered a beer, tzatziki, flatbread and a pizza – €17 in total and I couldn't even eat all the pizza! Lesson learned for my next visit.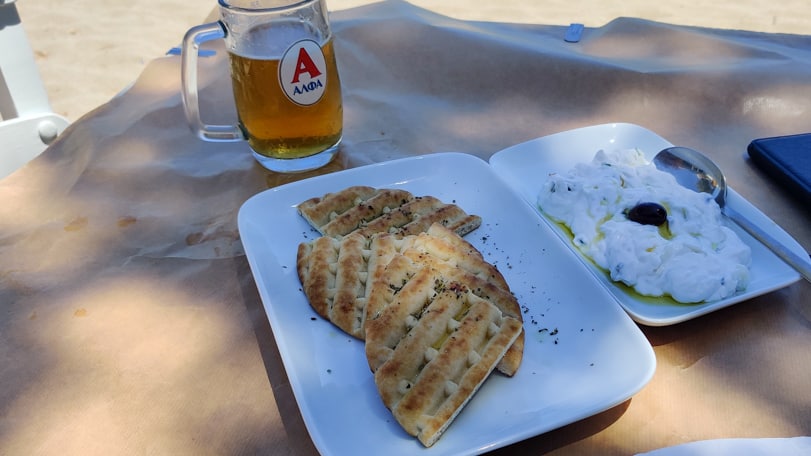 I stayed at the beach until 2 pm, then decided to head back to the hotel. From my location on the beach, it took a good 20-minutes in the full sun so wasn't a pleasant walk but I knew there was a cool shower waiting for me back in my room. I chilled out for a while and then popped down to the pool for a bit more sun, but didn't stay long as there were some young children making quite a lot of noise and splash – not my idea of relaxation! I tried sunbathing on my balcony instead, but with no breeze and the extractor fan from my air conditioning, it was like sitting in an oven so I quickly abandoned that idea!
Actually Eating Dinner
After yesterday's cocktail experience derailed my plans for dinner, I was determined (and hungry) to eat something tonight. Mum and Dad, who visited Karpathos several years ago, recommended a place called Acropolis so I decided to give it a try. The food was delicious: salmon tagliatelle and a slice of carrot cake for dessert, though a bit on the expensive side so I definitely blew my food budget for the day!