Saturday 24th July 2021
A Busier Day Ahead
It was time to get busy exploring Karpathos after a very chilled few days. My hire car would be available from 9 am, so after a quick breakfast, I packed my rucksack and walked down to the mini market to buy some water to have with me in the car. Billy's rental is just opposite the shop, so I sat and waited until the lady arrived to open up, then went in and sorted out the paperwork.
I was soon heading north out of Pigadia on my way to Olympos. It's one of the northernmost towns on the island and takes about an hour to drive. The road is quite patchy in places: narrow and with some sheer drops, plus the added bonus of avoiding rocks that had fallen down onto the road from the cliffs above!
Olympos
I arrived safely at Olympos just after 10 am. Despite being one of the main tourist attractions on the island, it was very quiet when I arrived. I think it's because I had beaten the local bus and any tour buses with it still being quite early in the morning. I spent a while walking around the narrow streets, exploring the quaint and colourful village.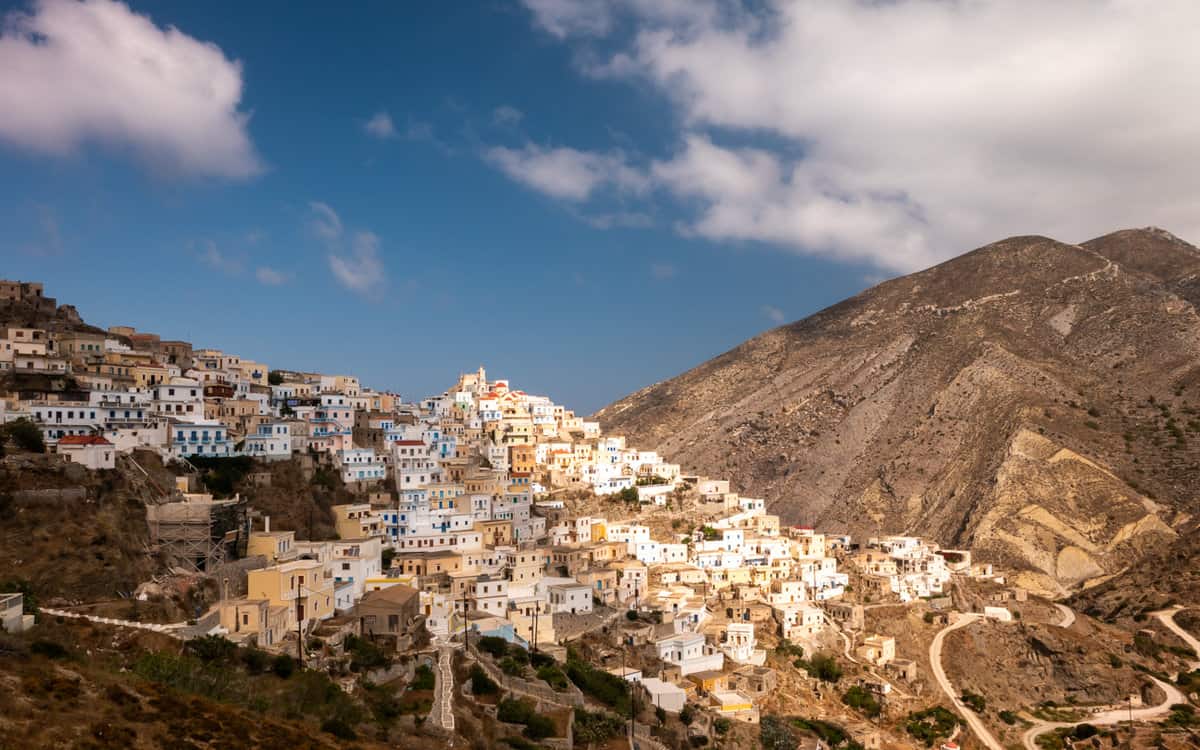 Diafani
It didn't take long to explore Olympos and I was soon back at the car ready to head off. I hadn't planned a specific itinerary but was confident I could see most of the island in one day, so my next stop was Diafani – a port town east of Olympos – where I also hoped to find an early lunch.
The drive to Diafani only took 15-minutes, mostly downhill on some quite twisty roads. Again, there wasn't much to see here besides the beach so after a quick walk around, I settled in one of the tavernas for a snack lunch of pork gyros and a beer.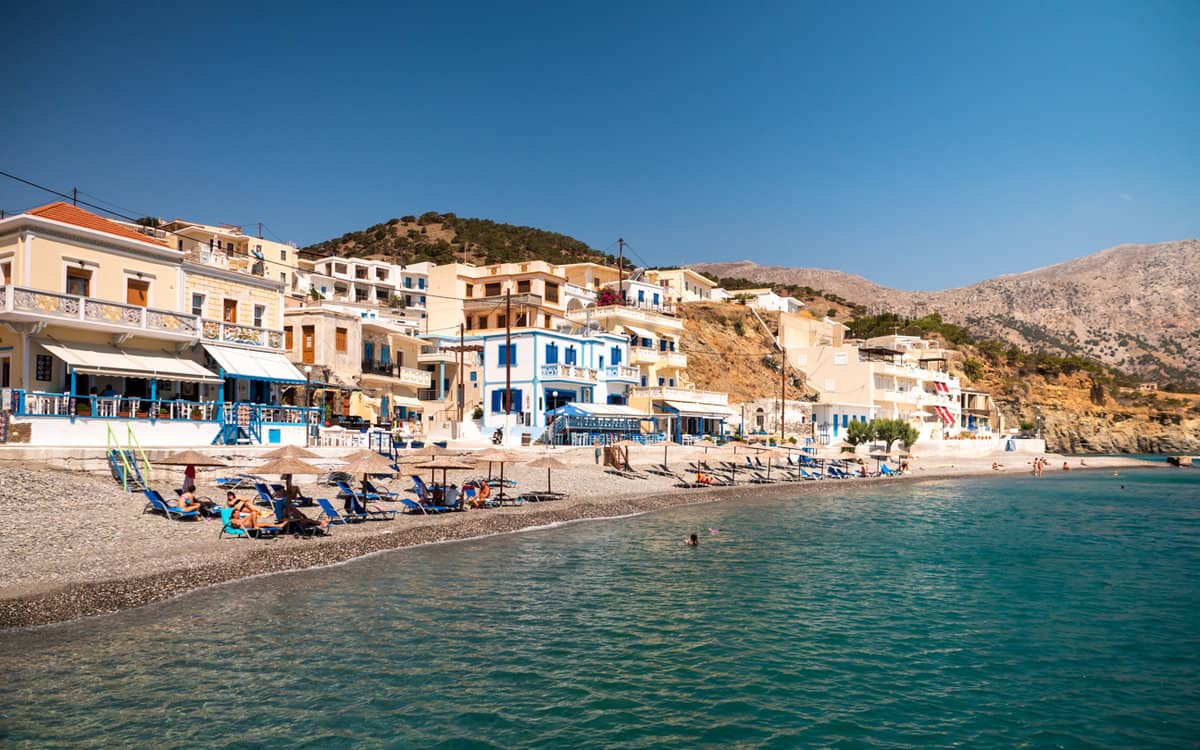 Heading South Again
After exploring Diafani, I began the journey back towards the south of the island. I'd been recommended to check out a beach along the eastern coast called Apella, which is meant to be one of the nicest on the island. Unfortunately, my sat nav (Google Maps) first tried to turn me off the main road down an impassible dirt track, then when I didn't take that road it got confused and I ended up driving 4km past the beach road before I realised my mistake. I turned around and got to the right turning eventually, then followed the smaller road downhill towards the sea.
Unfortunately, there is only a small car park for the beach and it was completely full when I arrived. Worse still, cars were parked along the road down to the car park and I couldn't find anywhere to turn around so ended up having to reverse quite a long way up the road before I could get the car pointing in the right direction again! I eventually got parked and walked back down the hill towards the beach.
It was indeed a pretty beach, though not as sandy as I had expected. I decided to just stop long enough to take some photos and video, as I wanted to cover as much of the island as possible while I had the car, plus I've done plenty of sunbathing over the past few days.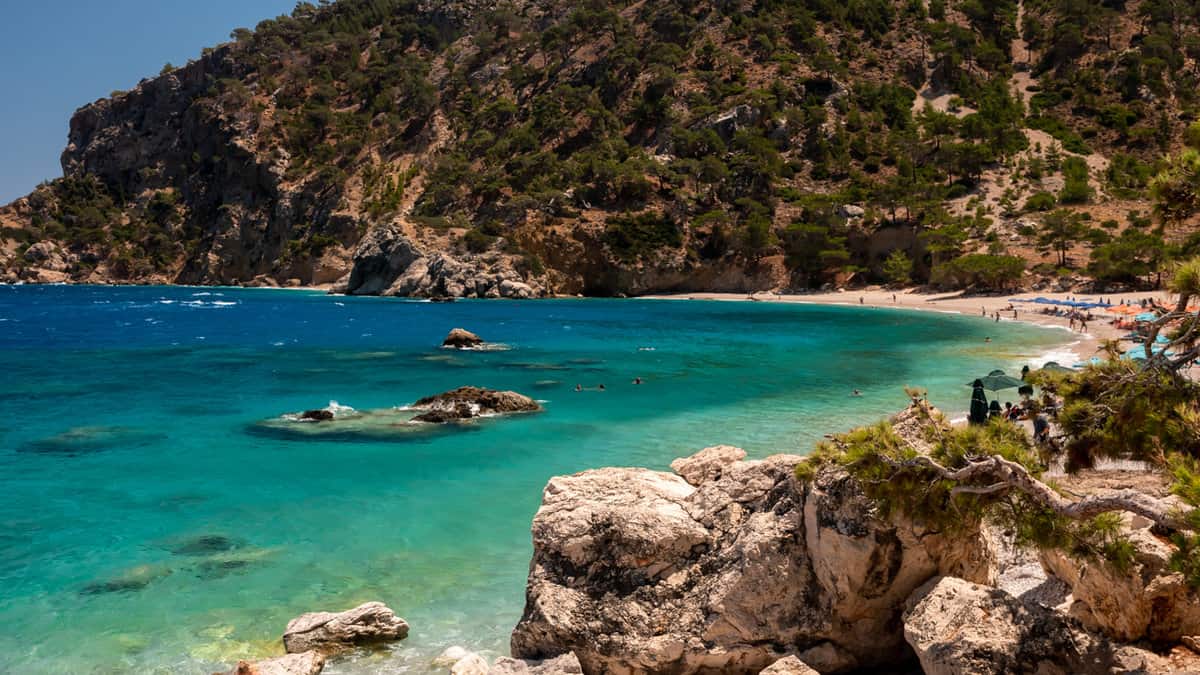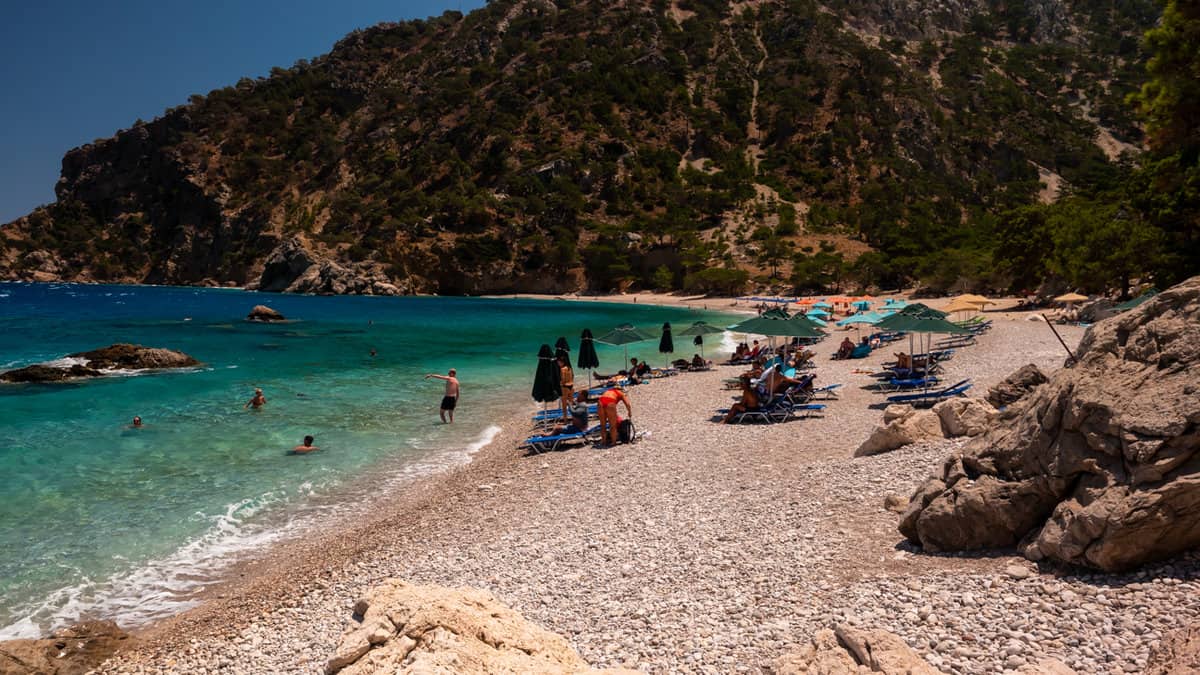 I then tried to get to another beach just further south of Apella called Kato Lakkos, but despite making it off the main road and most of the way down to sea level, the last part of the drive was down a narrow and bumpy dirt track which I didn't feel comfortable tackling in my little Fiat Panda! So, I reluctantly turned around and got back on the main road towards Pigadia.
My next destination took me across to the west coast of Karpathos to a beach called Agios Nikolaos. This seemed to be a popular destination for surfers as the waves on the beach were pretty impressive: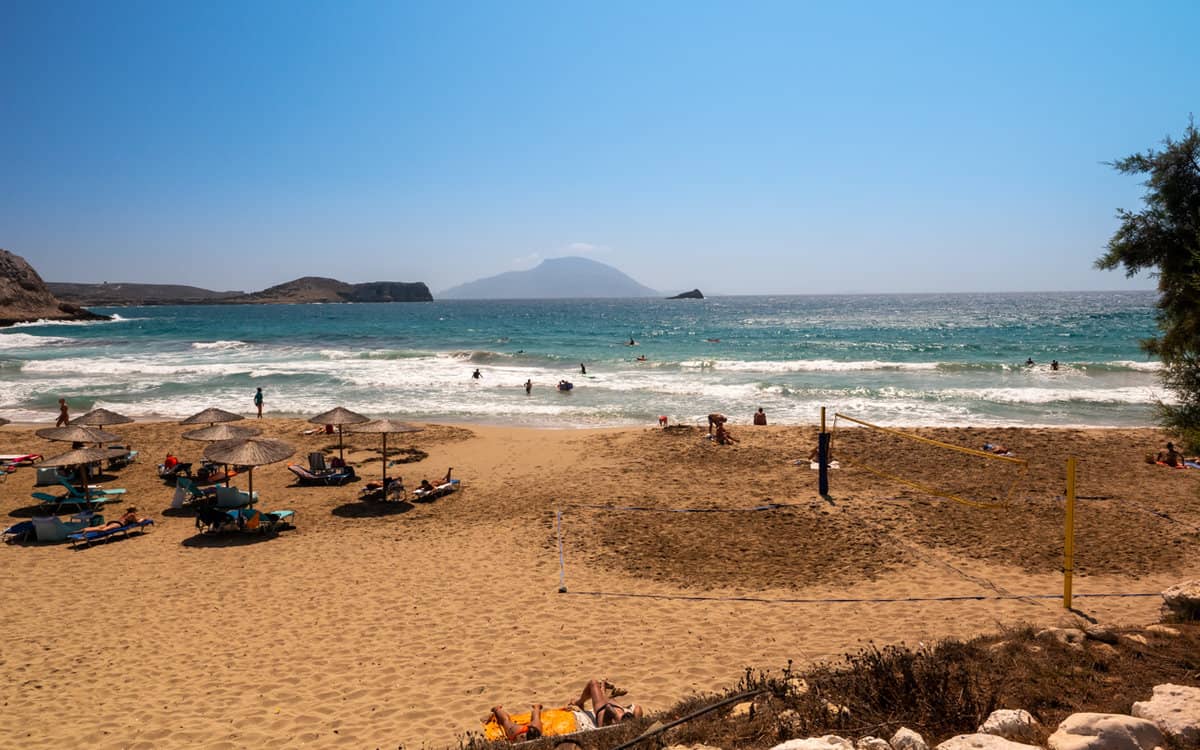 I stopped for an iced coffee at Karpassion Beach Bar, before continuing the drive south towards the airport in search of a few more beach spots. Michaliou beach is a series of sandy bays along the southern coastline at the western end of the runway. It was deserted when I arrived, probably due to the strong southerly wind, but on a calm day, I imagine it's a nice quiet spot to sunbathe. There are no tavernas or shops anywhere nearby, though, so you would need to bring your own food, drink and shelter from the sun.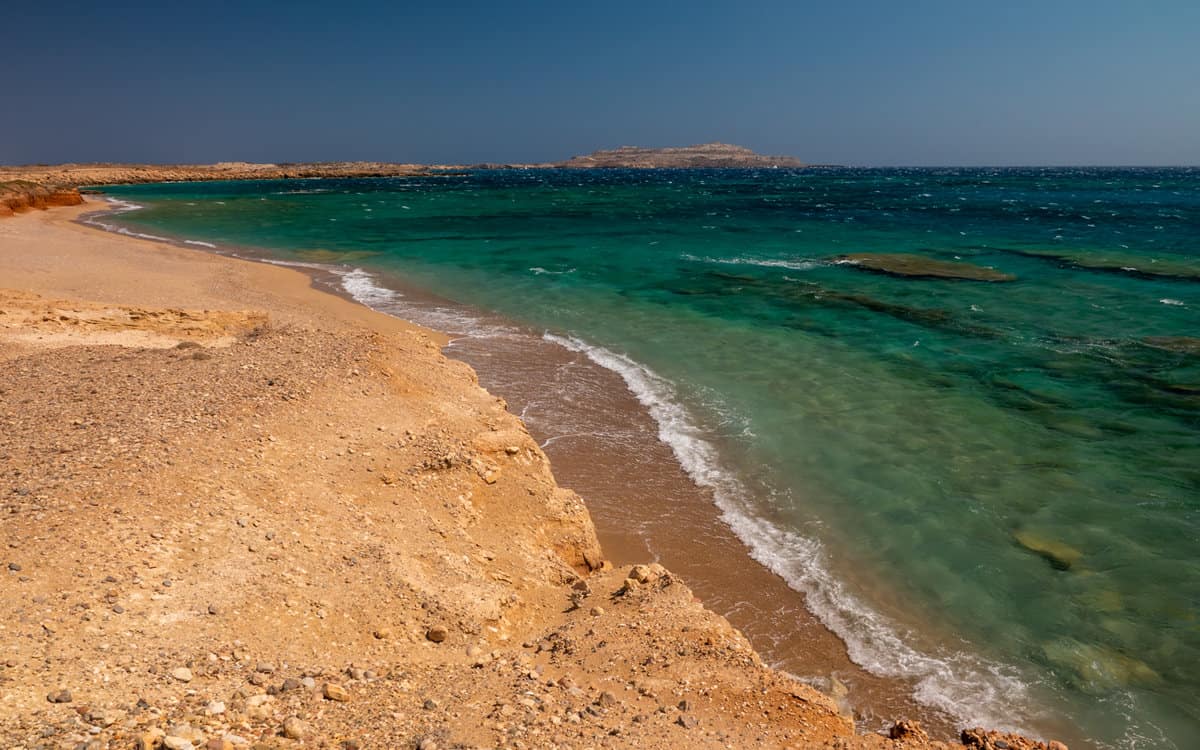 Last Beach Stop
By this point, it was mid-late afternoon and I still had one final beach to see before heading back to Pigadia. Diakoftis is a well-known and beautiful shallow sandy cove on the southeastern tip of Karpathos. It's only accessible via a bumpy dirt road that runs around the perimeter of the airport, about a 10-15 minute drive from Michaliou.
With the strong wind, it wasn't as nice as it could have been, but you can see from the photos below how clear the water is and the soft, golden sand would make for a wonderful day of sunbathing.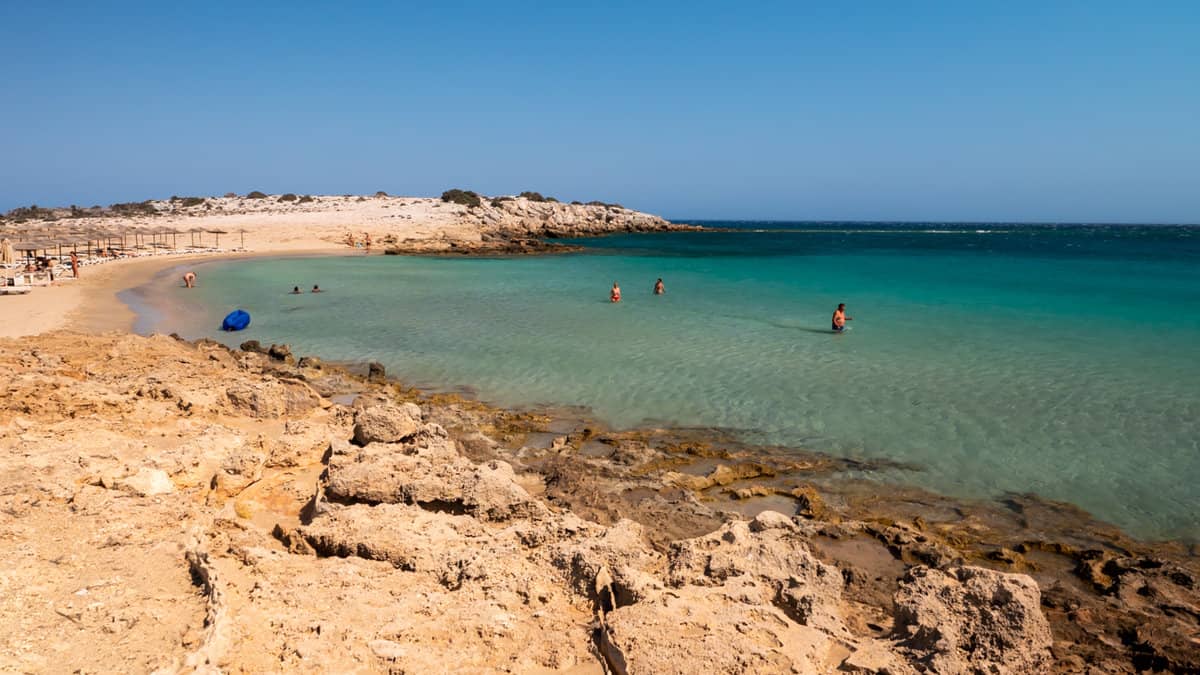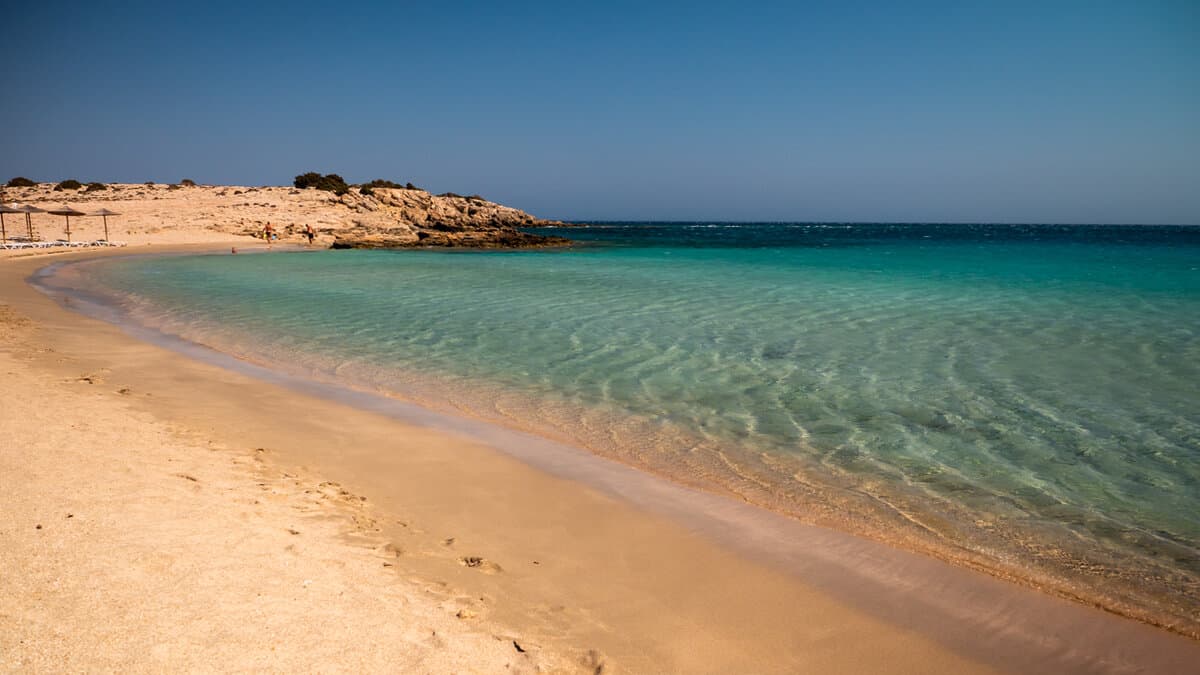 After walking around for a few minutes taking photos and video, I got back in the car and headed to Pigadia. As the car wasn't due back until 8 pm, I decided to be a bit lazy and park at the hotel so I could drive the car back to the rental shop on the way to dinner.
I spent a while relaxing in my room, then showered and changed into my evening clothes. I dropped the car back at Billy's and walked into Pigadia to find somewhere to eat. As it was my last night on Karpathos, I decided to return to Acropolis as I'd had my best meal here a couple of days ago. I decided to have a burger which was very tasty, though I regretted not having the salmon tagliatelle again as it was definitely the nicer of the two dishes. For dessert, I couldn't resist another slice of carrot cake!
Finding the Ferry Ticket Office
One thing I had yet to do was sort out my ferry ticket for tomorrow's crossing to Rhodes. On most Greek islands, you can easily find one or more ticket offices down at the port, clearly advertising themselves and they're open most of the day and evenings too. On Karpathos, I had tried using Google Maps to find a ticket office, but the map marker described as a Blue Star ticket office (here) turned out to be a locked blue door down the side of a plain building with no signage at all.
Having tried the previous day to find it and needing to get my ticket, I resorted to asking a crew member from one of the tour boats where I could buy tickets for a conventional ferry. They explained that the blue door was the correct place, but that the ticket office is only open from 1 hour before a ferry is due to arrive on the island. This explains why it was always locked when I tried to find it before!
Fortunately, I checked the ferry timetables online and saw that there was a boat due in at 9 pm which means the ticket office should open at 8. Armed with this knowledge, I went back after dinner and was finally able to buy my ticket!
YouTube Video
You can see my vlog containing most of the above trip by watching the video below: