Monday 6th September 2021
Every First Day Begins with Breakfast
I woke around 8:30 after a decent night's sleep, despite the bed not looking overly comfortable. Breakfast wasn't included in my room rate but is available at the hotel for €6. As it was my first day on the island, I decided to skip the hotel option and return to Cafe Stavros instead – I'd eaten there every morning during my previous trip in September 2020 and wanted to repeat the experience.
I decided to make the most of the hotel's beachfront location by walking to the cafe along the sand. The day was slightly cloudy and the wind had picked up again, so I didn't get to see the glistening water and golden sand at its best but it was still good to be back.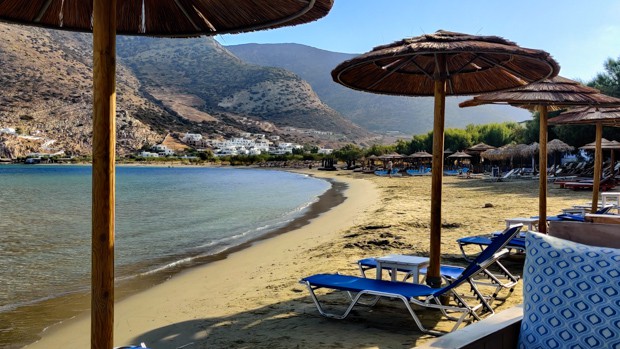 Arriving at the cafe, I took a beachfront table and ordered my usual breakfast fare: coffee, orange juice, fresh Greek yoghurt with honey and toast with butter and jam. The prices seemed to have gone up since last year, and at €12.90 it was a touch expensive but it was all very tasty.
Beach Time
It's probably no surprise by now, but I like to spend my first day on a new island relaxing either at the beach or by the pool. Today was no different, so after a relaxed breakfast, I walked back to the hotel to get changed into my beach gear, then returned to the sand for a day of sunbathing and swimming.
Last year, I'd picked out a favourite patch of umbrellas just to the south of the hotel. I was about to return to them when I noticed that, unlike the previous visit, they were no longer free (providing you bought a drink) and instead cost €5 per day. Although this wasn't expensive compared to some of my previous islands, I decided to continue walking south to see if the sunbeds were cheaper elsewhere. There are several bars/cafes at the bottom end of the beach, all of which have their own sunbeds.
I chose a place called To Kohyli as the beds looked comfortable and there were hardly any other tourists around. After checking with the waitress that the beds were free (providing you spend money on food/drink), I laid out my towel and set about the tough work of sunbathing while reading my Kindle and listening to my favourite Spotify playlists.
The sun did eventually break through the clouds and it was a pleasant morning. I had a few dips in the clear and shallow water and enjoyed a nice cold beer as midday approached.
Cheap Lunch, Cloudy Afternoon
To save money, I decided to skip a proper lunch and bought some biscuits and a Coke Zero from the mini-market along the main street before heading back to the hotel. It had clouded over again so I decided to spend a few hours back in my room finishing off my Naxos YouTube video. I had intended to return to the beach later on, but the weather still wasn't great so it didn't seem worth putting all my beach gear on again only to sit out under a cloudy sky and feel cold – remember, I've spent two months in Greece now, so even though it was probably still 25 degrees or more, in the shade it felt distinctly chilly to me.
More Italian Food Please
At 7 pm, I showered and got dressed, excited for another great evening meal. As I'd visited my favourite restaurant yesterday, it was time for my second favourite today: another Italian called Da Claudio! It happens to be right next door to Camaron so the views and ambience are very similar.
As I had pasta yesterday, I ordered a pizza with some mushrooms in garlic sauce to start. I had made the mistake of wearing shorts and a polo shirt though, not realising the evening was a lot cooler than it had been on my trip so far. After placing my order, I realised I needed something warmer so I told the waiter I needed to pop back to my hotel and quickly jogged back to grab a long-sleeved top. It was weird wearing a jumper again after so long in short-sleeved tops, but it was definitely needed!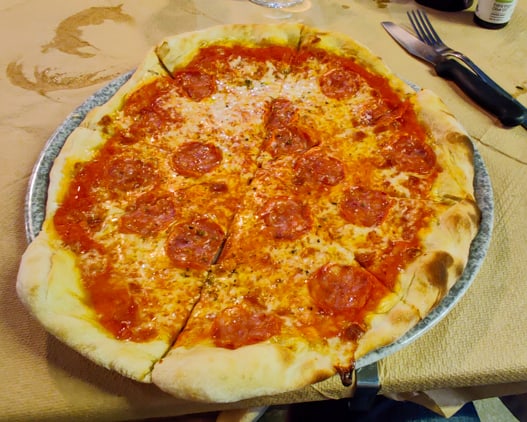 The food was good, although the starter wasn't quite what I expected: it was a very large quantity of sliced mushrooms (way too much for one person) and the garlic sauce was very thin, not creamy as I'd hoped it would be. I managed to find room for dessert, though, but the chocolate souffle was also slightly disappointing – it managed to be quite bland and nowhere near as sweet as it looked.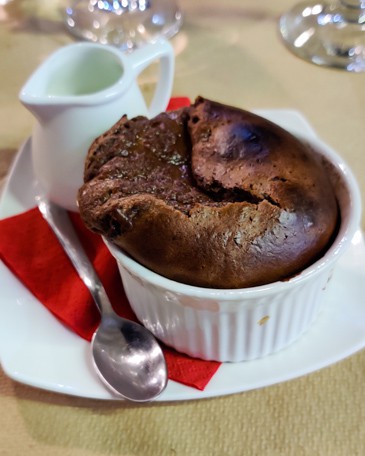 It was still a good meal overall, and despite the cool evening air, I enjoyed sitting and reading my Kindle as I finished my glass of wine before heading back to the hotel to bed.