Tuesday 20th July 2021
First Ferry of the Trip
I woke ahead of my alarm just after 7 am and decided to use the extra time to pop outside and record some final footage of Crete for my YouTube video.
The hotel breakfast was, once again, rather disappointing. The Greek yoghurt was awful, so I abandoned it and made do with a few bits of bread and butter, plus coffee and some water.
The ferry was due to depart at 9:45 am, but I wasn't sure how far around the harbour I needed to walk to get to the right docking area, so I checked out of the hotel at 9 and began walking around the bay. It took about 15-minutes to get to the main dock, where I could see a few other people starting to gather so I hoped it was the right place. Port Authority workers were checking paperwork so I was glad to have got my Covid test result documentation handy, along with my passport and ferry ticket.
The F/B Prevelis ferry arrived just after 9:30 am and, after briefly unloading a few passengers and vehicles, we were able to start boarding. There were only perhaps 40 people waiting, so it didn't take long and there was none of the usual chaos you get on busier islands where everyone is fighting to get onto the boat and stow their luggage at the same time.
Passing the Time on Board
The ferry journey was scheduled to take 4 hours 45 minutes, the longest I've been on in Greece so far. However, being a large vehicle ferry I was able to sit outside (which meant I could take off my face mask – not strictly in keeping with the rules, but everyone was doing it while out on the deck) and I had a small table where I could use my laptop. I spent the first couple of hours editing my latest YouTube video (see above), then got a cold drink and some crisps to snack on while reading my Kindle.
The ferry made one stop en route to Karpathos, at the smaller island of Kasos just to the south-west. Feeling hungry again, I bought an ice cream and a beer so I wouldn't have to find food as soon as I arrived at my destination.
Getting to the Hotel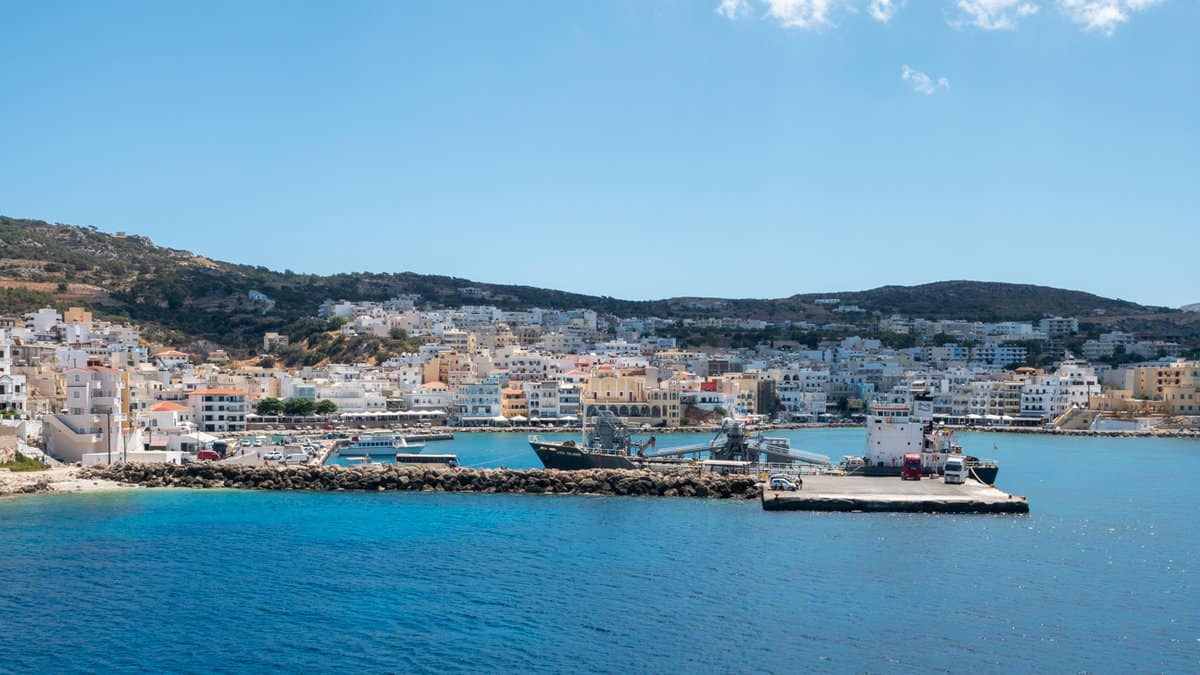 After grabbing my case and departing the ferry, I got my phone out for directions to the hotel. The first part of the walk was fine going through Pigadia (aka Karpathos Town), but as I neared the hotel I realised it was up quite a steep hill towards the back of the resort. By the time I arrived I was a sweaty mess and in much need of a shower!
The hotel itself seemed fine and I was soon checked in by a friendly receptionist and on my way to my room. After a wonderful cold shower and rest in the room, I headed back out to find a supermarket for some water and biscuits to keep in my room. The closest shop was only 5-minutes away, opposite the bus stop at the bottom of the hill, but it did make me realise that the location of the hotel wasn't great as I would have to climb the hill every time I returned – probably explaining why it was relatively cheap! Lucky I'm fairly fit then.
I had another stint back at the hotel, including a quick dip in the small but pleasant swimming pool, then showered and changed ready for dinner. It was a little early to eat, but I wanted to have a walk around Pigadia to get my bearings and perhaps grab a coffee before finding somewhere to eat.
Dinner Time
My pre-dinner walk took me all the way around the harbour towards the port where I had arrived earlier but taking a different route through the town to see what shops and tavernas were available. Instead of a coffee, I ended up having a cocktail in a nice little bar called Boulevard of Broken Dreams (must be Green Day fans!), which turned into two cocktails plus lots of free crisps. By the time I'd finished my drinks I wasn't really hungry anymore, so I gave up on the idea of an evening meal and wandered back to the hotel instead for an early night.