Friday 3rd September 2021
Refueling the Car…Greek Style
My plan for the day was a visit to Episkope followed by a trip to Agios Georgios beach. However, I needed to put fuel in the car first and this wasn't quite the simple task it sounded. I was told when I collected the vehicle that there's a single petrol station on the island and it only opens once a day between 10:30 and 12:30 – how awesome is that!! Okay, it's actually slightly inconvenient, but pretty funny to think the island is so small and quiet that the petrol station only needs to open for two hours a day!
With that in mind, I had a relaxed breakfast at my apartment – the usual orange juice, coffee, yoghurt with honey and some cereal – then just hung around going over some of my photos and videos from the last few days. During this time, I also discovered online that Episkope is undergoing renovation work, so I decided not to visit it today and instead head straight for the beach.
Everywhere is Convenient
Sikinos has relatively few beaches: 5 are shown on Google Maps, and of those only 3 are accessible by car or on foot. One of these is in Alopronia itself, the other two being Agios Georgios and Dialiskari. My destination for today was Agios Georgios, which is the larger of the two and therefore the place most other tourists are likely to visit.
I set off at 10:30, stopping at the fuel station which is along the main road as you head out of Alopronia towards Chora. I put €10 in the car, which didn't feel like much but given the limited roads on the island, would probably see me through to Saturday evening no problem.
The drive to the beach took less than 15 minutes. There's a small car park just behind the treeline that backs the modest stretch of sand. By the time I arrived, there were 4 or 5 cars already parked up – hardly a crowd you would say, but I'd come to learn that on Sikinos this meant it was a popular spot!
Agios Georgios Beach
The beach itself is nice enough but unlikely to win any awards. It's mostly a mix of coarse sand and small stones. It's quite stony along the water's edge too, though it's better once you get a few feet past the shoreline and the sea is clear and relatively calm. Towards the northern end, there are 5 large, fixed umbrellas that can be used for shade, but otherwise, it's totally undeveloped.
After a quick stroll around, I set up my towel and laid out in the sun for a while enjoying the peaceful ambience. The temperature had begun to drop over the past few days and it was noticeably cooler now than it had been on Naxos just a week ago. It was still a nice temperature, though, and probably better for prolonged sunbathing. Eventually, when I got sweaty enough, I got up and had a nice refreshing swim in the clear water.
Once I had dried off, I noticed one of the large umbrellas had become available so I took my towel over and made use of the shade to read my Kindle for a while. I then packed up my gear and walked to the south end of the beach and to a small church that sits on some high ground there.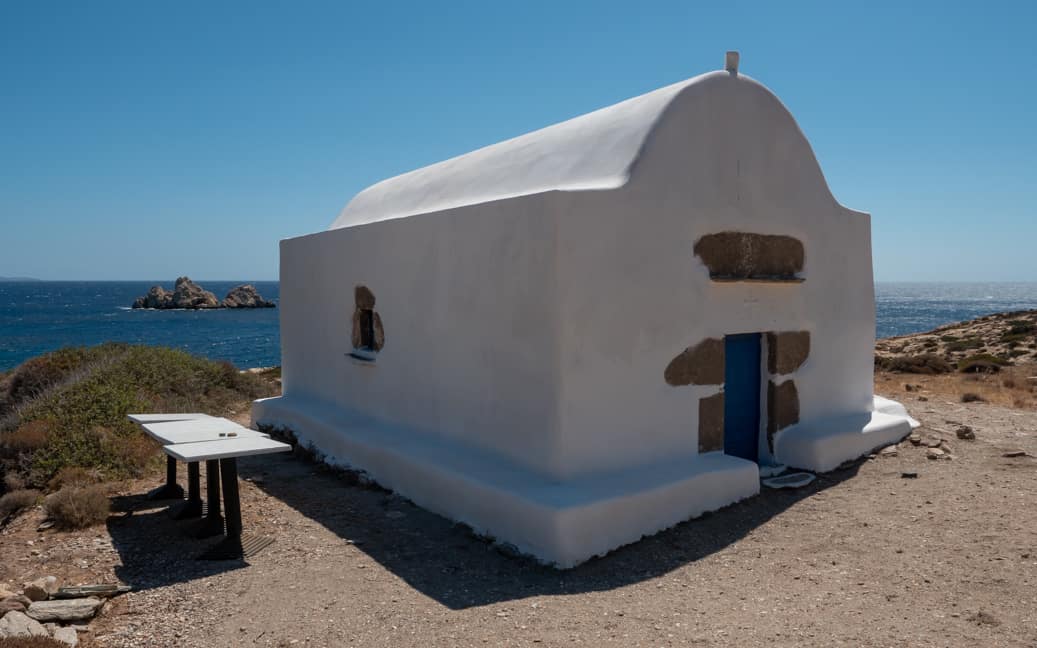 Struggling for Food Options
Although it was lunchtime and there is a taverna on the beach, it's the only one around and gets mixed reviews online so I decided to skip food and settle for a beer and bottle of water instead. In hindsight, I feel bad for not trying it as reviews can be misleading and I'm sure that with the limited visitors they see, every customer is valuable.
Once I had finished my drinks, I drove back to Alopronia, parked behind the beach again and found a small cafe nearby called Marconi. They had a nice selection of pies, pastries and sandwiches: I opted for a slice of mushroom and bacon pie, a bit of rolled up baklava and an espresso freddo, all of which I took to the small seating area they have across the road which overlooks the beach.
It was a windy day and I had to keep hold of my food boxes while I ate to make sure they didn't blow away, but even so, it was nice to sit and snack while watching the world go by. A few sunbathers were down at the beach, but no more than a dozen people so it felt very quiet but in a nice way and definitely a contrast to all the islands I've visited so far on this trip.
My only concern about the island was the apparent lack of tavernas and mixed quality of the food I'd eaten so far (Marconi cafe excluded – the pie and baklava were excellent) and this turned out to be justified as I found out at dinner.
Laundry and Dinner
By mid-afternoon, I was back at the apartment and decided to take advantage of the washing machine by doing some long-overdue laundry: particularly my beach towel, which had seen far too many days worth of sweat, suntan lotion and sand.
While the washing spun away in the background, I finally finished my Kos YouTube video (a marathon effort) which was a big relief and allowed me to make progress on what was now a backlog of other videos on Amorgos, Naxos and Ios.
At 6pm, I got showered and dressed for dinner, then took the car up to Chora in search of food. I chose a taverna called Klimataria and had a sadly disappointing meal: I'd seen moussaka on the menu, but when I went to order it, I was told it wasn't available so instead, I settled for meatballs in a tomato sauce which came out a few minutes later lukewarm and tasting as though they came out of a tin. I still ate most of it as I was hungry, but left straight away and went back to the apartment feeling a bit let down. I appreciate on such a small island that it's hard to cater for such a small number of tourists, yet I had expected there to be at least a couple of good places to eat.
I went to bed fairly early, still feeling quite hungry and a little anxious that I wouldn't find a decent meal tomorrow either.