Saturday 31st July 2021
Exploring the Island
As it was my first visit to Kos, I figured it was time to get away from Kos Town and explore the rest of the island. I picked up the rental car that I'd reserved yesterday at 9 am and headed southwest to the beach resort of Kefalos.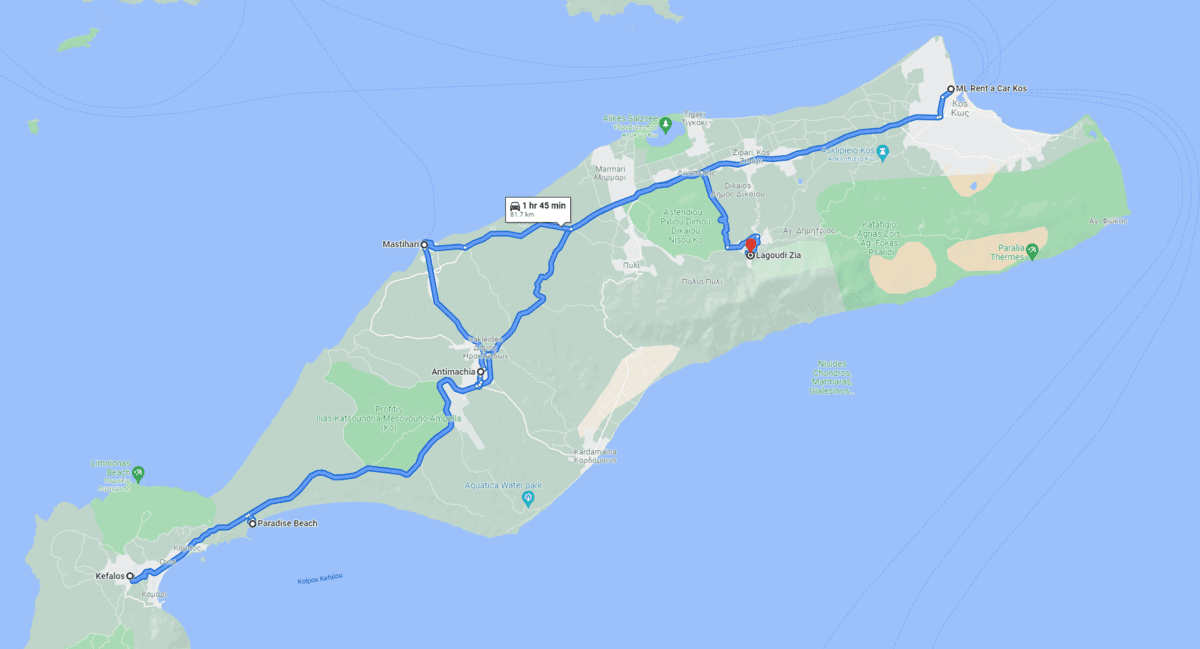 Kefalos
Kefalos was a resort I had considered staying at for most of my time on Kos. It's also the resort I was due to visit as a child on a family holiday many years ago. Sadly, my Grandmother passed away shortly before the trip so we had to cancel the booking and ended up visiting Corfu a few weeks later.
My first impressions of Kefalos were mixed: I liked that it was much quieter and more relaxed than Kos Town, but was surprised just how quiet it really was. The coastal part of the resort is very spread out over several kilometres of beach, while the village itself is inland to the southwest. I parked up about halfway down the beach and walked along the shoreline until I reached the small port to the south. There were only a few people on the beach and I didn't see much activity from any of the shops and cafes along the way, though it was still quite early in the morning.
Walking back towards the car, I stopped at a bar for a coffee break, then proceeded to drive back along the main road towards Paradise Beach.
Paradise Beach
A highly-rated destination on Kos, Paradise Beach is a very pleasant stretch of sand just a few kilometres northeast of Kefalos on the southern coastline. With soft, golden sand, plenty of sun loungers and two water sports centres, it's popular with tourists looking for a fun day out in the sun. Having spent the last few days relaxing on a beach, though, I decided not to hang around and left after a short stroll along the sand.
Antimachia
Continuing northeast along the main road, Antimachia is a small village just north of Kos airport. As well as being a quaint, traditional Greek settlement, it also has a large working windmill that is a popular tourist attraction.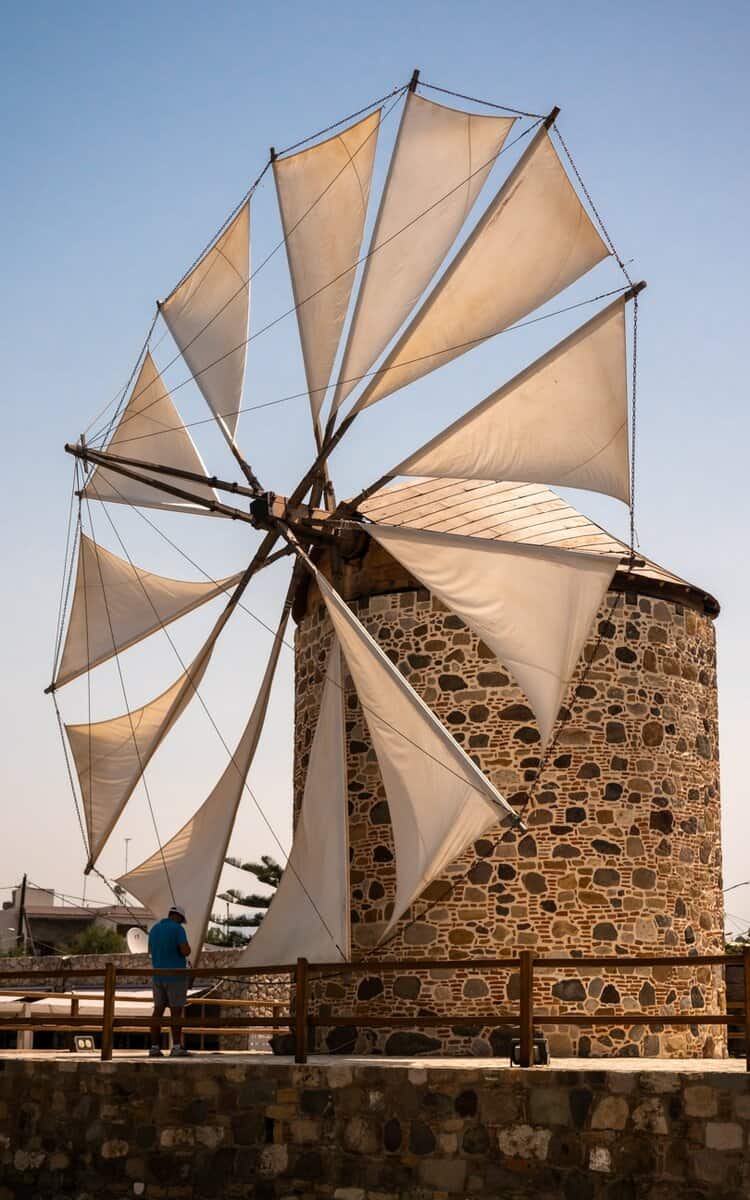 Apparently, the windmill is free to tour, but due to Covid-19 restrictions, there was quite a queue of people waiting so I decided to skip it. Instead, I walked across the road to a small taverna and had a cheese & onion toastie and a Coke for lunch.
Mastichari
I didn't have a specific itinerary for the day when I set off this morning, so, with plenty of time left, I decided to head north to another beach resort called Mastichari. A fairly small village, Mastichari has a commercial port with ferry connections to Kalymnos just to the north. It also has a large, sandy beach along its western side and a good selection of bars and tavernas along the beach and towards the northern end.
I only stopped long enough to walk around the beach and have another cold drink and some ice cream, then jumped back in the car to continue my exploration.
Zia
Another popular village, Zia lies inland close to the mountain range that dominates the central south side of Kos. It's a favourite tourist spot for catching the sunset, and although I was a bit early for that, it was still a nice place to stop and walk around in the late afternoon sun. I also stopped at a taverna for another snack, this time trying some cheese saganaki with a glass of wine.
Back to Kos Town
It was close to 6 pm as I left Zia. The car wasn't due back until 8, but I didn't really have anything else I wanted to see so rather than wasting time (and fuel) driving aimlessly, I headed back to Kos Town and returned the vehicle a bit early. Having snacked in Zia, I wasn't very hungry either so I ended up skipping dinner and spending the evening in my room.