Monday 19th July 2021
Matala Sunrise
I woke just after 6 am having gone to bed early last night. Sensing an opportunity to see Matala without the crowds, I got dressed and headed into the resort before breakfast to explore it properly and catch the end of the sunrise.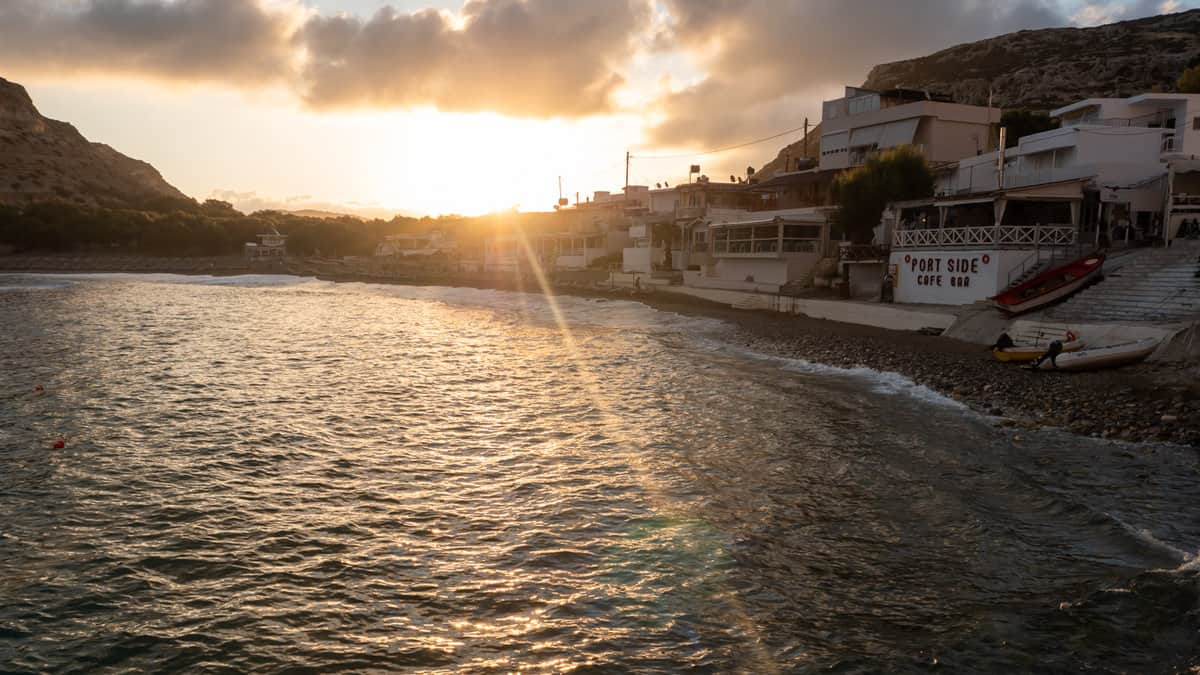 It still seems a strange resort to me: quite compact around the southern side of the bay, with a relatively small beach and tight clusters of shops, cafes and tavernas. Matala certainly doesn't have the open, spacious feel of the typical Greek beachside destinations that I've spent most of my time at, which probably explains why it feels a bit alien to me. Still, it's always good to see new places and that's part of what my adventure is all about.
Breakfast and Covid Test
Before leaving Crete, I need to take a Covid test as I wasn't able to get fully vaccinated before leaving the UK. New rules introduced in Greece shortly before my arrival meant that, when travelling between island groups by ferry, a negative rapid-flow or PCR test is required for anyone who can't prove they are fully vaccinated. I had managed to find a clinic in Tympaki offering rapid-flow tests and booked an appointment at 9:35 am before my journey to Heraklion to drop off the hire car.
But first, breakfast! Sadly, the hotel food wasn't up to much but I managed to eat enough to keep me going for the morning. By 9 am, I was checked out of the hotel and heading towards Tympaki, only a 15-minute drive away. I arrived early for the appointment, but managed to get seen ahead of schedule and by 9:30 am I had my negative result paperwork in my hand.
Gortyn and Heraklion
After the slightly disappointing visit to Phaistos yesterday, I wasn't sure what to expect from Gortyn but was pleasantly surprised by the experience. It only costs €6, so slightly cheaper than Phaistos and I would say it's a bigger site and more interesting to walk around, certainly for the casual tourist like me. They are still excavating around the site so I expect in future it will be an even better place to visit.
I had told the rental company that I'd return the car by midday to the port car park in Heraklion. The drive from Gortyn was about 45 minutes, so I left the site just after 11 am to make sure I would arrive on time. The road north to Heraklion is pretty good and traffic was light most of the way, so I made it to the car park ahead of schedule.
To reach Sitia, I was going to take a local bus departing at 12:45. Luckily, the main bus station is just a few minutes' walk from the port so I wheeled my suitcase down the paths using Google Maps to guide me. I wanted to get some food before the bus journey, so I first headed to a McDonalds indicated on the map, figuring it would be a quick and easy meal to keep me going. Unfortunately, due to Covid they weren't opening the restaurant until 12:30 which was no good for me. I turned around and headed for the bus station, hoping there would be a cafe on site where I could at least get a snack and a drink.
The snack turned out to be a protein shake (much healthier than the McDonalds, so I should be grateful it was closed!) and I got a coffee as well. The bus ticket cost €14.60 which wasn't bad considering it's a 3-hour journey across most of eastern Crete. Although the bus station is busy, the signage is good and I was easily able to find my bus when it arrived, putting my suitcase into the storage area and finding a good seat towards the back. The bus seemed almost brand-new, with lovely leather seats, tinted windows and excellent air conditioning so my fears of the journey being uncomfortable were dismissed and it turned out to be a pleasant ride.
Sitia
The bus arrived in Sitia just after 4 pm. I wasn't sure where we would get dropped off in relation to my accommodation – Hotel Elysee – but a quick check of Google Maps once I'd retrieved my suitcase showed that it was only a 15-minute walk. I was able to check in immediately on arrival and was given a nice spacious room on the second floor (203) with a great balcony view of the harbour area.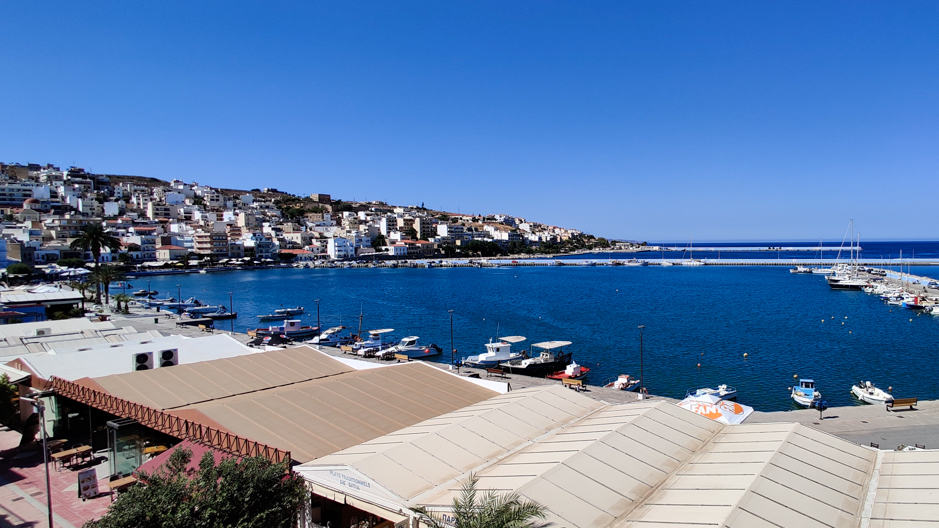 My next important task was finding a ticket office to get my ferry ticket for tomorrow morning's journey to Karpathos. Despite looking on Google Maps and making several trips along the harbour front, I struggled to find anywhere selling tickets. One shop looked promising but didn't open until 5:30 pm, so I sat down at a cafe for coffee and ice cream to wait until it opened. When I went back, they were open but didn't sell ferry tickets after all! On the plus side, they did give me the name and location of a travel agency, Sitian Holidays, they said would have tickets, so my sense of panic eased and I headed straight to their location and managed to get it sorted.
Last Dinner on Crete
With my travel documents sorted for tomorrow, I was able to relax in my room for a while before showering and heading out to find somewhere for dinner. My hotel's location turned out to be a great spot, with lots of tavernas right outside and all the way along the harbour front. I ended up choosing a restaurant called Cretan House which was very close to the hotel and highly rated on Trip Advisor. The food was nice, though I didn't think it was as good as the ratings suggested – my starter of fried mushrooms was rather bland and way too large a portion for one person. For the main course, I had a local chicken dish with a creamy mustard sauce. It tasted fine at first, but the mustard flavour soon became overpowering and I could only eat just over half of it.
Karpathos Accommodation!
In my haste to sort out the Covid test and ferry ticket for tomorrow, I had almost forgotten that I still hadn't booked any accommodation on Karpathos!! I had intentionally avoided booking it too far in advance just in case I wanted the flexibility to extend my stay on Crete or to head to a different island (not that there were many alternatives). Once I was back from dinner, I got my laptop out and managed to find a cheap-ish hotel on the outskirts of Pigadia (Karpathos Town) for €38 a night with breakfast included. Having never visited the island before, I wasn't sure the location would be that great, but the choice was limited and I wanted to save as much money as possible by sticking to more budget accommodation where possible.
My onward journey now actually sorted, I jumped into bed excited for my first ferry trip and a new island tomorrow.