Sunday 5th September 2021
Breakfast and a Bonus Beach
My ferry to Sifnos wasn't until 14:45, so I had a good amount of the day still to pass here on Sikinos. I messaged the owners at Ioli Apartments where I was staying to see if I could keep my room past the standard 11 o'clock check-out time. They replied saying it was fine and I could have the room until 2 pm which was great, as it meant I could use the morning to do some bonus sightseeing and still have time to shower and pack later.
I finished off my breakfast supplies, then got my camera gear ready and headed out. My destination was a small beach called Dialiskari, 2.5km northeast of Alopronia. I wasn't expecting much, but there was nothing else nearby worth visiting and that I could reach easily on foot, so it seemed better than nothing.
Disliskari
The path to Dialiskari beach starts from the back of Alopronia as you head out of the village. At first, I managed to take a wrong turn amongst the few houses/apartments, but I soon found the dirt track and was heading up and around the hillside.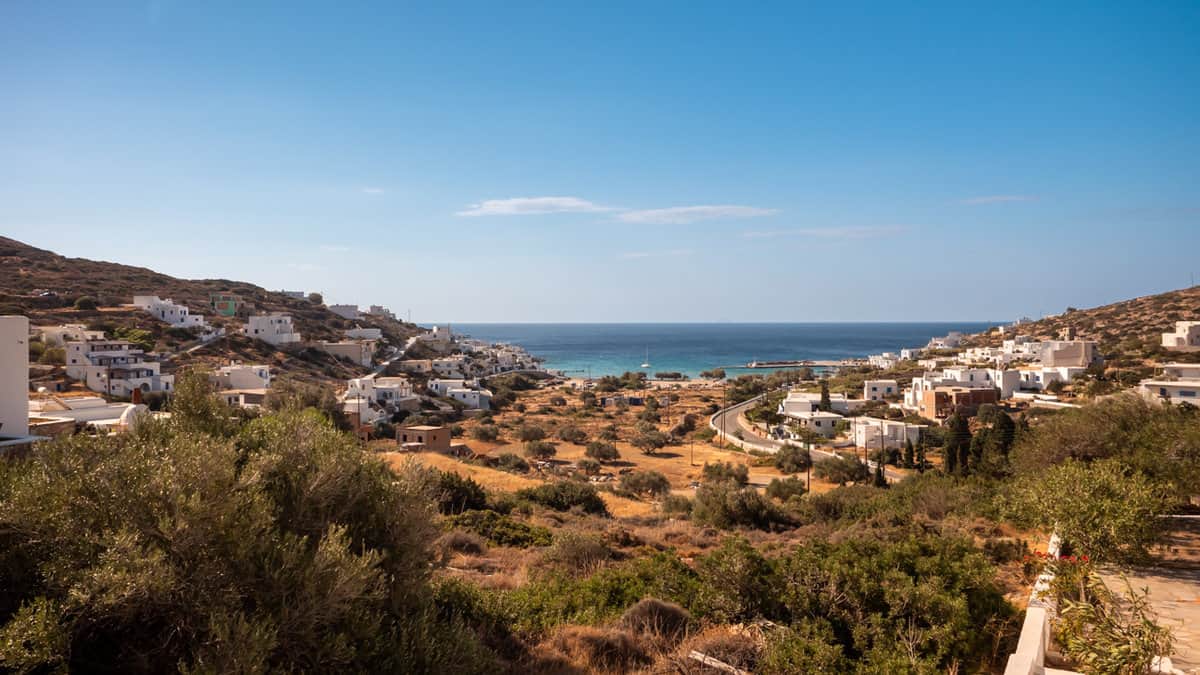 It was a lovely, clear day and the wind had finally died down which was a good thing for my upcoming ferry crossing. The 2.5km walk was fairly easy along the small road which undulates around the terrain as it weaves up the coastline towards the beach.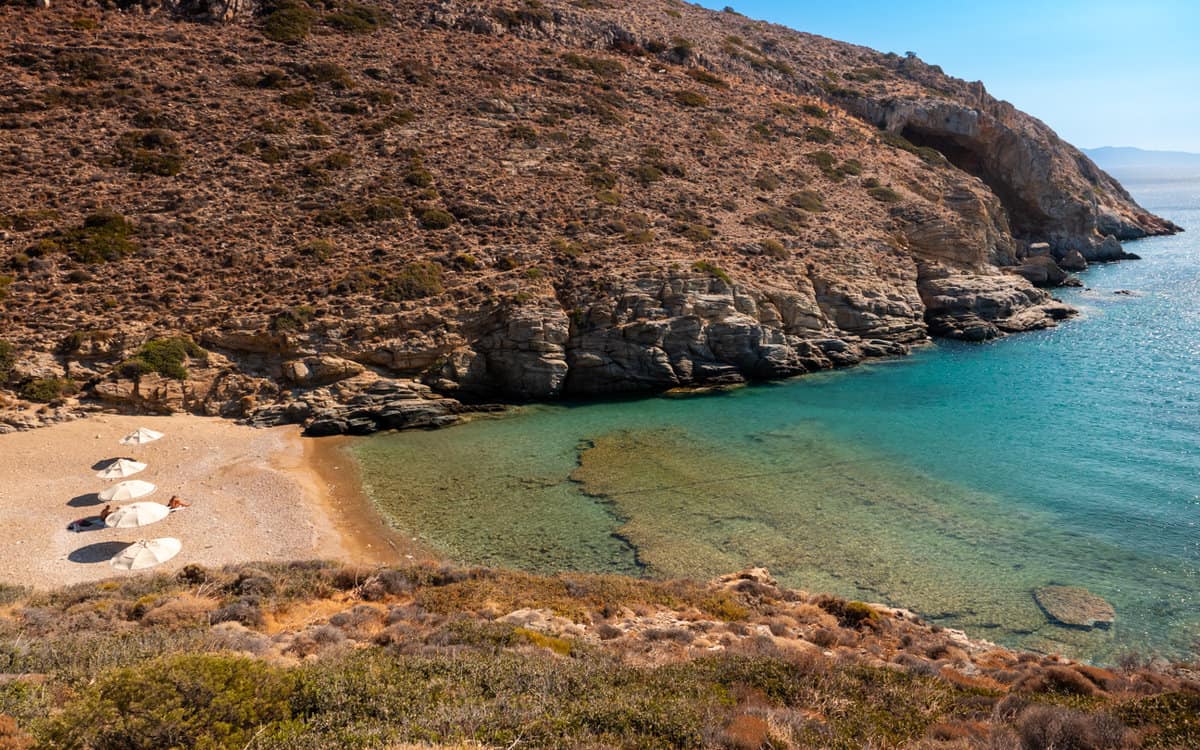 As expected, the beach itself is tiny. I was a little surprised to find that I wasn't the first person here. In fact, a younger couple were packing up what looked like a makeshift campsite as I walked down the road to the back of the beach. There was also an older couple already stretched out on the sand. I didn't plan on staying long, though, so I got out my camera and took some photos and video, then turned around and began the journey back.
Reflecting on Sikinos
As my time on the island comes to an end, I began to reflect on the experience as I walked back to the apartment. Aside from the aforementioned shortage of tavernas – and lack of quality food in the ones I tried – it's been a good experience and one I would recommend, if only for a few days. It's nice to experience a more traditional and quiet island as a contrast to some of the busier places I've been, but it doesn't have that much going on to be worth spending a lot of time here. Alopronia beach is nice enough, but there aren't many alternatives for sunbathing and relatively few sightseeing opportunities either.
Packing and Ferry Crossing
Packing took a bit longer than usual, as despite only being here 3 nights, I had decided to fully unpack when I arrived – there was plenty of storage space in the apartment, and my suitcase was in a mess and collecting sand, so it made sense to empty it and re-pack once I'd shaken out the debris from the balcony. As it was only approaching midday, I had time to walk down to Marconi's to get a coffee and fruit smoothie which passed as my lunch for today.
At 2 pm, the owners had offered to take me and my luggage down to the port. Even though it's walkable, I never turn down good hospitality and it meant I could avoid getting sweaty dragging my suitcase in the hot sun. I hadn't actually bought my ferry ticket yet, which is unusual as I don't like leaving it to the last minute but I knew it wouldn't be full at this time of the season and on a relatively quiet route. Once I'd been dropped off, I went straight over to the kiosk, got my ticket and found a shaded corner of the building to sit down and wait for the boat to arrive.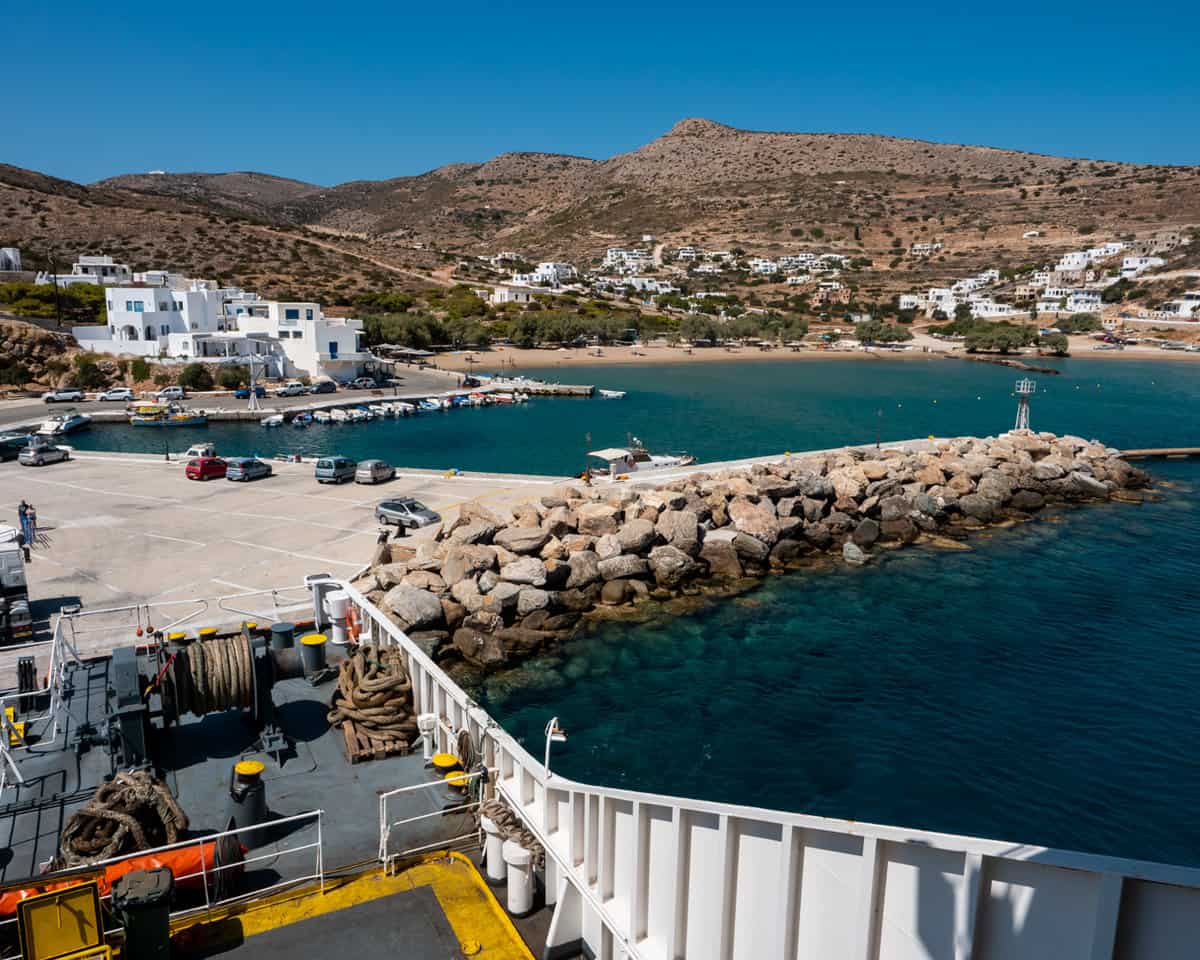 The journey aboard Zante Ferries' Dionisios Solomos was smooth and uneventful. It was a relatively long crossing, taking 3.5 hours as it visits Folegandros and Kimolos on its way west, before turning north towards Sifnos. To say I was excited to return to Sifnos would be an understatement: it was my favourite island when I first visited in 2020, partly due to the amazing Italian food I'd eaten there pretty much every night. After a string of disappointing meals here, I was drooling at the prospect of my first Sifnos dinner in just a few hours time!!
Sifnos
We rounded headland into Kamares bay just after 6 pm, and what a glorious sight it was. All my memories of the previous visit came flooding back, and my excitement grew at the realisation that I would be spending the final 11 nights of my trip here.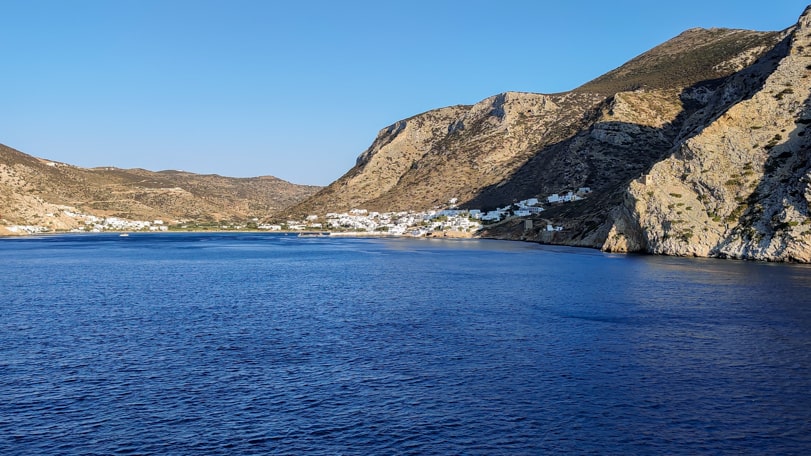 It was nice to see the resort looked quite busy, with a fair few people still down at the beach while others sat at the cafes and tavernas that line the road down from the ferry port. Eager to get checked into my room, I dragged my suitcase at my usual excessive speed and within a couple of minutes, I could see Hotel Boulis up ahead.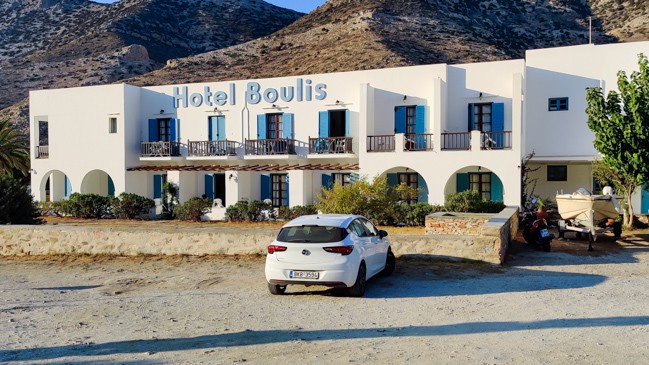 The check-in process was quick and efficient: one of the many perks of not going on package holidays, you don't arrive with a crowd of other guests at your heels (or worse, ahead of you). I had a nice room, 224, on the second floor with a decent view over the resort from its small balcony: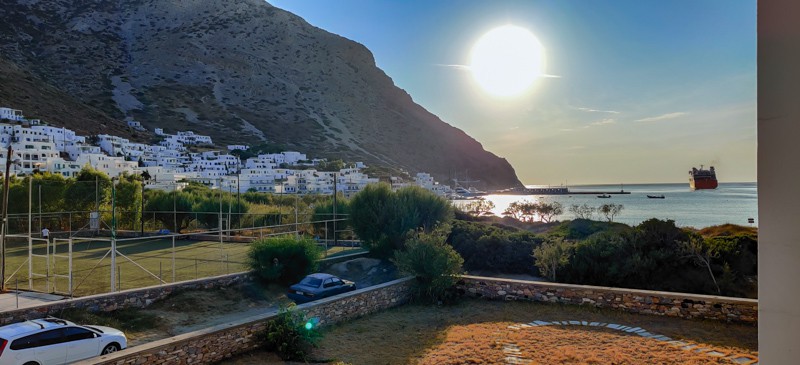 I quickly unpacked the essentials, showered and dressed for dinner. My destination for food was already decided: Camaron! It had been my favourite last year and I was hoping it would be just as good as I remembered.
Dinner Time
I tend to eat quite early, so it wasn't surprising to find the restaurant empty when I arrived. When the waitress came over to greet me and get me seated, I mentioned that I'd visited the year before: she looked me over and said, "yes, I remember, you have the Tortellini!" She remembered me!! I replied, "yes that's me, guess what I'm having tonight!"
Along with my tortellini Camaron (four-cheese tortellini with mushrooms and a Roquefort sauce), I had a carafe of white wine and some bruschetta to start. The wine made me a bit light-headed, then I remembered I'd only had a fruit smoothie since breakfast so I paced myself to avoid turning into a drunken mess before my food had even arrived!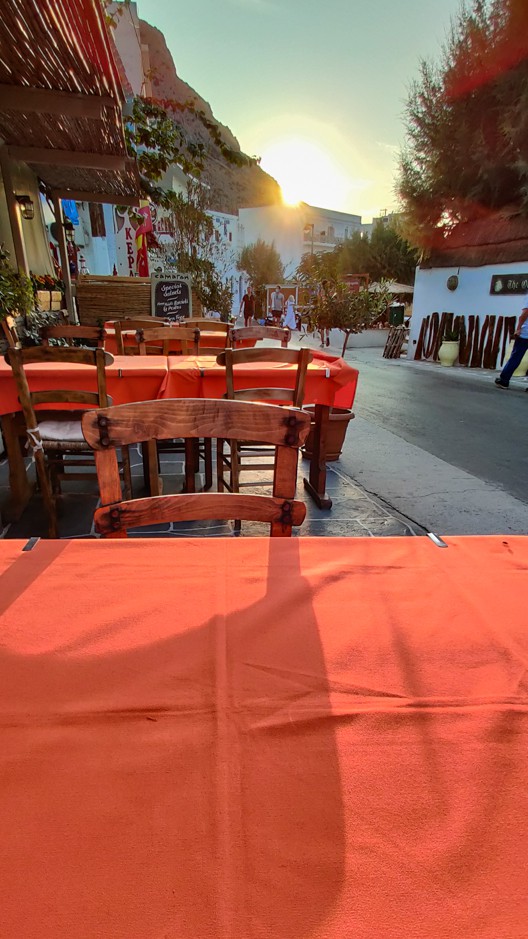 The food was every bit as good as I remembered. It was incredible to be back again and I was so excited for the days ahead, especially to be introducing Sifnos to my parents who will arrive in a few days' time.