Friday 23rd July 2021
Finally Some Sightseeing…Kind of!
Realising that I've had two very lazy days at the local beach in Pigadia, I made an effort to look at a bus timetable and find somewhere else to spend the day today. I didn't want to spend ages on a bus, though, so I opted for the beach of Ammopi (also seen spelt as Amoopi). It's meant to be a lovely beach and is only 15-minutes from Pigadia.
After a quick (and forgettable) breakfast, I left the hotel at 9 in time to catch the 9:20 am bus. One benefit of my hotel is it's just a 5-minute walk from the main bus station, albeit down the very steep hill! There were a few other people waiting around, but when the driver arrived and opened the bus, plenty of seats remained available. The tickets cost €2.10 so it was a pretty cheap journey.
Choosing a Beach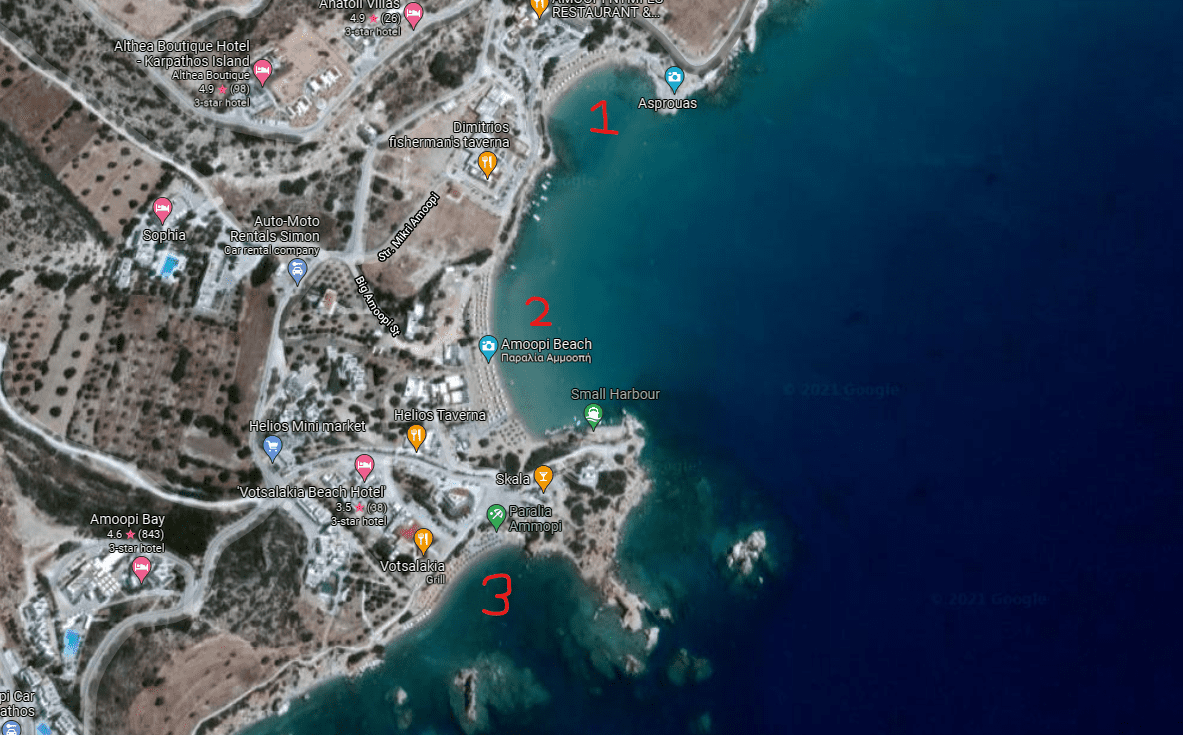 Upon leaving the bus, I realised there were actually three beaches at Ammopi and I would need to decide which one to use. Many of the people getting off the bus went south to beach number 3 (as indicated in the picture above). Before making a decision, I walked north onto the second beach which looked to have the nicest sand/ and clearer water, but it was quite a breezy day and it was also the most exposed of the three options.
Ultimately, I followed the crowds and took the last available sunbeds on the third beach as it offered the best shelter from the wind. The beds cost €10 which was more than I wanted to pay, but I needed access to an umbrella for shade so reluctantly gave them the money.
The morning was quite pleasant, I had a long swim around the bay which, although quite rocky in parts, is deep enough to swim around and the rocks mean there were lots of fish to look at and it made the swim more interesting. I could see the beach was getting busier with each passing hour, to the point where the sunbed owner was erecting new umbrella spots and adding extra sunbeds until he seemed to run out of capacity.
Rather than stay the entire day, I had planned on returning to Pigadia via the 12:45 pm bus I had seen on the online bus timetable. I packed up my gear and walked over to where the bus had dropped us off, finding a tiny bit of shade under a tree beside a nearby taverna. When 12:45 pm came and went, I walked over to the bus stop sign to check the timetable pinned to a noticeboard and was rather annoyed to find no mention of this bus time on the printed schedule!! Not only had I given up my spot on the beach but the next bus wasn't due until 4 pm, leaving me with several hours to fill.
Killing Time
Trying to make the best of a bad situation, I walked over to a cafe called Skala which occupies a nice elevated location between the second and third beaches and seemed like a cool place to hang out. I ordered a salami and cheese toastie and a Freddo espresso coffee and sat reading my Kindle to pass some time.
A while later I ordered some strawberry ice cream before leaving the cafe around 3 pm. I decided to walk up to the northernmost beach (1 on the above picture) to take a few photos and some videos for YouTube.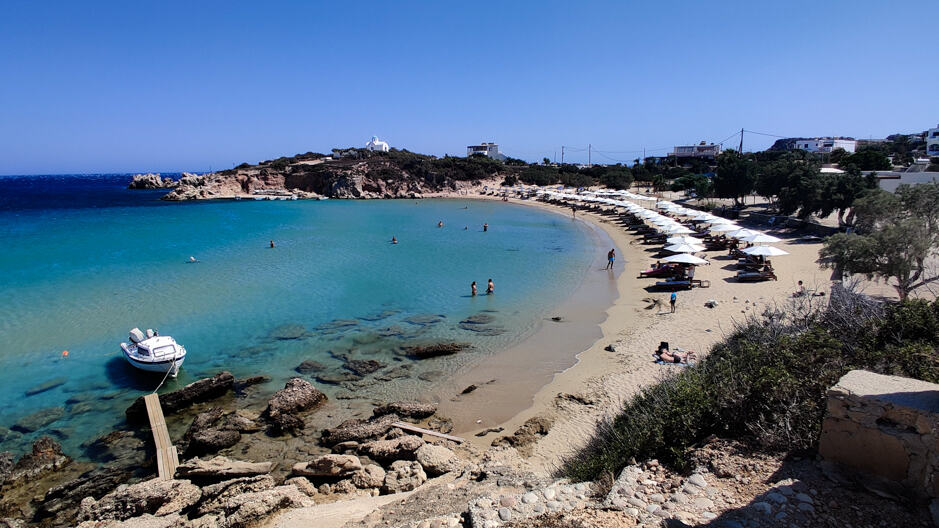 By this point, the second beach was also pretty full, but I felt in need of a dip and still had plenty of time to spare, so I put my towel down on the sand and went for a swim. The sea here is much nicer than at the third beach as you can see in the photo above.
I got out and dried off in the sun, before heading back to the bus stop just before 4 pm. There was a reasonable crowd of people waiting for the bus, but I managed to get a seat when it arrived and was soon back at my hotel.
Craving Pizza
After a shower and relax at the hotel, I headed out for dinner and was very hungry having only had a sandwich and ice cream earlier. I really fancied a pizza for some reason, so after some research on TripAdvisor to find a good taverna, I ended up at UNO Pizzeria down at the harbour in Pigadia.
The pizza was slightly disappointing, though I was hungry enough to eat it all anyway. It was their 'special' pizza with bacon, mushrooms, onion and pineapple. All things I like, but the mushrooms had an odd yellow colour and tasted a bit like they had been curried! A very weird flavour on a pizza, but it filled my stomach anyway.