Tuesday 31st August 2021
Another Day, Another Beach
Continuing my exploration of Ios today, I planned to visit another beach on the east side of the island. This time, I would be visiting Psathi, which is slightly further south of Agia Theodoti where I visited on Sunday. It's about 30 minutes by car, or 40-45 if you're on a baby quad bike like mine!
Before setting off, I rode down to Cantina del Mar again for my usual breakfast: it was good enough that I didn't see a reason to try anywhere else. In addition to the great food and coffee, it has a nice chilled atmosphere and it's right behind the beach so you get great views of the sand and sea.
Palaiokastro
While planning my route to Psathi, I noticed there is a hilltop church just northwest of the village called Panagia Palaiokastritissa. Given the location, I suspected it would have fantastic views so I decided to make it a stop on the way to the beach.
There is no parking except on the side of the road, but it's a very quiet area and there were no other vehicles when I arrived. The walk from the road to the church takes about 10-15 minutes and isn't difficult, though in the full sun it does get a little sweaty! The views are definitely worth it though.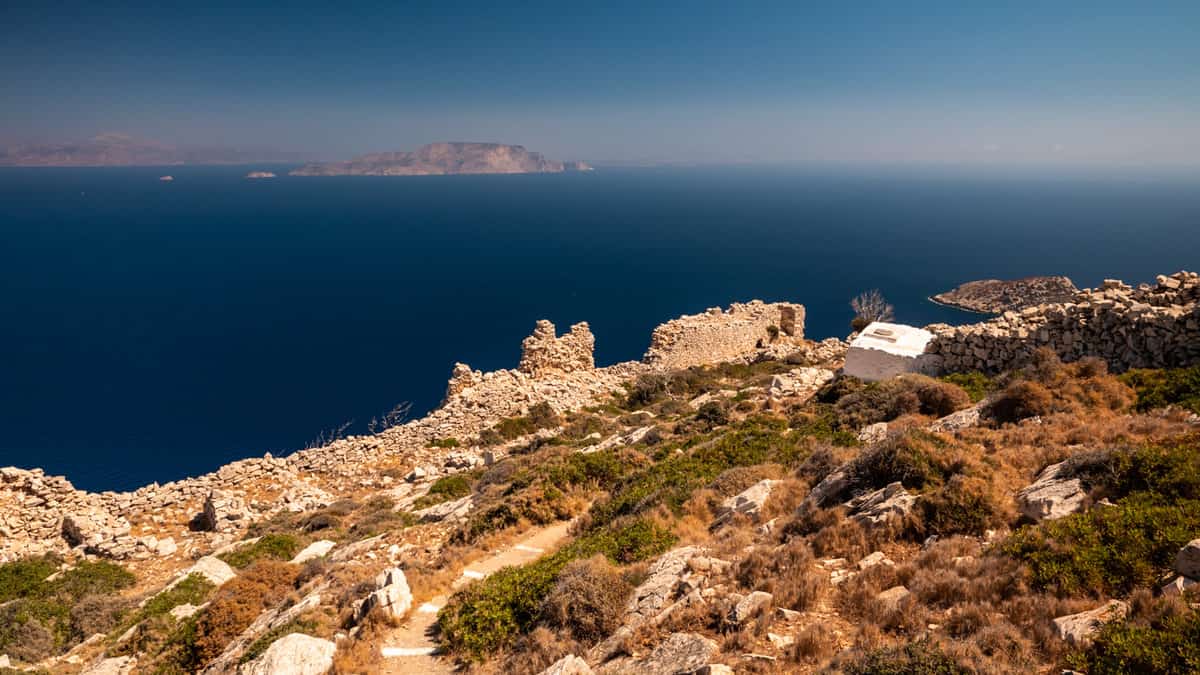 I spent some time using my drone to get some aerial photos and video, as well as recording some vlog content for my next YouTube video. It was so peaceful there and the views are absolutely amazing, so I highly recommend visiting if you are on the island.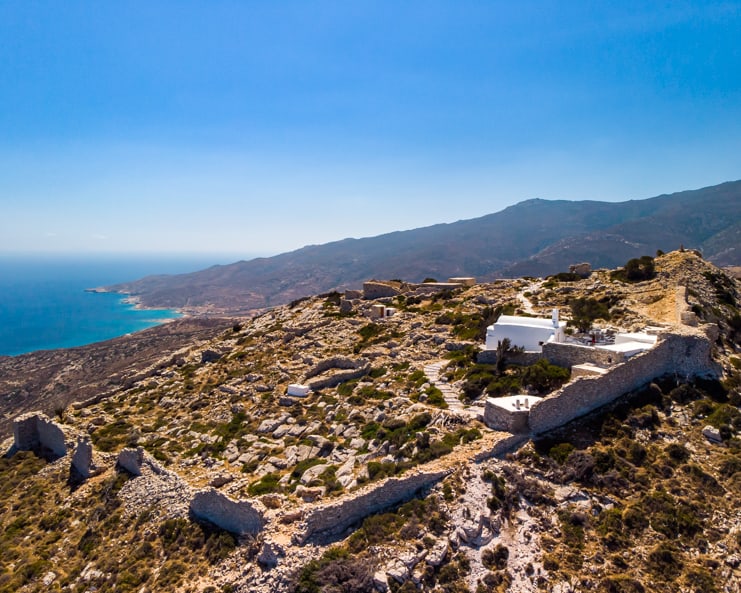 Psathi Beach
After spending 30 minutes or so exploring the church and surrounding ruins, I walked back to the quad bike and continued on to Psathi Beach.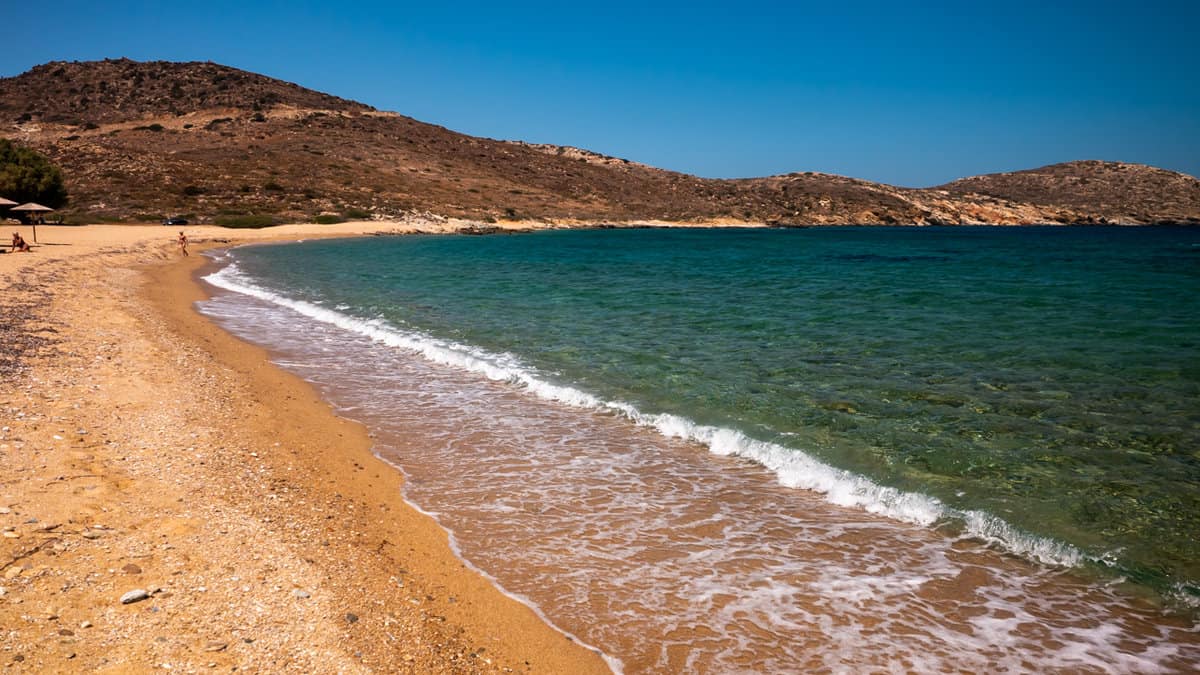 Of the three beaches that I've visited so far (Magganari, Agia Theodoti and Psathi), this one is by far the quietest. There were just a handful of people sunbathing around some fixed umbrellas at the north end of the beach and nobody at all further south.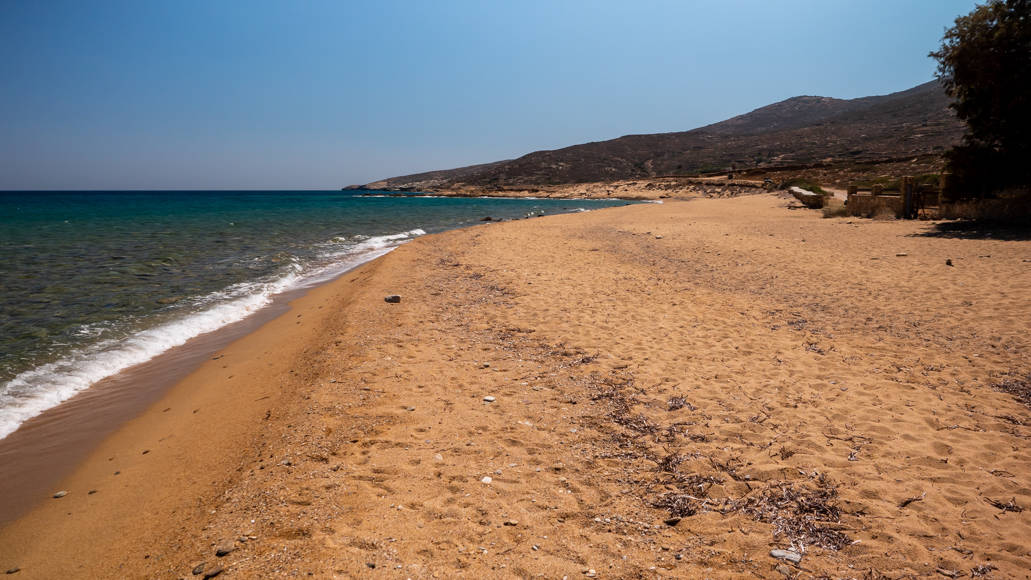 As you can see in the above photo, the beach is quite nice, though not as soft sand as the other two and the water is a little rocky close to the shoreline. This may explain why it's less popular, or perhaps I just caught it on a quiet day!
At the south end of the beach, there is a tiny little harbour with a few boats floating peacefully on the water, but otherwise not a whole lot to see or do, so after snapping a few photos I decided to head back to Mylopotas for the remainder of the afternoon.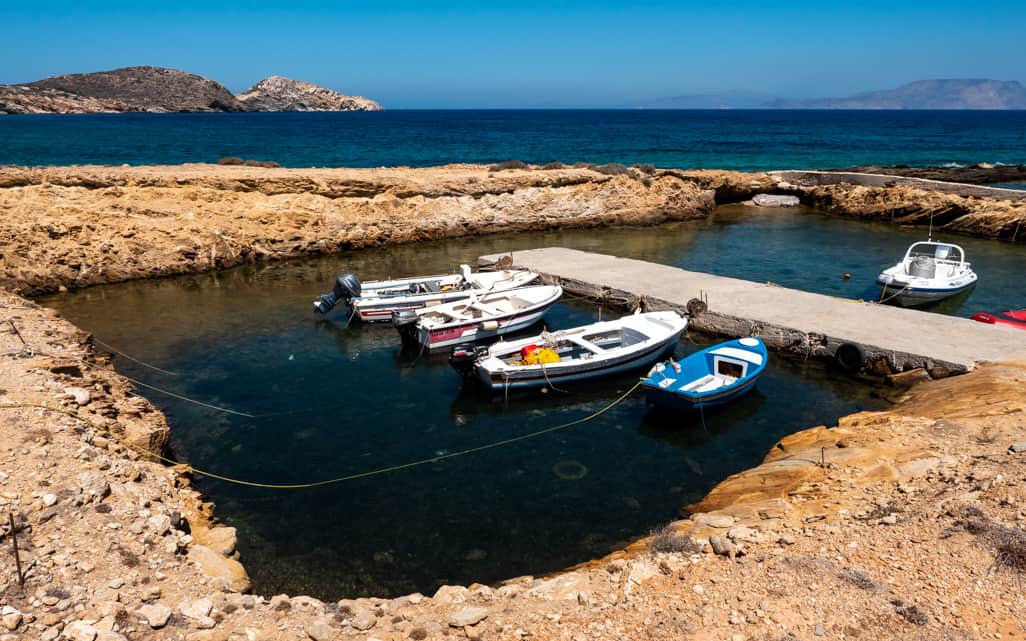 Back to Mylopotas
I arrived back in my resort around lunchtime and rode straight down towards the beach to the supermarket at the bottom of the hill. I stopped in to get another protein shake (about the only healthy food I've been eating recently!) and a can of Starbucks espresso (gotta keep up those energy levels), then went back up the hill to my hotel.
I spent an hour or so in my room reviewing the photos and videos from today's sightseeing, then got changed and headed down to the pool to sunbathe for a while.
Later on, I jumped back on the quad bike and rode down to the port to get my ferry ticket for Thursday's crossing to Sikinos. I bought the ticket at Acteon Travel, which is just off the small square southeast of the main port. To make the most of my trip down here, I then walked around to Gialos beach which is the main stretch of sand north of the port.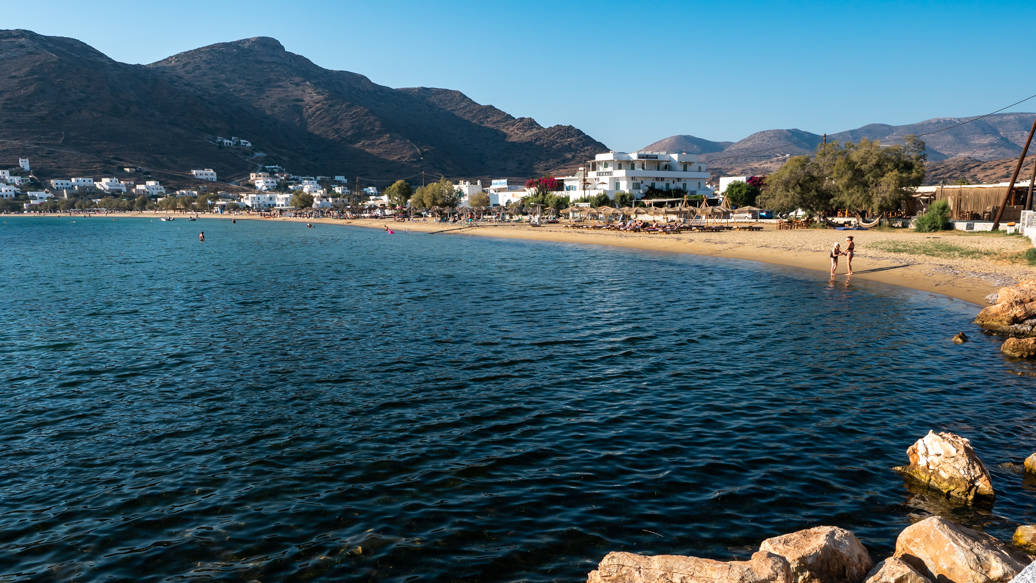 It's a nice looking beach and there are lots of accommodation in the area, so it would be a good base to stay if you didn't want to be in Mylopotas but still wanted access to a good beach, rather than being inland at Chora.
Super Convenient Dinner
After a fairly active day, I decided to make dinner as convenient as possible by visiting the restaurant next door to my hotel. It's called Methyra and seemed to get positive reviews on Google/TripAdvisor so I figured it was worth a try.
When I arrived just after 7 pm, I was the only customer which felt a bit awkward, but the waiter was friendly and I'd soon ordered my food: Ios cheese Saganaki to start, followed by beef meatballs in tomato sauce. They only had wine by the glass, but it was very good so I ended up having two glasses, plus a dessert of chocolate salami, so the meal was a bit on the expensive side at €34, but it was worth it. The dessert was probably the weakest part as I found the chocolate a bit bland – they'd obviously tried to avoid it being sickly-sweet like some chocolate desserts can be, but it ended up lacking flavour and was disappointing. The other food was excellent, though.