Tuesday 24th – Wednesday 25th August 2021
A Slight Lack of Foresight
In my haste to secure accommodation after my unintentional extended stay on Kos, I hadn't really considered that Naxos doesn't have much more to offer me in terms of exploration. Having visited many times already, there wasn't much I wanted to do with my time on the island, nor did I want the expense of hiring a car. As a result, I've condensed these two days into a single update, as I spent my time mostly relaxing in Agia Anna.
Tuesday 24th August
In an effort to mix things up just a tiny bit, I spent the early part of the morning in my room finishing off the Kos and Amorgos YouTube videos and enjoying a relaxed breakfast. I headed down to the beach at 11 am, but instead of finding a place to lay on the sand, I spotted a nice quiet pool at a place between Peppermint and the campsite in Maragas. I think it belongs to the Angeliki Apartments situated behind. It appeared to be free to use and I took advantage of the campsite shop next door to buy a cheap drink, some crisps and a doughnut as a snack lunch.
For most of the day, I was the only person at the pool, except for a few occasions where people would arrive and spend a few minutes swimming before heading off again. It was really chilled out and I enjoyed lazing on the comfortable sunbeds soaking up the hot afternoon sun. At 5 pm, I decided to pack up and walk north across the beach (past the nudist area) and around the headland to the patch of sand and rocks at the southwestern edge of Agia Anna beach.
On previous visits, this area is usually crammed with people laying out on the rocks or the few patches of sand, but today it was nearly deserted so I couldn't resist throwing my towel down, taking a dip in the calm shallow waters of the sheltered bay, and then stretching out on the sand for a bit longer.
Eventually, the sun got low enough in the sky that the sandy area was partly shaded, so I picked up my towel and strolled back towards the hotel, glad to be past the heat of the day so it was a much more pleasant walk.
Having snacked through the afternoon, I decided to save money and skip dinner, spending the evening on more YouTube video work as well as updating these blog notes.
Wednesday 25th August
This was the day I realised I hadn't planned Naxos very well and a hint of boredom was setting in. Usually, I love relaxing at the beach doing nothing, but I've never been in Greece this long before and had already done quite a lot of relaxing these past few weeks – so much so that my bum was actually starting to ache from so much time spent laying on a sunbed!!
With this in mind, I decided to swallow the expense and see about hiring a car for tomorrow so I could spend my last full day out of Agia Anna doing some exploring. I was confident of coming up with an itinerary that would keep me occupied for the day and would include places I've not yet visited.
Back to today, though. I spent the early part of the morning down at the beach in a similar spot to Monday. I saw a Mexican restaurant called Picasso and stopped in with the hope of getting food, only to be told they don't start serving lunch until 1 pm, so I sat and had a beer instead. I then migrated next door to Peppermint and had a nice club sandwich and Freddo Espresso (to balance out the beer), then used their sunbeds for a couple of hours.
On my way back to the hotel, I stopped at a rental shop called Motopower and reserved a small car for tomorrow. It was, as I expected, pretty expensive at €55 for the day, but I didn't have much choice if I wanted to explore so I paid up and continued back to my room.
Around 7 pm, I returned to the village for dinner and chose a place called Deoudas to the northern end of Agia Anna. According to TripAdvisor, their moussaka is very good so I was keen to put it to the test! Verdict… pretty good! It came in an individual bowl which was a great start and tasted very nice – not too much aubergine and plenty of meat and potato. I still don't think it quite beat the one in Agia Galini, but it was the closest one I've tried since then.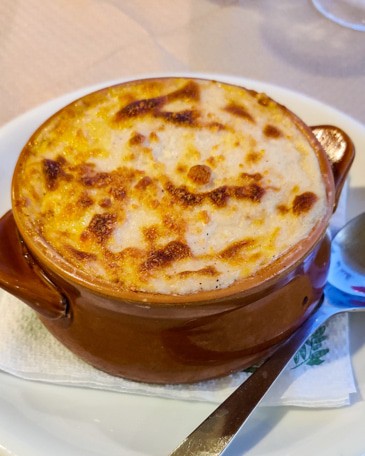 Feeling pleased with my dinner choice, I treated myself to some Baklava for dessert which was also very good, though I hadn't expected it to come out hot, it was covered in honey and tasted great (see top photo).