Saturday 28th August 2021
Breakfast and Moving Rooms
Breakfast wasn't included in my room rate at Manthos Place, but I had found out yesterday that they do offer food at the pool snack bar so I decided to give it a try. Arriving just after 9 am, I sat down and had yoghurt with honey, coffee, orange juice and some bread. It was all decent enough, but €12 seemed a touch expensive so I'll probably go elsewhere tomorrow.
During breakfast, I spoke to the owner about the possibility of moving to a different room as I wasn't very happy with the one I'd been given – I had slept quite badly due to a mixture of poor air-conditioning, lumpy pillows and an uncomfortable bed. I was told that a room in the main block would become available later today, once the current guests had checked out. It would cost an extra €10 per day which was a bit frustrating as I felt the room I'd been given wasn't as advertised, but decided it wasn't worth complaining about too forcefully, so I accepted the extra cost, packed my bags and left them with her at reception while I went out for the day.
Magganari Beach
Despite visiting Ios back in 2017, the only sight I managed to see last time was Homer's Tomb as it was a fairly brief 2-night stay. With 5 more nights here, I had time to explore most of the island and decided to start at the far south with a visit to Magganari Beach. According to my research, this is a large and sandy beach and fairly popular with tourists. The local bus service offers connections from Chora, but as I have my quad bike I opted to make my own way there.
Google estimated the journey time at just over 30 minutes. However, as I soon discovered, the route via the south end of Mylopotas beach is not exactly easy to navigate – I would strongly recommend taking the longer route via Chora unless you want to spend 4-5km riding over extremely bumpy dirt tracks! I persevered, though, and made it to the beach in about 45 minutes as my little 50cc quad isn't the fastest machine, especially on any kind of hill!
The view of the main beach can be seen in the photo at the top of this post. It's a wide stretch of sand and was almost empty when I arrived around 10:30. I started off at the smaller beach which is to the east/south of the main beach, then decided to move to the larger one as it had a sign advertising free sunbeds and I didn't really want to pay for them not knowing how long I planned to stay.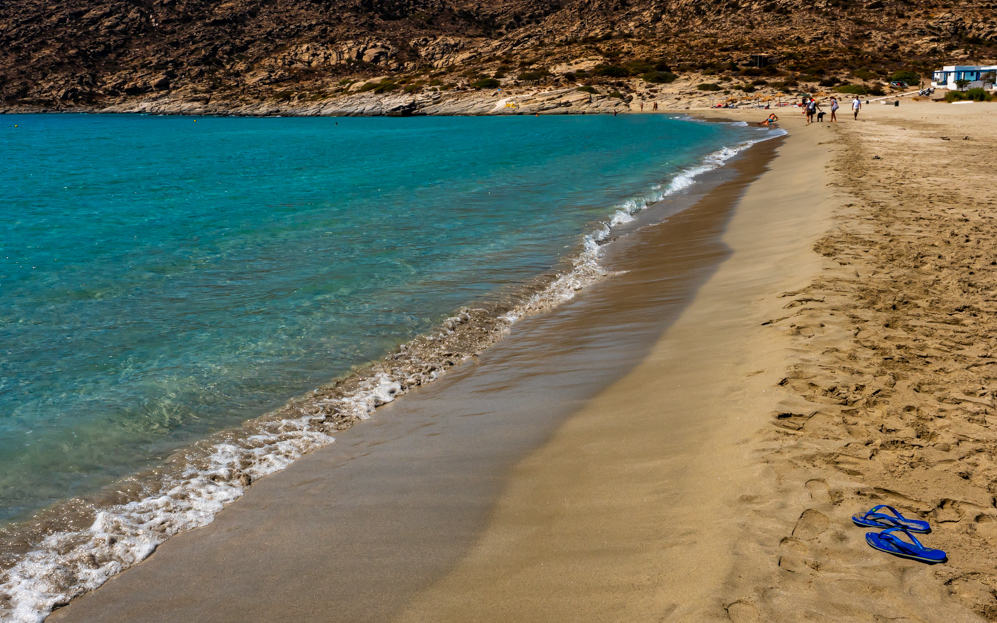 I spent about 45 minutes sunbathing and had a quick swim in the lovely clear water, then decided to return to the smaller beach for lunch as the taverna there (Venus Bar Restaurant) looked nicer than Antonios which sits behind the main beach. I enjoyed a vegetarian pizza, beer and small water, though the pizza was a bit heavy on the cheese and with quite a thick base, it was filling and tasty enough.
Back to the Hotel
With no other sights to see on the south end of the island (aside from a few beaches that are only accessible by boat), I jumped on the quad and retraced my route back to Mylopotas to my hotel. The bumpy dirt track wasn't much more fun the second time around, though you do get a good view of Mylopotas beach as you begin the descent into the resort: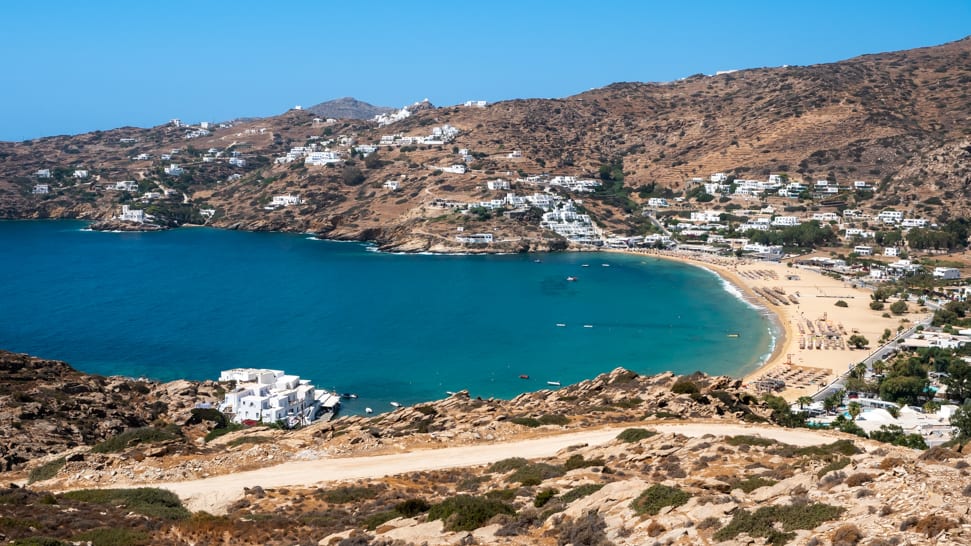 New Hotel Room is a Big Improvement
On my return to the hotel, I found the owner and she showed me to my new room which was on the first (top) floor of the main building. It was a big improvement on the previous one and I was definitely glad to have switched: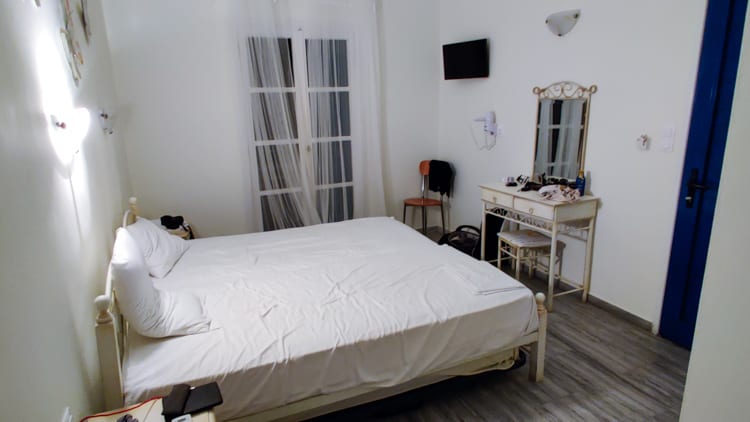 It has a small balcony with great views of the resort and the main beach. After unpacking again and a much-needed shower, I had a quick nap to make up for the lost hours of sleep last night, then returned to the pool to catch some more sun.
Dinner and a new Breakfast Spot Sorted
I decided to try somewhere new for dinner tonight, turning right instead of left at the bottom of the road down towards the beach. This took me to a restaurant called Cantina del Mar just behind the mini-market. I had a fantastic meal of mushroom risotto with a glass of rose, followed by a delicious dessert: pancakes with Nutella.
Not only was the food excellent, but I spotted a good selection of breakfast items on their menu and decided I would come back in the morning and see if it was as good as their dinners!