Sunday 29th August 2021
Back to Tasty Breakfasts
Despite enjoying my homemade breakfasts on Naxos, it's been a while since I've had a good morning meal like the ones I'd been accustomed to on Kos. Disappointed with yesterday's selection at the hotel, I was excited to return to last night's restaurant, Cantina del Mar, to sample their breakfast offerings. The meal had been excellent so I was optimistic that breakfast would be equally tasty.
I took the quad bike, as despite it being a short walk down to the beach the hill is steep, so while it's okay strolling down, going back up isn't much fun! Arriving just after 8 am, it was already quite busy – a promising sign that further heightened my expectations.
I ordered a latte coffee and yoghurt with honey and muesli. The coffee didn't last long and could have been slightly hotter, but it still hit the spot. The yoghurt was fantastic though and was a huge portion for €6, to the point where I struggled to finish it. I'll definitely be back again tomorrow!
More Beach Sightseeing
Feeling very satisfied and full of energy for the day, I walked onto Mylopotas beach for a quick post-breakfast swim, before drying myself on a sun lounger and heading back to the hotel. My plan was similar to yesterday's: find a beach or sight(s) to see somewhere on the island, ride there on the quad and see what happens. Having covered the south side yesterday, I decided to head east today and visit a beach called Agia Theodoti.
Agia Theodoti lies on the eastern coast of Ios, north-east of Chora and about 20 minutes by car/quad from Mylopotas. Unlike the southern side of the island, the north has a reasonable road network and isn't too hilly so the journey was pretty quick and uneventful.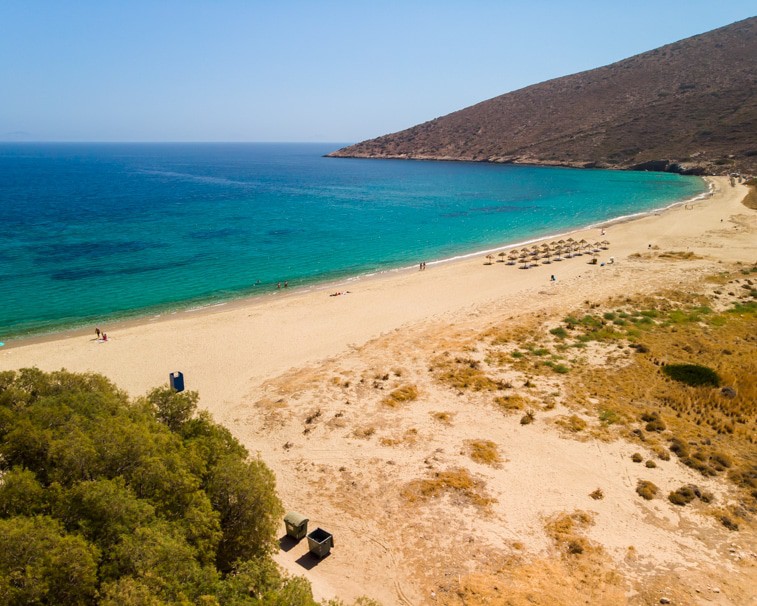 On arrival, I was greeted by a huge stretch of golden sand as you can see from the above photo. Though perhaps not as large as Magganari, it's a much more accessible location and therefore would be my recommended choice if you're looking for a nice beach to visit.
I resisted jumping straight into the sea to cool off, grabbing my drone instead to get some aerial shots for social media. There were only a few people around so it really did feel like my own slice of paradise.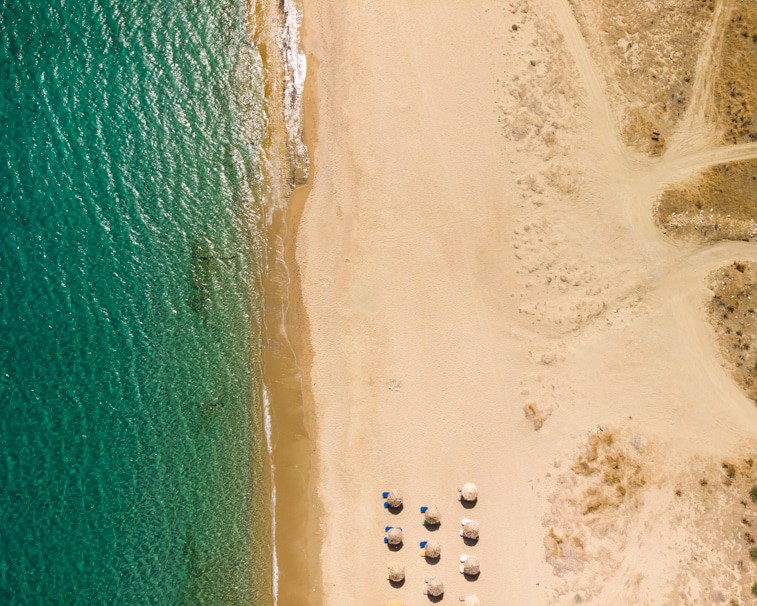 Content creator duties duly fulfilled, I threw my towel down and headed for the water. The sea is lovely and clear and pretty shallow for quite a way out, making it ideal for swimming. After splashing around for a bit, I headed back to my towel and laid out under the brilliant sunshine until I was dry.
Wanting to make sure I fully explored the beach, I hopped back on the quad and rode across the back of the beach to the southern end. The sand is narrower here, but there are more sunbeds and also a small van "Cantina Andrea's" offering a small selection of drinks and snacks. Naturally, I wanted to support them so I treated myself to a cold can of Mythos!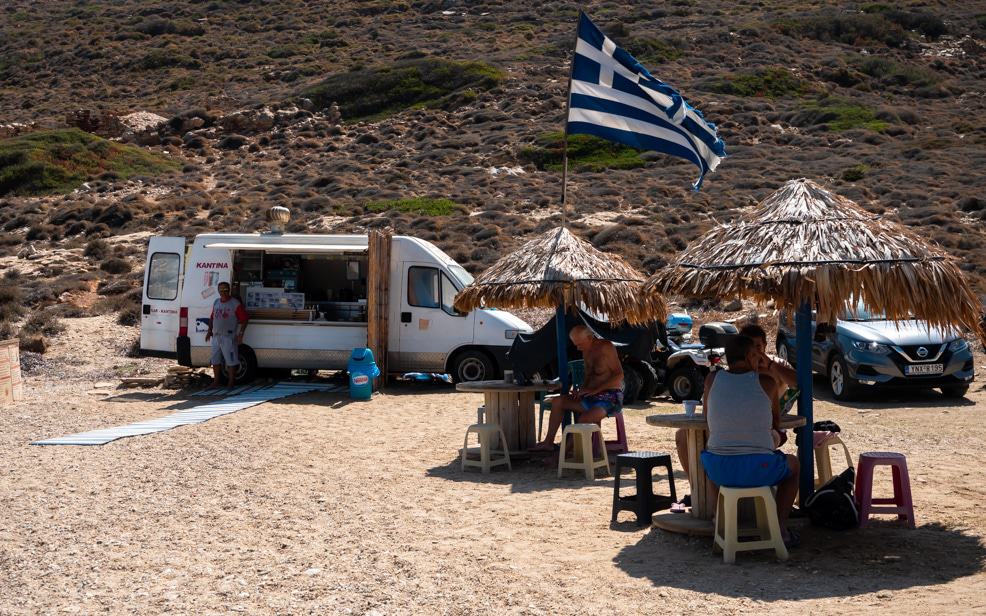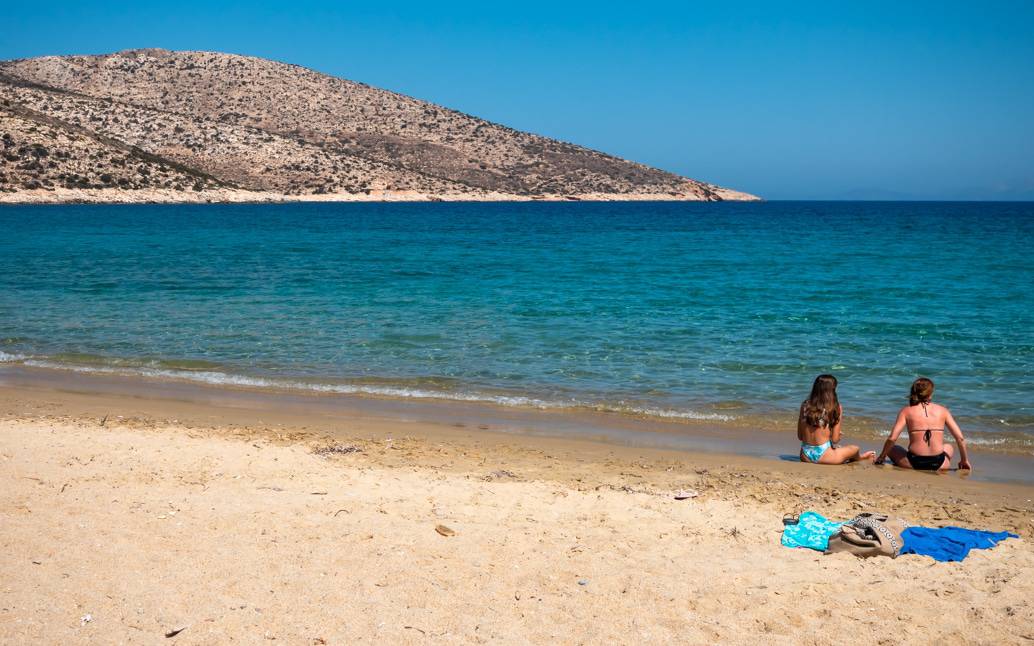 Skarkos
At midday, I'd spent enough time at the beach so I picked up my towel and hopped back on the quad. I'd seen signs for Skarkos, an ancient archaeological site, on my way through Chora and decided to visit on my way back to the hotel.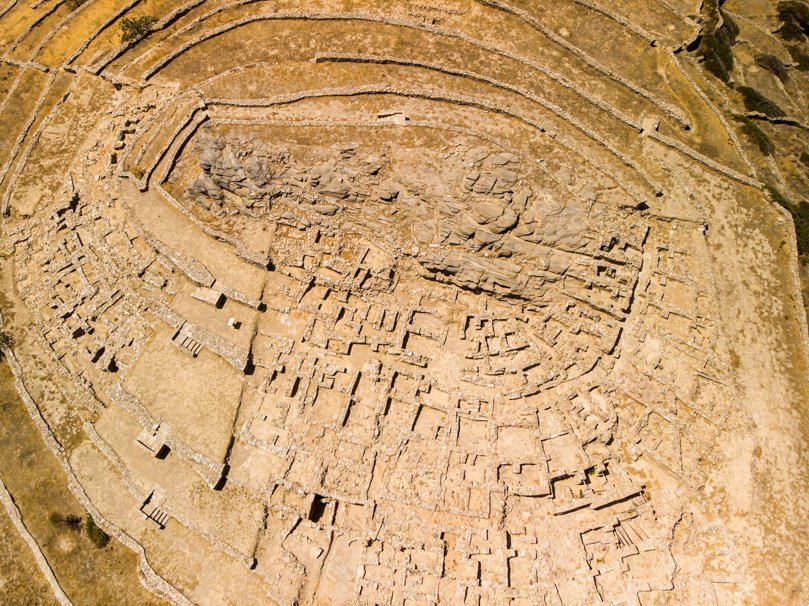 The entrance was a little difficult to find when approaching from the northeast. I suspect it's easier from Chora, but after a couple of wrong turns, I managed to find it. As it was still the middle of the day, very hot and with little shade, there were no other tourists around. Entrance costs €4 which isn't too bad, though it's not a huge site.
I walked around, taking in the ruins and reading the information signs that are placed regularly as you explore. I enjoyed my visit, but due to the heat, I only stayed about 30 minutes before deciding I needed to get into some cool water pronto!
More Pool and Beach
Arriving back at the hotel, I quickly dropped my camera gear back in the room before heading to the pool for a much-needed dip, then sunbathed for a while to dry off. With nothing else planned, I walked down to Mylopotas Beach just for a change of scene, then back to the hotel late afternoon for a rest in my room.
Change of Scene for Dinner
Not wanting to spend all my evenings in Mylopotas, I decided to use the quad bike to ride down to the port and find somewhere to eat. I'd shortlisted a few places using TripAdvisor/Google Maps and ended up at a restaurant called Thai Me Up (guess what cuisine they do). The meal was nice, but not fantastic and nowhere near as tasty as the Asian food I'd eaten in Kos Town.
After dinner, I had a stroll around the port area then rode back to the hotel for an early night.