Tuesday 7th September 2021
Hotel Breakfast at Boulis
I woke early to another slightly cloudy morning on Sifnos. It was still warm, though, and with only a gentle breeze as I stood on my small balcony surveying the landscape as I pondered my day's activities.
To save a bit of money, I decided to check out the breakfast at Hotel Boulis in the hope it would be a viable alternative to Cafe Stavros. At €6 per day, it's less than half the price too.
The selection of food was pretty typical: bread, cheese, biscuits, cold meats, salad etc. plus tea, coffee and juices. Best of all, they had Greek yoghurt – not the cheap imitation variety either – so I was sorted! It all tasted pretty good and I decided to make this my regular breakfast spot for the remainder of the trip.
Sunbathing – or Shadebathing!
The sun was still hiding behind clouds as I made my way down to the beach, returning to yesterday's spot at To Kohyli. It felt cooler at the beach, so I kept my T-shirt on and didn't bother applying lotion while I lay reading my Kindle. I ordered a cookie milkshake (€6 – a bit pricey for what was a fairly small drink) so I wouldn't get into trouble for using the sunbeds without spending any money, then relaxed for most of the morning.
Given the weather, I could've used my time better by catching a bus and exploring the island, but I have already seen most of it on my trip last year and with my parents arriving in a few days, I'll want to show them around anyway so it would be a bit of a waste.
Lunch
I decided to try somewhere new for lunch, ending up at a cafe/bar called MariAngelo which is in between Cafe Stavros and Captain's Bar at the bottom end of the beach. I didn't really fancy anything substantial, so I ended up ordering a chocolate crepe and a beer – a healthy meal!
With the weather still pretty mixed, I then returned to the hotel to work on my Ios YouTube video and also ended up taking a nap (too much sugar at lunch!). It's a hard life.
Some Local Sightseeing
At some point during the afternoon, the skies had cleared and the sun had finally returned to Kamares. Feeling like I'd had a very lazy day, I decided to go for a walk before dinner and spotted a small church around the north end of the bay. Figuring it would give me excellent views of Kamares as the sun began to set, I grabbed my camera gear and headed towards the Church of St Catherine.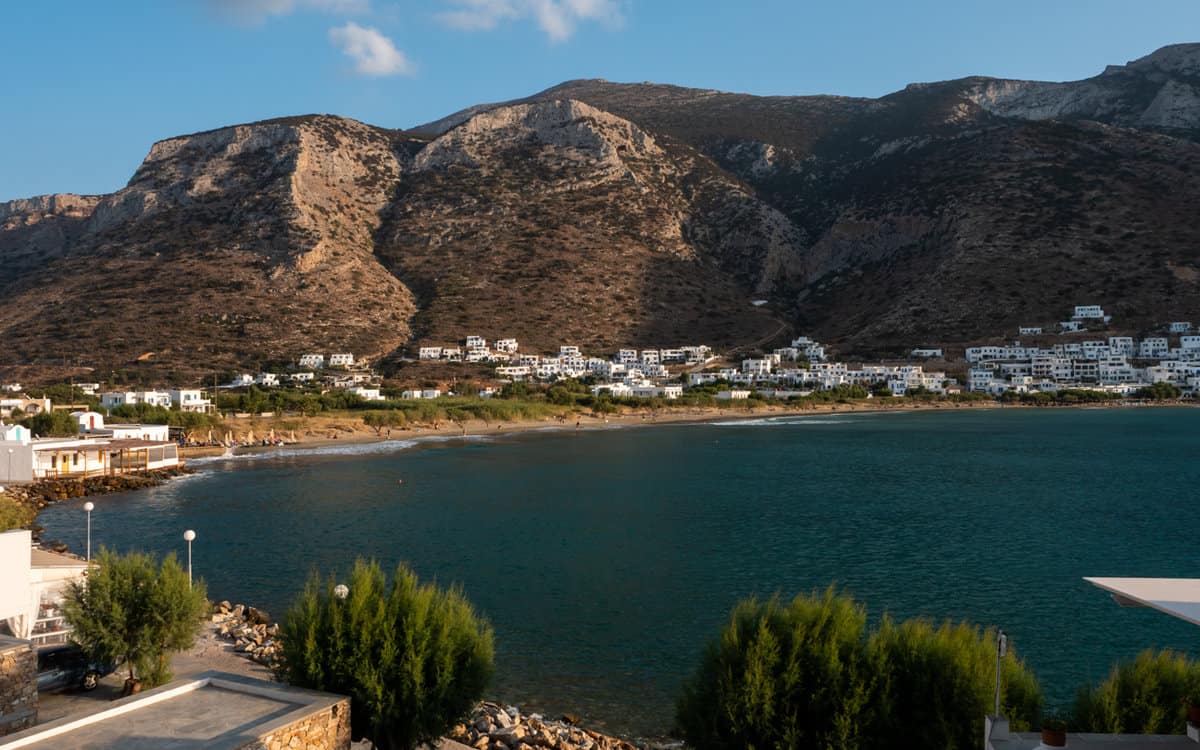 The path to the church goes around the northern end of the beach and is mostly flat, with just a couple of hilly bits, but the elevation does make for good photo opportunities over Kamares beach.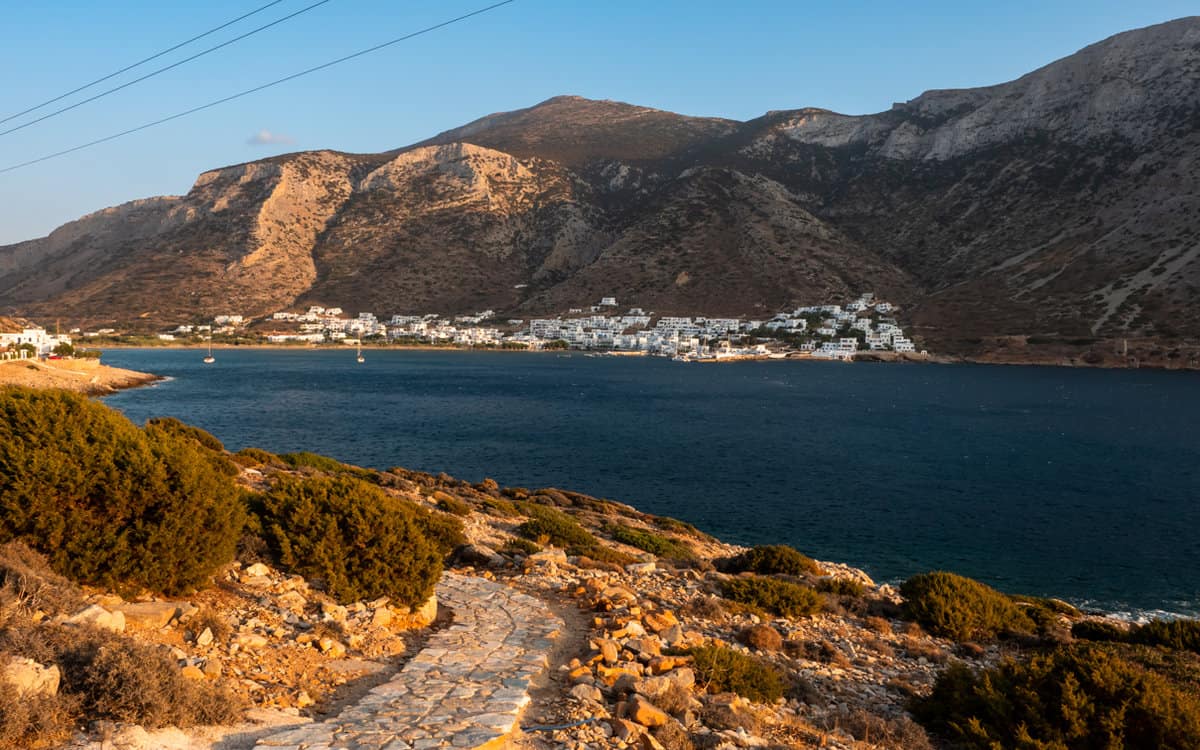 Church of St Catherine
The church itself is fairly small, but very well kept and in a beautiful secluded spot at the very edge of Kamares. There seemed to be a small apartment at the far end, which I don't know if it's privately owned, if it belongs to the church or if it's rented out to tourists. Either way, it must be a lovely quiet spot to escape for a few days!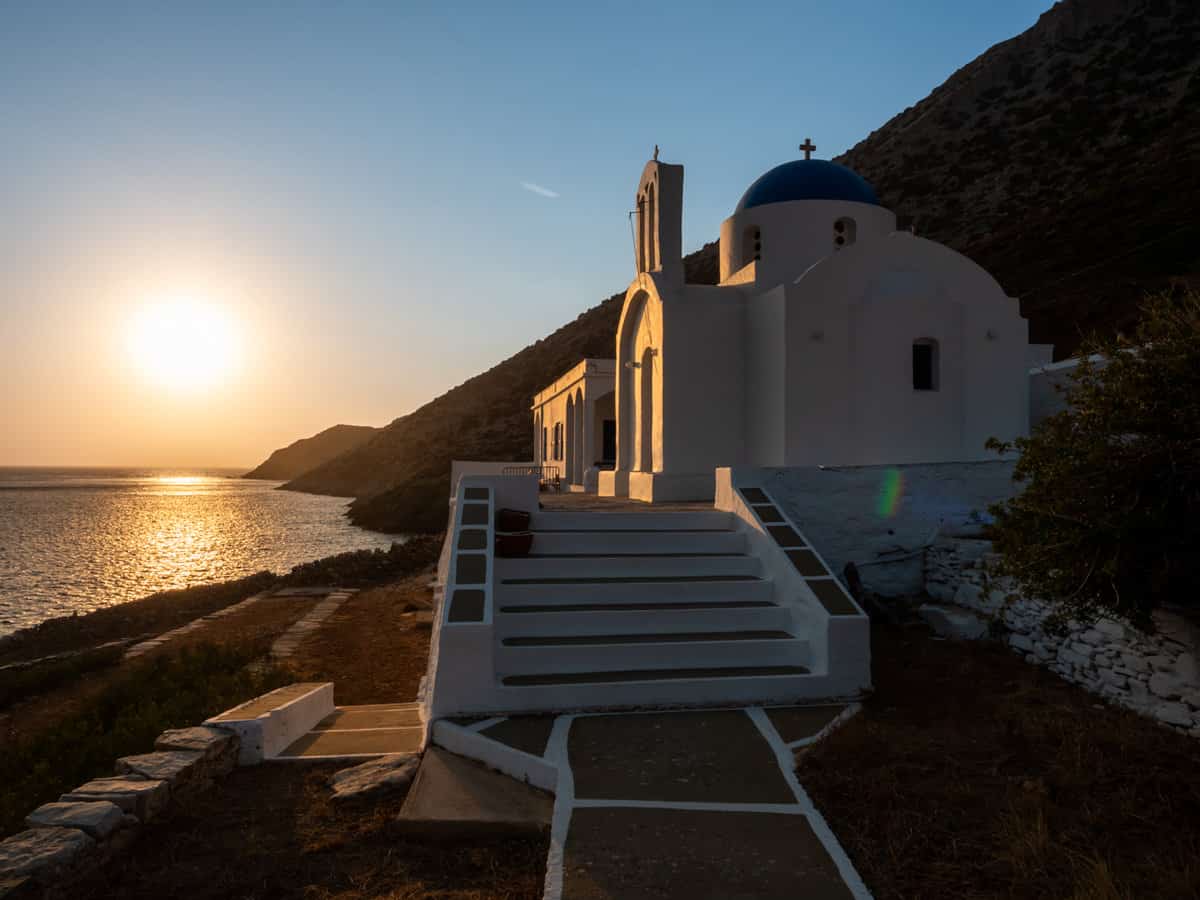 I spent a good few minutes strolling around, taking in the sunset and sense of peace and tranquillity, before heading back to the resort to drop off my camera.
Dinner Decisions
I had planned to eat at the hotel restaurant, Kafenes, which has a very good reputation for food, but after checking the menu and seeing a few things I wanted to try, I was told it was fully booked for the evening! I made a reservation for the following night and headed out towards the other restaurants in the village.
I managed to resist the temptation to return to Camaron or Da Claudio, but still ended up eating Italian food! This time, I tried a place called Passione Italiana, which is actually rated more highly than either of the other two. Given how much I enjoyed their food, I was simultaneously expecting an amazing meal but also in slight disbelief that it could actually be better!
Well, it certainly didn't disappoint! The starter, focaccia bread, was slightly bland but very fresh. I enjoyed the main course more: mushroom ravioli in a cream sauce (another one of my favourites). Washed down with 0.5 litres of house white wine, it was an excellent meal and I was pleased to have found another restaurant to take my parents to when they get here.