Thursday 9th September 2021
Planning for New Arrivals
My parents had arrived safely yesterday afternoon in Athens and had spent the night at a hotel in Piraeus – there being no suitable late afternoon ferries to Sifnos that would have avoided an overnight stay. By the time I woke at 7:30, they had already messaged me to say they were up and ready to catch the 8:30 Seajet Championjet 2 boat that would see them arrive here around 11.
I had my usual breakfast down at the hotel buffet, then went to the mini market to pick up a 6-pack of large water bottles that I could split with my parents when they arrive, plus a coke and some biscuits to snack on later. I decided against the beach, having spent the past few days doing nothing but sunbathing, and updated my blog notes instead while I waited for their ferry to arrive.
My Parents' First Time on Sifnos
Having told them so many good things about the island, I was both excited and nervous for them to arrive and see it for themselves: I was hoping they would love it as much as I do but worried in case I'd oversold it.
I checked MarineTraffic.com and could see their ferry was running a few minutes late, so I waited until just before 11 to walk down from the hotel to meet them at the port.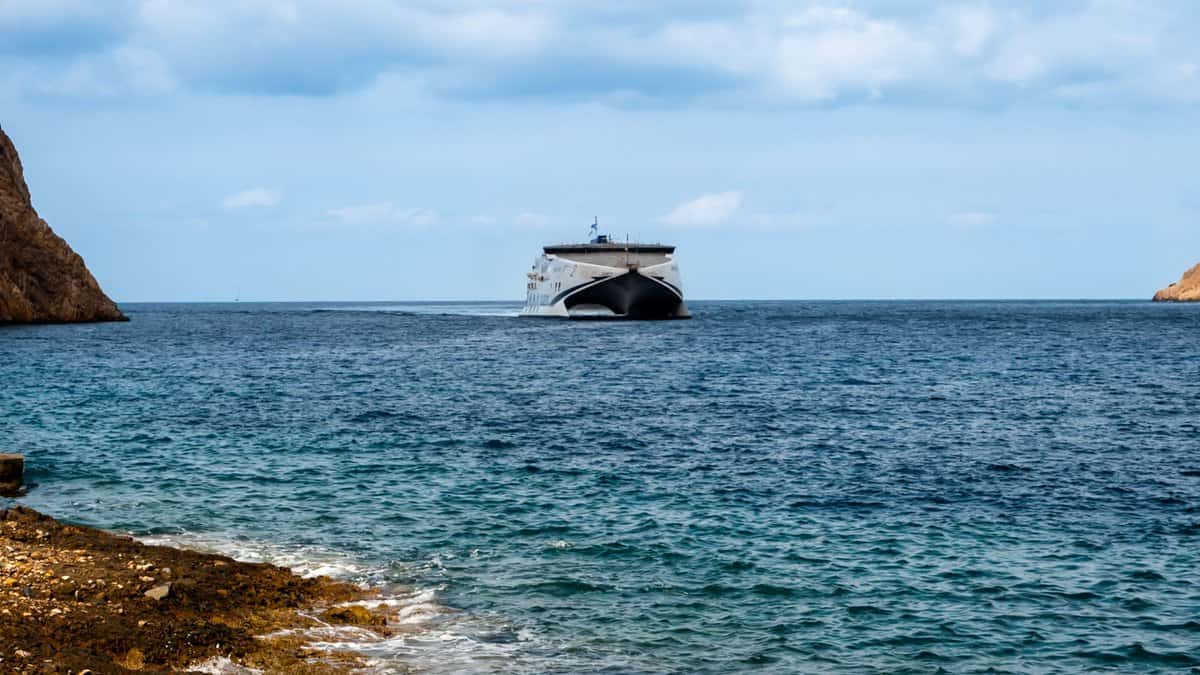 I made it down to the harbour just in time to see the ferry appear from around the left side of Kamares bay. As the boat did its usual quick spin to dock at the port, I walked across and waited to see them disembarking with the other new arrivals. I was excited to have some company after a few weeks by myself, so it brought a big smile to my face when I spotted them amongst the crowd. I waved them over and we had a good hug!
As I led them down the main street, we talked about their journey so far and I showed them all my favourite spots: Passione Italiana, Cafe Stavros, and of course, Camaron and Da Claudio! They seemed to like Kamares at first sight, much like I had done last year, and seemed just as excited as I was to be there.
Hotel and Beach
When we got to Hotel Boulis, their room wasn't quite ready yet as it was still morning, so we dropped off their cases in my room and headed straight back out again. Mum and Dad hadn't had much for breakfast, so we ended up at Kyma Beach Bar for what turned out to be an early lunch: a club sandwich for them, and a beer and crepe for me!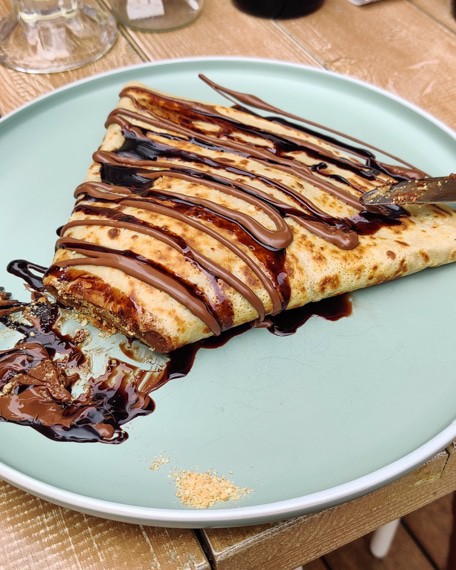 Taking our time to catch up while we ate and drank, I filled them in on my trip since I left them on Crete nearly two months ago – though most of it wasn't new information as they've been watching my YouTube videos and of course, we've kept in touch online. By the time we'd finished our food, we figured their room might be ready so headed back to the hotel again.
Once they'd checked in and had some time to unpack, we met up downstairs and made our way onto the beach, returning to Kyma so we could use their sunbeds, having spent the required €20 at lunch for the beds to be free. The day was partly cloudy again, so not perfect sunbathing weather, but the sun did break through at times and it was pleasant to lay down and chat while drinking another beer of course!
Happy Hour Cocktails
I hadn't socialised much during my time on the island, so after returning from the beach and taking an hour or so to rest and shower etc, we met up and headed to Captain's Bar for some happy hour cocktails!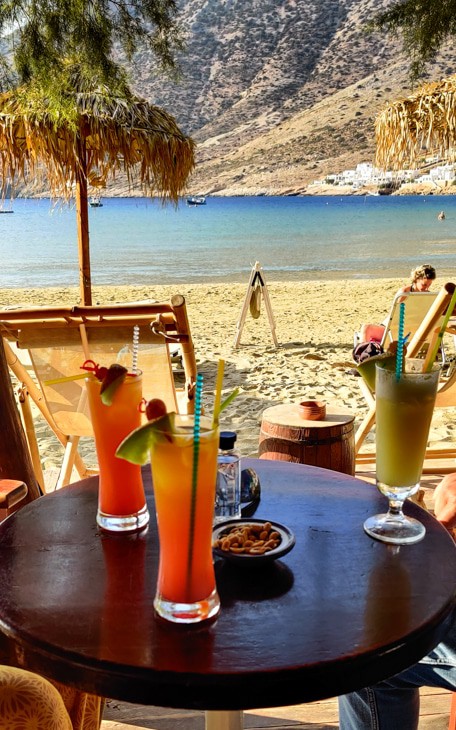 At €5 each, they weren't super cheap but tasted fairly strong and went down nicely as we sat just behind the beach and enjoyed the late afternoon sun. We might've even managed a second round of drinks!
Feeling pretty merry, it was a good job that our destination for dinner was just across the road: Camaron! I couldn't really take them anywhere else, given how much I'd been raving about their food for the past year. We shared some garlic bread with tomato and feta to start, then I had a piccante pizza while Mum had shrimp saganaki and Dad chose the lamb casserole. We also got through 1/2 litre of white wine, which granted I can usually manage by myself but after the cocktails, it was more than enough for the three of us!
After collecting our plates, the waitress kindly brought us some yoghurt with fruit as a free dessert, plus a small shot of grappa, which tasted rather like petrol to me – it was strong stuff!
Unsurprisingly, we all felt quite sleepy after a fantastic meal and copious amounts of alcohol, so we meandered back to the hotel and I fell asleep as soon as my head hit the pillow.