Friday 9th July 2021
Jogging in the Heat
I don't usually exercise on holiday as I lead a very active lifestyle at home and treat vacations as a rest period for the mind and body. However, I plan to be here in Greece for nearly 3 months and with all the nice food and drink I'm expecting to consume, I want to stay in shape as best I can. To that end, I brought my running gear with me and woke up early on my third day to see how I would cope with exercising in a hot climate.
Even at 7 am, it was already over 25 degrees Celsius. As I left my air-conditioned room, I immediately felt the heat and hoped it would be bearable – I'd put some suntan lotion on and even doused my cap and vest in cold water to see if it would help.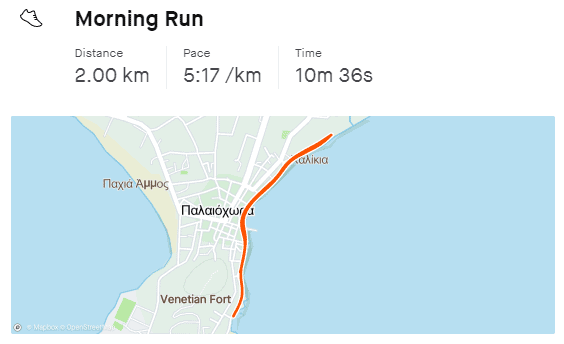 I hadn't planned a route or a target pace, I just wanted to get out and see how I felt. It's been a few weeks since I last ran and I didn't want to overdo it and cause an injury. I set off north from the hotel and followed the coastline until I reached the edge of the village at a farmhouse. There may have been a path to go further, but having hit the 1km mark I decided to turn back and be content with doing 2km for my first attempt. The pace wasn't terrible either, I usually run around 5min/km back home and this wasn't too far off.
Still Windy
The wind hadn't died down from yesterday. In fact, it may have even become stronger overnight. While I appreciated the breeze on my run, it didn't bode well for a day at the main town beach unless we wanted to get sandblasted to pieces! Luckily, we had enjoyed yesterday afternoon at Grammeno beach so decided to return there for the day.
After another nice breakfast, we got our beach gear together and set off in the car just after 9 am, arriving a few minutes later as it's a very short distance. The morning was spent sunbathing while reading my Kindle and listening to some of my favourite songs on Spotify. In keeping with the exercise theme, I also swam across the bay at Grammeno which I estimated to be around 500m each way.
A Disappointing Lunch
For food, we took the easy option and tried the taverna just behind our section of the beach. It's called Choumaz and seemed like a decent enough place. They didn't start serving food until 12:30 and we arrived just before midday, so at first, we had to make do with a drink. Once we could order food, I chose a creamy chicken dish with peppers and pineapple. It sounded nice, but when the food arrived the sauce was very lumpy and tasted nowhere near as good as I expected. [It was one of the most disappointing meals of my entire trip.]
As the afternoon wore on, the wind picked up even more and changed direction slightly, so that our section of beach was no longer as protected and we eventually gave up on sunbathing around 3 pm. We agreed to have a bit of rest time at the hotel – in my case, time spent editing my first YouTube video – then met up at 5 ish for a coffee and snack.
Golden Hour Sightseeing
Typically, we would eat dinner quite early by European standards – around 7 pm – but with the late afternoon snack, none of us was particularly hungry. Instead, we had another walk around the village and this time went all the way up to the castle ruins, where I took some more photos and videos.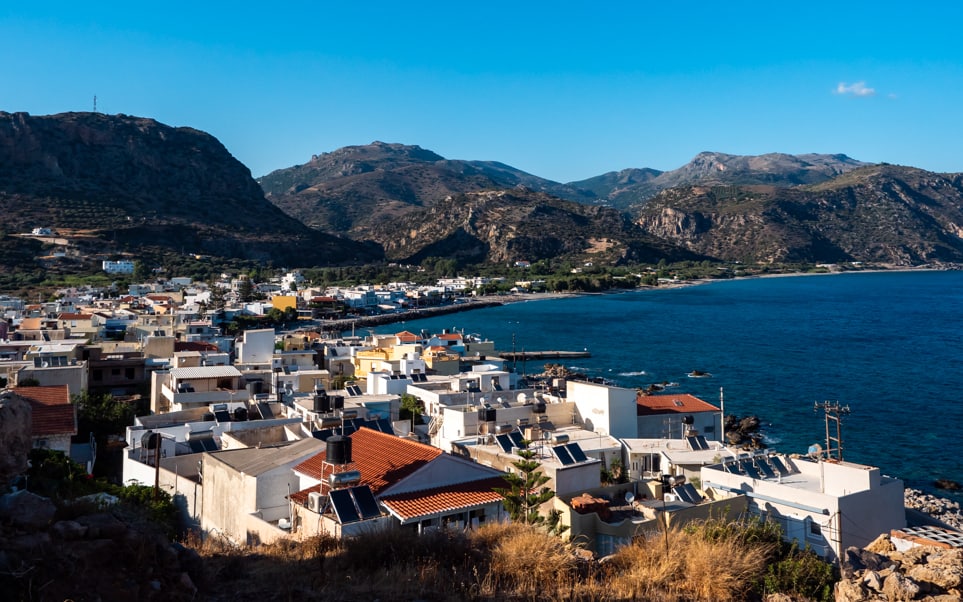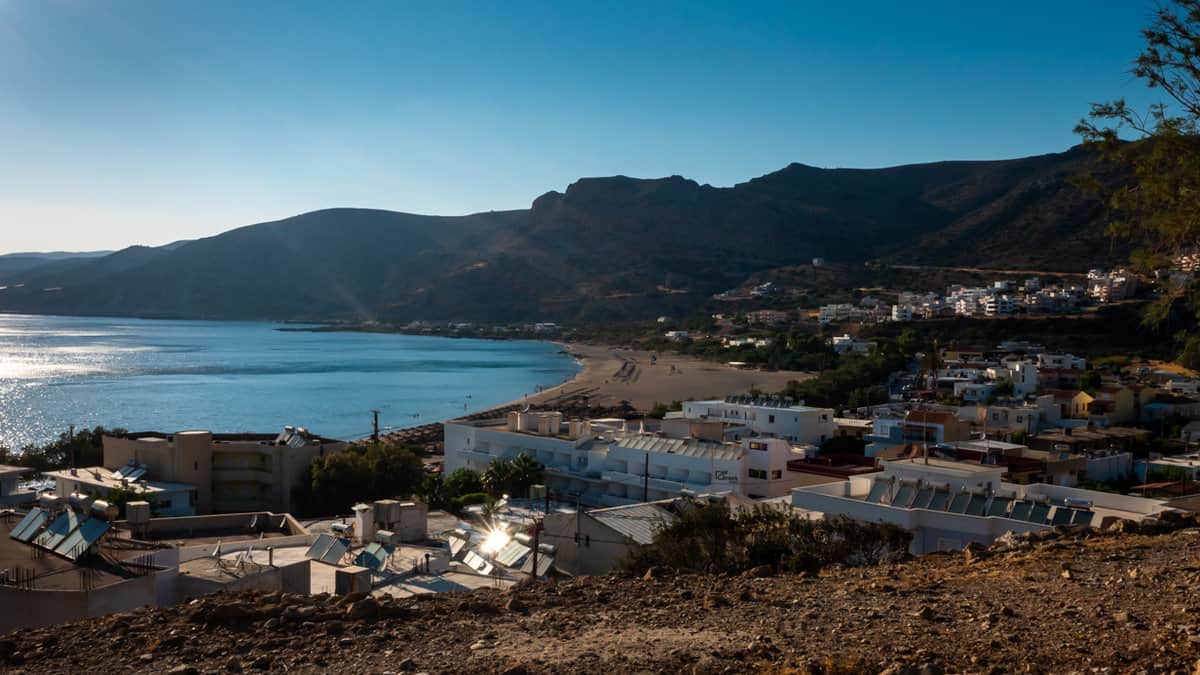 Eventually, our appetites returned and we found ourselves at El Greco taverna. We shared some garlic breadsticks for starters, then I had spinach ravioli with cheese and mushrooms, which was very tasty.