Monday 13th September 2021
Finally Exploring the Island
If you've managed to get through all the recent Sifnos posts, congratulations (and thanks!). As I mentioned when I first reached the island, I hadn't planned much sightseeing by myself as I covered most of it in 2020 (check out my Western Cyclades 2020 series for more on that), but it's my parents' first time here, so, after a few relaxed days for them to settle in, we're hiring a car today and tomorrow with the intention of doing as much sightseeing as we can.
We had breakfast fairly early so that we could be at the rental shop by 9. We had asked for prices from a few places and settled on Suntrail as they had good availability and weren't too expensive (I forgot to make a note of the exact price, sorry!). After signing the paperwork and inspecting the vehicle, we loaded our bags and set off for Apollonia: first stop, the petrol station!
Kastro
After refuelling, we continued east to the other side of the island for our first stop: Kastro. Parking up on the side of the road just before the pedestrianised area, we explored the narrow Cycladic streets that wind their way around and upwards until you reach the main Kastro ruins (pictured at the top of the post). We then descended and headed to the Church of the Seven Martyrs, one of the most iconic sights on Sifnos: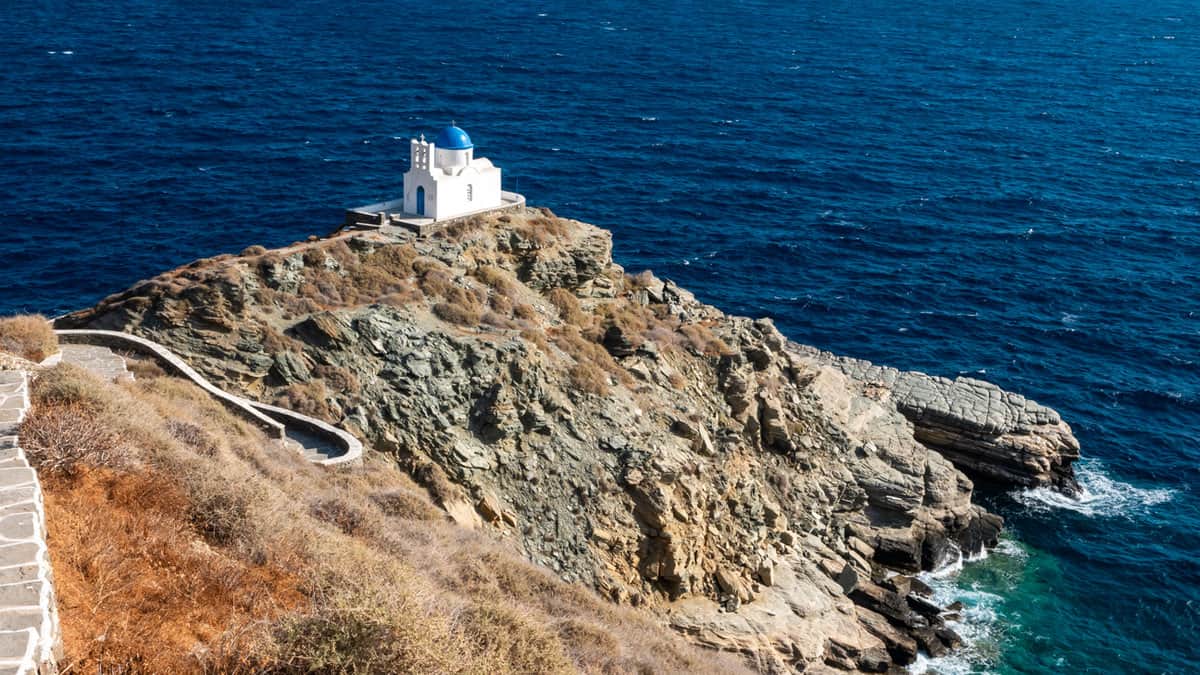 There is a path that leads down to the church which is worth exploring to get a feel for the unique position it occupies. In the heat of summer, it's a sweaty 10-15 minutes down quite a few steps but isn't a difficult task.
Faros and Chrisopigi Monastery
Back at the car, we drove back through Apollonia and then took the main road which leads out of the village towards the southeast of the island. Our next stop was the small resort of Faros, which has a couple of nice, if rather small beaches, a selection of accommodation and a couple of tavernas. I must admit to having a similar feeling here as I did on my previous visit: that it's very quiet and somewhat isolated, perhaps popular with those who like to stay away from the crowds. The tavernas don't look especially appealing either, making me wonder if they get much trade or whether local tourists prefer to visit nearby Platis Gialos or Apollonia to dine.
We did stop here for a drink, but aside from that it didn't feel like somewhere worth hanging around, so we hopped back in the car and continued south along the coastline to Chrisopigi Monastery, another well-known religious site on the island.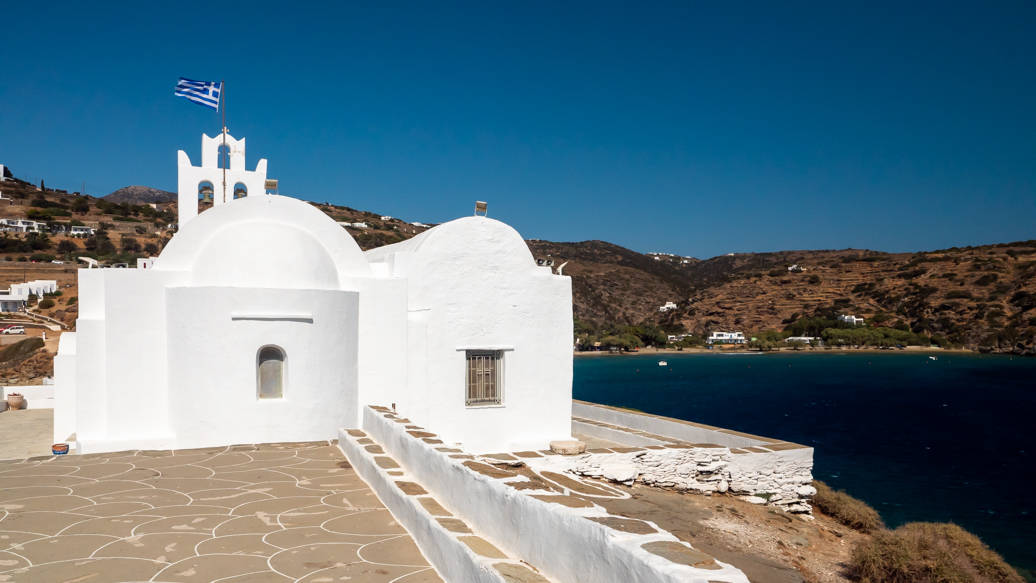 Platis Gialos
Our final stop for the day was the popular beach resort of Platis Gialos, where many tourists choose to base their stay while visiting Sifnos. Personally, I think Kamares is nicer and certainly has the better beach, but Platis Gialos is also known for having some of the best tavernas on the island (perhaps even in Greece). For my Mum's birthday a few months ago, I had promised her for a birthday present that I would take her to one of these restaurants as she loves seafood and I was hopeful that a meal would make an excellent gift.
We parked up at one of the many places along the main road that runs behind the beach, then walked across and along the sand to see what the resort was like. Mum and Dad both agreed that the beach wasn't a patch on Kamares, though admittedly I think the far ends of the beach are wider than the middle, where most of the bars, shops and tavernas back right onto the sand.
After checking a few menus at some of the nicer looking tavernas, we settled on a place called Yalos Seaside Obsession. It was only just after midday and they didn't start serving food until 1 pm, but we were happy to sit and have a drink or two while we perused the menu and waited.
When our food arrived, it was absolutely amazing and definitely worth the wait! I had Orzotto with shrimp in a tomato sauce, my Dad had a Bao burger with Cod, while Mum had shrimp in a kataifi coating: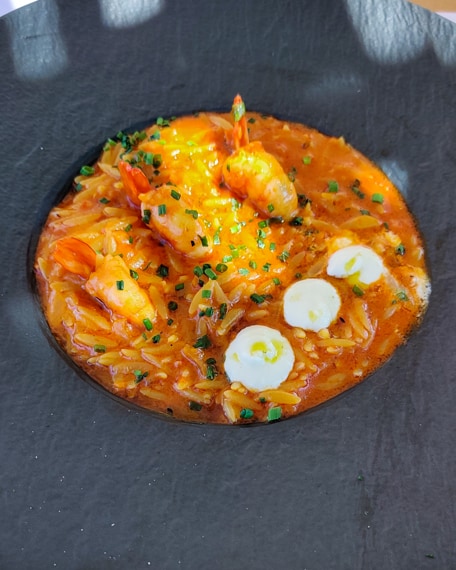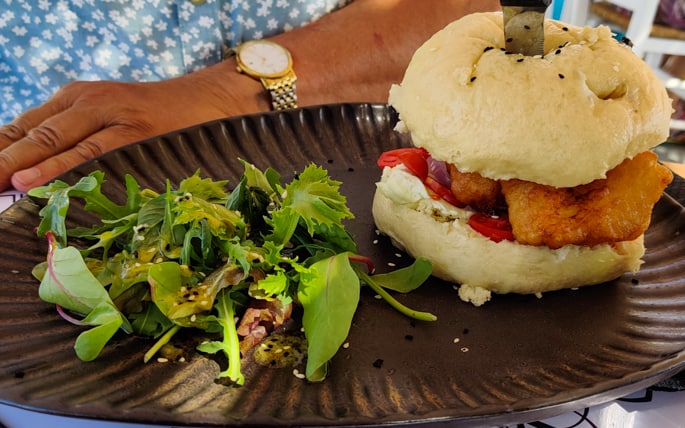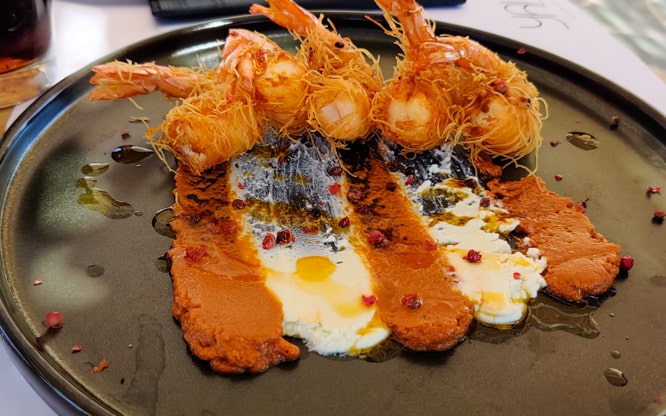 The portions weren't huge so we managed to also fit in a dessert (cappuccino and chocolate mousse), at which point we were very stuffed but extremely satisfied!
Back to Kamares then Agios Simeon
By the time we'd sat and digested our meal it was still only mid-afternoon, so we decided to return to Kamares and chill out at the hotel for a while. We met up again at 5:30 for a stroll into the village. My stomach felt a bit fragile after the rich food at lunch, so I decided to have a can of Sprite to see if it would settle it down. We sat on the stone wall near the port and enjoyed the late afternoon sun.
At 6:15, we got back in the car and drove up to Agios Simeon church, my favourite spot to watch the sunset from high above Kamares. It's quite a popular thing to do and, unlike last year when I had the place to myself, there were a few others gathered around to enjoy it too.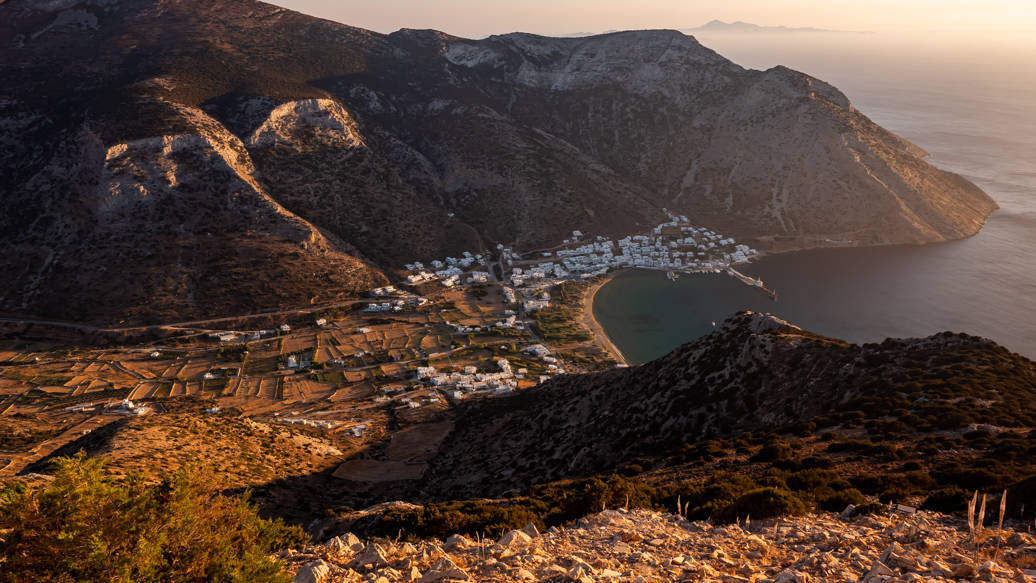 I even set up a timelapse on my camera just to capture the memory of the sunset:
Kamares Cocktails
Once the sun had set, we jumped back in the car and retraced our route back into Kamares. It was close to 8 pm but none of us felt like we could eat a full meal after such a heavy lunch, so instead, we walked down to Cafe Stavros for a snack and a drink or two. For me, the snack turned out to be a honey and walnut crepe, while Mum had an omelette and Dad had some scrambled eggs. It was still Happy Hour for cocktails, so we couldn't resist trying them to compare with Captain's Bar: Mum and I had an Aperol Spritz while Dad had a Pina Colada. They were pretty decent, but not quite as good as our usual and also a bit more expensive at €6 each instead of €5!