Thursday 8th July 2021
Early Morning Vlogging
I woke bright and early just after 7 am and decided to take a stroll south around the headland, partly to explore the area but also to start recording content for my first YouTube video of the trip:
After a decent breakfast at the hotel, Mum and Dad left for the beach just after 9 am. I stayed at the hotel a bit longer to check out my recordings, then joined them around 10. Walking to the main beach from the hotel took about 10 minutes so it wasn't far, but the temperatures in Greece were pretty high already – somewhere in the early 30's Celsius – so you definitely noticed it when outside in the full sun.
Escaping the Breeze
What I hadn't noticed until I reached the beach was how windy it was! Palaiochora main beach is quite wide and exposed so the sand was being blown around, making it quite unpleasant to sunbathe. We lasted until just before midday, then retreated to a beachfront taverna for an early lunch: Greek salad with bread and tzatziki, plus the obligatory beer!
Due to the high winds, we needed to come up with a plan for the afternoon as we'd intended to spend the day at the beach. We decided to use the car to see if there were other beaches nearby that offered more shelter from the breeze. That turned out to be Grammeno beach just a few kilometres west: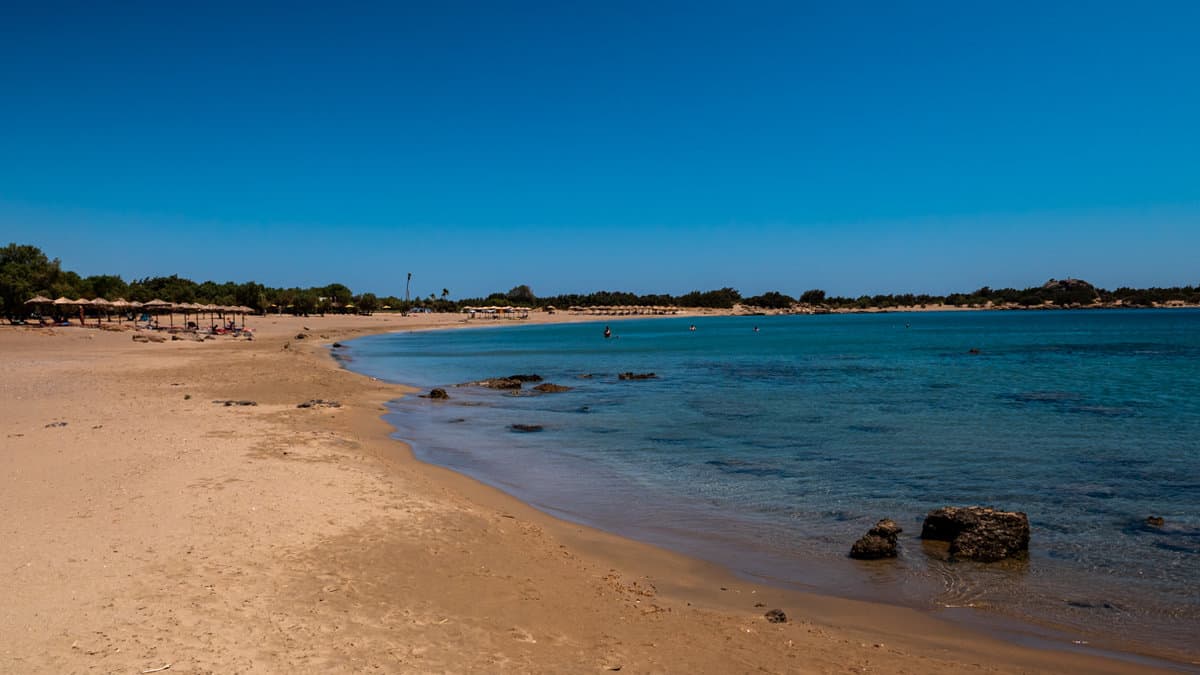 There are two beaches at Grammeno separated by a very small rocky patch. The smaller beach (the photo at the top of this post) was quite sheltered and not that busy when we arrived, so we grabbed the sunbeds closest to the rocks (for extra windshields) and had a nice afternoon sunbathing and swimming.
Dinner Time
We left Grammeno around 4 pm, driving back to the hotel for a shower and rest – sunbathing is hard work! Before dinner, we took a walk through the town, sticking mostly to the less windy eastern side. Fancying some Italian food, we ate at a taverna called Gusto Italiano. My starter, mushrooms à la crème, was delicious and the spicy pepperoni pizza was pretty good too!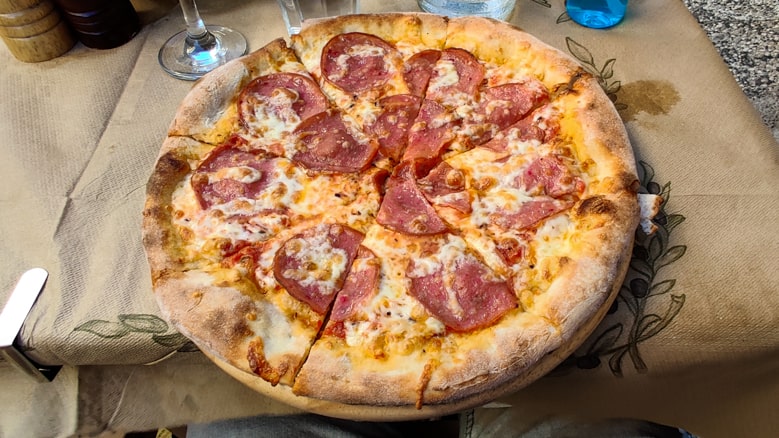 To help digest our rather calorie-dense meal, we took another stroll south towards the old castle, stopping at an ice-cream stall because we clearly weren't quite full yet!