Thursday 2nd September 2021
The Penultimate Island Beckons
My ferry from Ios to Sikinos was due to depart at 11:50, so I had a bit of time in the morning to enjoy a relaxed breakfast down at Cantina del Mar, followed by a stroll along the beach along with my drone to capture some last images of Mylopotas beach.
At some point over the last few days, I decided that I would finish my Greek travels a couple of weeks earlier than planned, flying home with my parents who were coming out again to join me on Sifnos, my final island after Sikinos. Sifnos was my stand-out favourite from my 2020 trip and is currently my #1 Greek island – let's hope it lives up to my expectation this year!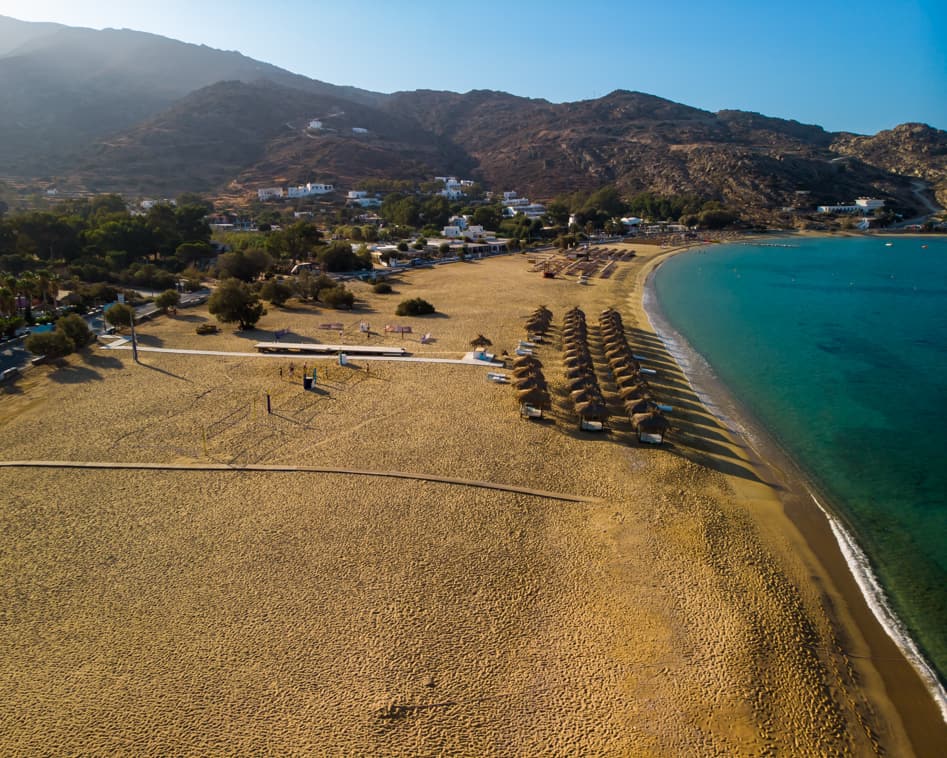 On the Move Again
Back at Manthos Place, I showered, packed all my gear and then took my bags down to the pool to find the owner so that I could pay my bill. I wasn't sure what time the bus to Chora was due, but fortunately, it passes by the hotel on the way down to the beach, before turning around and heading back the way it came. This meant I could sit comfortably by the pool and wait for the bus to pass on its way down, then take a leisurely stroll to the bus stop in time to meet it on the way back.
I arrived at the port just before 10:45, still an hour before my ferry departure, but it's better to be early than late! I took a nice corner table at Remezzo Cafe right opposite the port, ordered a Coke Zero and sat comfortably reading my Kindle to pass the time.
My ferry, Maistros, is a small boat that operates a route between Santorini, Folegandros and Ios during the summer months. I could see on MarineTraffic.com that it had left Santorini and looked to be on time. Better yet, Ios port actually has a digital display listing ferry arrivals and with a seemingly pretty accurate ETA as well – it's the only one I've seen like it on all the Greek islands!
Smooth Sailing
Once the ferry had arrived and offloaded its passengers, I and the handful of other tourists were able to board. It was a smooth process made easier by the small size of the boat. For the first time, I was asked for my Covid paperwork and had to rely on my self-certification form – which should be valid for travel within the same island group – but I was a little nervous as I handed it to the port official. I needn't have worried, though, he took only a cursory glance at it before handing it back and waving me through.
Within a few minutes, we had left Ios behind and were heading southwest in a direct line to neighbouring Sikinos.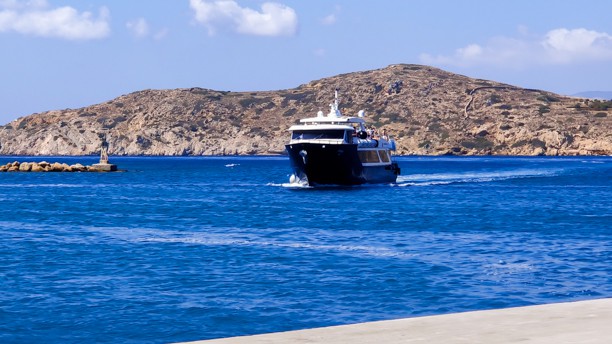 The journey only took 30 minutes and was smooth sailing aside from a slightly rough patch of sea midway between the islands. When we arrived on Sikinos, only myself and perhaps half a dozen others got off – a sign of how little tourism the island received. Although I was excited to be ticking another new destination off my list, I was also nervous that Sikinos would be so quiet I might not enjoy it. I'm only staying 3 nights, though, so it won't be much of a problem either way.
Unexpected Car Hire
I was met off the ferry by the owners of my next accommodation, Ioli Apartments, but only so they could collect my luggage. It was only 12:30 and my room wasn't ready, so instead of leaving me stranded with my suitcase they kindly took it and said they would let me know later once my room was ready.
I hadn't decided whether to hire a car at all until I set foot on the island. Though it's relatively small – with apparently just 18km of paved road – it's pretty hilly and with my limited time here I didn't want to rely on public transport or slog it around on foot.
Walking around the harbour, I spotted a small mini-market just to the left of the main town beach. In addition to selling groceries, they were also advertising car hire so I popped in and enquired about a vehicle with the intention of taking it the following day for 24-hours.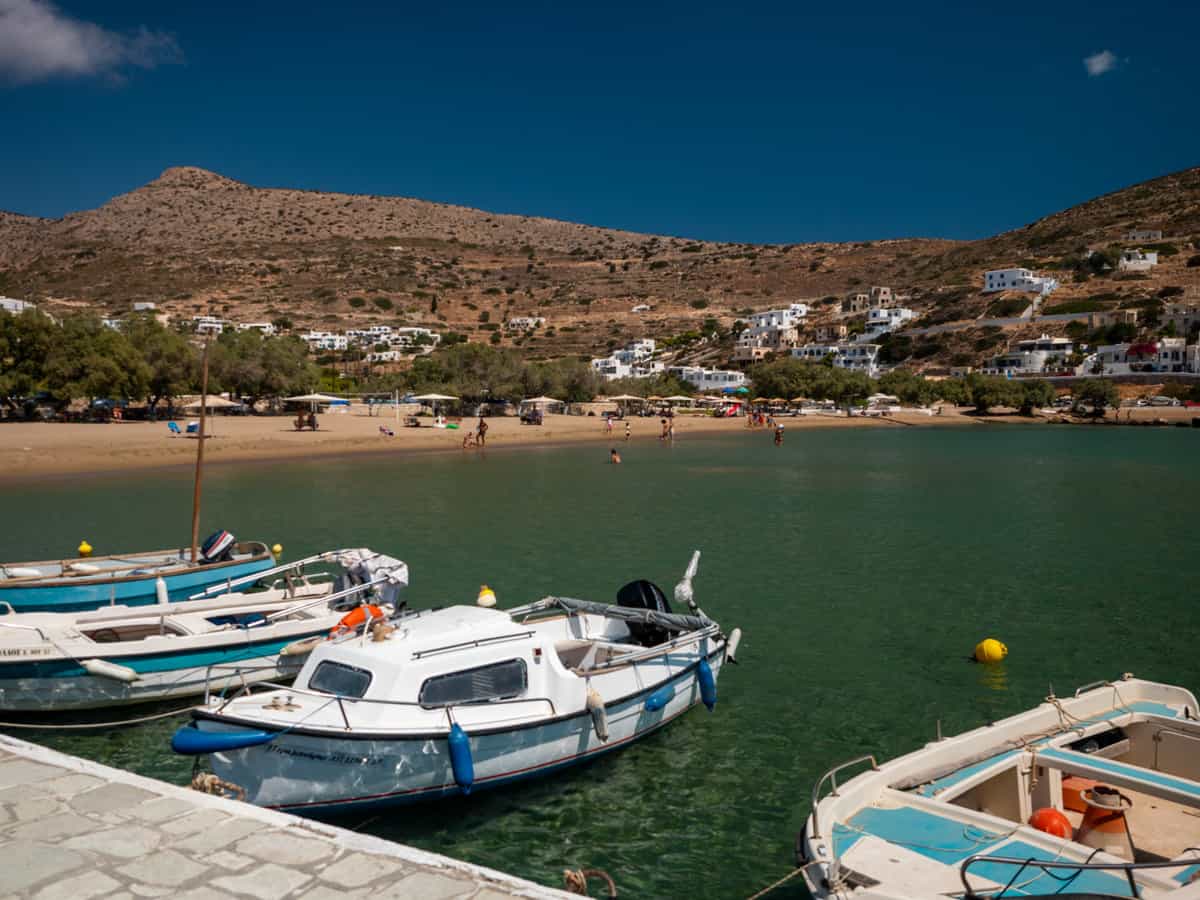 However, upon finding out it was only €35 per day – or €65 for two days – I decided to splash out and opted for the latter to give me more mobility on the island. Better yet, they let me take the car straight away and still keep it until the evening on Saturday so it was more like 2.5 days in total!
Having access to a car also solved my immediate problem of what to do until I could check into my room – I was just going to hang around near the beach and maybe get a snack/drink to pass the time, but now I could drive up to Chora and do a bit of exploration instead!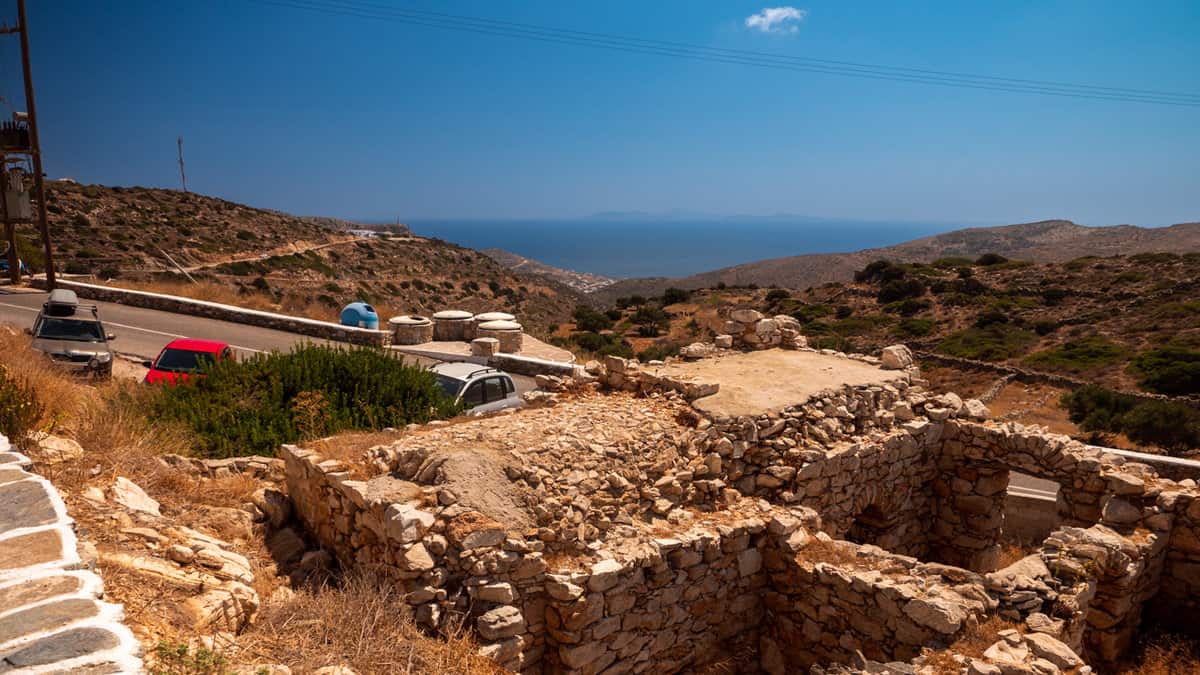 Chora
Arriving in Chora just a few minutes later, I parked on the side of the road at the entrance to the village. It's a typical Cycladic style, with lovely white painted houses and decorated paths and looks stunning in the midday sun: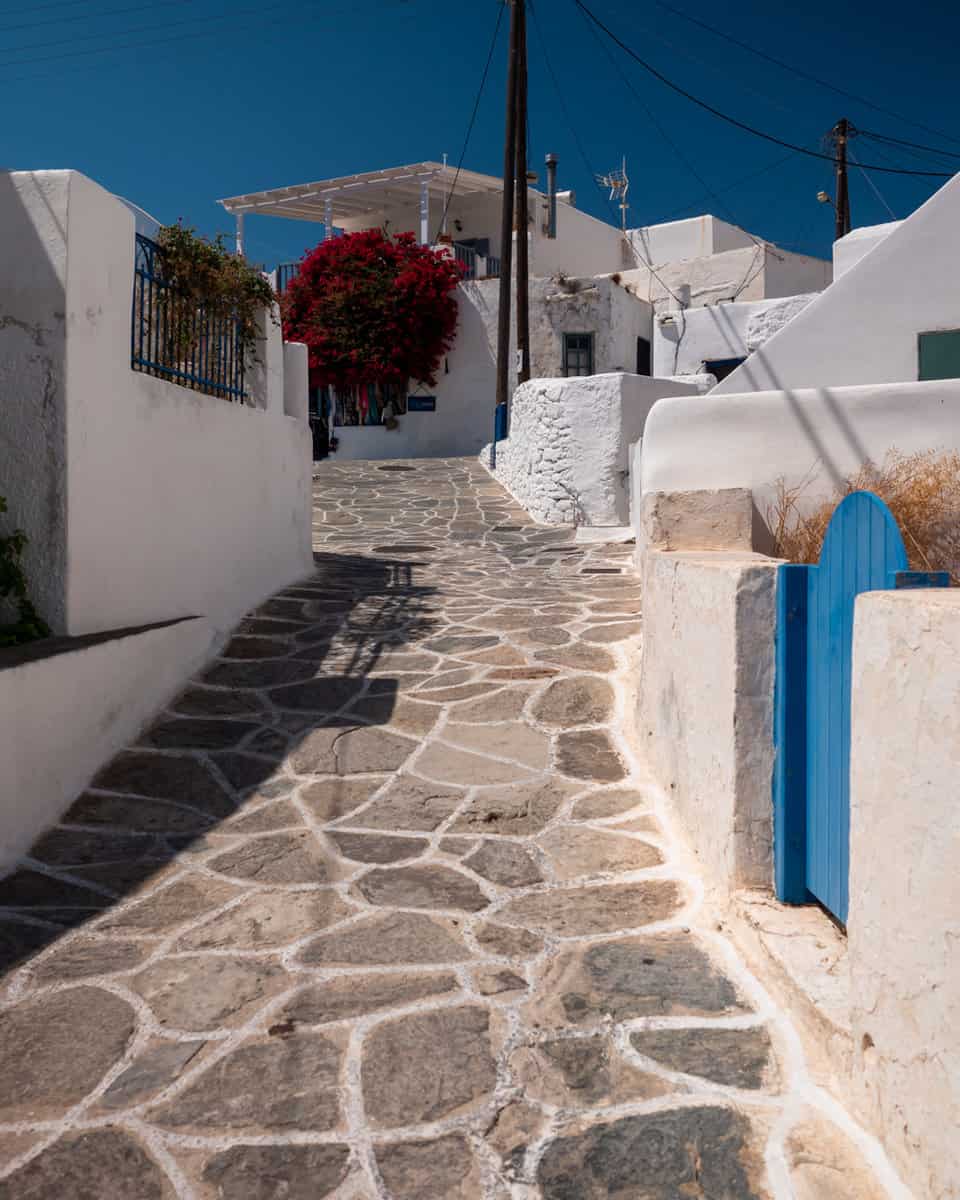 Feeling pretty hungry, I had a look on Google Maps to see what restaurants/cafes were in the area. It shouldn't come as a surprise, but there really are limited options for dining on the island: Google lists just 4 restaurants in Chora, plus one bar, most of which are along two adjacent narrow streets in the capital.
Walking through these, I decided on Soulatso where I ordered a beer plus a ham and cheese toastie.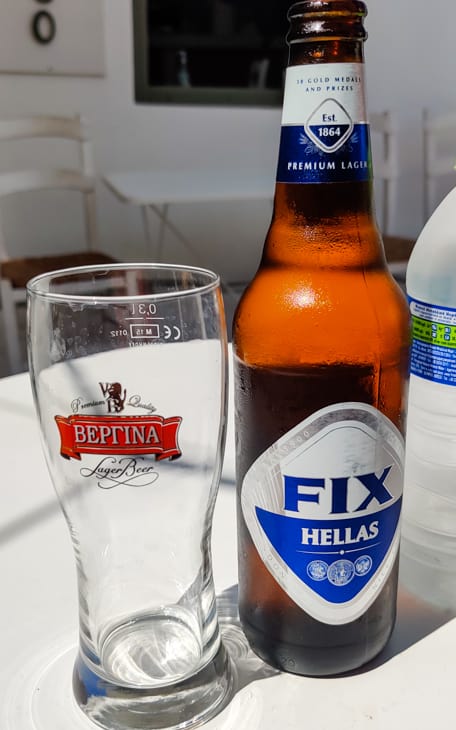 The beer was as wonderful as expected, but the toastie was pretty basic and did little more than fill the void in my stomach. I didn't rush, though, as I wanted to pass the time until I could check into my apartment and it was really too hot to do much walking around. There were a few other tourists either sat eating and drinking or walking through the small streets, but it definitely feels quiet here. Not unpleasantly so, just different from any of the islands I've visited so far.
Ioli Apartments
Just after 2 pm, I drove back down to Alopronia still waiting to hear whether my room was ready. I parked up behind the beach and had a stroll on the sand – it's a really lovely beach and was also fairly quiet – then, just as I was contemplating heading to the apartment on the off chance the room was ready, my phone pinged a message from Booking.com to say it was indeed ready! Perfect timing.
Though the apartments aren't far from the beach, I decided to drive to see if there was parking on site. There is, but it turns out only enough for a couple of vehicles and both spaces were occupied, so I turned around and drove most of the way I'd just come from, parking in a small layby not far from the beach parking area.
The walk back to the apartment was about 5 minutes, where I was met by the owner and shown upstairs to room 1. Furnished in a basic (typically Greek) style, the apartment was simple but spacious and clean. You can read my full review of Ioli Apartments here. Best of all, it came with a washing machine so I had another opportunity to clean some of my clothes! There were also utensils that meant I could buy breakfast ingredients to eat in my room.
After unpacking a few items, I walked down to the same mini-market where I'd picked up my hire car earlier and bought some supplies, then chilled out in the room until late afternoon. By 5 pm, I was showered and dressed ready to head out again.
Monastery and Winery
Two of the main tourist attractions on Sikinos are the Monastery of Zoodochos Pigi and Manalis Winery. The monastery is located on a hilltop just northeast of Chora, while the winery is further southwest on basically the only road that covers the western side of the island.
I had decided to eat at the winery tonight – which also boasts a restaurant with stunning sunset views – but as it was a bit early for dinner, I stopped off in Chora on the way and walked up to the monastery. I didn't realise at the time, but there is actually a road that runs right up to the monastery with a small car park. I took the harder, but arguably more picturesque, route and walked up some steps that start at the north end of Chora, passing a pretty little church on the way. The views are amazing all the way up: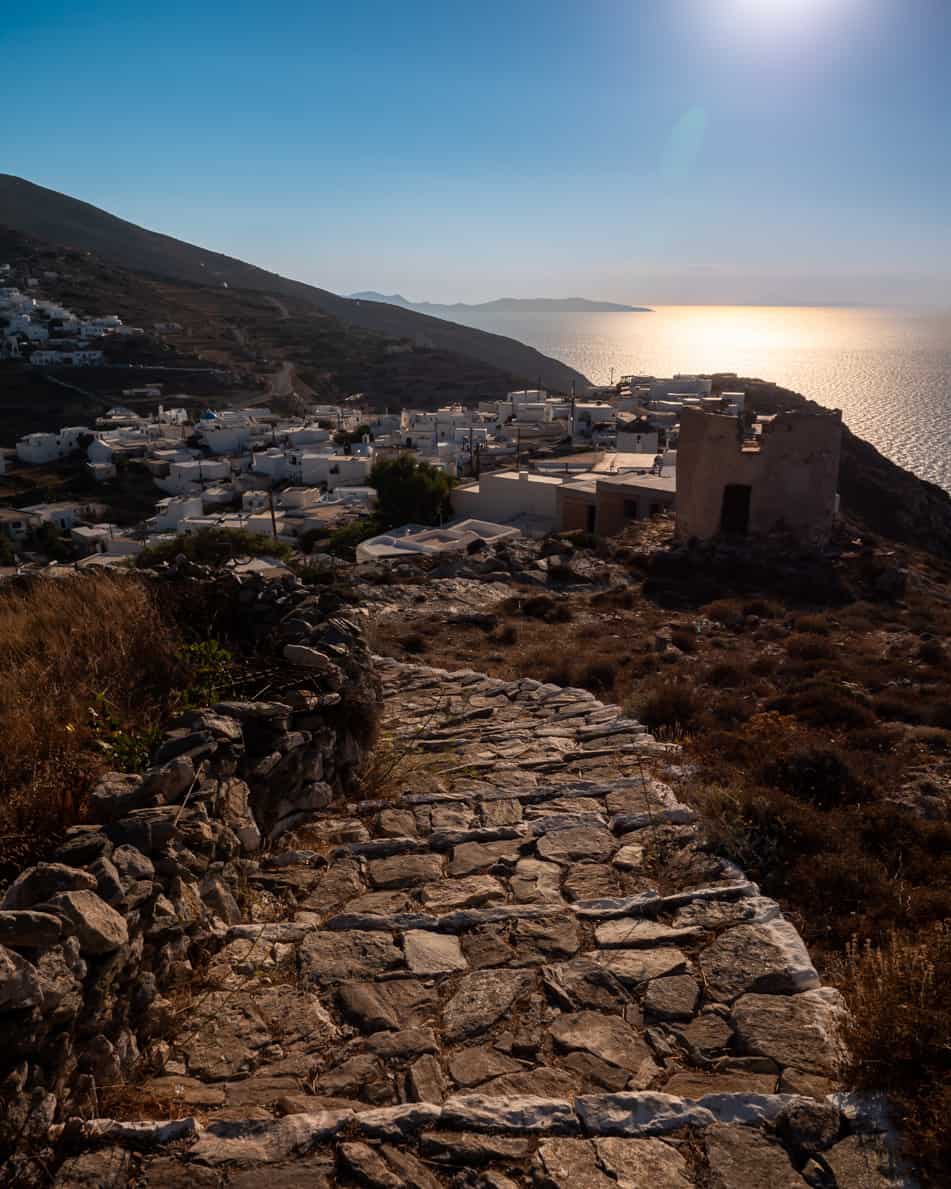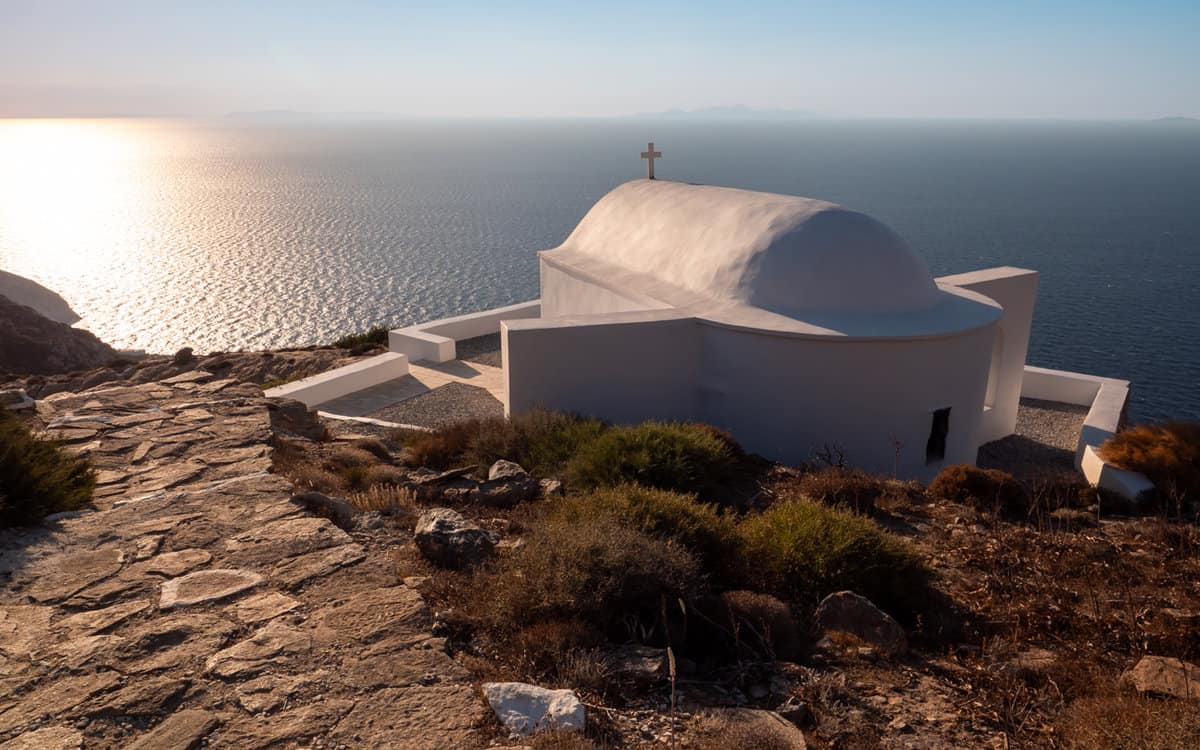 The monastery itself is free to enter and can be walked around in a few minutes. There is a small gift shop inside, where small items can be purchased that have been made on the island. You can see the monastery on my YouTube video:
Though it was still early-ish for dinner, I made my way back to the car and headed to Manalis Winery. I hadn't made any reservations and had no idea how busy it might be so I figured an early dinner might be better.
Parking at the Winery is limited to the side of the road, but it's so quiet that you're unlikely to see much traffic on the journey other than fellow tourists heading to or from the winery. On arrival, you get to try a small sample of each of their wines: a white, rosé and red. I enjoyed them all and bought a bottle of white to share with my parents when I get to Sifnos. It only cost €10 which seemed reasonable.
The best thing about the winery is its location on the western hillside of Sikinos, meaning you get absolutely stunning views at sunset: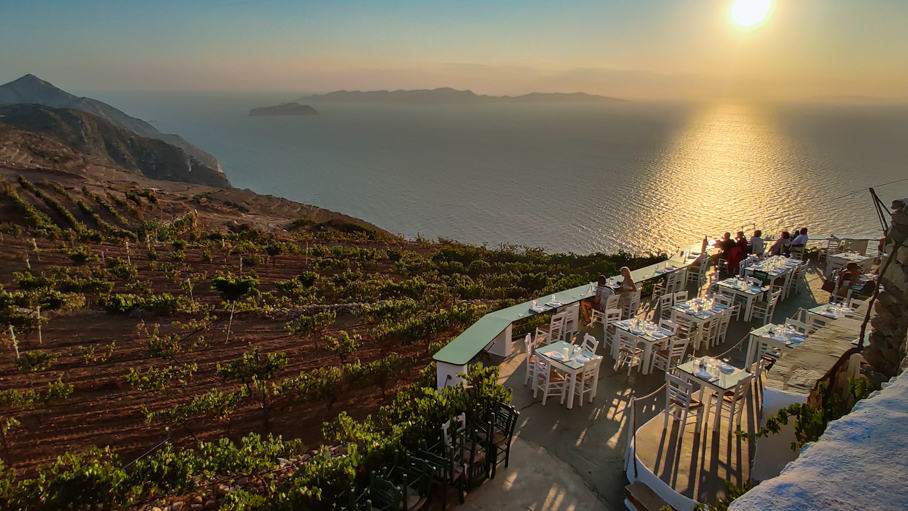 It wasn't as busy as I expected and I was able to get a prime spot on the raised bench seating that surrounds the other tables: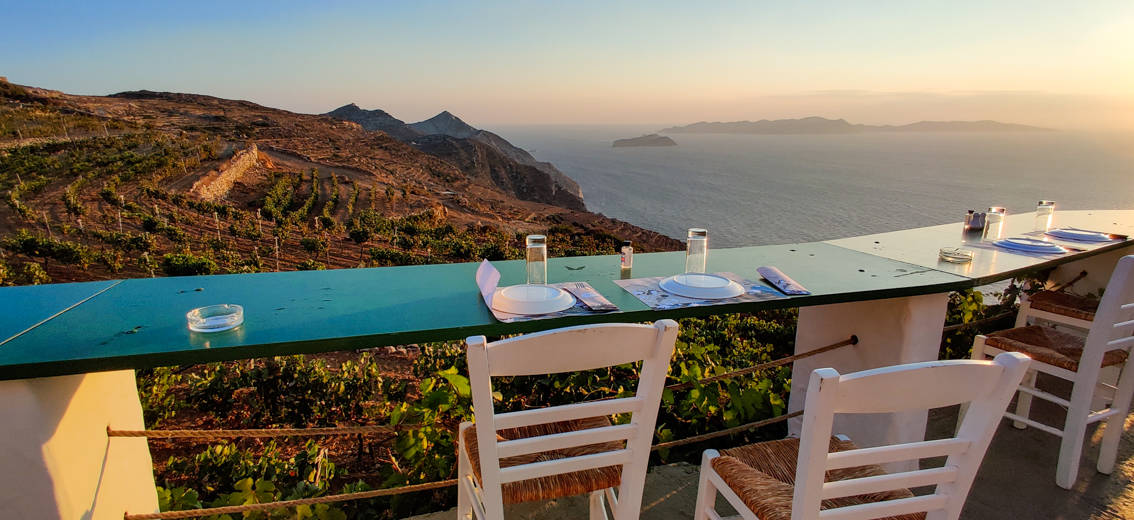 This has to be one of the most memorable spots of my holiday. I ordered a large glass of red wine and was overwhelmed by the sunset view as I relaxed and enjoyed my drink. Despite the few other customers, it felt incredibly peaceful and was a moment I will remember for a long time.
The food itself wasn't quite up to the standard of the views (or wine): I started with feta cheese in a crispy coating with honey, then had lamb shank with potatoes and finished with some cherry cheesecake. The starter and dessert were tasty, but the lamb had no sauce so was a bit dry and the potatoes were slightly undercooked. Overall, though, it was still a great experience and is certainly a must-do activity if you visit the island. The bill came to €33 which, while not cheap, didn't seem unreasonable for 3 courses and wine.
After enjoying the views for as long as I could, I strolled back to the car and drove leisurely back to Alopronia, parking back at the beach and then taking a short walk to the apartment where my bed awaited me.