Friday 30th July 2021
Getting What I Paid For
Sometimes, when you book a cheap hotel, you get exactly what you deserve. I don't like to be too harsh with my reviews, but Captain's Hotel was starting to feel like a mistake and I was glad I'd only booked 3 nights here.
I had a terrible night's sleep. The single beds are very uncomfortable: the mattress is too thin and not supportive at all and the pillow is lumpy and small. The air conditioning is noisy and barely kept the room at a decent temperature. As a result, I was dozing for an hour or two then waking up throughout the night.
I hoped things might get better at breakfast, but I was wrong. The small self-service buffet was perhaps the worst of my trip so far. Even the coffee was just cheap instant powder that I had to make myself from a kettle. The bread was dry and bland, the orange juice sickly-sweet and very fake and – no surprise here – the Greek 'yoghurt' was the awful lumpy stuff that refuses to mix with honey and tasted pretty vile.
Hitting the Beach
Trying not to let the hotel situation impact my day, I decided to relax at the beach again down at the Sunburnt Arms. Due to the lack of food at breakfast, I had a lovely fruit smoothie mid-morning. At lunch, I wandered along the beach to a different place called Jackson's which is slightly more lively and popular with the younger crowd. I had a nice burger and a beer, then sunbathed on their loungers for a couple more hours while soaking up the party atmosphere!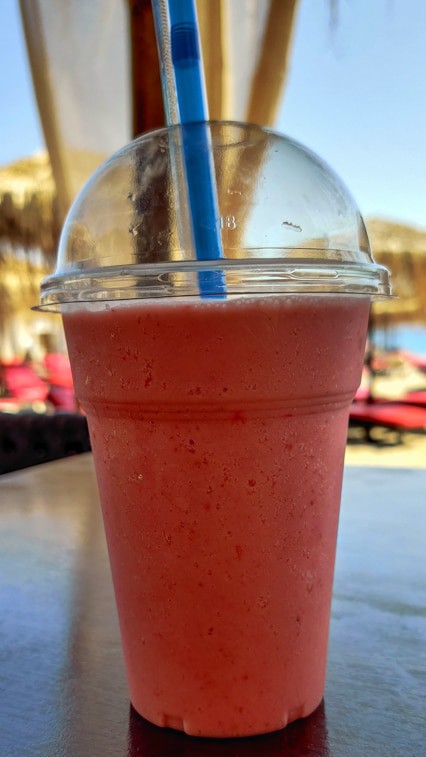 Making Plans
Not wanting to fall into the trap of relaxing at the beach every day, on the way back to the hotel I stopped at a few car rental places – there are tons of them in Kos Town – to check prices and availability. I settled on a company called ML Rent a Car where I negotiated hiring a Ford Focus for tomorrow for €45, a slight reduction on the €50 they quoted.
Dinner Time Again
Just like that, the day was almost over. After a quick shower and change at the hotel, I decided to find an Italian restaurant for tonight's meal and ended up at a taverna called Casa Della Pasta, just off Dolphin roundabout near the centre of Kos Town. I had a mushroom risotto which was pretty decent, though the portion was way too big for me to finish. The half-litre of wine definitely helped though!