I Want to Freestyle it, But…
How do you plan a three-month island-hopping itinerary? Well, one option – perhaps the best option really – is to freestyle the entire trip. Turn up at a resort, find accommodation, explore the area, then move on. Bored of the island? Turn up at the port, find a ticket office and see where you can head next. Total freedom to go wherever the wind, or mood, takes you.
A huge part of me really, really, wants to try this! I may even give it a go at some point along the way, but… I'm the kind of person who really benefits from some planning up-front. Otherwise, there's a high likelihood I'll spend most of the three months lazing on the first nice beach I find and, let's be honest, nice beaches in Greece aren't in short supply so that will probably happen pretty quickly!
As a compromise, what I've been working on is a very rough itinerary. Something to give me an idea of what's possible with regards to ferry routes and timetables, but I won't actually be booking any accommodation or ferry tickets for each stop of the trip until a day or two beforehand. This will give me the flexibility to extend or shorten my time on each island as I want to, while still having an overall idea of places I'd quite like to see and how to reach them. Here's how I've got it working so far:
Leg 1: Crete
As I mentioned in my previous post, I'll be starting off my journey on the 7th of July, flying into Chania along with my parents. From the airport, we're renting a car and driving down to Palaiochora for a 9-day stop on the southwest coast of Crete. It will be my parents' fourth time at the resort, but my first visit to this part of the island. I'm pretty excited about it as they've always said how nice it is there. I expect these first few days will be quite leisurely, though with a car we'll certainly explore some of the nearby sights (more in future posts during the trip).
On the 16th of July, my parents fly back from Chania. I'll be dropping them off at the airport, but keeping the car for another three days to begin the solo part of my trip. This part I have planned in some detail, as I have a bit of ground to cover and only a short time to do it.
From Chania, my route (shown below) takes me via Rethymno back to the south coast but further east of Palaiochora. The first stop is Plakias where I'll be staying for one night, then continuing along the coast with overnight stays in Agia Galini and Matala. Monday 19th sees me driving north to Heraklion to return my hire car, before catching a local bus eastwards, through Agios Nikolaos and on to Sitia on the northwestern coast.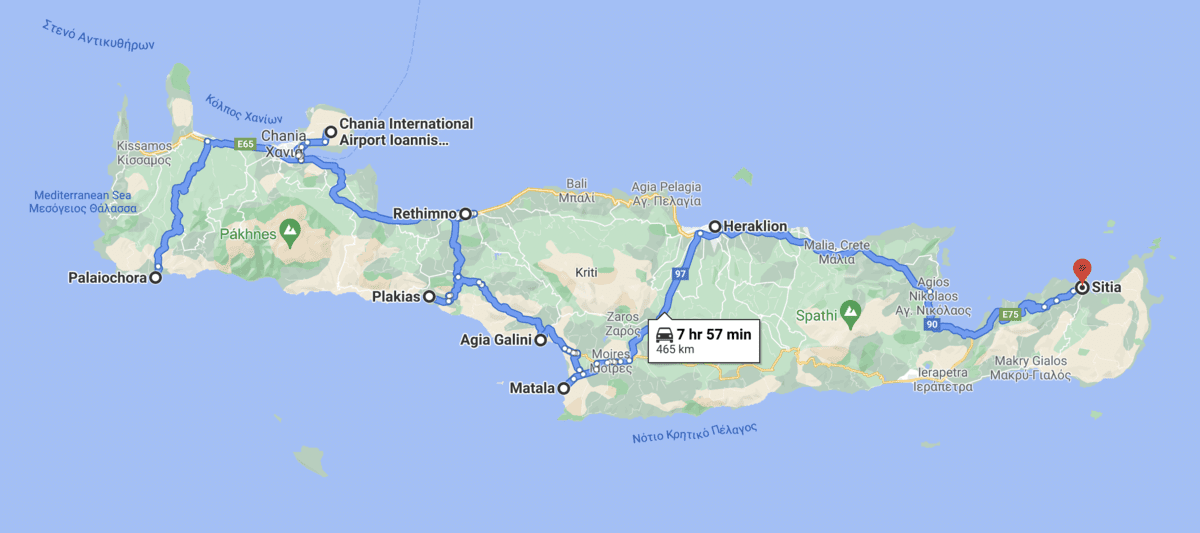 Leg 2: Dodecanese
Before detailing the next leg of the trip, I should probably start by explaining why I've ended up in Sitia. When it comes to departing Crete by ferry, there are three main possibilities: Chania, Heraklion and Sitia. From Chania, the only destination [aside from Piraeus, and I don't want to head straight to the mainland] is Milos and, while I enjoyed visiting last year, isn't an island I specifically want to see this time around. Heraklion ferries connect via Santorini, which again isn't an island I want to go back to (also it's expensive). So, that left me with Sitia… ferries depart regularly for the neighbouring island of Karpathos – part of the Dodecanese group of islands – and a destination I've never visited before. Given those options, the latter is an obvious choice for me.
After Karpathos, a logical next step would be Rhodes. My last trip to Rhodes was in 1990 at the tender age of 8, so I am probably due a return trip. However, the island's popularity with tourists is a bit off-putting, especially in peak season. Instead, I intend to circumvent Rhodes by visiting the smaller islands of Chalki and Tilos instead.
Continuing north through the Dodecanese, the volcanic island of Nisyros would be my next stop, followed by the larger island of Kos. Despite Kos also being a more tourist-heavy destination not unlike Rhodes, I've chosen it for two reasons:
It has ferry connections into the Cyclades via Astypalea and Amorgos.
I meant to visit Kos as a child, but the trip was cancelled due to the death of my grandmother shortly before we were due to fly. We ended up booking a last-minute holiday to Corfu a few weeks later instead, and Kos became an island I've wanted to see ever since, but never made it to.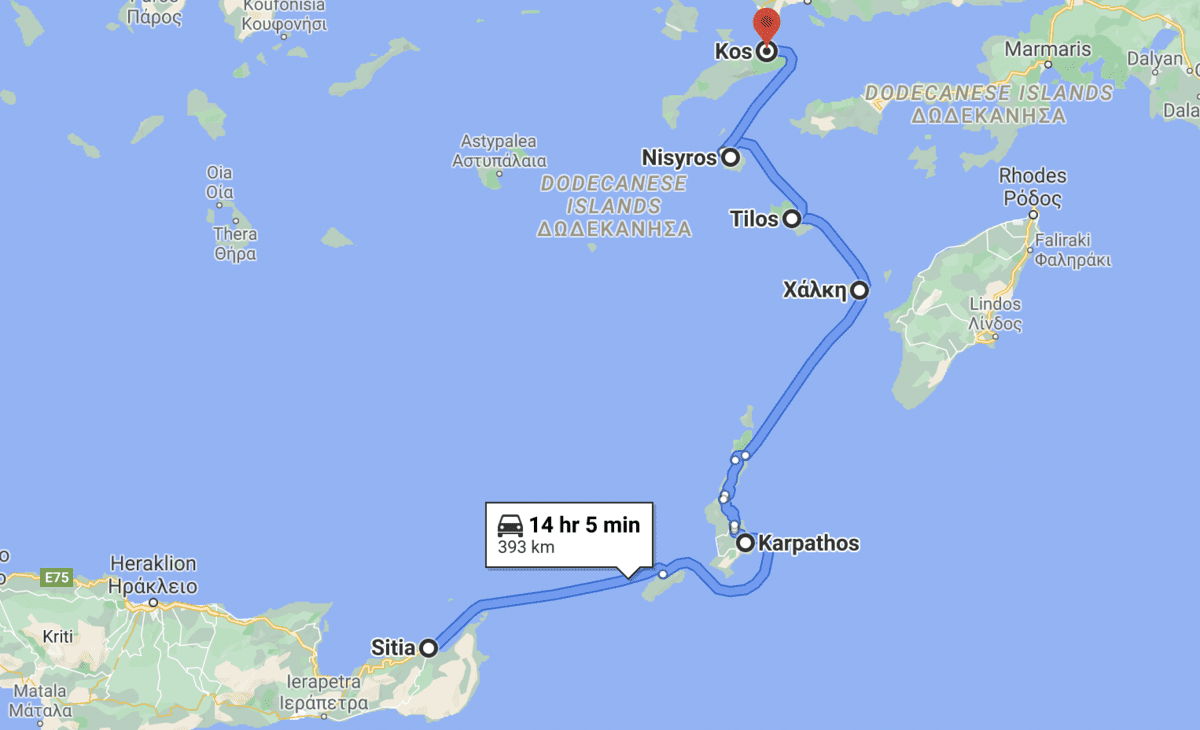 Leg 3: Cyclades
No Greece trip of mine could be complete without a visit to my favourite island group! After visiting Kos, I have a couple of options for getting to the Cyclades: Astypalea or Amorgos. Now, technically Astypalea is still Dodecanese so forgive me for adding it to this leg, but if you find it on a map you'll see it sits almost midpoint between the island groups, so in my mind, it's part of the next leg!
The problem with Astypalea (or Astypalia as it's sometimes written), is it's quite an expensive island (according to my accommodation search anyway) and there are also relatively few places to stay. As a result, I'm not sure whether to include it in my itinerary or not – the risk of either having to spend a fortune on a hotel, or not being able to find any accommodation at all – is somewhat off-putting.
The alternative is a direct ferry from Kos to Amorgos (which is where I would head after Astypalea anyway) and from there to Donoussa, Schinoussa and Iraklia – all islands I've yet to visit. With the 'little Cyclades' done, I'll head to my favourite island of Naxos, probably for a fairly length stay, then onto Paros (and Antiparos).
After Paros, my plans are less well-formed. I want to visit Sikinos, possibly Ios, and then head back to Sifnos – an island I absolutely loved when I visited in 2020.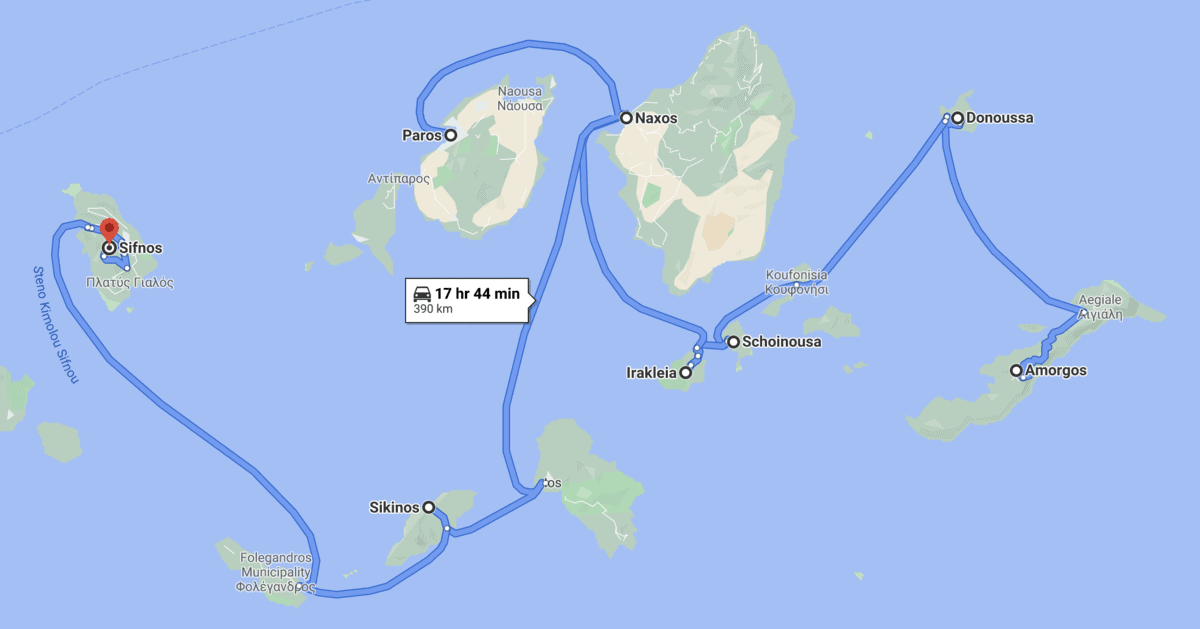 Leg 4: Mainland Greece
By this point, I expect it will be early-to-mid September and I'll only have a few weeks remaining. My return flight is booked for the 2nd October from Athens, so the logical thing to do will be to head to mainland Greece, perhaps via some of the smaller islands just off the coast: Egina, Spetses and Hydra all being possibilities.
I'll then work my way across the mainland towards Athens in time for my flight back to the UK.
Summary
As I mentioned at the start of the post, the point of this itinerary is to give me a rough sense of direction and purpose for the trip. I fully expect things to change as I go along, possibly adding new islands or modifying the route, but at least this gives me a solid base to work from.