Wednesday 1st September 2021
An Easy Last Day
Though I could have made an effort to explore the northern part of Ios, there isn't a whole lot there to see aside from the (alleged) Tomb of Homer – which I visited during my previous time on Ios back in 2017 – and a few small beaches. As a result, my plan for today was pretty relaxed and consisted primarily of sunbathing at the hotel pool and down on Mylopotas beach.
Breakfast Pancakes
For a bit of variety, I swapped my usual yoghurt and honey breakfast for some delicious pancakes with maple syrup. They were amazing, if rather sickly, but totally worth it!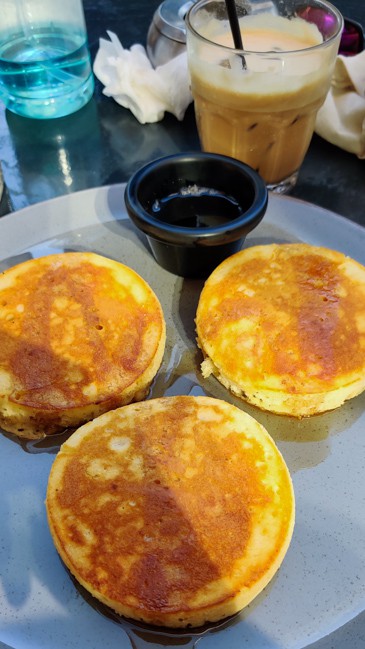 Sunbathing
Feeling rather sluggish after my carb explosion of breakfast, I spent the next few hours down at the hotel pool moving as little as possible from my sunbed! Only when it got too hot and I needed to cool off in the water did I drag myself into action.
At lunchtime, feeling a bit guilty for my lack of activity all morning, I walked down to the beach and bought a protein shake and some more water from the supermarket, but decided to spend some time on the beach as I'd not really used it much during my stay. The sea is nice, but it does get deep fairly quickly and is prone to being wavy when the wind blows from the west.
A few more hours later and it was time to head back to the hotel to get showered and cool off before dinner.
Last Dinner on Ios
I had to return the quad bike by 8 pm this evening, so it made sense to eat in the resort. I was torn between returning to Karma for some Italian cuisine, trying a new restaurant, or going back to Cantina del Mar. In the end, I opted for the latter – their food has been consistently excellent and I always like to make my last dinner on an island something to remember.
I chose their bacon and egg BBQ burger, which was massive (as you can see below), but delicious and very filling. I also had a lovely glass of red wine and finished the meal with some cheesecake (sadly forgot to get a photo of it). It was a perfect end to my time on Ios and I've thoroughly enjoyed being here.