Saturday 17th July 2021
A Busy Day Ahead
The next few days have been planned in detail compared with the time in Palaiochora. I need to return my hire car to Heraklion on Monday and have a list of sights to see before then. I had booked my accommodation in advance, so it's a case of ensuring I arrive at each destination on time and visit the places I plan to see along the way.
My day started with breakfast at Blu Cafe next door to the Galini Beach Hotel. It's run by a family member of the hotel owner, so there is a 15% discount on food. However, the breakfast menu seemed quite limited so, in the absence of my favourite Greek yoghurt with honey, I opted for pancakes with walnuts and honey plus a decent-sized latte coffee.
On the Road Again
Having barely unpacked any of my belongings, I was soon checked out of the hotel and driving east towards my first sightseeing spot: Preveli Monastery.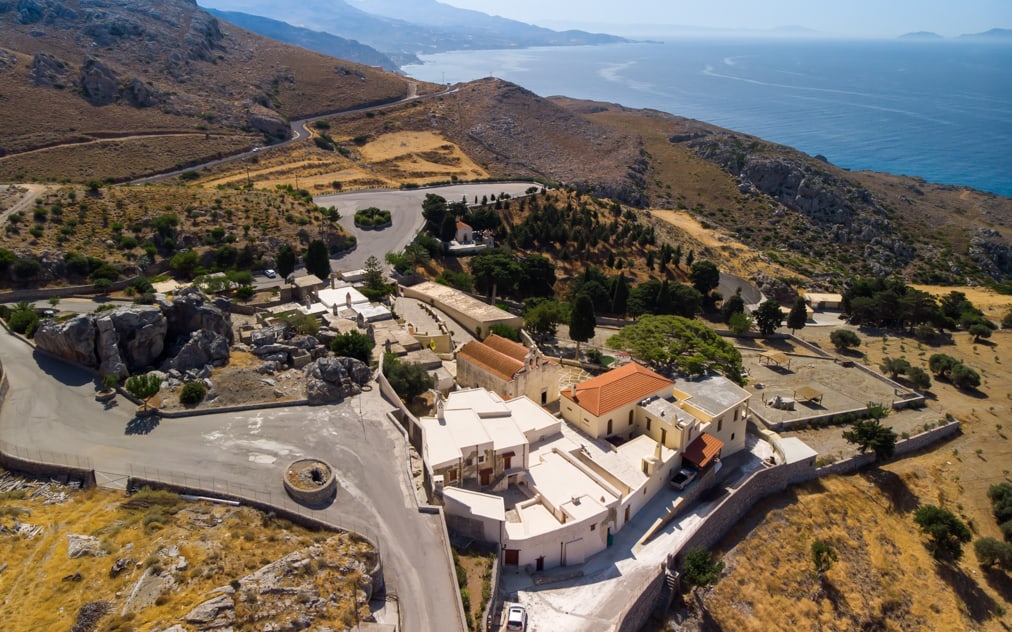 There were hardly any other tourists when I arrived, so I got my drone out to take some aerial photos and video, then headed into the monastery grounds. It costs €3 to look around, which isn't bad although it doesn't take much to see all the publicly accessible areas. I didn't stay long anyway as I needed to make progress towards my destination for tonight: Agia Galini.
A short way past the monastery lies the beach of Preveli, quite famous for its lush palm trees and unusual layout as it's situated at the mouth of a river.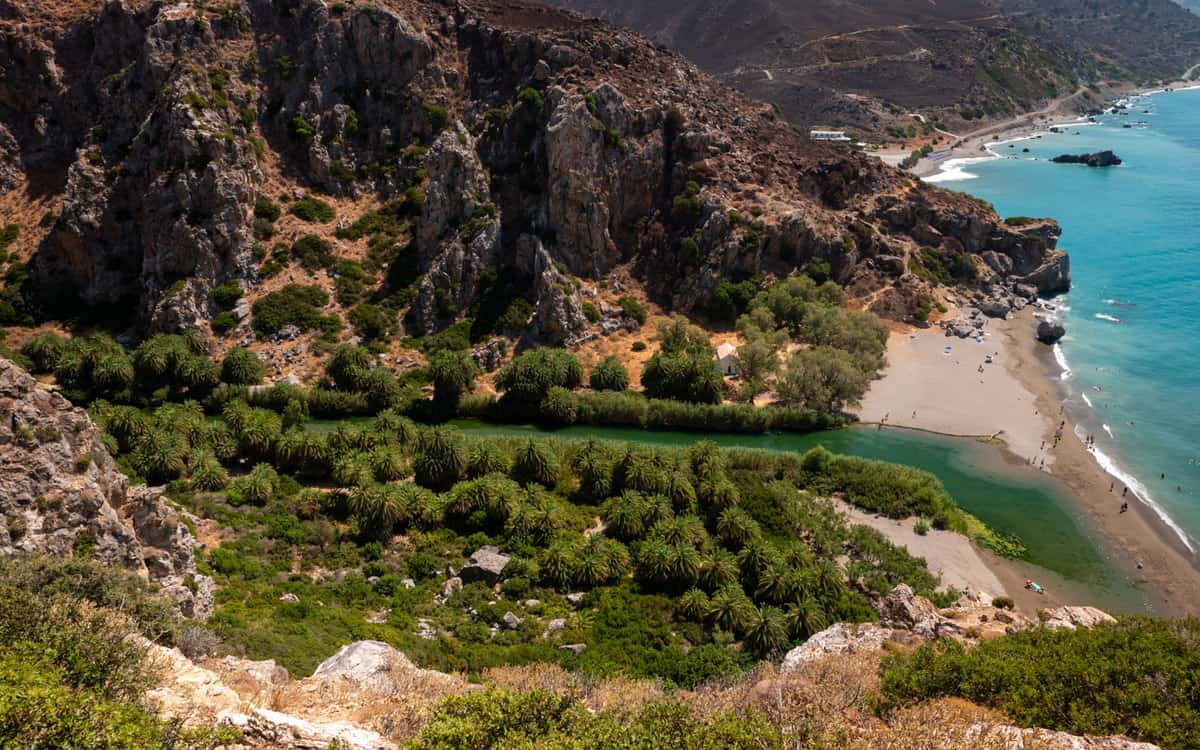 The car park on the west side of the gorge costs €2 and is quite high up on the hillside, a fact I didn't realise until I began the descent. I could tell the beach was going to be crowded just from how many other cars were already parked up and people walking down the path ahead of me. Instead of continuing all the way to the bottom, I stopped to take some photos and video, then returned to my car – I didn't really have time to stop and enjoy the beach, and with all the other people I figured it wouldn't be that nice anyway.
Instead, I continued along the coastal road in search of a quieter beach and somewhere to grab lunch. Unfortunately, none of the places I stopped really appealed to me, so it ended up being a start-stop drive along the south coast until I reached Agia Galini around 1:30 pm.
Agia Galini
The food situation wasn't too bad, as I'd bought some crisps and biscuits to snack on in the car. I tried to check into my hotel, Akteon Rooms, but it was too early and nobody was around, Instead, I drove to the other side of the resort to the main beach, parked up and set off in search of a drink. I found plenty of beach tavernas and ended up having a beer and some garlic bread just to keep me going until dinner.
The beach at Agia Galini isn't the best: quite rocky along the shoreline and fairly coarse sand, but I made the best of it and found a free sunbed in the shade of a tree to pass a couple of hours.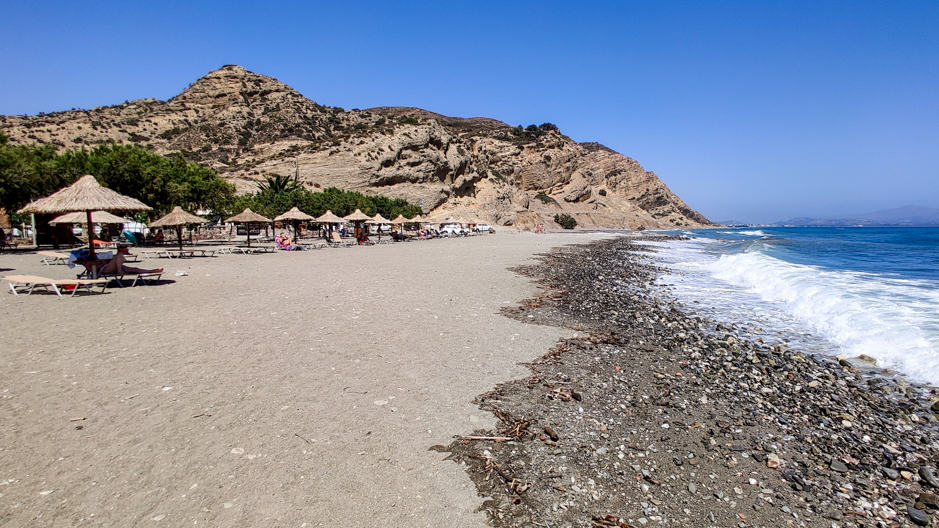 I was confident my room would be ready by late afternoon, so I got back in the car and returned to the harbour side of the resort where my hotel was located. What I hadn't appreciated when booking was how hilly the resort is, and my accommodation was about halfway up. As a result, getting my backpack and luggage from the car to the room was quite an effort!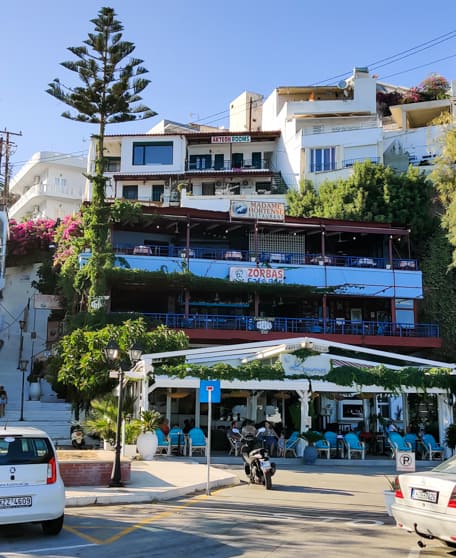 On the plus side, the lady owner was very friendly and offered me a free bottle of cold water when I arrived at check-in. The room itself was small and pretty basic, but for €40 I wasn't complaining, everything seemed to be clean and in working order.
Dinner Time
I spent an hour or so relaxing in my room before showering and getting dressed for dinner. Unsure of where to eat, I first walked across the resort back towards the beach I'd visited earlier. This is actually much easier on foot as there is a footpath along the sea front which joins the harbour area to the beach part.
I didn't see any tavernas that I really fancied eating at, so I walked back to the harbour again and, after doing a couple of laps scoping out potential options, settled for a place called Pantheon just a stone's throw from the hotel. It turned out to be a great choice as the moussaka I had was the best of my entire trip!!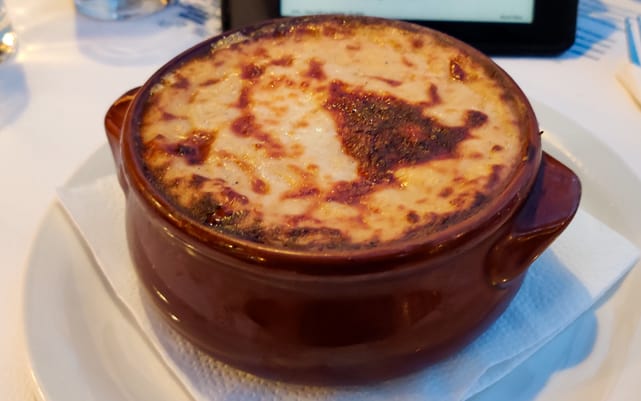 Having eaten more moussaka than I can count, I'm confident in saying that the best ones are always cooked in individual bowls – it makes them so much tastier and moister. I now ask tavernas how they cook their moussaka and often don't bother ordering them if it's tray-baked.
Feeling satisfied from a great meal and productive day, I made the short walk back to my room to finish my latest YouTube video which you can see below.