Friday 27th August 2021
Moving on Again
After five very pleasant, if rather uneventful, days on Naxos, it was time to move on once again. My next stop was Ios: another island I've visited before, but only once and just for two nights so I didn't really get to explore it. This time, I've opted for six nights which gives me plenty of time to get a better sense of the island and what it has to offer.
First, though, came the familiar task of packing up my belongings and checking out of the hotel. Another bonus to keeping yesterday's hire car overnight was the ability to use it this morning to take myself and my luggage back to the rental shop, which just happens to be right opposite the bus stop!
The car was due back by 9 am – I arrived just before that time and left the car in the car park unlocked with the keys under the floor mat as instructed (quite common in Greece, thankfully most islands are very low crime). I then wheeled my case across to the small bus shelter behind the beach and waited for the bus to arrive. However, I almost forgot that you can't buy tickets on the bus, so I quickly popped into the nearest mini-market to see if I could get one. The first place I tried, just opposite Motopower, didn't sell them, but I managed to get one from the larger market that's a short walk north along the main road behind the beach.
I returned to the bus stop and the bus arrived a few minutes later. The journey back to Naxos Town took about 20 minutes, so by 9:40 ish, I was wheeling my case along the harbour front in search of a cafe to sit and wait until it was time to head down to the ferry port.
Ferry Runs Late
The ferry to Ios was due to depart at 10:40, but upon checking its progress on MarineTraffic.com, I could see it was only just leaving Tinos and still had to visit Mykonos before it would arrive here, so it was almost certainly running late. Armed with this information, I got comfortable at a cafe just around the corner from Creparea and ordered a cappuccino and large water. I contemplated getting my laptop out to do some YouTube video editing but decided to read my Kindle instead, as well as some people watching.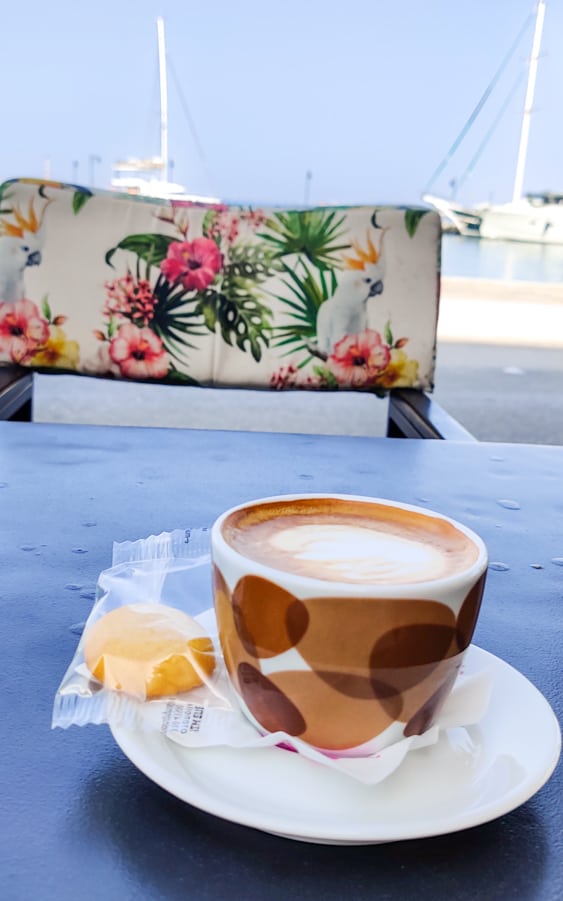 Just after 10:30, I could see the ferry had left Mykonos and was on its way here, so I paid up at the cafe and strolled slowly north towards the port. Fortunately, Naxos has a decent sized holding area that is sheltered from the sun, so I found space inside and sat with the other passengers waiting for the boat to arrive.
The ferry finally arrived just after 11 (about 30 minutes behind schedule), but we got boarded quickly and were soon on our way. I was hoping it would be a direct connection to Ios, but we actually stopped at Paros first before heading south again.
Ios Arrival
We arrived at the port on Ios around 1 pm. Despite the boat seeming relatively quiet, there were lots of other passengers getting off. I made my way through the crowds, remembering from my previous visit that the bus stop was just a short walk straight ahead from the port. It wasn't long before a bus arrived and we were heading off towards Chora on the way to my resort for the next 6 nights: Mylopotas! My accommodation was called Manthos Place and happened to be very near where I'd stayed on my last visit (Holidays Inn Ios), so I knew to ask the bus driver to stop at the top of the hill to save me from dragging my case back up from the beach.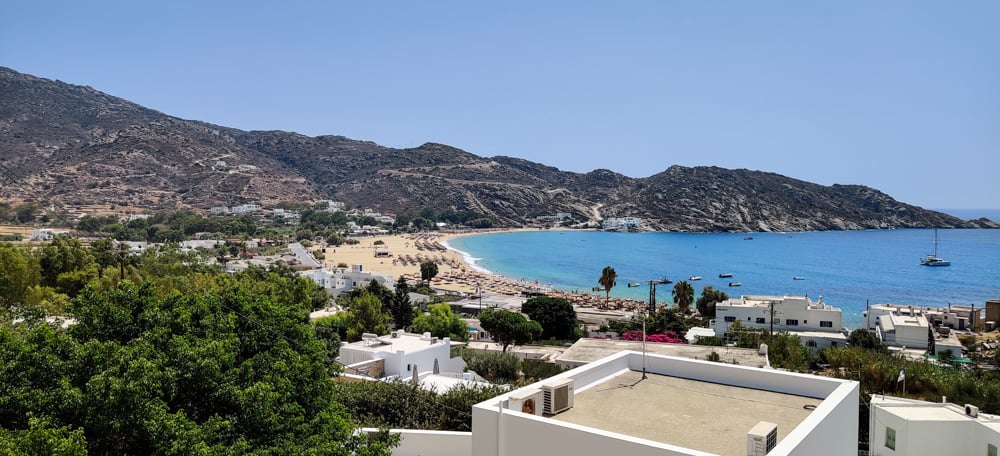 When I arrived at the accommodation, I was greeted with a superb view of Mylopotas beach as shown above. What I couldn't see, though, was any kind of reception or any staff to get me checked into a room. I made my way to the pool to see if anyone was working at the small bar, but it was closed. Though frustrating, I realised it wasn't quite 2 pm yet and therefore check-in wasn't officially open. As there was nobody else at the pool, I decided to make the best of the situation and got changed into my swim shorts using the toilets next to the bar, then had a relaxing dip.
A short while later, as I was drying off on a sunbed, a lady came over and when she saw my luggage, asked if I was a new arrival. I gave her my name and she showed me to my room. Unfortunately, the room itself wasn't very nice: it was down some steps away from the main building and was quite cramped and dated looking inside – not at all how the photos had portrayed it. I didn't say anything at the time but wasn't really keen on staying in the room for 6 nights if this was the best she could offer.
Getting Transportation
After a quick shower and change of clothes, I strolled down the steep hill and onto the road that runs behind the huge sandy beach. I could see a fair few people but it didn't seem anywhere near as crowded as I remembered it from before – probably the impact of Covid-19 – but at least it wasn't too quiet. On my way along the road, I spotted a little food and drink truck called Rollin Nomad. As I hadn't really eaten any lunch, I decided to get a peanut butter smoothie just to see me through to dinner.
I wanted to make sure I could get around the island to explore as I've not seen much of it, so I found myself at Costas Moto Club just down from the food truck, where I had rented a quad bike on my previous trip. I wasn't sure how long to rent one for, but after a discussion with the friendly owner, he agreed to a discounted rate of €30 per day if I took one for 5 days. It was still a fair amount of money, but I didn't want to end up stuck in my resort as I had on Naxos, so I paid up and carefully rode away, glad that I wouldn't have to walk back up the hill to the hotel! On the way, I stopped at a supermarket and stocked up on bottled water, crisps and some biscuits to keep in my room.
Late Afternoon / Evening
Not wanting to be stuck in my room, I went back to the pool to see if anyone else was around in the hope of making some friends. There was a small group of Irish lads that I said hello to, and a Dutch couple but otherwise it was still pretty quiet. I spent an hour or so switching between the pool and sunbed, treating myself to a cold beer from the bar just to keep in the holiday spirit!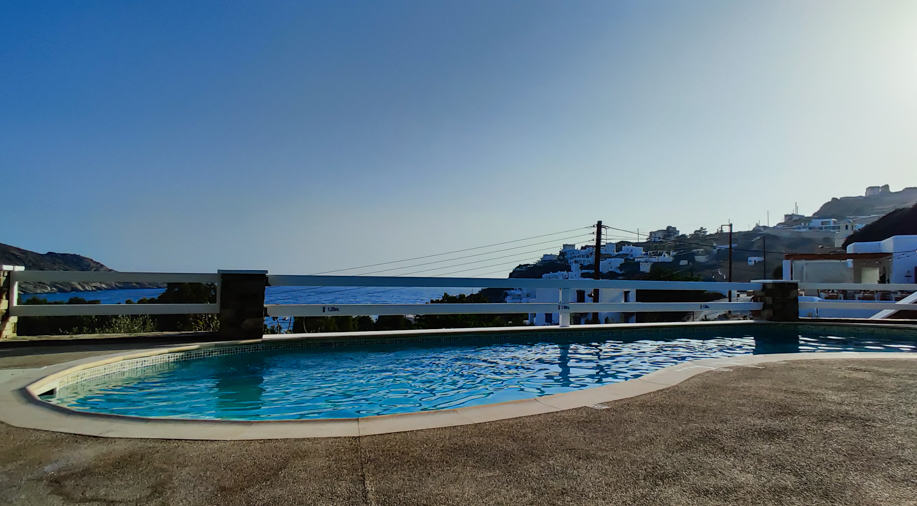 With the sun getting lower in the sky, I went back to the room to shower and rest for a bit. For dinner, I decided to walk down to the beachfront rather than use the quad, so I could have a drink or two with my food. I chose a place called Karma which happened to be doing a 2-for-1 cocktail offer, so naturally, I ordered two Aperol Spritz!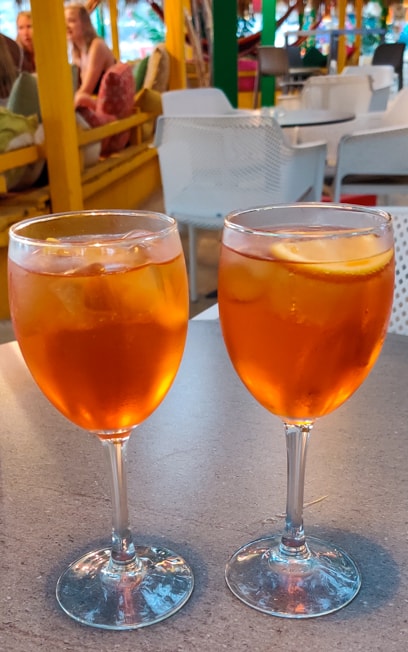 The drinks were refreshing and delicious, as was the food: I chose spinach and ricotta ravioli, one of my favourite dishes. It was a great meal, eating and drinking while reading my Kindle and enjoying the atmosphere. Ios is known as a party island and there was no shortage of young people having a good time, but it wasn't crazy hectic either so it felt just right to me.
Checking out the Nightlife
I stayed at the restaurant until after 9 pm, taking my time with the cocktails but resisting dessert. Back at the hotel, I waited until 10 pm, then decided to venture into Chora on my quad bike to see what the nightlife was like. It was still pretty early by party-goer standards, but it gave me a reason to stay up later than I usually do!
The ride into Chora was pleasant in the warm night air. It only takes 5-10 minutes and there's minimal traffic in the evenings apart from local buses and other quad or moped riders heading in or out of the capital. I pulled up at the main car park opposite the supermarket and 'Fun Pub', parked up the quad and walked into the narrow Cycladic streets that make up most of Chora. It's a bit of a maze, not unlike Mykonos Town, but with the aid of a few signposts and Google Maps, I found my way to several of the more popular areas that are packed with bars and a few clubs. The clubs didn't look as though they opened until either 11 pm or midnight.
As much as I wanted to mingle, I couldn't risk any more alcohol and without it, I wasn't feeling brave enough to start chatting with random strangers, so I ended up just walking around for a while and taking in the atmosphere before returning to my quad bike and heading back to the hotel.
It had been a good day though, and I was excited to start exploring the island tomorrow.