Review Rating: 3/5
Date of Visit: August 2021
I didn't have much choice in booking Filoxenia Hotel, yet given its location and photos/description online, I was expecting good things.
My journey from Kos into the Cyclades in the middle of the peak season required me to overnight on Amorgos, and this hotel was the only one available for my required dates on Booking.com (or indeed Hotels.com having checked both). It wasn't my first time in the resort and I'd walked past Filoxenia on the way to/from my previous accommodation, Yperia Hotel, so I knew the location was excellent.
Arriving by local bus from Katapola, I was dropped off at the ferry port and from there it's barely 5-minutes' walk to the hotel, which has an unrivalled waterfront view of the entire bay. On arrival, I was shown to my room and given some basic information about the hotel, such as the WiFi code etc.
The room itself was much larger than I needed, with 3 single beds – two of which were pushed together to make a 'double' – and a decent-sized balcony with an excellent front-facing view of Aegiali bay: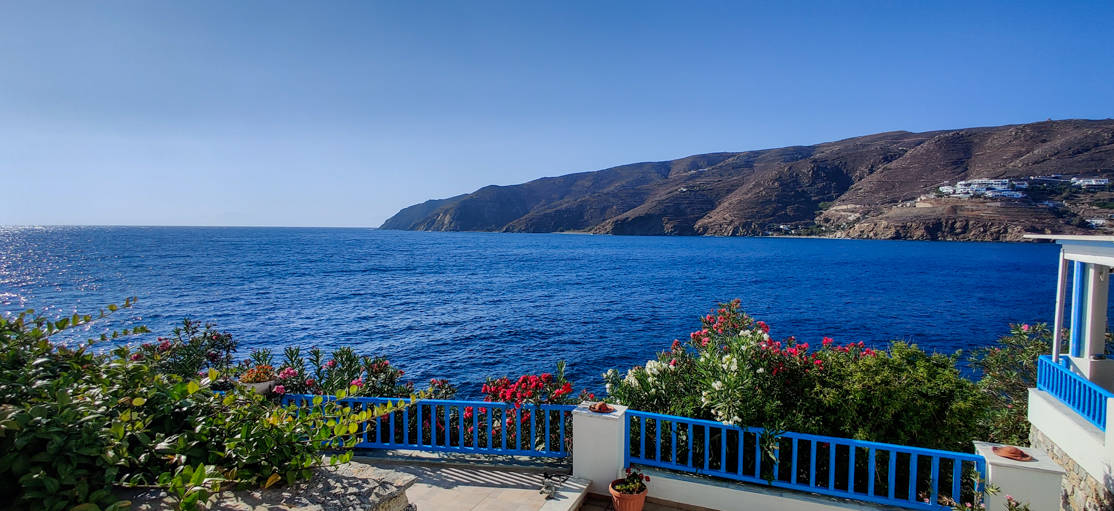 The furnishings in the room were rather basic, however, and it wasn't particularly bright. The bathroom was also very plain and certainly more functional than decorative – as is often the case in Greece. Neither of these things bothered me, except that I'd ended up paying €94 for the room, making it by far the most expensive place I stayed at during my two months in Greece.
I admit it's difficult to fairly review a hotel based on a single night's stay, and for that reason, I've been quite generous with the 3/5 rating. It isn't a bad hotel but I have to judge it based on what I paid and whether it felt like good value, which it didn't at all. For the price I paid, I would've expected an amount of luxury and certainly for breakfast to be included, which it wasn't.
Obviously, some of the faults are mine for booking last-minute and, yes it was mid-August when prices are naturally at their highest, but it seems clear to me that the owners were profiteering from the lack of availability on the island and inflating their prices. I can't blame them for that, but with inflated prices come inflated expectations and this just didn't add up. The hotel is a pretty bog-standard 2-3* that you'll find anywhere in Greece – functional, but nothing more.