Wednesday 16th September 2020
Planning my Day
As mentioned in yesterday's update, I hadn't intended on visiting Syros alone so I needed to figure out an itinerary for the next couple of days. But first, breakfast!
This was my first hotel where breakfast was included, so I got dressed and headed downstairs to reception. I think the hotel was pretty quiet as there was only one other guest eating when I arrived. I was seated quickly and served a decent selection of coffee, bread, jam, orange juice and some mini croissants. The food was nothing special, but filled me enough to be ready for a bit of sightseeing.
I intended to spend a few hours walking around Ermoupoli as it's a pretty big town compared to where I've stayed on previous islands. It's also quite affluent and filled with large, ornate historical buildings. While sat at the table eating breakfast, I mapped out a rough itinerary and route that would take me past several sights within walking distance of the hotel.
I wasn't sure what to do afterwards, but thought about catching a bus to one of the beaches on the south side of the island.
Out and About
From my hotel, I set off eastwards around the harbour, then north along the outer edge of the town.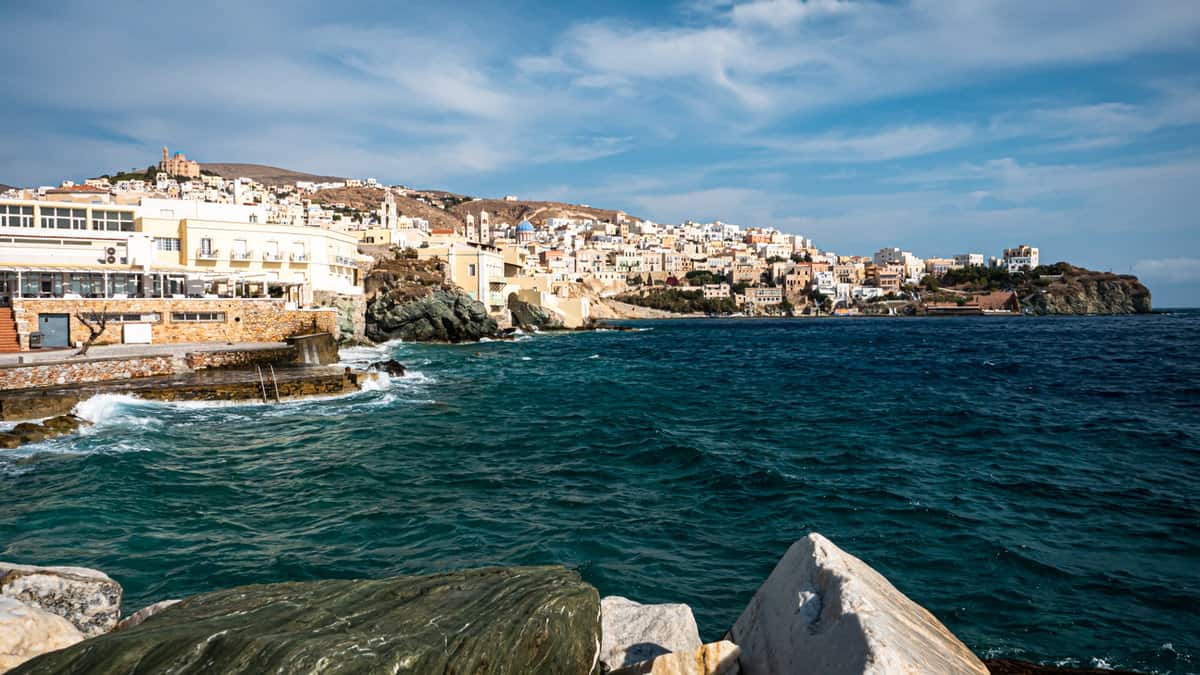 On the way, I passed a couple of interesting statues outside the museum: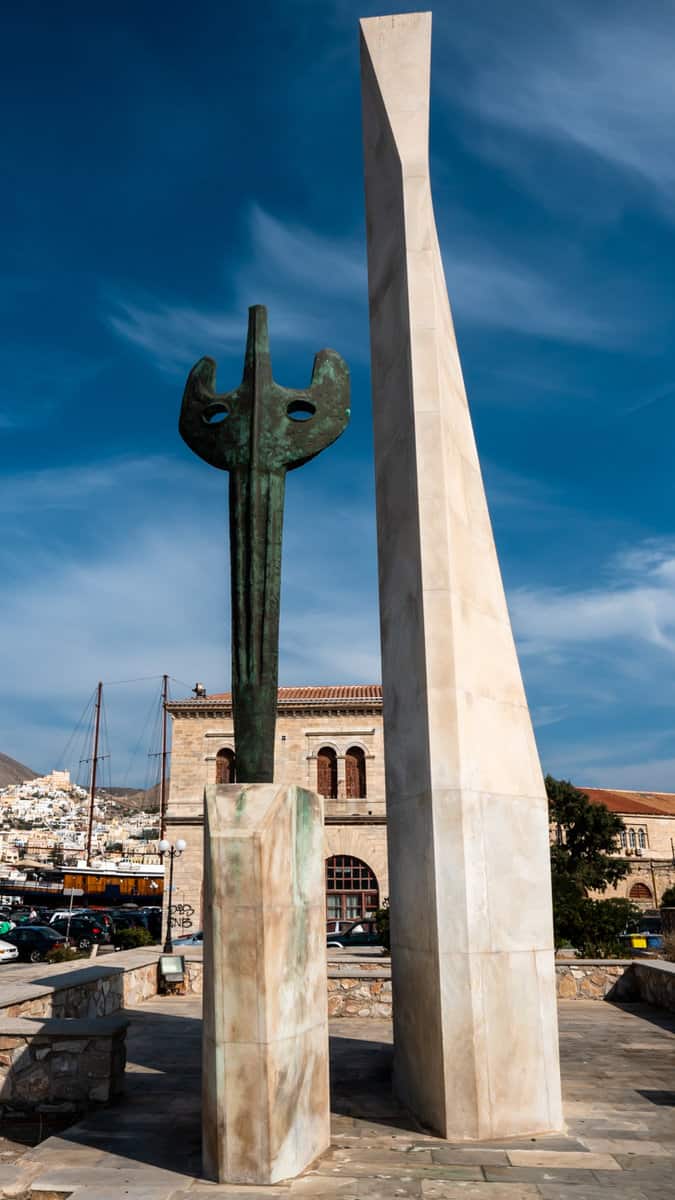 This route eventually brought me to the church of Saint Nicholas (Agios Nikolaos):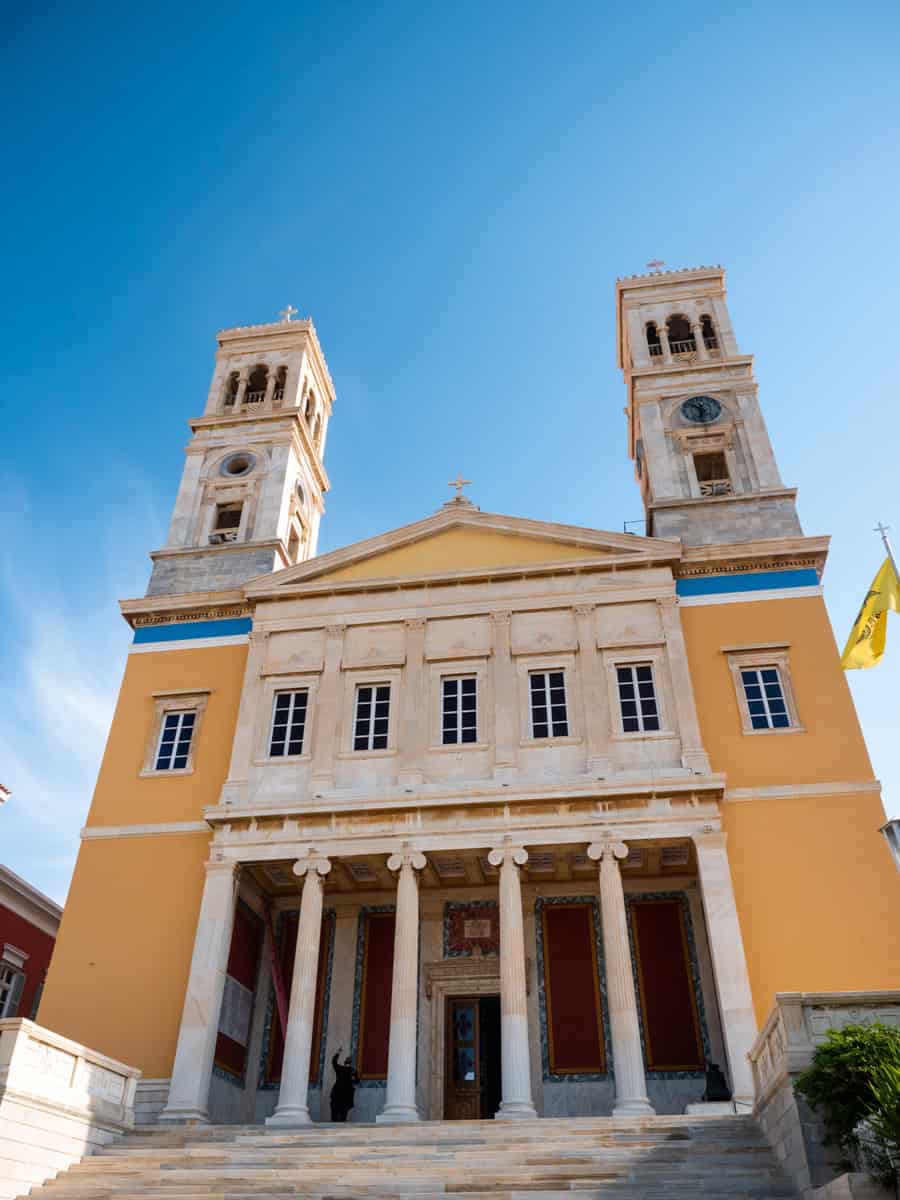 I then turned south-west, past the Apollon Theatre and onto Miaouli Square: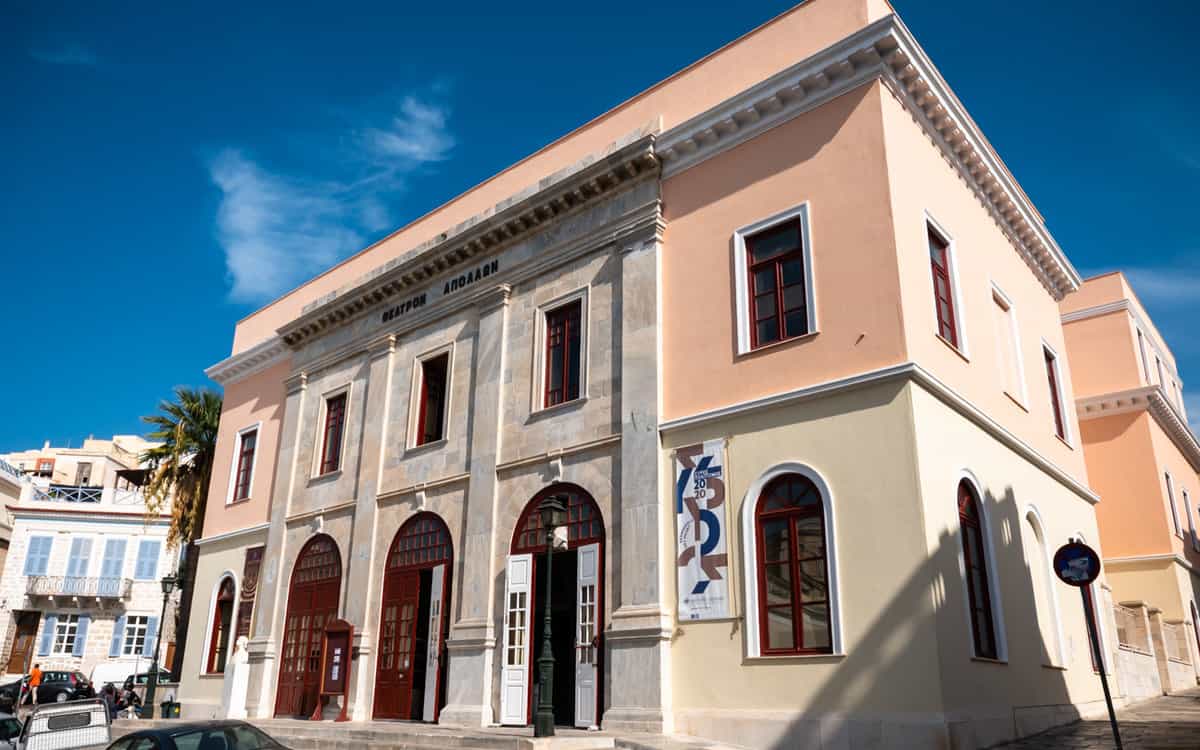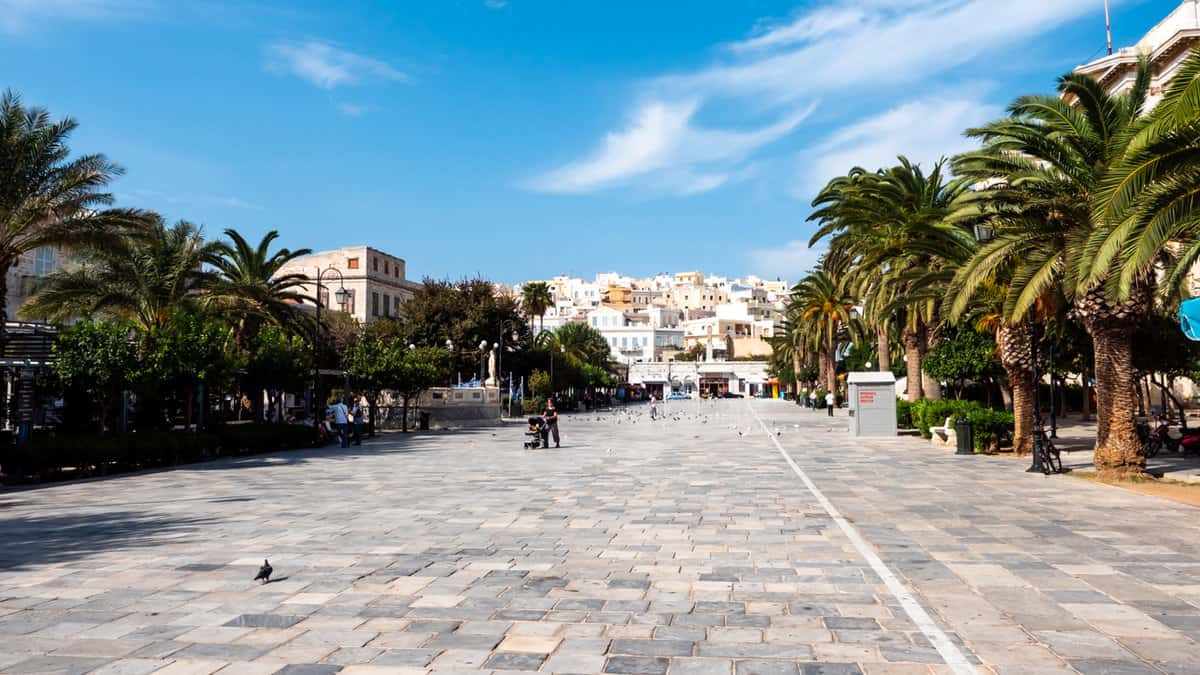 Finally, I took the southern road back into the harbour again. It wasn't the longest walk I'll admit, but it gave me a taste of area.
Coffee and Conundrums
It was a bit early for lunch, but I wanted to sit down for a while so I visited Plaza Café, just a few buildings across from my hotel, where I enjoyed a cappuccino, some pancakes and water. The harbour area was quite lively and it was nice to be around people again after such a quiet couple of days on Serifos.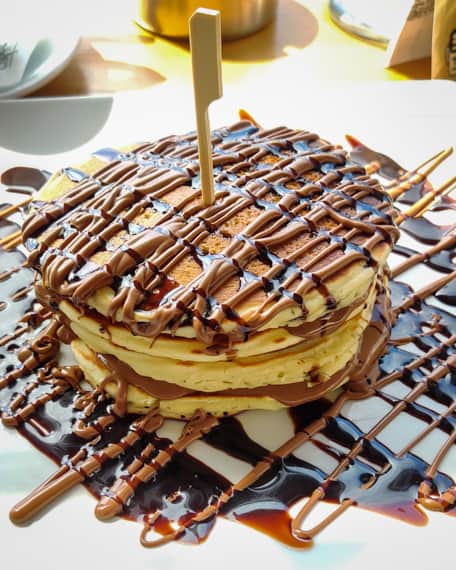 Back at the hotel, I got some beach gear together with the intention of catching an early afternoon bus to Galissa beach. Meanwhile, I was having a bit of an internal debate as to what my plans should be for the next couple of days. I had paid for the hotel in Ermoupoli until Friday, with the intention of moving to Andros for the final 3 nights of my trip. However, I wasn't very enthusiastic about seeing more of Syros by myself, so I was considering moving on to Andros a day early – Ed arrives there today, so I could catch the same 11:30 ferry tomorrow as I'd planned to take Friday and have an extra day there instead of here.
I felt a bit guilty for wanting to cut Syros short, but being in such a large town felt more like a city break and I've always felt those are better with company than alone. Of course, I could spend the time at the beach but let's be honest, I've done enough of that already, and I was looking forward to catching up with Ed and doing some hiking (okay and drinking beer!)
Decision made, I set off towards the bus station, stopping at a ticket office along the way to pick up my ferry ticket for tomorrow. I managed to catch the 1pm bus that loops around most of the southern beaches, though I was lucky to get a seat as it seemed like an entire class of school children had arrived just ahead of me, threatening to fill the entire bus.
Beach Goes Badly
The bus first stopped at Kini. As we were setting off again towards Galissa, I started to feel a bit unwell with a bout of stomach cramps. Luckily they lasted only a few seconds and were fairly irregular, but I was glad to be off the bus when it finally arrived at my stop.
I made my way down to the beach, walking it from end-to-end in search of the optimal spot. Having almost decided where to set up, the cramps returned with a vengeance and realised I needed to find a toilet pronto! Fortunately, one of the tavernas at the south end of the beach were okay with me setting my bag down at a table and hastily availing myself of their facilities. Suffice it to say, I felt considerably better afterwards! I'm not exactly sure what happened, though I had drunk water at breakfast and at the café earlier that may not have been bottled and the high mineral content of local water can definitely cause upset stomachs, so that's what I'm putting it down to.
I stayed at the taverna long enough to drink a Sprite, feeling obliged to order something after using their bathroom, then finally made it onto the beach. Although the sand and sea were nice, it was unfortunately quite overcast and I was beginning to think my afternoon was doomed to failure, but I made the best of it and laid out for a while reading and listening to some music.
My stomach was still feeling quite fragile even after laying down for a couple of hours and I needed to figure out the best way to get back to the hotel. I didn't really fancy being stuck on a long bus ride back to Ermoupoli if the cramps returned and I needed a hasty bathroom stop. Instead, I found the number for a taxi company and arranged a collection from behind the beach. It was worth every Euro as I got back to the hotel in about 15 minutes, though fortunately the cramps didn't strike again.
A Better End to the Day
Back in the hotel room, I napped for a couple of hours in the hope of feeling better for some rest. It seemed to do the trick as I woke late afternoon in much better spirits. I had a shower and decided I felt hungry enough to warrant finding a local taverna for some dinner.
After checking on Google for some restaurant ideas, I headed north from my hotel back towards Miaouli square and walked the side streets in search of an appealing taverna. I settled on To Petrino which is in a small courtyard area just a couple of streets north of Aktaion Hotel. I ordered Moussaka and some wine and was pleased to find it was one of the best meals of my trip! I also received a complimentary dessert of Greek sponge cake with honey and yoghurt – also delicious!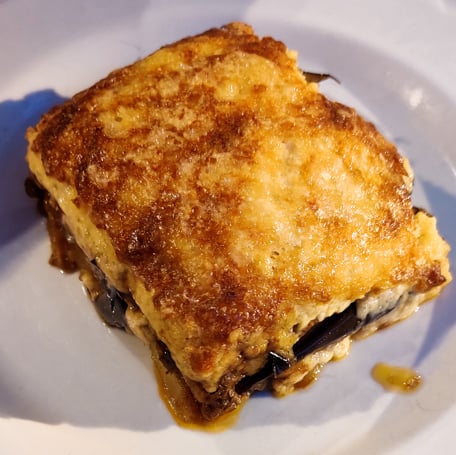 I didn't really fancy walking the streets of Ermoupoli again, so went straight back to my hotel and decided to take advantage of my room having a great view overlooking the harbour: I got out my camera and tripod, setting it up on the window sill and getting some cool photos: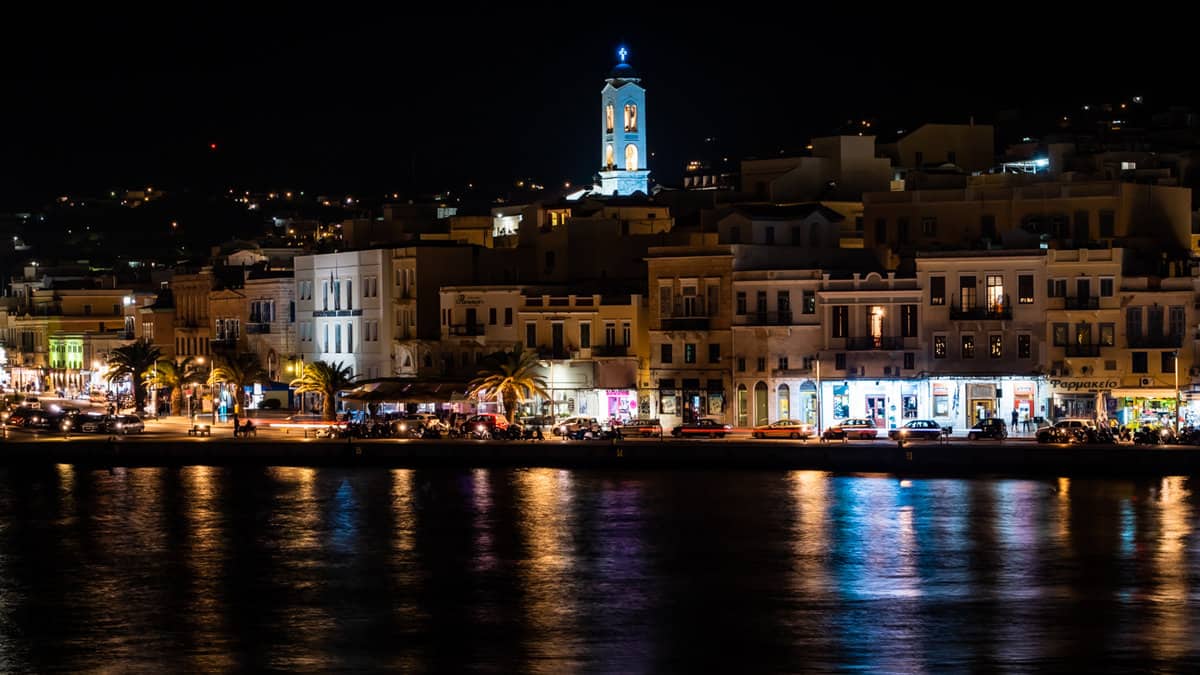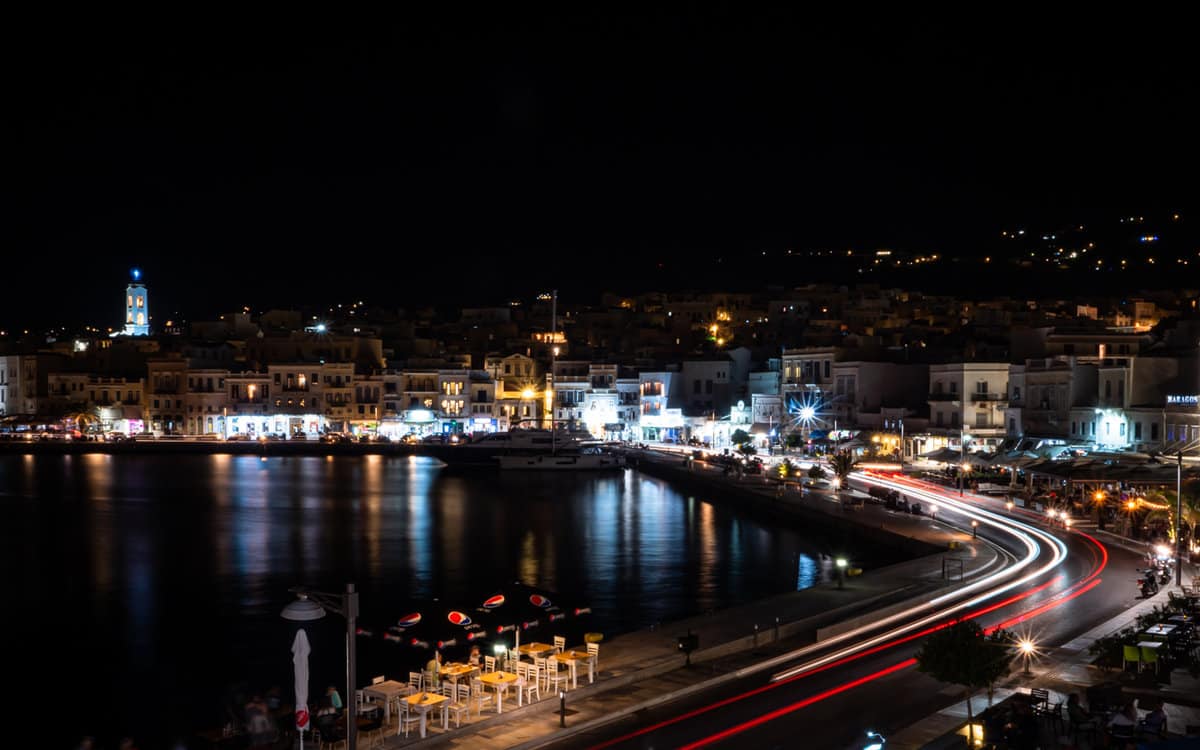 I then went to bed for a fairly early night, feeling both guilty for skipping the extra day on Syros but also excited to be back on Andros tomorrow and catching up with my friend.