Wednesday 9th September 2020
Let's Skip Breakfast
I didn't actually skip it, but it was the same as yesterday so moving swiftly on…
ATV Time
One thing I forgot to mention in yesterday's post, I had stopped at a rental shop on the way back from breakfast and arranged to hire another ATV for two days, starting today. This time it was a more modest 250cc rather than the considerably bigger 350cc I had on Milos. On the plus side, it was much cheaper at €25 per day, but the downside was it didn't feel quite as safe to drive, being smaller and with more twitchy steering!
The ATV also didn't come with a storage box, so to get all my gear around I had to wear my rucksack and tether a plastic bag behind me containing my beach towel and some water. Cue me nearly losing my water almost immediately as it slid out of the bag, hanging precariously down as I rushed to a stop, moments before it would have rolled off and down the road!
Hydration catastrophe averted, I continued inland towards Apollonia where my first stop was the petrol station to fill up the ATV. This necessary detour scuppered my original plan to set off north from Kamares and make a clockwise loop around the top half of the island. Instead, after refuelling I continued east to Sifnos Kastro and to the Church of the Seven Martrys. If you've seen any photos of Sifnos, no doubt this church will have featured: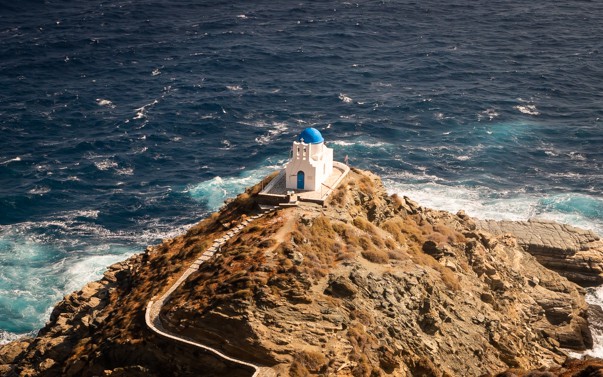 I spent some time on foot, walking around the Kastro area and down to the church to take some photos and video clips. As you can see from the waves in the photo above, it was a windy day so no chance of getting the drone out – a real shame as the church would have made an excellent subject for some panoramic shots!
Hopping back on the ATV, I made the 40-ish minute drive to the northernmost beach on the island at a place called Cherronisos (Χερρονησος). It was a very tiny fishing village with just a single taverna, but quite a nice, if also tiny, beach. The long ride had left me feeling very hot and sweaty, so my priority was getting changed into my swim shorts and heading straight for the sea for a refreshing swim.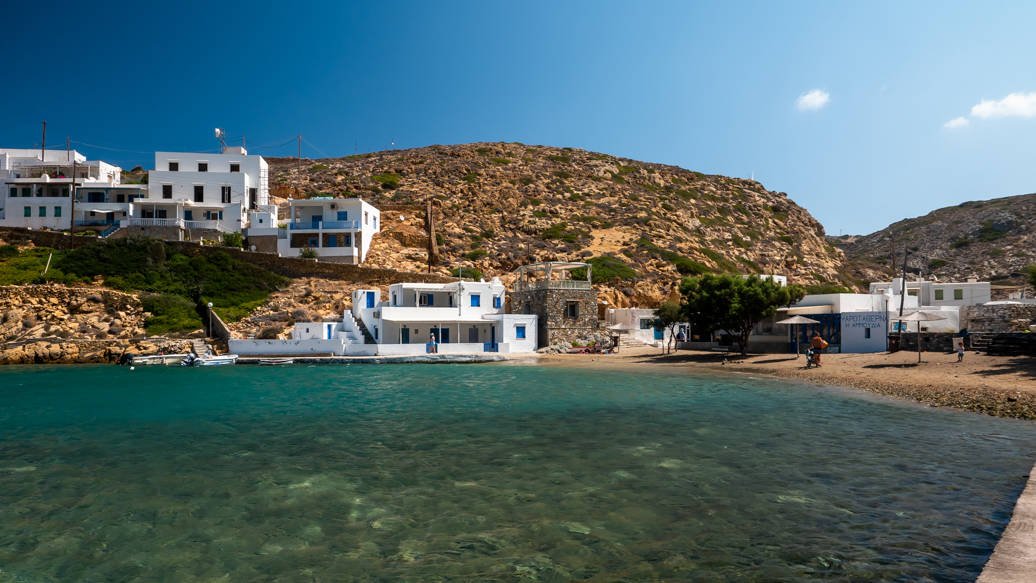 Once I had towelled myself dry, I walked over to Cheronissos Fish Tavern and ordered a small Mythos beer, taking a few minutes to sit and enjoy the peaceful views while drying off from the swim. I then got the camera out of my rucksack and took a few photos and video. It did seem like a nice place to spend some time and I could see on Google Maps that there is accommodation here, but being so remote and with only a single restaurant, it's not somewhere I would choose to stay.
My next stop heading south was the beach at Vroulidia. On the map, this seemed like an easy task, but the beach is quite a way off the main road along a pretty bumpy dirt track. When I finally arrived, it was rather disappointing: a coarse, rock/shingle strip of beach with an equally rocky water line.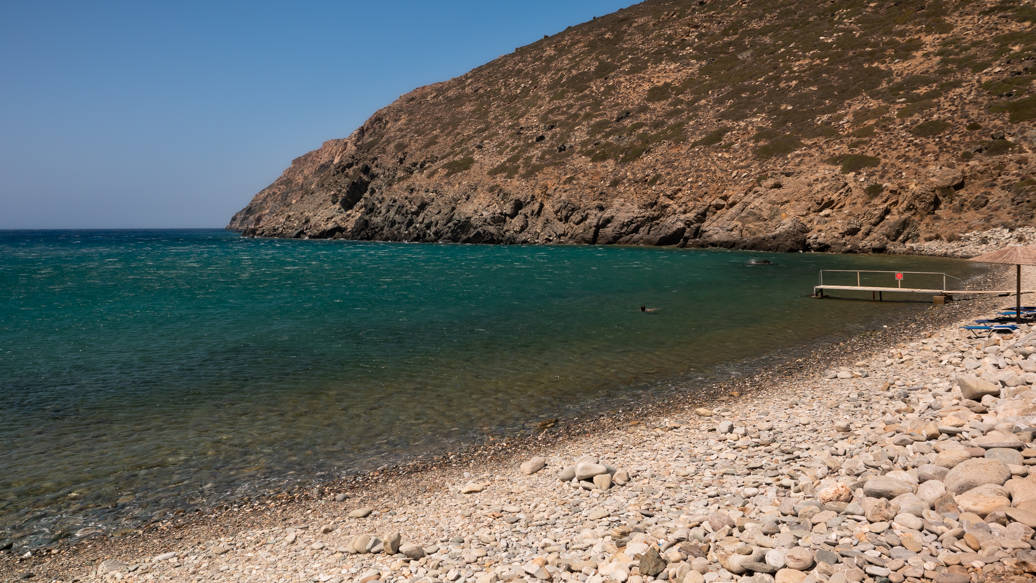 On the plus side, it was very quiet, but I can't imagine anyone visiting once and wanting to come back again – not while there are amazing beaches like Kamares you could be enjoying instead!
I had intended on stopping here for lunch but, although there is a café/restaurant on the beach, it didn't look appealing to me so I got back on the ATV and decided to eat somewhere else…
Cafe Stavros… again?!!
Yes, it's terrible. I know. Once I was back on the move from Vroulidia I realised that there were no more resorts south before I would be back in Kamares again. Being pretty hungry at this point I figured, what the hell, I might as well go back and eat in familiar territory – at least I knew the food would be good! And good it was: a tasty cheeseburger and fries.
Ahead of Schedule
I had expected my exploration of northern Sifnos to take most of the day, but I found myself back in Kamares with a couple of hours to kill. I decided to chill out at my hotel for a little while to have a break from the sun, then get dressed for dinner and head out again on the ATV. My plan was to visit the last remaining beach resort on the western coastline, Vathy, before heading back up to Apollonia to eat.
On the way to Vathy, I rode past a church at Agios Andreas situated at a high elevation not far south of Apollonia. It was late afternoon and 'golden hour' so made for some excellent photo opportunities: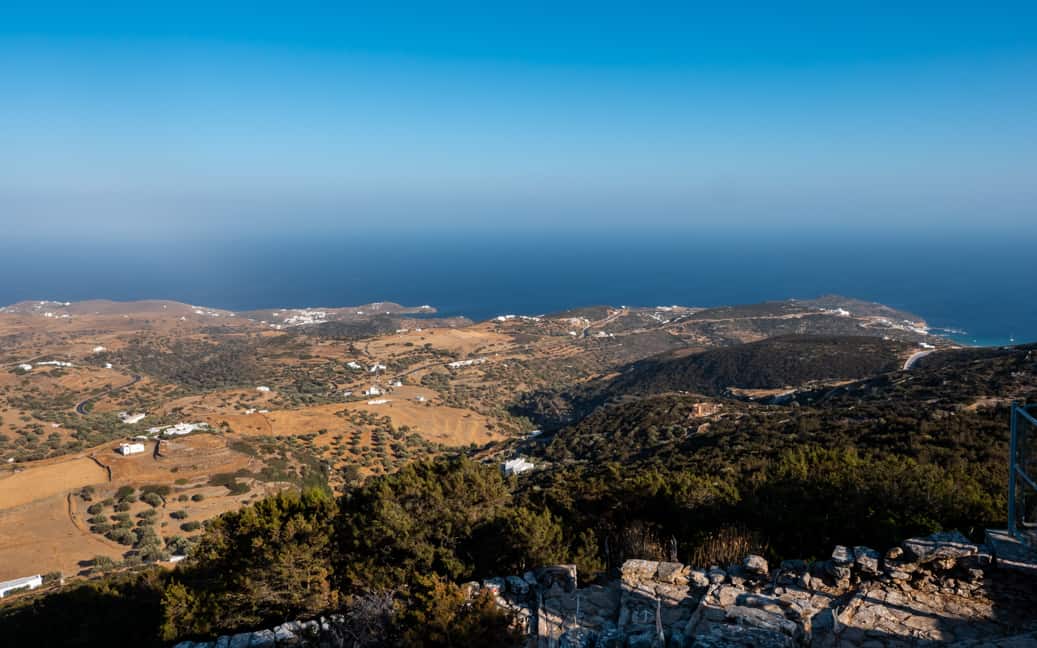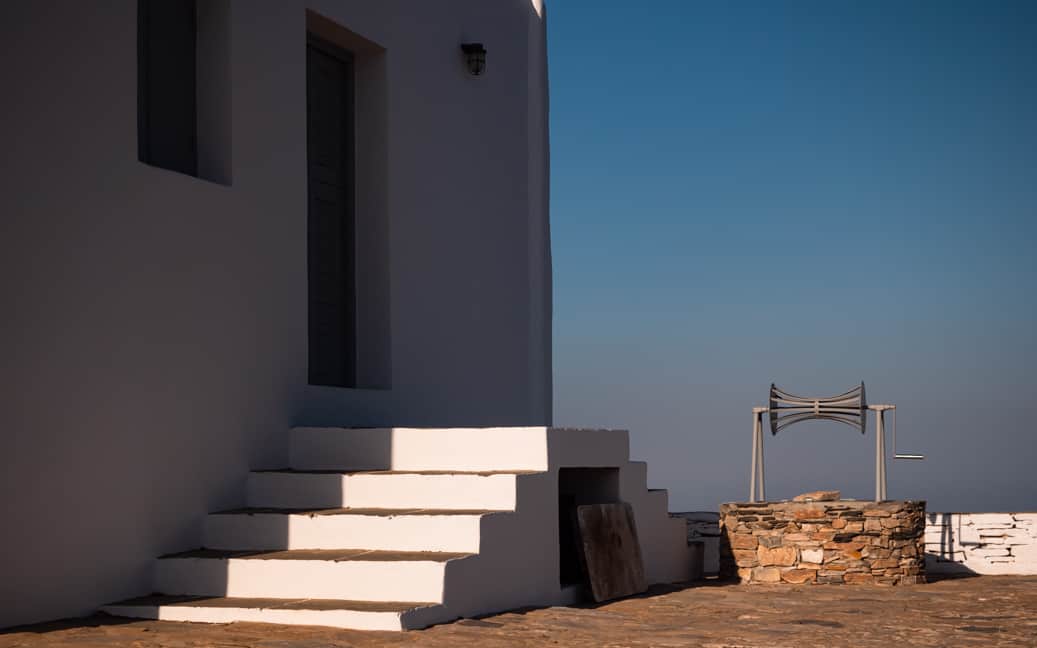 The church is surrounded by a fence that protects a museum that has been set up on the Mycenaean Acropolis, but fortunately the church itself is accessible through a gate. I spent some time walking around, taking photos and enjoying the stunning views across the entire south side of the island.
Moving on, I descended to Vathy just as the sun was starting to get low in the sky and I had to stop to get some photos as the view was so good: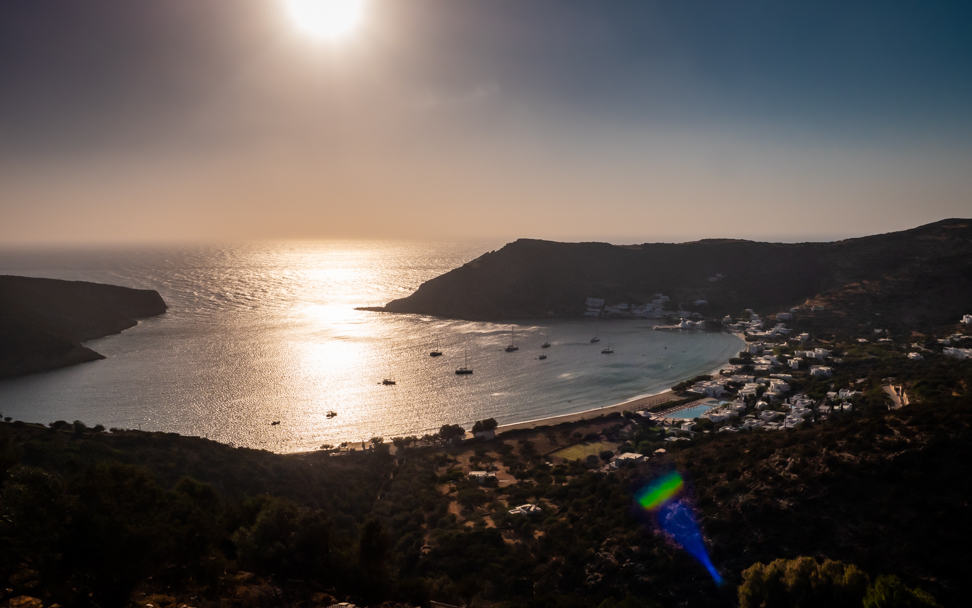 The resort itself has quite an up-market feel, with at least a couple of luxury hotels set just behind a nice, sandy beach. I wouldn't say it was as nice as Kamares, but of all the places I have visited today, it definitely came the closest.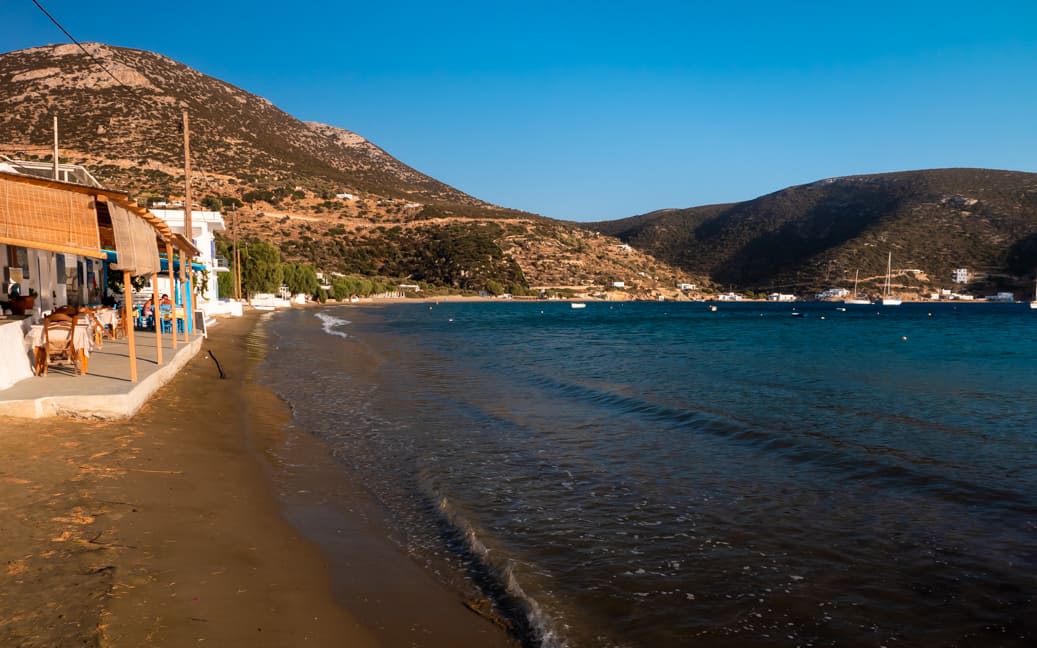 Apollonia – Dinner Time
The journey back to Apollonia took about 20 minutes on the quad bike. It was just before 7pm as I arrived and there were a few people already wandering the narrow painted streets. Owing to my late (and rather large… did I mention the chocolate crepe?) lunch, I wasn't especially hungry so I spent some time just walking around, taking in the sights and scoping out potential restaurant choices.
Once my appetite had grown to a sufficient level, I settled on a taverna called Tou Apostoli To Koutouki, where I managed to snag one of the few remaining outdoor tables. I had seen moussaka on the menu and, although it turned out to be a vegetarian version with mushrooms instead of minced meat, it was delicious. Accompanied by a nice glass of red wine, it was a very enjoyable meal.
For the journey back to Kamares, I had remembered to bring a jacket after discovering how chilly it can feel riding an ATV after sunset, so the ride back was quite pleasant. I was back in my room not much after 9, having had a great first day exploring Sifnos.