Monday 7th September 2020
Reflections on Milos
So, today is my last day on Milos. It's hard to believe I've been here five nights already, it has absolutely flown by! One thing it's safe to say is that I'll definitely be back again. Milos is such a lovely island: just the right mix of relaxed atmosphere, great weather and excellent food. I've still got four more islands to visit this trip, but it's going to be tough to beat this place.
Last Day Sunbathing
No need to discuss breakfast, you've read it several times before! The only difference today being that I used the ATV for the short journey into Adamas. Not because I'm lazy, but I needed to return it by 9am and, since the shop is on the way back to my apartment, it made sense to ride it down and return it on the way back.
Check-out at Venus Studios is usually 11 am, but I had asked the owner if it would be okay to keep the room a little longer as my ferry wasn't leaving until 2:45pm. He said yes, allowing me to stay until 1 pm which meant I had time to visit Papikinou beach one last time!
After lotioning up and packing most of my belongings away, I walked down to the beach and spent a lovely couple of hours sunbathing, broken up by a few dips in the sea when I needed to cool off.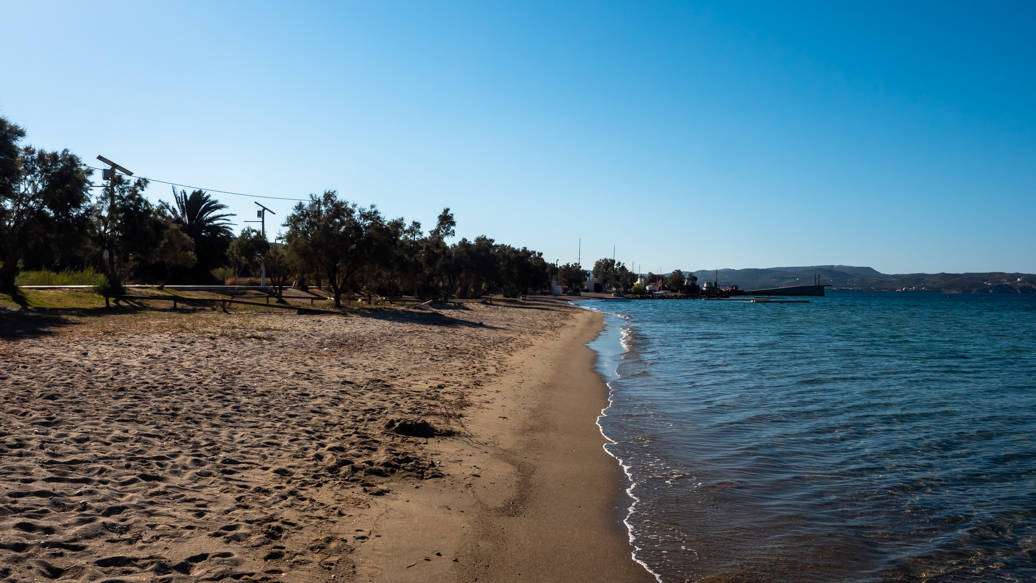 Lugging my Luggage
As midday approached, I reluctantly packed up my towel and began walking back to the accommodation for the last time. I showered, got dressed and made sure I had packed everything into my case and rucksack, ready to head to the next island… Sifnos!
Despite the short walk into Adamas, it was quite sweaty work with a full backpack and case in tow. I found shade and lunch at a place called Gyros of Milos where – you guessed it – I had pork gyros! Plus, of course, a Mythos beer.
As the ferry departure time approached, I headed around the harbour to where Champion Jet 2 was already moored up waiting – for some reason it had been there for a while, I guess due to Covid they are running a reduced schedule so it hadn't come straight from another island.
Having to wear a face mask while queuing and presenting the Covid form during the boarding process slowed things down a bit, but luckily there weren't that many people getting on anyway.
I quickly found my assigned seat, but, seeing how empty the ferry was, decided to risk sitting elsewhere so I could have a window seat. Nobody came to claim it so it turned out fine.
Sifnos
The journey to Sifnos took about 40-minutes and was very smooth. I bought another beer on the ferry, not because I'm an alcoholic (obviously!) but having a drink gave me a reason to take my face mask off for most of the journey. I didn't have anyone sitting nearby so it seemed safe enough.
On arrival, I got my case from the luggage storage and made my way off the ferry and down the main street of Kamares – the village where the port is located and where I'll be staying for the next six nights! It seemed like a very pretty place, a bit smaller than Adamas but with a lovely wide beach and what looked like plenty of shops, cafes and tavernas.
My accommodation, Hotel Kamari, was set a little way back from the beach further along the main road. It only took 5-10 minutes to get there from the port. I got checked in fairly quickly and the room itself was nice: pretty big and with plenty of amenities, if a little dated.
Once I'd unpacked a few bits and changed out of my sweaty travel gear, I ventured straight out in search of a shop for bottles of water and some snacks (biscuits are essential to keep hunger at bay!) There was supposed to be a mini-market right next to the hotel, but it appeared to be closed for renovation which was slightly frustrating. It wasn't far to find another shop though and I soon had everything I needed.
Amazing Dinner
It was a bit late to hit the beach, so I chilled out in my room for a while and then showered and dressed for dinner. I'd been on TripAdvisor to get some ideas on taverna options and quite fancied trying one of the two highly-rated Italian restaurants nearby: Camaron and Da Claudio.
It turns out that the restaurants are literally next door to each other, so I decided on Camaron for tonight with the intention of visiting Da Claudio another day. What followed was one of the best meals I've ever had!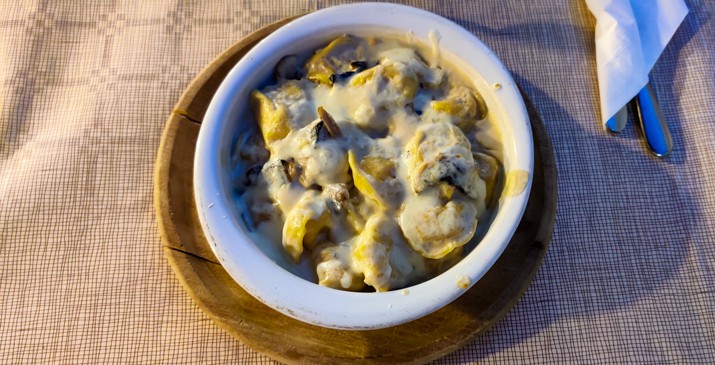 I was tempted to try one of their pizzas, but having had pizza the night before, I opted for pasta instead. I chose the four-cheese tortellini with the option of their special home-made pasta, coupled with 1/2 litre of house white wine. The pasta was absolutely incredible and, despite it being very filling I was sad to have finished it all and did briefly consider ordering more!
As I'd eaten quite early, I decided to walk off a bit of the pasta with a stroll back through Kamares towards the port, just to get my bearings and scope out some breakfast options for the morning (I'm always thinking one meal ahead!) I then went back to the hotel and slept very well.