Monday 21st September 2020
Time to Pack
Today is the last day of our trip, by 8pm I should be back home in my own apartment. But first, breakfast! After a decent quantity of food (and coffee), I went back to my room to finish packing, then met Ed at reception to check out at 9:15.
Loading our luggage into his little Fiat 500 rental, we made the short drive back to Gavrio where he dropped me off at the port and headed off to return the car.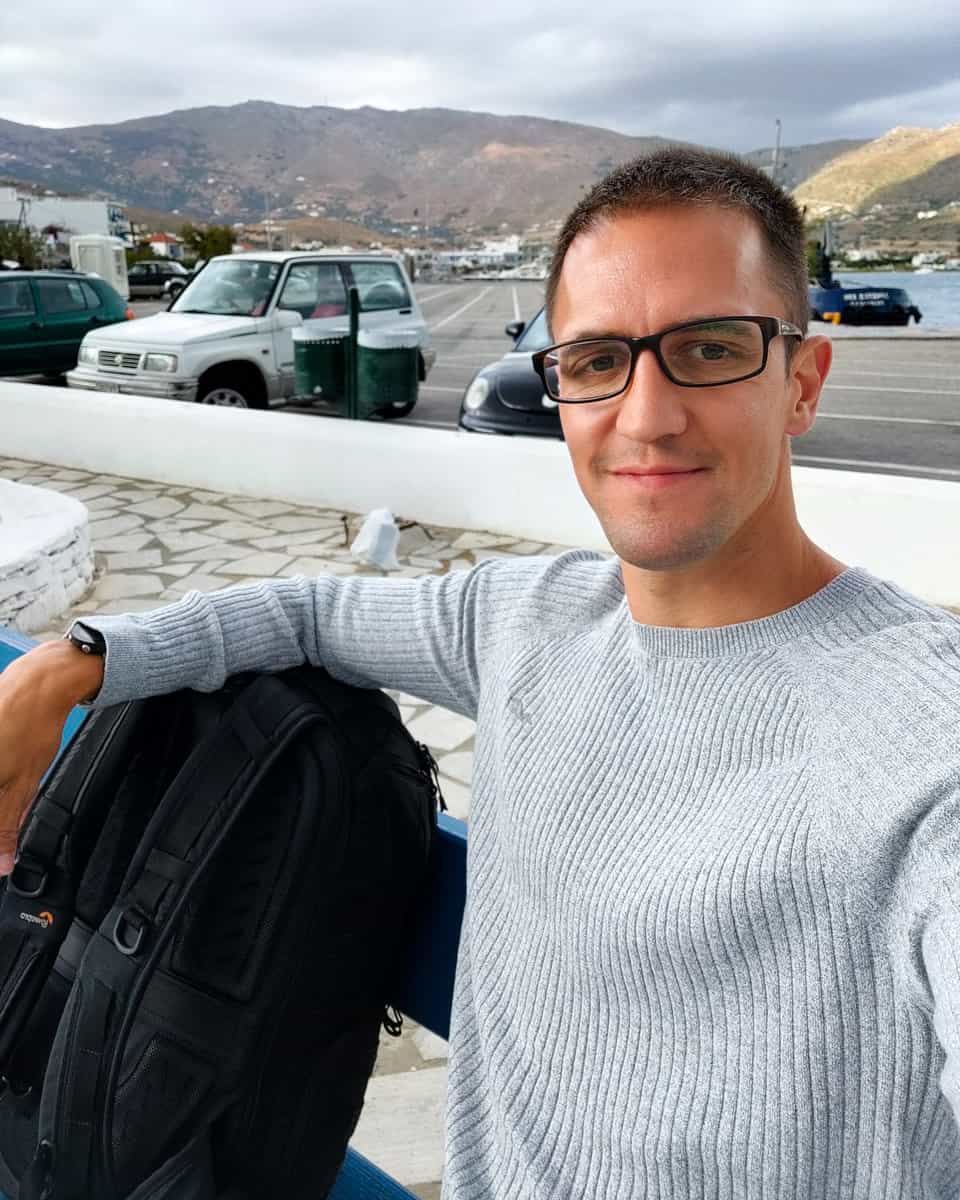 Windy, but not Wavy
I checked online to make sure our ferry was running on time, which it was, so it was no surprise to see it entering the harbour just after 10am. Boarding was pretty quick as there weren't many people getting on and we were soon underway to Rafina.
High winds had been forecast on account of a tropical storm heading across mainland Greece over the past couple of days. Fortunately, it turned south away from Andros so, despite still being very breezy on board, the waves weren't too bad. I had taken a travel sickness tablet just in case but didn't really need it while we were sat outside.
Rafina
The journey back to the mainland takes a couple of hours. After the obligatory beer (yes I know, it was morning, but it's a tradition!) I bought some of my favourite Greek snacks to keep me going: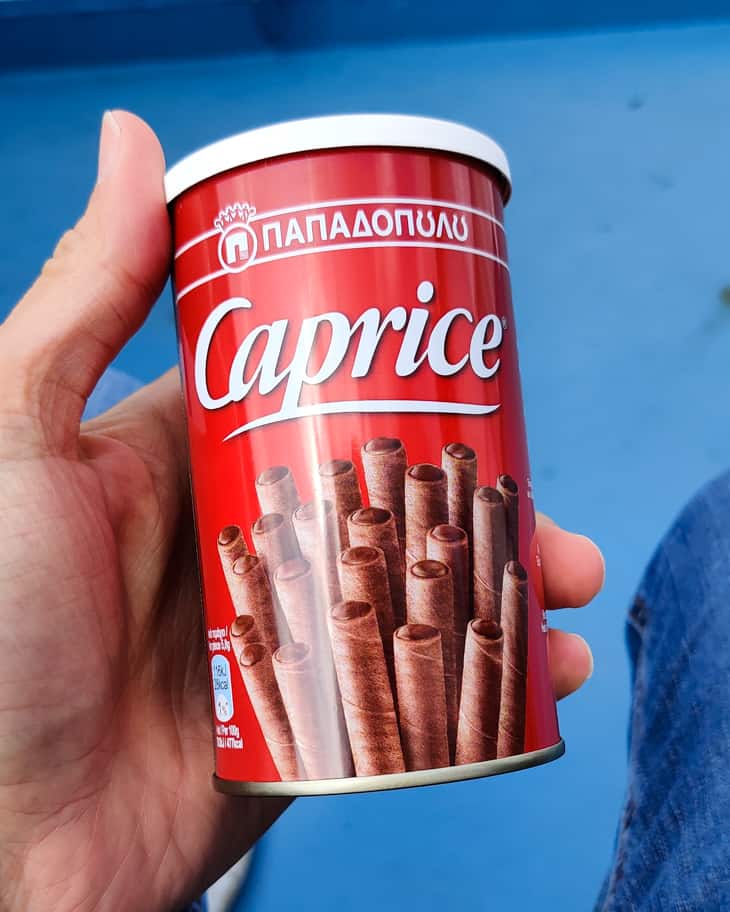 Around Midday, we could see Rafina clearly and were soon docked and getting off the ferry.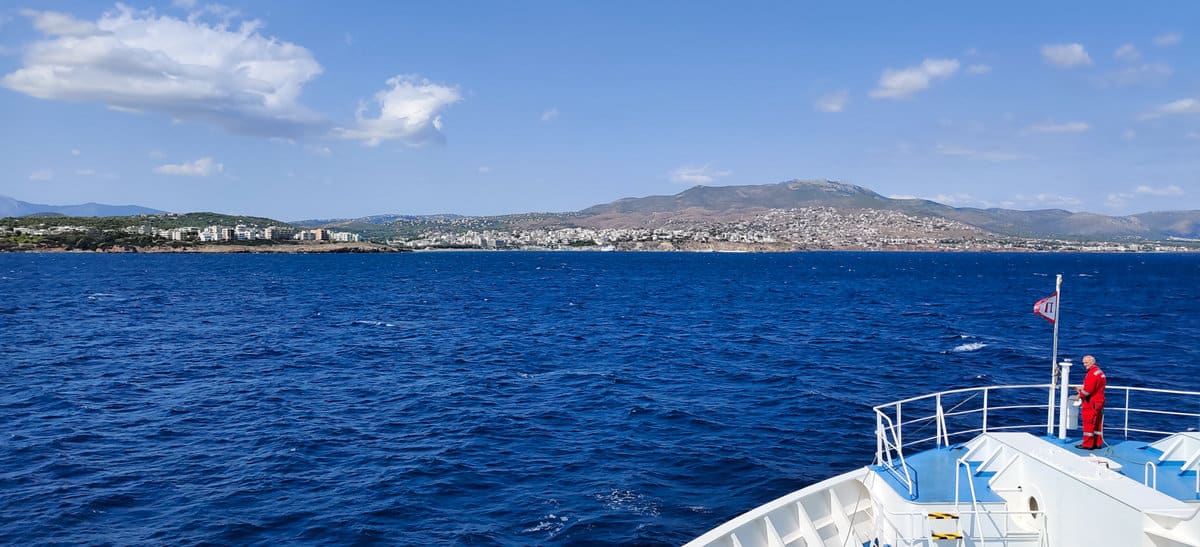 Lunch Stop
We decided to eat something in Rafina rather than being left with whatever food was available at Athens airport. Unfortunately, the few tavernas that line the route to the ferry port were obviously desperate for what little passing trade was available this year: they were quite pushy in trying to get us to eat in their restaurant, something I find very off-putting.
In the end we relented and sat down at a random place to eat. I wasn't overly hungry anyway (maybe due to eating chocolate on the ferry…) so just had some chips and tzatziki. Ed had some spaghetti which he said was fine.
We looked into getting a local bus back to Athens airport, but the timings didn't line up well for us. Either we took the 13:00 bus and arrived really early, or waited for the next one at 14:40 which we felt was cutting it a bit fine for our 16:45 flight. In the end, we went to a nearby café/bar, ordered a drink and asked the staff if they could arrange a taxi to take us to the airport.
Homeward Bound
We arrived at the airport in good time. Due to Covid-19, it was pretty quiet so we were through bag drop and security in minutes. After a while spent sat in a café in the departure lounge, our flight was called and we boarded the plane bound for Stansted airport.
The flight itself was uneventful (just the way I like them!), even landing 30 minutes ahead of the advertised arrival time. I had to wait for my suitcase to arrive at the carousel, meanwhile Ed wanted to shoot off so he could catch the earlier train for his ride home, having only brought hand luggage for his trip. We said our goodbyes and, once my bag had arrived, I set off towards the short-stay car park where my parents were waiting to give me a lift home.