Saturday 19th September 2020
Breakfast and Rain
The weather forecast for today was pretty bad. There had been storms overnight and quite a decent amount of rain – it was still coming down when we got up for breakfast.
Breakfast itself was quite a strange experience. Due to Covid-19 health concerns, the usual self-service arrangement had been replaced by a system where you walk down the buffet line while staff serve items onto your tray. It's a bit slow, but fortunately there were only a few other guests around so we got sorted without much delay. The food itself was fairly good, though nothing special.
In an attempt to make some plans for the day, we decided to use the hotel's pool table to pass a couple of hours. The weather forecast suggested an improvement by midday, at which point we would venture out for a local hike so we could get back to the hotel easily if it started to rain again.
Kato Katakilos
Fortunately for us, the rain did stop right on schedule at midday, so we rushed straight out to make the most of the dry spell, heading through Batsi and up into the hills eastward towards Kato Katakilos.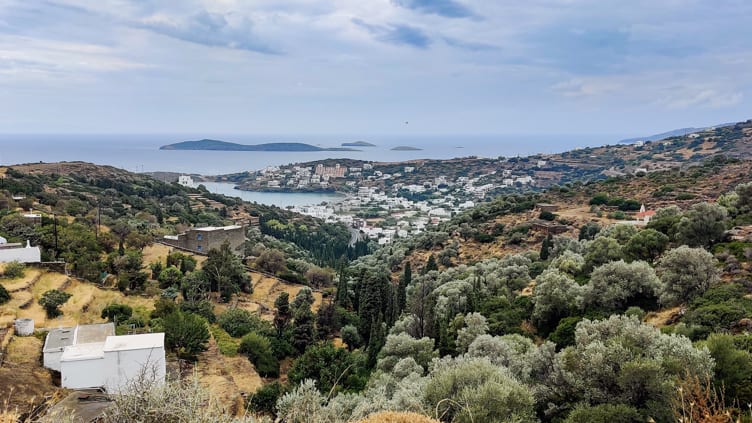 This was another rather symbolic trip as back in 2017 we had attempted a hike from Andros Town to Batsi, but had to admit defeat just a few kilometres short as we had run out of time and energy. Kato Katakilos was as far as we got, so in effect, we were completing that journey today. Sadly though, the taverna we had stopped at for a drink while waiting for a taxi to collect us was no longer open.
Instead, we found a different taverna close by. It seemed to be closed for a private function, but they were happy to serve us a beer each and let us sit outside while we rested out legs for a few minutes.
Back to Batsi
To avoid retracing our steps, Ed had found a hiking trail on his map, so we set off south west from Kato Katakilos, heading uphill towards the small church of Agia Anna, then diagonally north-west back into Batsi.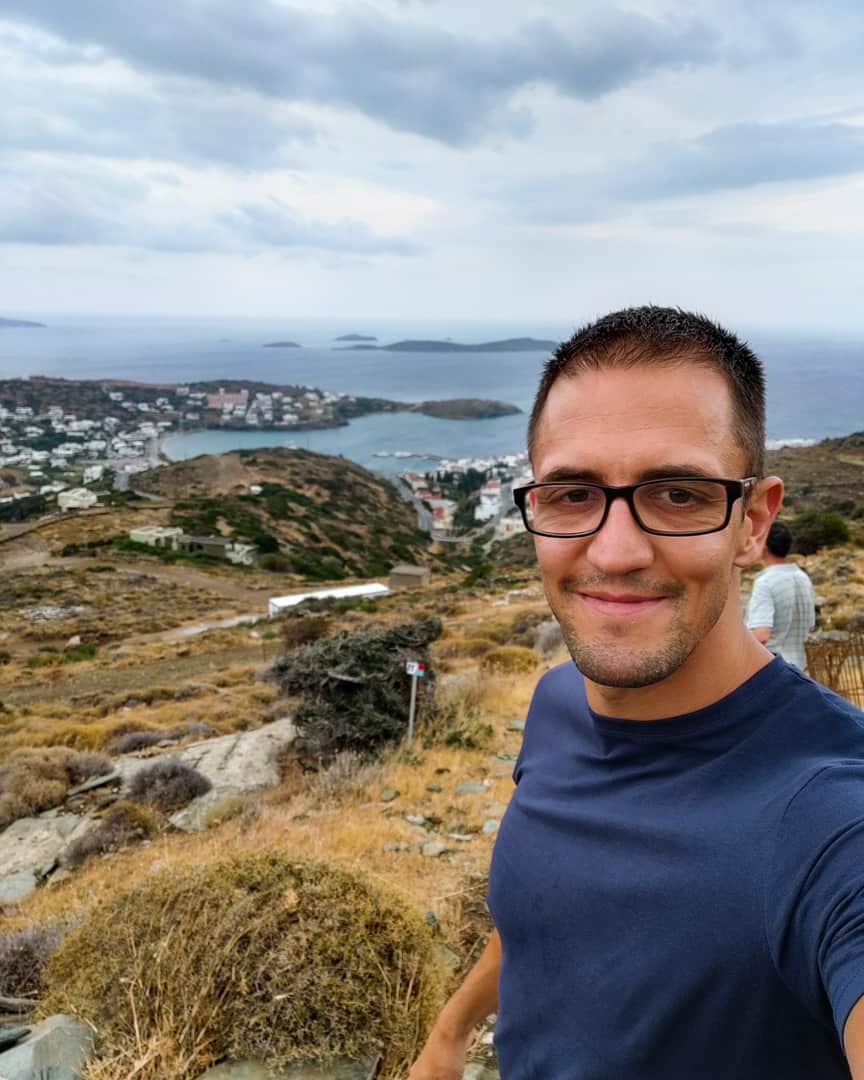 By this point, it was mid-afternoon and we hadn't eaten since breakfast, so we stopped in the village for a gyros at a snack bar called Aúra. Back at the hotel, it wasn't really warm enough to lay out at the pool, so instead we used the indoor pool table again and passed the time until dinner.
More Pizza Memories
Instead of walking back into Batsi for dinner, we decided to make use of Ed's car and drove the short distance to Gavrio so we could have another meal at Pizza Memories! At the same time, we visited the ticket office to purchase our ferry tickets for Monday's final crossing back to Rafina on the mainland.