Friday 4th September 2020
Time to go Sailing!
Wanting to see as much of Milos as I could in the short time I'm here, I booked an all-day boat trip with Milos Oniero on the recommendation of a TripAdvisor forum member (thanks Paul!). It cost 90€ but lasted from 08:45 to 18:00 and included breakfast, lunch, afternoon BBQ and all drinks on top of the excursion itself, so seemed pretty decent value for money.
To make sure I arrived in good time, I was up just after 7:30 to pack my camera gear, towels and sun lotion. I threw my drone in as well, but didn't really expect to use it. I was ready to set off by 8, so I figured I would grab an early coffee at Aggeliki again. Boat Oniero is moored right opposite the cafe, so it was really the perfect spot.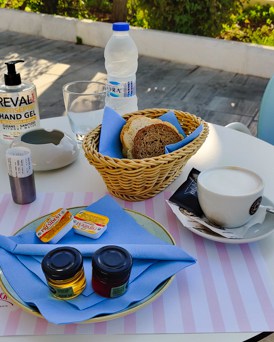 Seeing a few people arrive at the boat, I wandered over and got myself signed in and aboard. Due to COVID, they were being quite cautious, with temperature checks and hand sanitizer on arrival (and available throughout the day). The boat's usual capacity is 22 guests, but today there were 14 of us in total, again due to the restrictions. This was really a benefit as it made the boat feel much more spacious with a relaxed atmosphere. Everyone arrived in good time and by 9 we had set off from Adamas harbour, heading north along the coastline.
An Amazing Experience
The trip turned out to be one of the highlights of my holiday. The skipper Elias was a fantastic host, not only educating us about Milos throughout the day, but the food, drink and hospitality were really amazing. Perhaps best of all, the pacing of the trip was just right: I had some concerns that it would feel rushed if there were too many stops and a lot of talking with only short breaks for food and relaxation.
It wasn't like that at all.
The boat moves at a comfortable pace, with the first couple of hours just aboard the main boat as you work your way first northward, then across the mouth of the bay to the western side of the island. Here, you visit several caves, the main one by a small dinghy where you can get off and walk around in daylight because the roof the cave had collapsed years ago. Then you have a little time to swim and snorkel while the other half of the group use the dinghy to visit the cave.
When you reach the south side of Milos it's a similar setup: half the group does a dinghy tour of the caves while the other half swims in the gorgeous bay, then you swap round before having a delicious lunch on-board the boat.
On the way back around the island, you stop again at a much quieter but equally beautiful bay for a longer swim followed by a small BBQ and lots of ouzo!
By the time you get back to Adamas, it's nearly 18:00 and the day has flown by. I can't recommend this tour highly enough!!
No Dinner Required
By the time I left the boat, I was pretty full from the substantial lunch and afternoon BBQ. One of the couples on the trip invited me for a coffee as we disembarked, so we sat next door to Aggeliki and chatted for nearly an hour. They had seen me swimming during the day and noticed I'm pretty good (I've been a swimmer since I was 6 and still compete), so we talked sport as one of them does IronMan competitions and triathlon. We also chatted about Greece, my holiday plans and lots of other things. It was nice to have some company for a while. Once I got back to my room, it was after 19:00 and I still wasn't hungry so I decided to forgo dinner completely.
Feeling the Burn
As I discovered seconds after stepping into the shower, I was rather sunburned on my back – the downside of travelling solo, it's pretty hard to lotion your own back! I had tried to keep it out of the sun as much as possible, but clearly not very successfully. For anyone who has had a similar experience, you can imagine the pain as the water hit my skin!
I did my best to get some after-sun lotion on it and stay hydrated in the hope I wouldn't have sunstroke as well. To try and avoid my skin peeling, I had the quite good idea of dampening a hand towel and putting it under my back as I went to bed. Not only did it keep my back feeling cool, but the moisture did seem to stop the skin drying out too much – a tip worth remembering! Or just be more careful with applying sun lotion and save yourself the trouble…