Tuesday 8th September 2020
In Search of New Breakfast Spot
If you've read any of the previous posts on this trip, you'll know I love my Greek breakfasts. In particular, somewhere that sells good Greek yoghurt and honey! I got lucky first time on Milos, so the first challenge of today was finding an equal (or better) place to start my day here on Sifnos.
I set off from the hotel down the gently sloping road into Kamares. I'd seen several café/snack bars on my walk from the ferry yesterday, so I was fairly confident in locating one somewhere towards the port.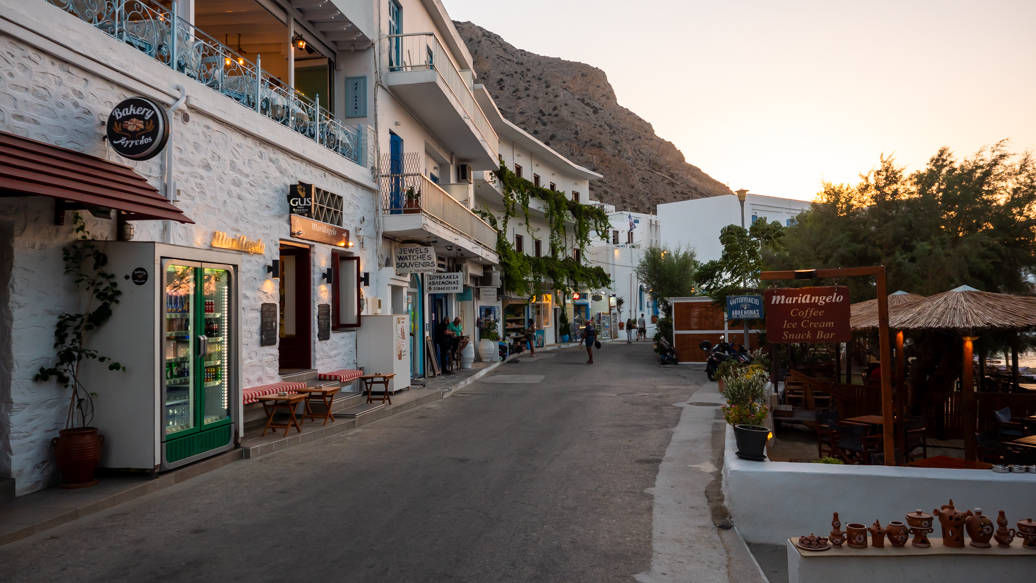 After checking menus at a few promising cafes, I settled on a place called Café Stavros which has an excellent location right on the end of the beach and – perhaps more importantly – a great breakfast menu!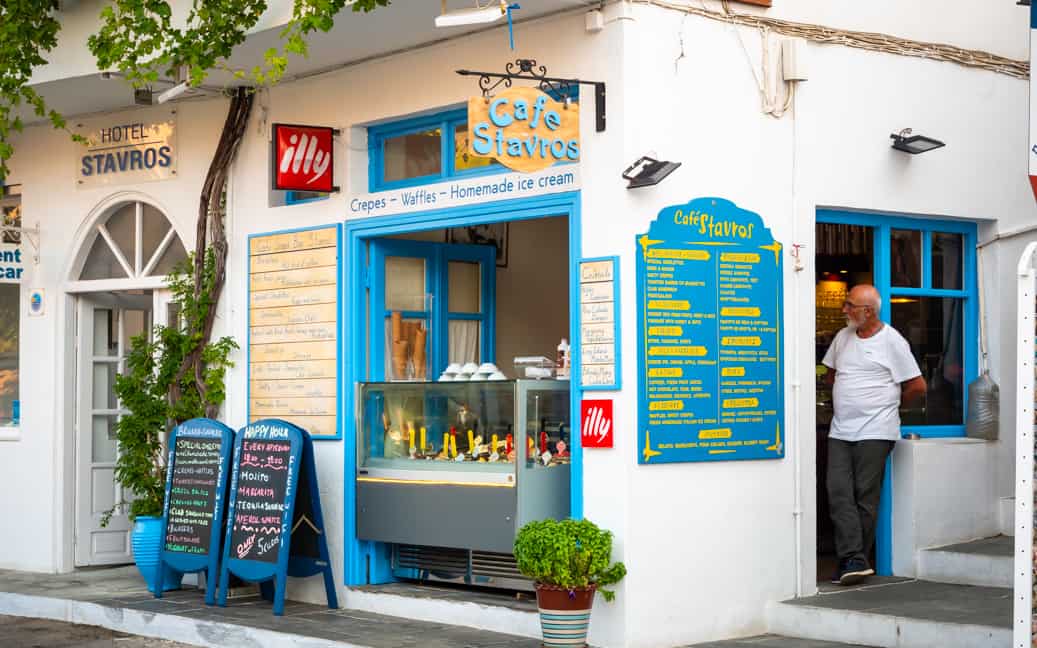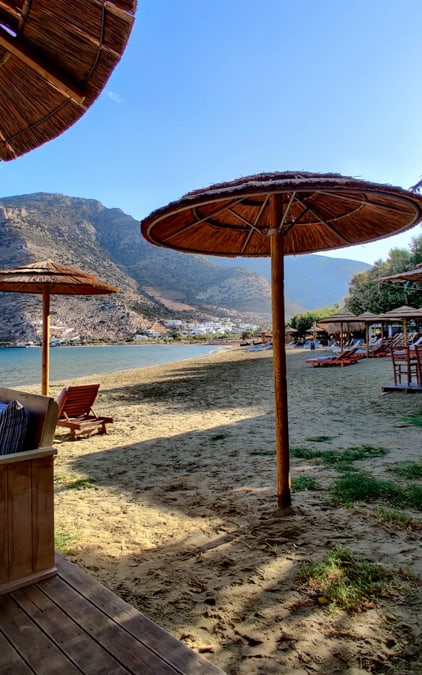 I sat down at one of the tables right at the end of the beach and was soon enjoying a delicious breakfast.
Sadly, they don't offer quite the same value set menu as I had on Milos, but for €12.50 I had the usual coffee, fresh orange juice, bread, jam and, of course, Greek yoghurt and honey. If anything, the yoghurt was even better than Aggeliki's which was quite a surprise!
Being able to sit and enjoy the early morning sunshine and views of the beach was fantastic. I strongly suspected I had found my new breakfast spot and would most likely return here every day.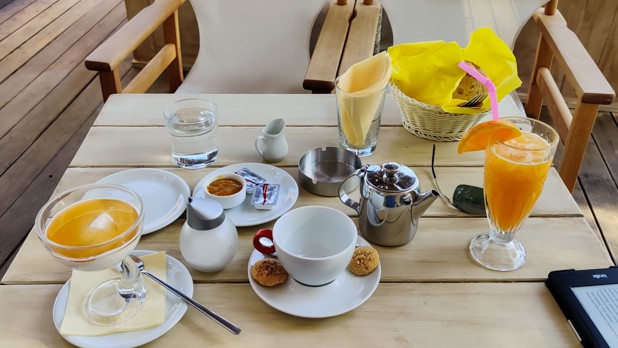 Beach Bound
As it's my first full day on Sifnos and I have 6 nights here (one more than on Milos) I decided to make it a relaxing beach day. The main beach at Kamares looks absolutely stunning and I couldn't wait to see what it was like.
After the short walk back to the hotel from breakfast, I got changed into my beach shorts, lotioned up and packed my rucksack with my camera, kindle and headphones, plus a small bag for my towel and a bottle of water.
Towards the south end of the beach, there are a few sets of organized sun loungers that back onto bars and tavernas. I avoided these as I wasn't sure what they would cost, and besides I prefer a slightly quieter location. Heading north towards the middle of the beach I found some more sunbeds that were completely unoccupied and decided this was the spot for me!
I put my towel down on an end bed and was soon in holiday heaven: soaking up the Greek sun, reading a good book on my Kindle and listening to my favourite music.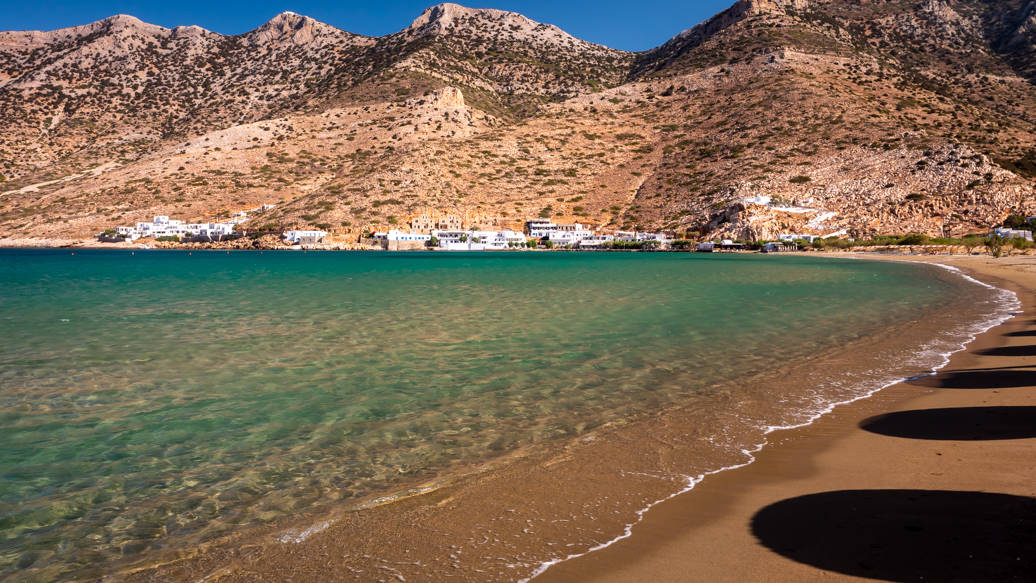 The beach was everything I'd hoped for and more. Lovely, golden sand, shallow, clear and warm water and, best of all, not many people around! Again, I suspect the low volume of tourists has a lot to do with the Coronavirus pandemic, but if there is a silver lining to such a situation, having beaches like this be so peaceful is definitely one of them!
The sunbed's I had chosen turned out not to be free, but they were exceptionally good value: €4 for one bed (and use of the umbrella) but that included a free drink – anything from soft drinks, coffee, or even beer. Okay, the soft drinks and beer were 'only' 330ml cans, but having paid similar prices elsewhere for just a sunbed, I happily handed over the money. Surprisingly, I didn't opt for the beer as it seemed a little early to start drinking (even on holiday) but had a Coke Zero instead.
Lunch in Familiar Territory
The morning seemed to pass too quickly, as good times often do. Having had a large breakfast, I delayed lunch until 1:30, at which time I walked back along the beach to Café Stavros to see how their lunch compared to the breakfast!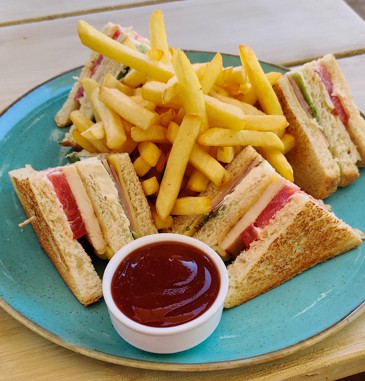 This turned out to be another great decision. As you can see in the picture above, I went for a chicken club sandwich and it was delicious, complete with a generous portion of crispy chips and some tomato sauce. Since it was well into the afternoon, I also had a large beer to wash it all down.
Lazy Afternoon
I won't say much about the afternoon as it was basically a repeat of the morning: lots of sunbathing, swimming and general relaxation.
At 5pm, I decided I'd probably had enough sun for the day, so I packed up all my gear and headed back to the hotel for a cool shower and a coffee.
Another Great Italian
Having enjoyed an amazing dinner last night at Camaron restaurant, I ventured to the one next door – another Italian called "Da Claudio". It turned out to be a similar meal as well, albeit fusilli pasta instead of tortellini. It was very, very tasty but perhaps not quite as good as last night's meal.